Archive: May 21, 2022
Archive: May 21, 2021
Archive: May 19, 2020
Archive: May 21, 2019
Archive: May 21, 2018
Archive: May 21, 2017
Archive: May 21, 2016
Archive: May 21, 2015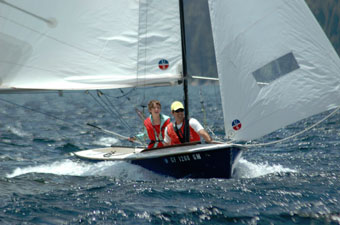 Tonight sailed my venerable C-15 in the Sunstroke Series, in Marina Del Rey; despite some cobwebs and rust managed to finish 2nd. My little boat "It's the Water" is now thirty-six years old (!) and still flying :)
And meanwhile, it's all happening...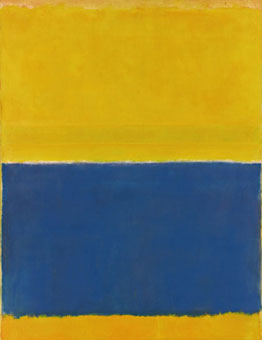 Exquisite Rothko masterpiece sold for bargain price of $46M. It's pretty abstract; lest you think the title is a clue to the intended message, it's Untitled (yellow and blue).
Do you agree? Why is modern art so bad? Is it? My own view is that art has shifted from representational to conceptual; you might need to have more context to understand and appreciate it.
So, why hasn't a cure for cancer been found yet? Net net, because cancer isn't one disease, it's over 200 different ones with similar symptoms (uncontrolled and unregulated cell reproduction). We have found the cure for some of them, and are working the list. Great commentary...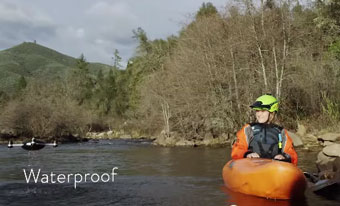 Who wants a Lily camera? Me! A drone that follows you ... very cool.
Wow... A coalition of more than 60 Asian-Americans have filed a Federal discrimination complaint against Harvard. Given the evidence of racial bias in admissions, they're quite likely to have a case. Excellent, we have to abolish all racial discrimination.
The reaction of the media to Seymour Hersh's Bin Laden scoop has been disgraceful. It is odd that the story hasn't received more respect. Even if aspects of it are wrong, there is a lot of evidence.
So true (and in re, the climate jihadists):
Years ago, I heard the Jewish comedian Jackie Mason performing in Beverly Hills, riffing on the primary motivation of wealthy liberals. They do things, he suggested, not because they actually accomplished anything, but because "I have to look at myself in the mirror."
Among the things it explains: The Income Inequality Warriors. There seems to be an effect that the more you try to close the "income inequality" gap, the bigger you make it.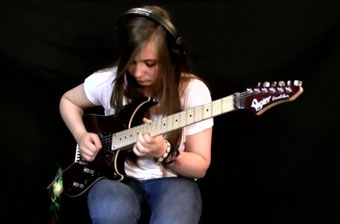 16-year-old guitar virtuoso Tina S shreds Metallica's Master of Puppets. The entire 8:32 is awesome, but for the TL:DW advance to 3:40, close your eyes, and drift... YES. And the solo at 5:30 totally rocks.
MG Siegler: A Penny for your Thoughts. Have you ever thought how weird it is that everything on the Internet is Free?
Archive: May 17, 2014
| | |
| --- | --- |
| Amgen Tour - a little ride up to Mountain High | |
Yesterday I rode up to the Mountain High ski area from Palmdale, ahead of Amgen Tour of California stage 6, which rode the same route about three times as fast as I did :) Was a perfect day for a little 25 mile climb at 8% up to 8,000 feet; 90+ degrees, hot and dry. Whew.
I began the day at the start town of Newhall; hung out with the teams :) watched the start, and then drove to Palmdate and rode up the mountain before watching the finish. A nice little cycling day.
Of possible interest, here are some pics: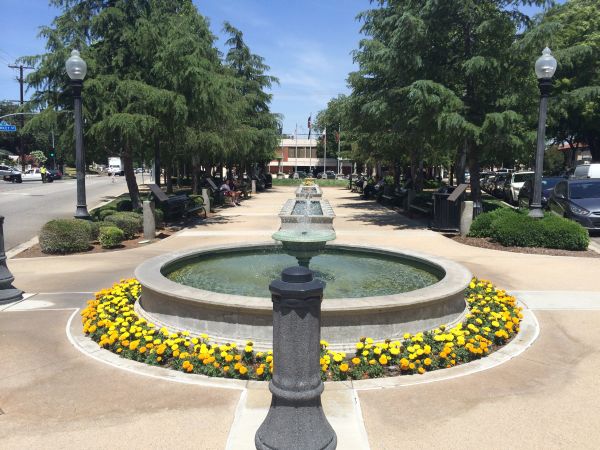 The picturesque start town of Newhall
(not pictured, 100 degreee heat)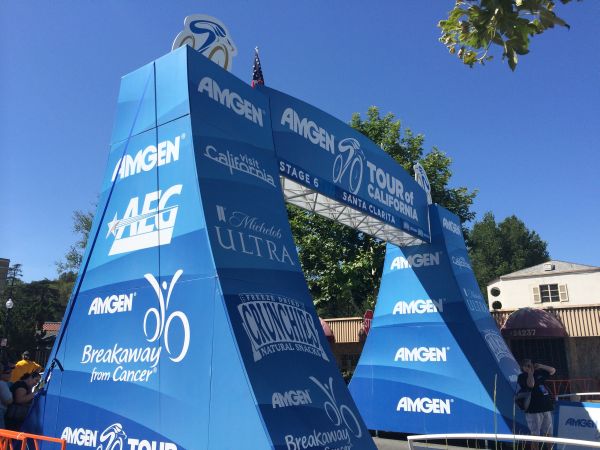 The picturesque start town of Newhall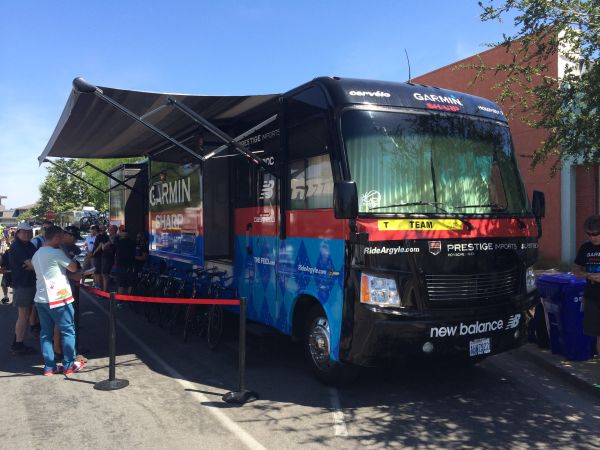 All the team buses are there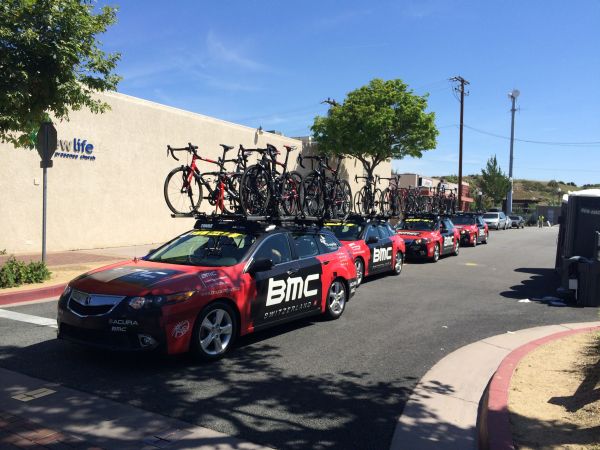 And the team cars are ready!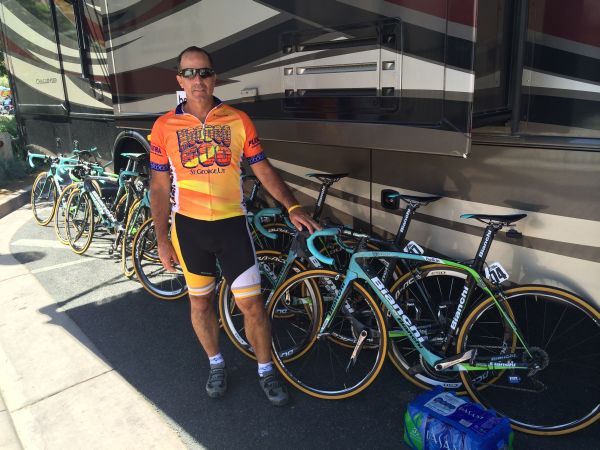 Inspecting the Belkin bikes (talking Dutch was actually helpful!)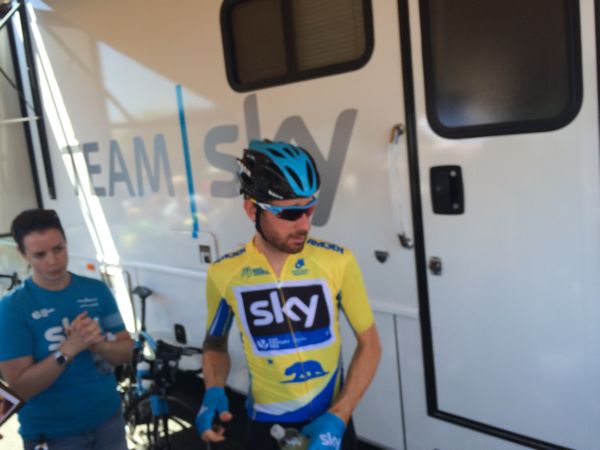 Sir Bradley Wiggins, replendent in yellow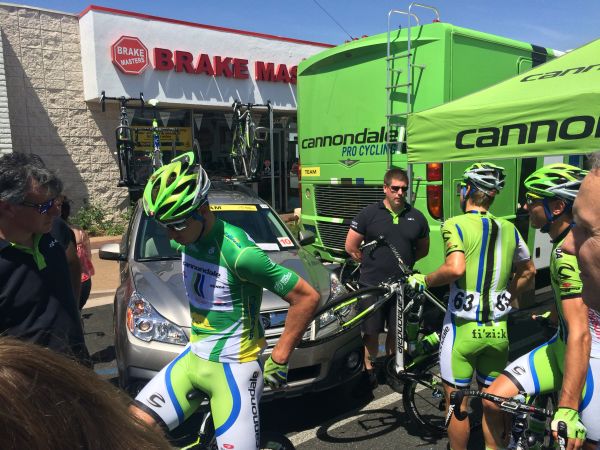 Peter Sagan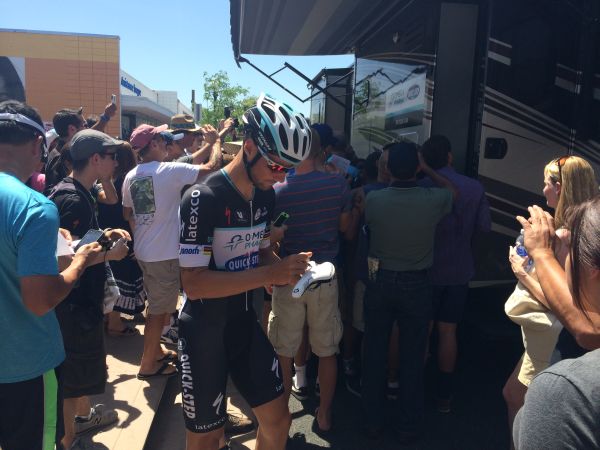 Tom Boonen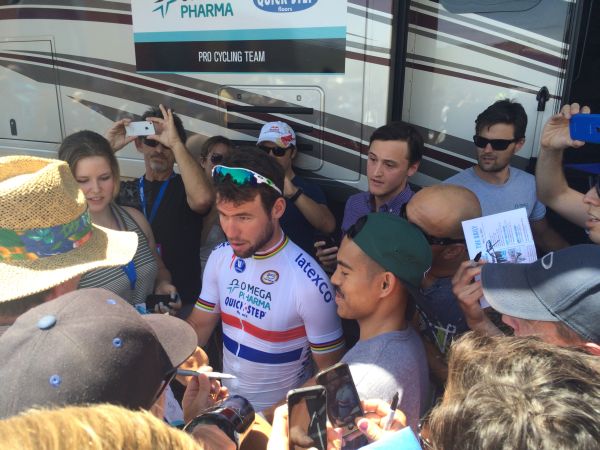 Mark Cavendish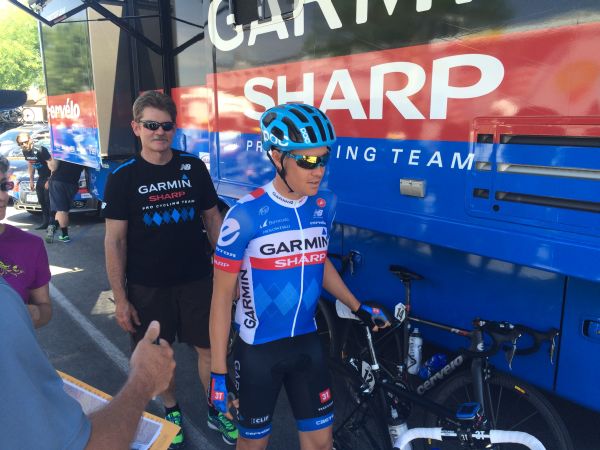 Tom Danielson - would end up being critical on thisday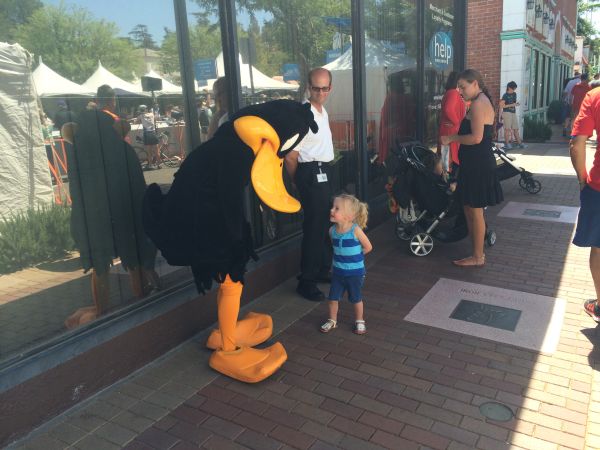 A young fan :)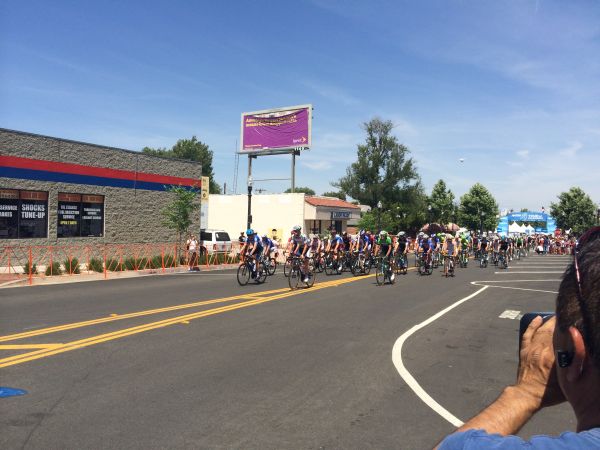 The start! - and they're off...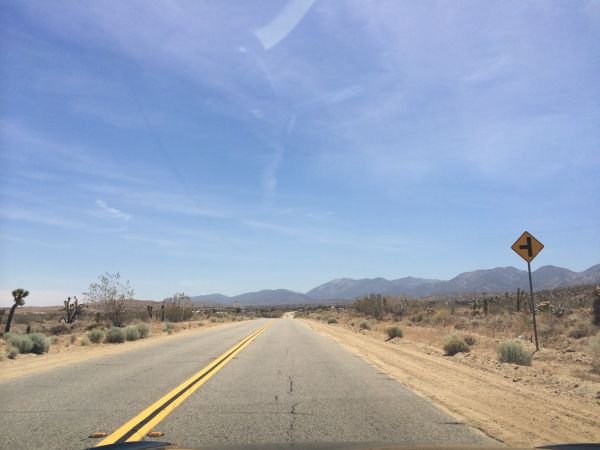 Onward through the desert, with the high mountains in the background yet to climb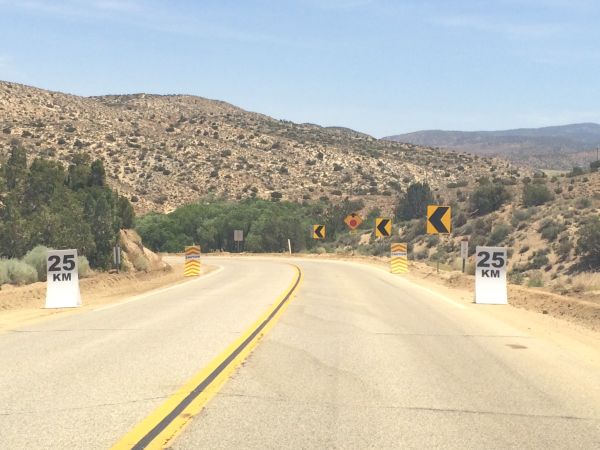 Parked, and I'm riding ... a mere 25K to go (straight up of course)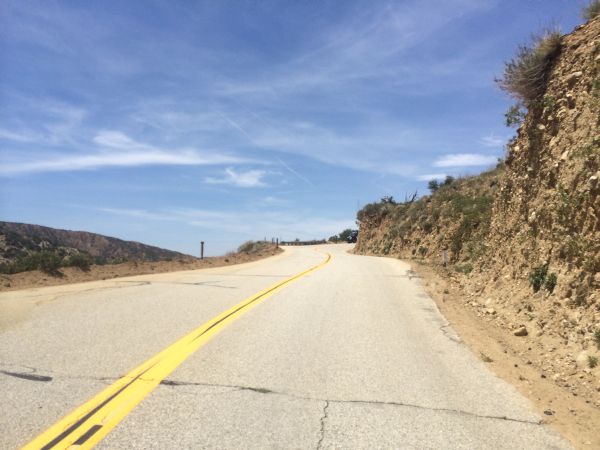 Onward and upward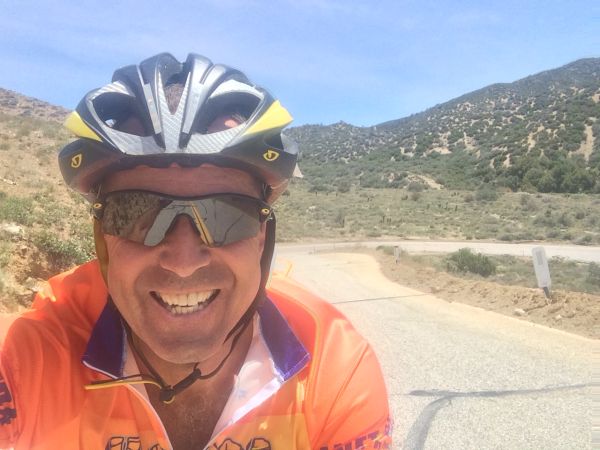 Still smiling in the heat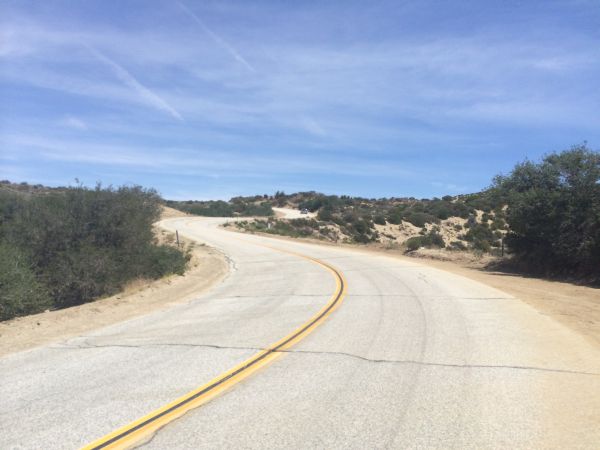 More climbing up "Big Pines Highway", as desert gives way to pines

The final turn up to the ski area of Mountain High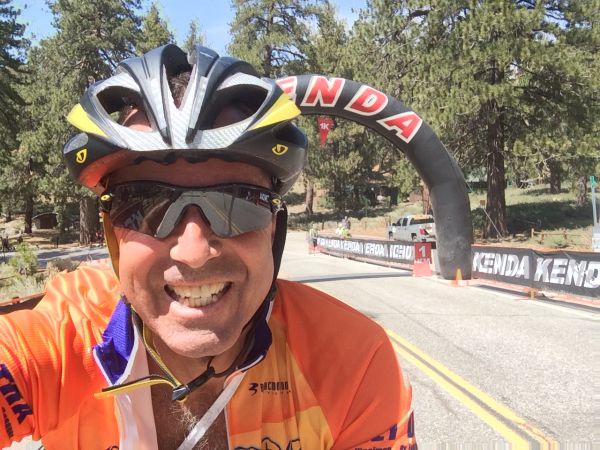 Passing through the 1K banner, still smiling :P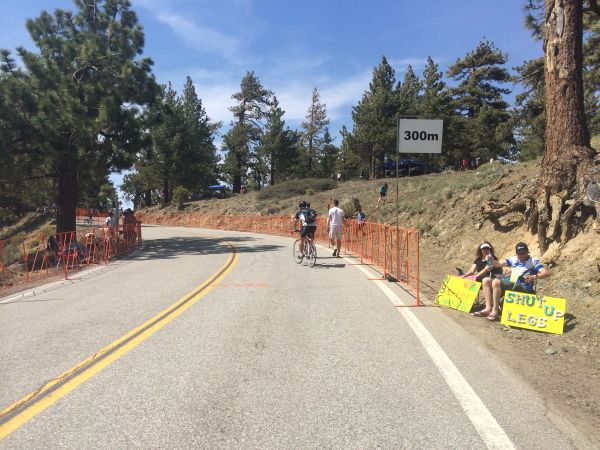 300m to go, "shut up legs"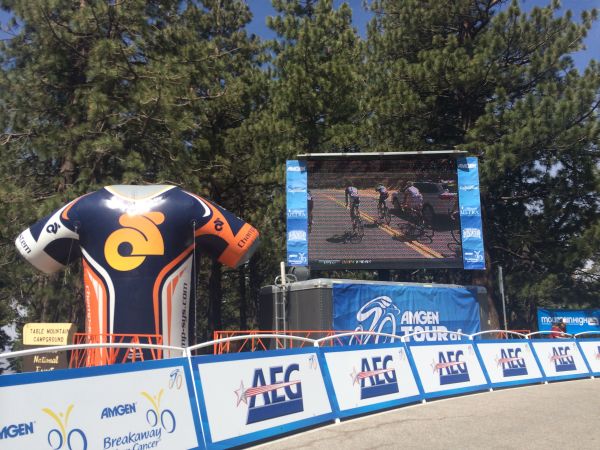 Jumbotron shows the breakaway behind, catching fast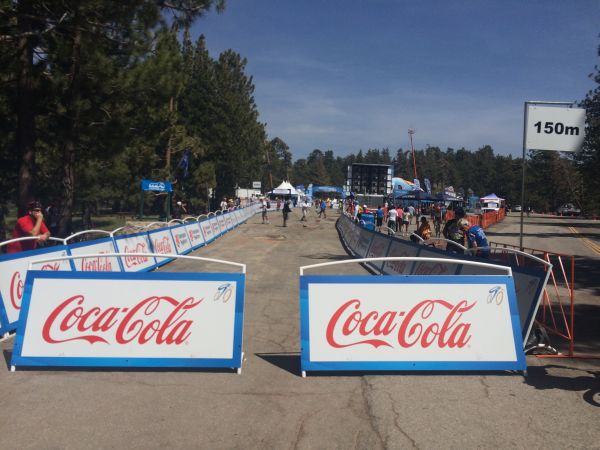 The finishing straight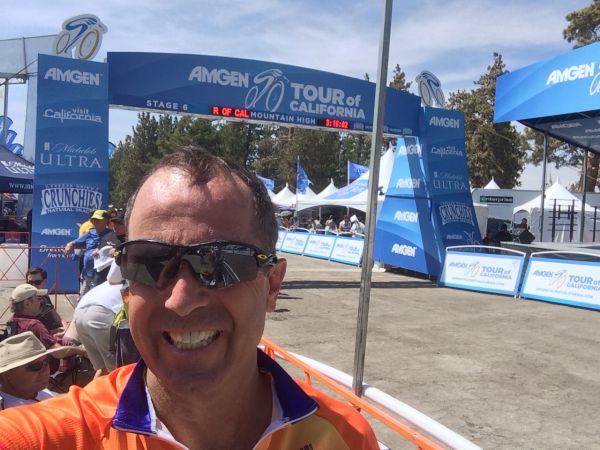 Made it! And so here I am, at the finish...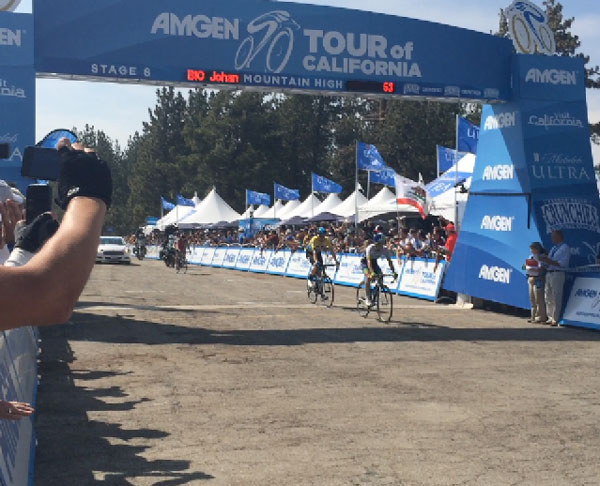 Wiggins survives on the day, led by Adam Yates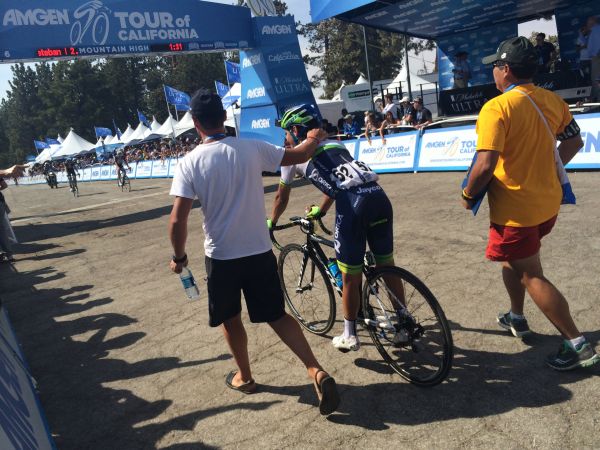 Stage winner Esteban Chavez

Today the Tour continues with a circuit race in Pasadena, and tomorrow it finishes up with an epic race in Thousand Oaks including the famous Rockstore climb which is practically in my backyard. Unfortunately I'll be well on my way to Kazakhstan by that time (really!) ... bad timing. More on that, stay tuned :)
Hi all, I'm off! Yes you knew that already, but now I'm really off ... off to Kazakhstan, to give a talk at the ASTEX 2014 conference next week. So, where is Kazakhstan?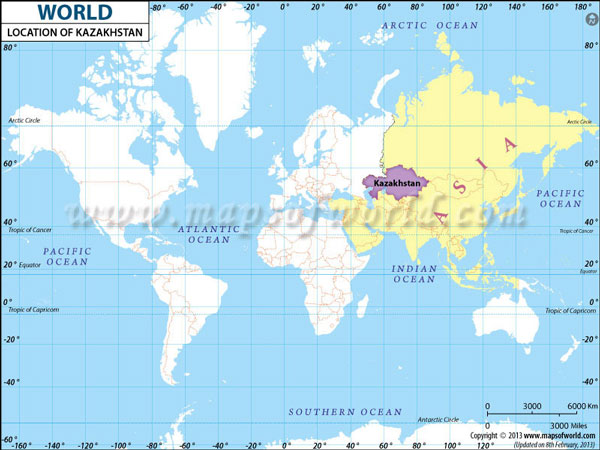 Yep, it's huge, and it's directly in the middle of Asia, right between Russia and China. I'll be in Astana, the capital city, which is right in the middle of the country. I'm so excited, I mean, how often does someone invite you to give a talk in Kazakhstan?
Stay tuned!
Archive: May 21, 2013
Archive: May 21, 2012
Archive: May 21, 2011
| | |
| --- | --- |
| up Mount Baldy for ATOC stage 7 | |
My friend Tim and I watched the incredible stage 7 mountaintop finish of the Amgen Tour of California today, from the top of Mount Baldy, after climbing it ourselves on our bikes. It was a pretty incredible day.
We started by hanging out in Claremont, the start village; checking out the team buses and bikes and the Start area. We saw Chris Horner interviewed, and Dave Zabriske, and hung out with the Rabobank team. Then we watched the start and the first couple of neutralized laps around the town, before they headed out and up the hill. We mounted our bikes and followed them up Mount Baldy: 17 miles straight up to 6,800'. The peloton had 75 miles of meandering around the hills, so we beat them to the top (barely!) and then hung out and watched the finish.
Yeah, we took a *bunch* of pictures; here they are in case you're interested. And here are a few selected from the bunch: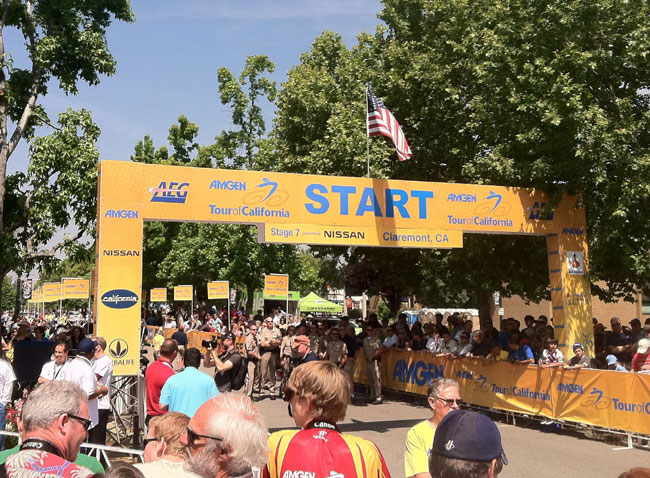 the start area in Claremont; a crowd gathers early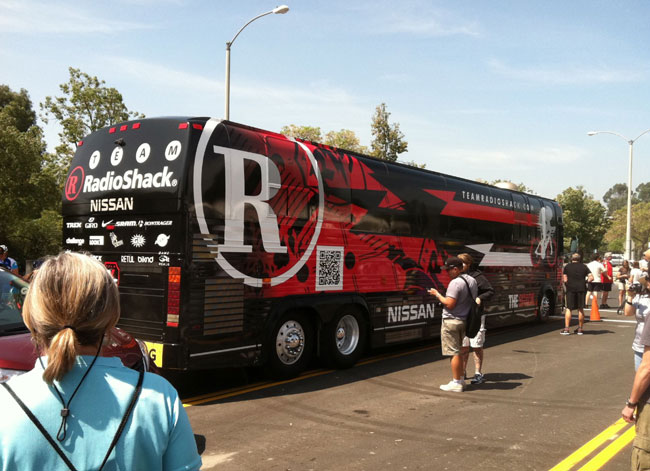 the Shack team bus arrives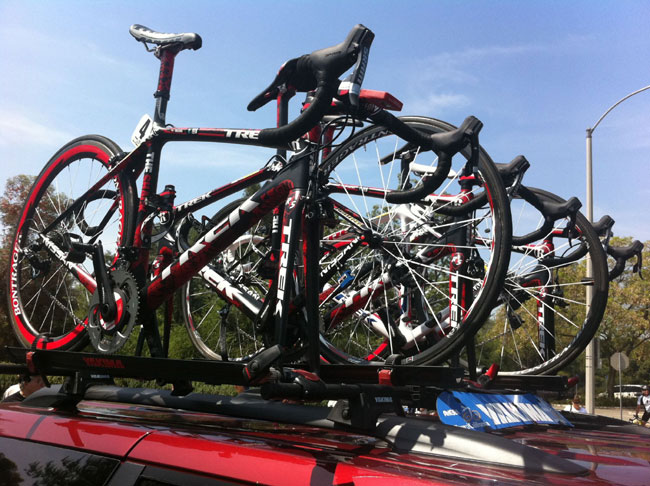 amazing bikes stacked out on display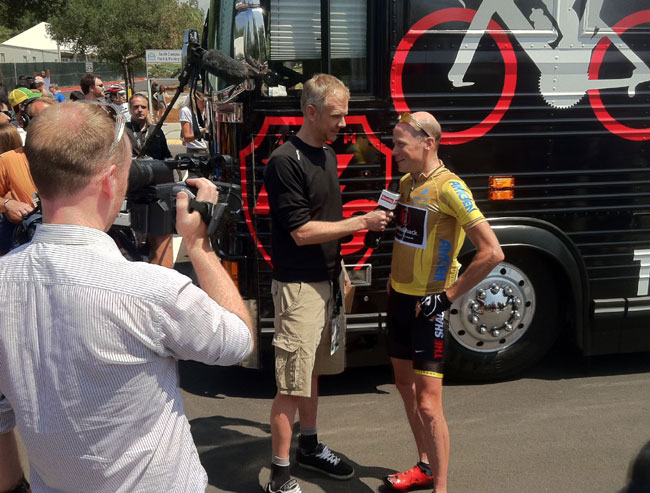 Chris Horner interviewed; he seems confident, not cocky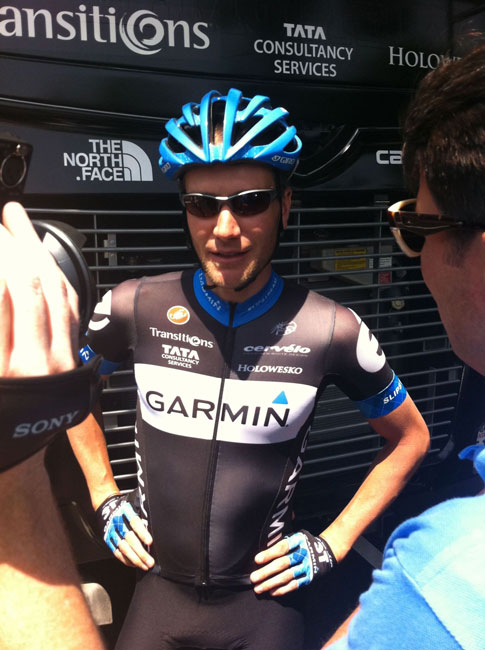 Dave Zabriske interviewed; he was happy with his win yesterday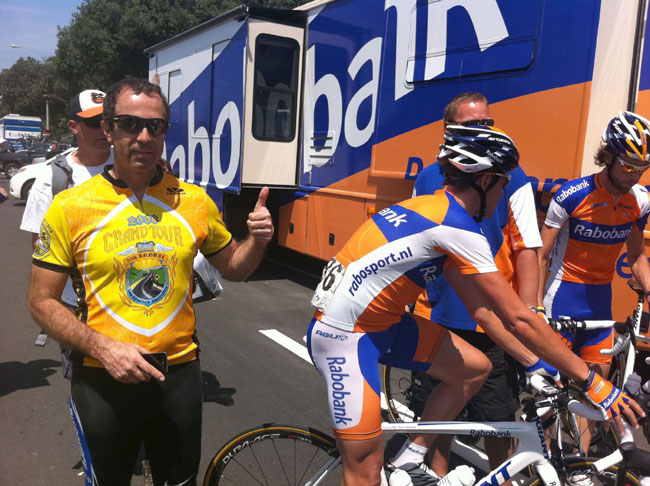 hanging out with Team Rabobank (go Oranje!)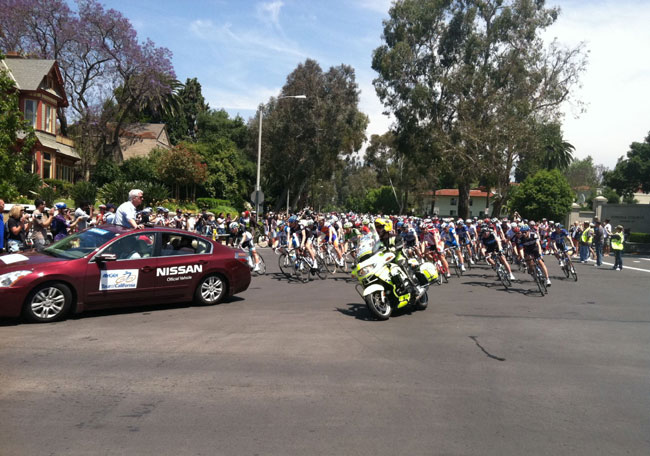 at the start! - the peloton takes a couple of neutralized laps through the town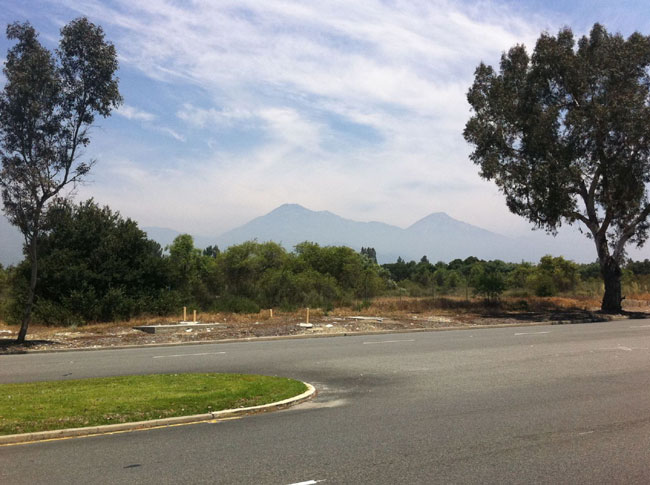 Mount Baldy seems amazingly far away right now - that's where we're going...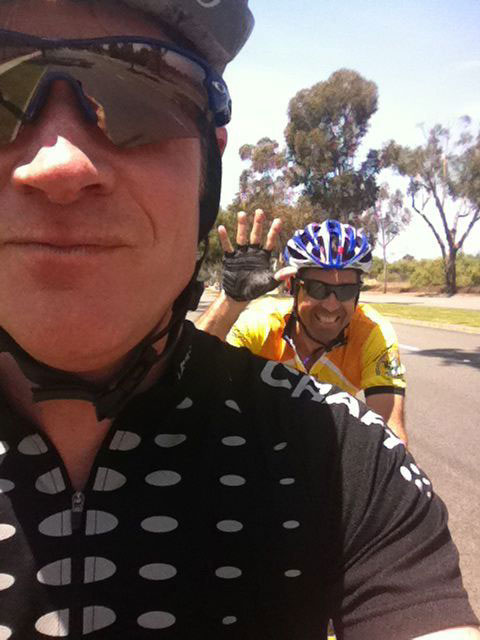 smiling in the flats before the climbs...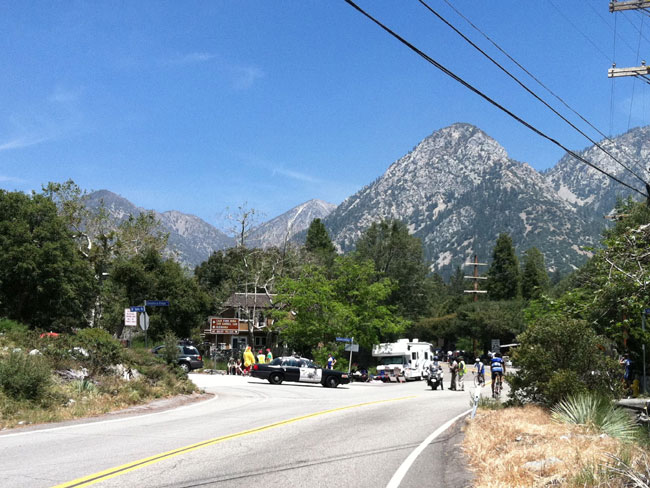 ... Mount Baldy village, whew. 12 miles straight up to get here.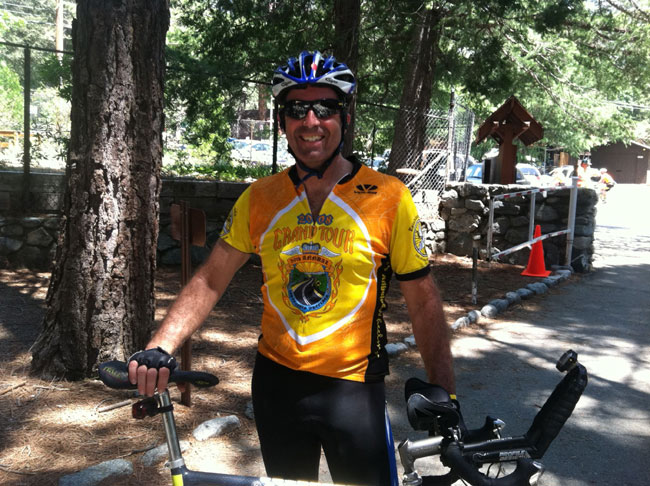 still smiling and preparing for the final assault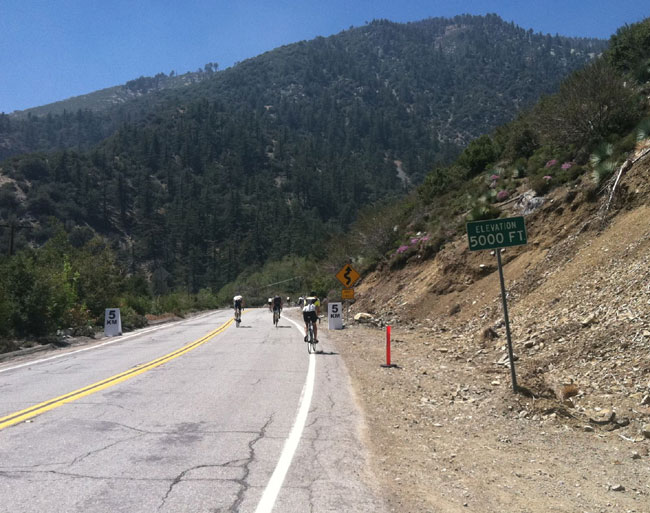 yikes, up we go... this is 10%, no place for the weak of heart or leg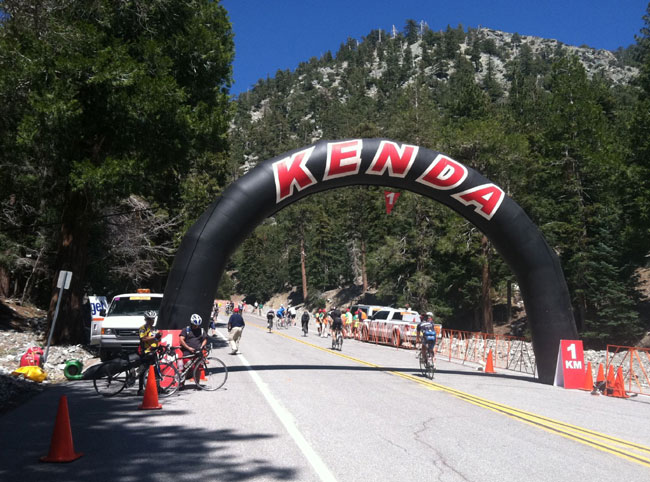 the 1K to go banner - and here it gets *really* steep, like 15%+ - wow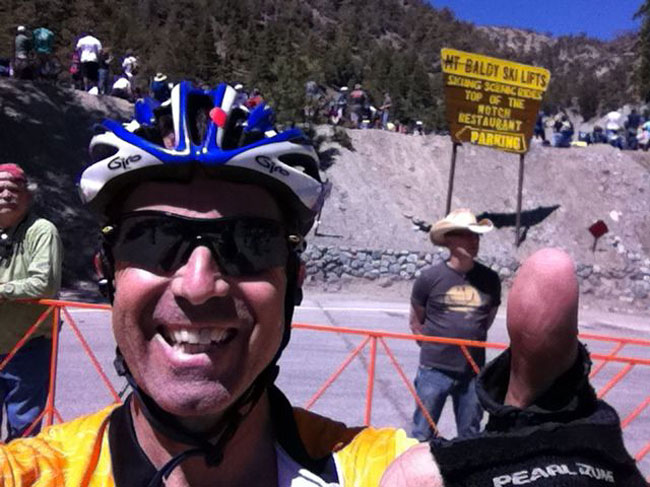 made it!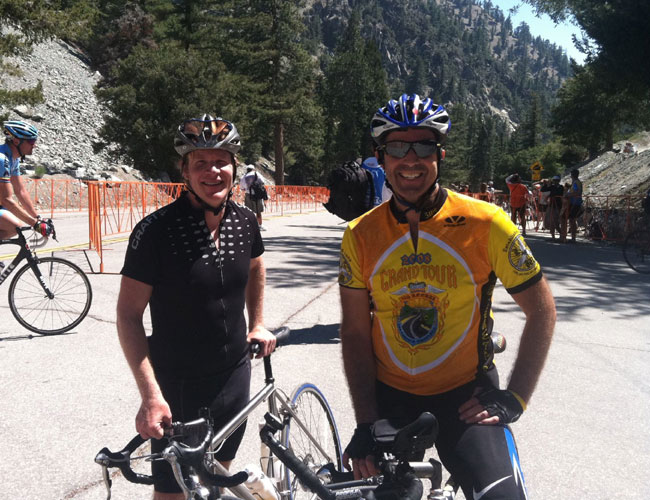 Tim and me
and now time to watch some racing...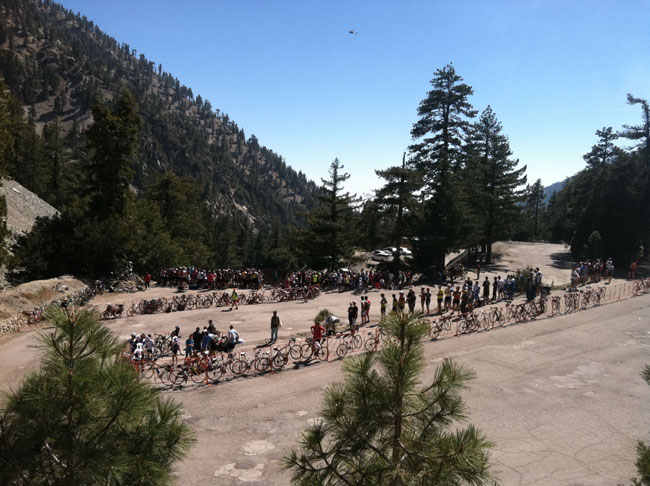 our view of the final section to the finish
the helicopter tells you the boys are close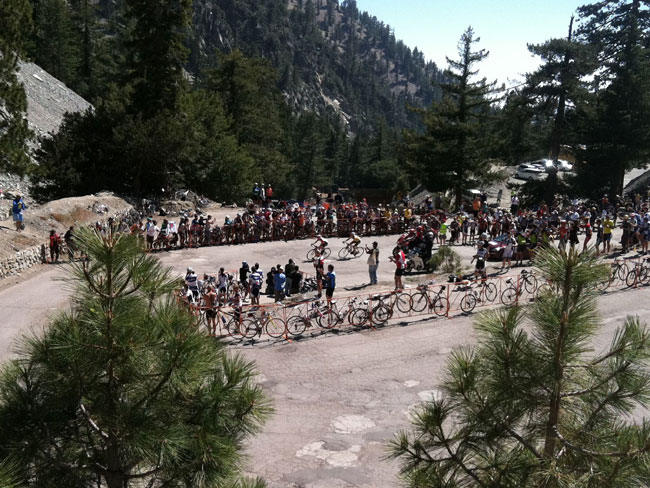 Levi tows Horner to the line as they blast away from the peloton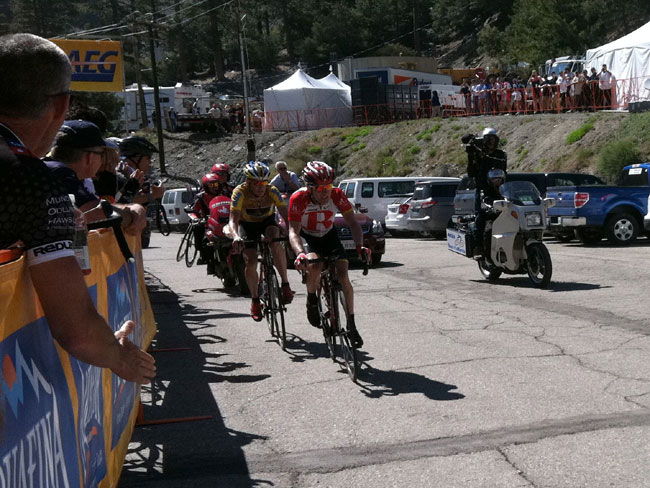 Levi and Chris just about to finish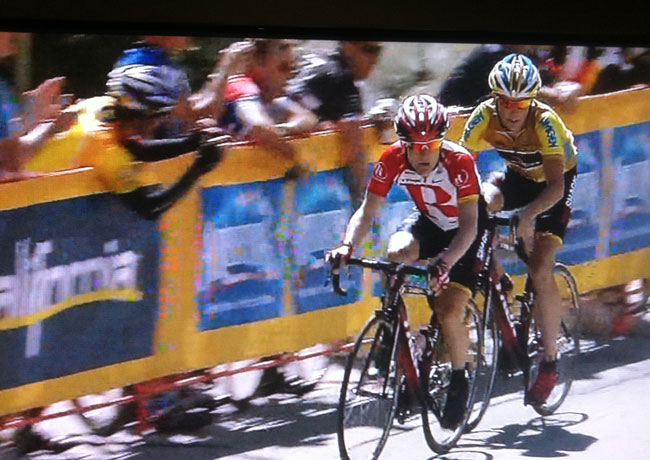 from television: me taking the picture of Levi and Chris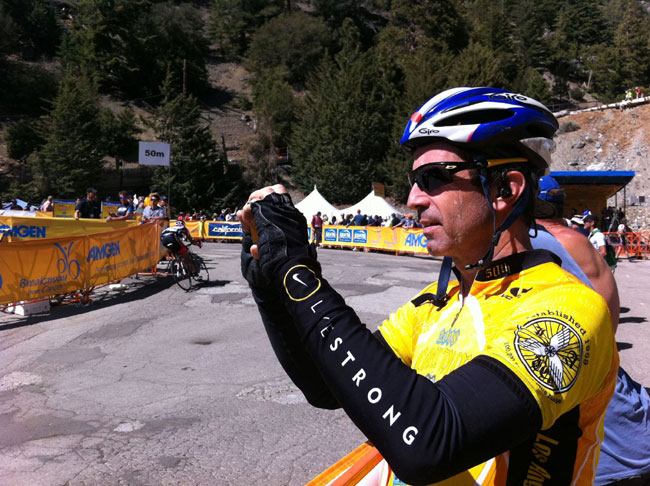 and Tim taking a picture of me taking a picture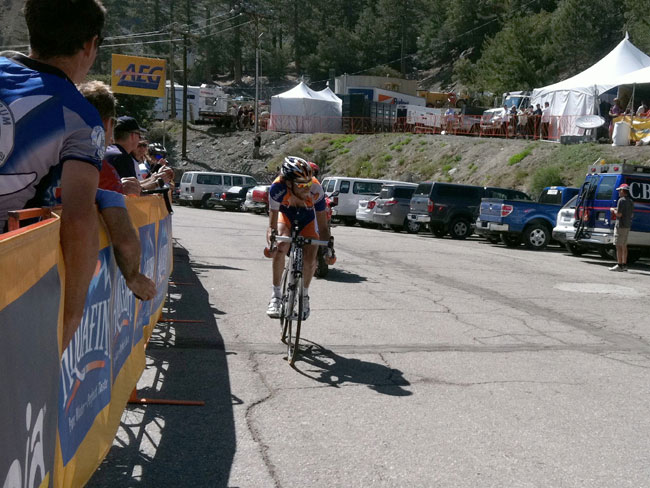 Laurens Ten Dam took third for Rabobank (go Oranje!)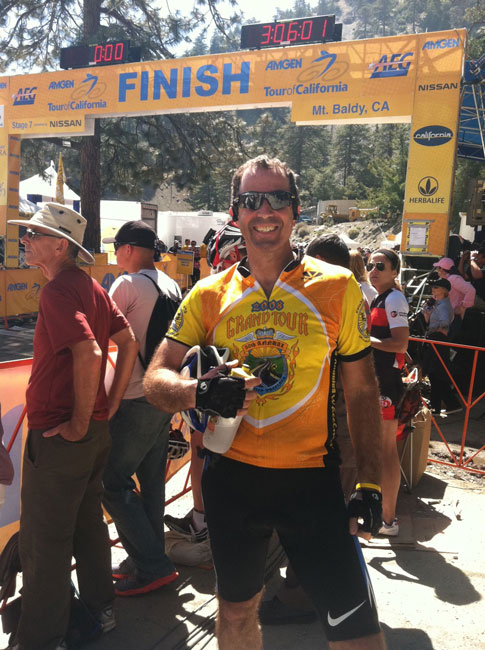 at the Finish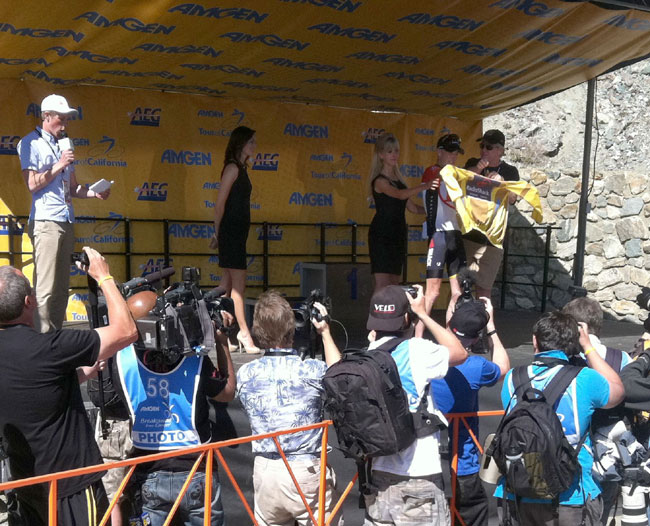 Chris Horner dons the gold jersey of the overall leader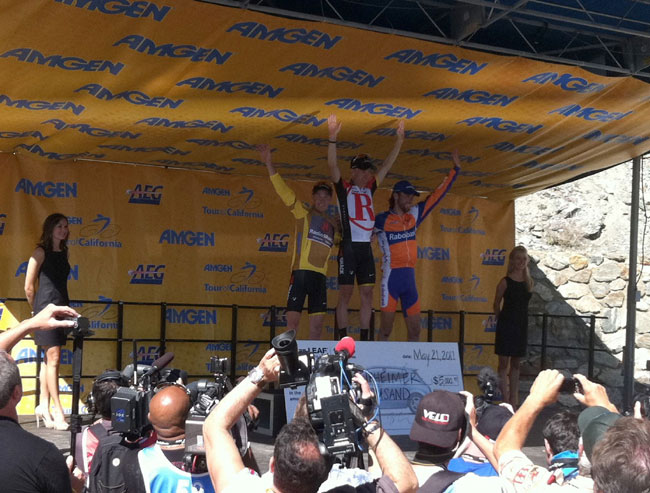 today's podium; Levi wins, Horner second, Ten Dam third - yay!
After some incredible racing on the final climb (4 miles at 10%, with the last mile at 15%) Levi Leipheimer towed teammate Chris Horner across the finish for a well-deserved win (and Horner solidified his overall lead). We watched the podium presentations and then headed down the hill, just in time to pass the groupetto on their way up. (A big bunch of the peloton who can't compete on the climbs gather together and ride up together.) Then we enjoyed a nice 17 mile descent - weaving in and out among slower cars - and headed home, just in time to watch it on television :)
Archive: May 21, 2010
Yippee I'm back. Yesterday was yet another _l_o_n_g_ day, starting in Portland and featuring a couple of interesting customer visits (and a visit to my next bike!), and ending back here late, but today I was able to relax at home and get a little "real" work done.
Oh, and psyching up for a big weekend: the finale to the Tour of California (yeah, I rode Rockstore today :), and Megan's party... meanwhile it's all happening...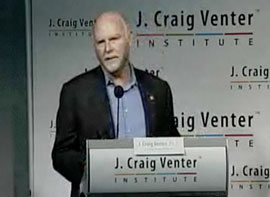 Wow! Craig Venter creates synthetic life form. "J. Craig Venter and his team at J.C Venter Institute announced the creation of a cell controlled by a synthetic genome in a paper published in SCIENCE. As science historian George Dyson points out, 'from the point of view of technology, a code generated within a digital computer is now self-replicating as the genome of a line of living cells. From the point of view of biology, a code generated by a living organism has been translated into a digital representation for replication, editing, and transmission to other cells.'" Venter is amazing; while everyone is talking about doing stuff like this, he is doing it. Wow.
Late for hair appointment, 72-year-old woman drove 102 mph. That's happened to me too. Well, not the hair appointment part, but the late part, and then the driving too fast part. Whew.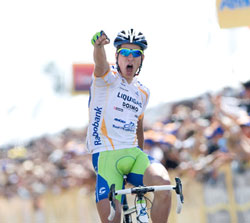 Yesterday Peter Sagan won ATOC stage 5, and Michael Rogers took over the GC lead. And Lance crashed out, sigh, after having to answer all those questions raised by Floyd Landis, not a great day for him. Then today in the "queen stage" up to Big Bear, Peter Sagan won again! And the GC remained relatively unchanged, with Michael Rogers, Dave Zabriske, and Levi Leipheimer still in the mix. Tomorrow's ITT in download L.A. will prove decisive...
So: Is the next Prius going to be a Tesla? As Elon Musk, CEO of Tesla, announces a new partnership with Toyota... the state of California is in the mix, too. Wow, good PR for both companies, and maybe it means we will have all-electric Toyotas someday too. (Keep in mind hybrids are gasoline-powered cars, Tesla are the only ones making electric-powered cars right now...)
Meanwhile: Small nuclear reactors under development. "Several start-up and existing companies are developing smaller sized nuclear reactors. While utility-scale reactors cost about $2.3 billion apiece and produce 1.2 gigawatts of power, Hyperion's price tag is $50 million for a 25-megawatt reactor more comparable to a diesel generators or wind farms." This is very cool, but they're still not quite in range to power cars :)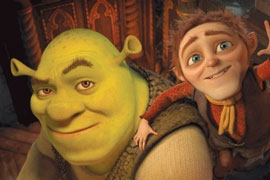 Excellent news: Shrek returns to form. "This may be the final installment of 'Shrek,' the franchise, but Shrek, the ogre, is having a midlife crisis. Screaming children, cake gone wrong, and that pathetic, gnawing feeling that, wait, didn't I used to be cooler than this? Oh, Shrek, we feel you." A must see!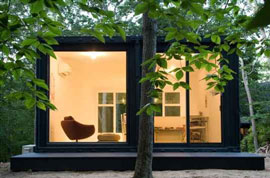 From Inhabitat: gorgeous shipping container art studio. Wow, how cool is that?
Big news from Google I/O, as their competitive assault on Apple continued with the announcement of Google TV. MG Siegler gives a great overview of the rivalry including an analogy to Lost which left me, a non-Lost-watcher, feeling rather lost... (I gather the last episode of Lost is this weekend, and is a biggish deal.) Whether the analogy is apt I cannot say but certainly the rivalry is interesting and fruitful for consumers...
Apropos: Daniel Lyons switches from iPhone to Android.

Also related: The 'I'm a PC, and I'm a Mac' campaign is over. Why? Because the competition that matters to Apple isn't Mac vs. PC, it's iPhone vs Android.

Microsoft seems to be a non-player in the smartphone world. Maybe they're too busy modeling the world...
Eric Raymond with a new music update, and I find myself agreeing with 100% of it, including Pandora, Porcupine Tree, Planet X, Dream Theater, and Spock's Beard. Back to Pandora for me!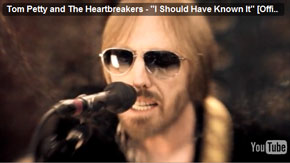 Oh, and courtesy of LGF, Tom Petty's latest: I should have known it. Indeed.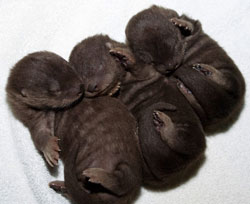 ZooBorns of the week: baby otters!
| | |
| --- | --- |
| visiting my next bike at Renovo | |
Yesterday in between customer meetings I managed to squeeze in a visit to the Renovo bike works in Portland. Yes, I am in love! I got to meet the founder and he gave me a tour of the factory; they make the most beautiful machines...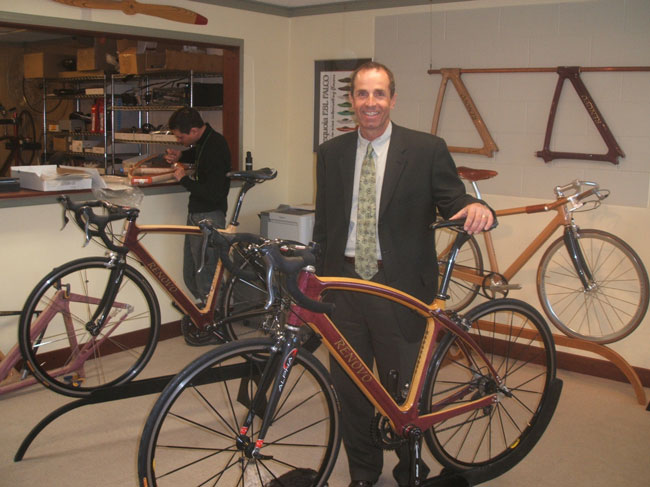 smiling with my next bike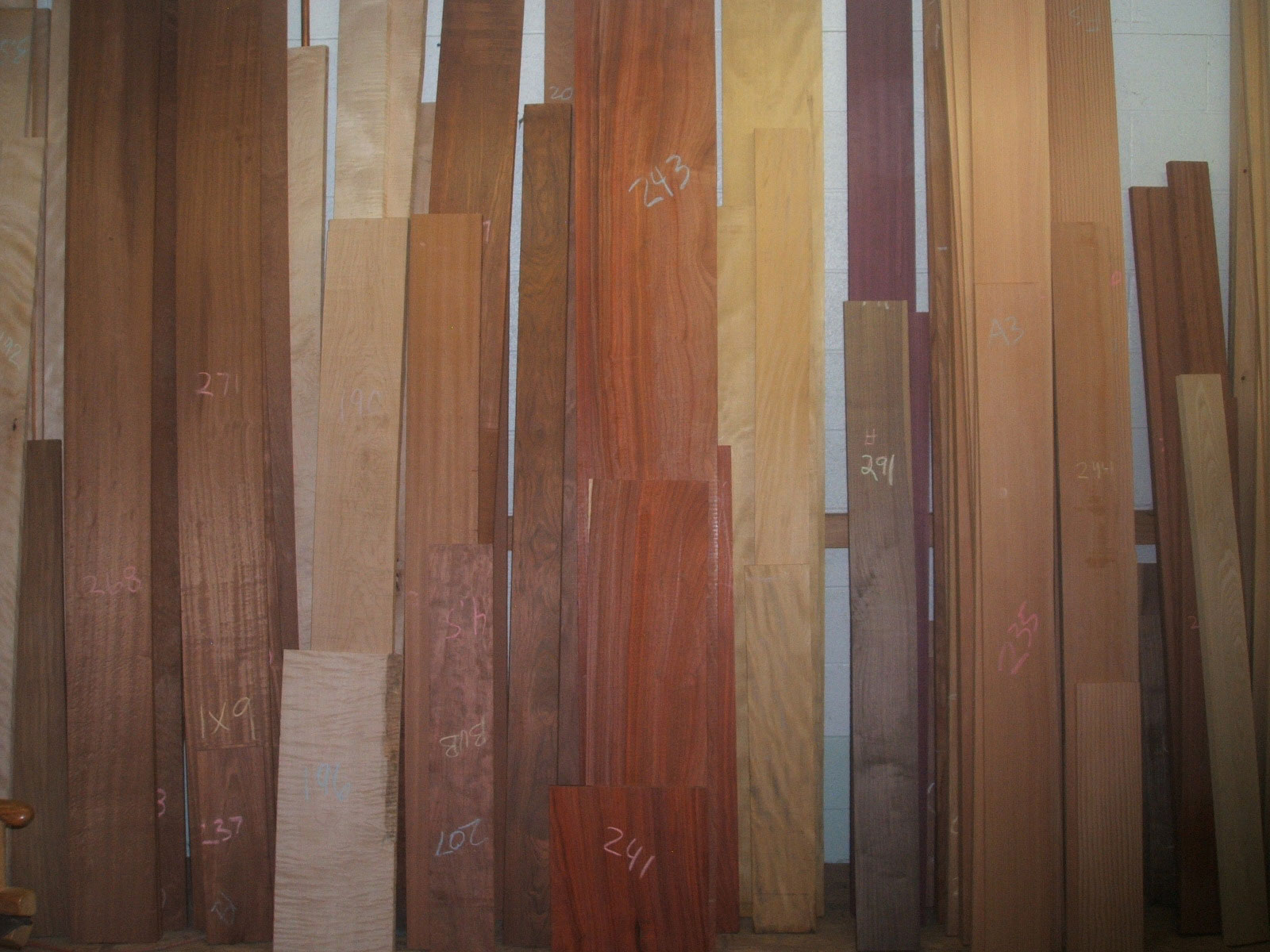 it all starts with the wood - carefully tested for strength and stiffness ... and beauty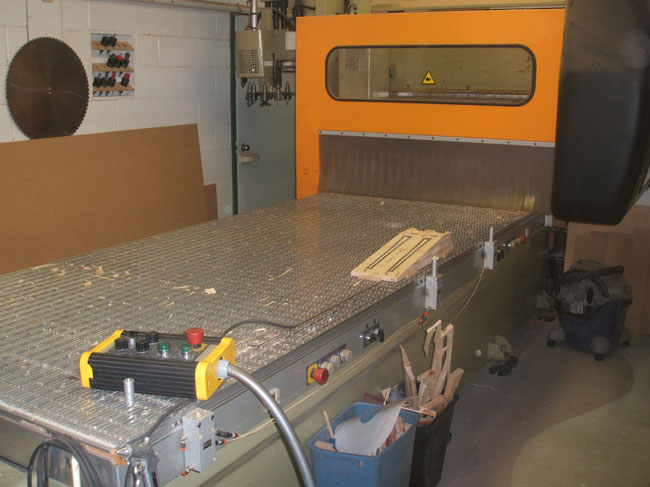 a computer controller laser cutter makes the frame components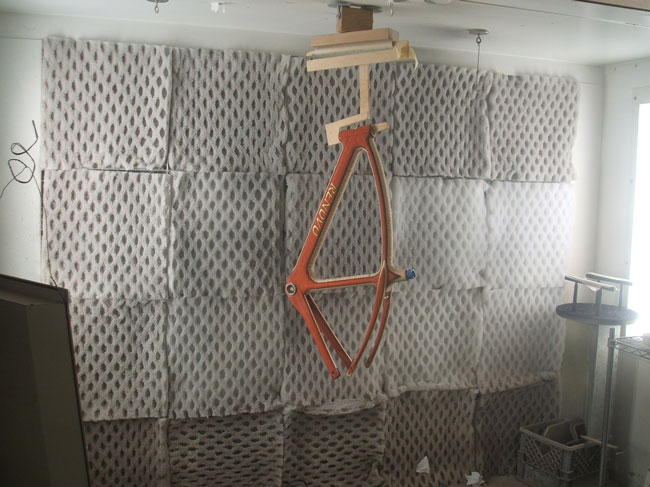 assembled frames are carefully glassed...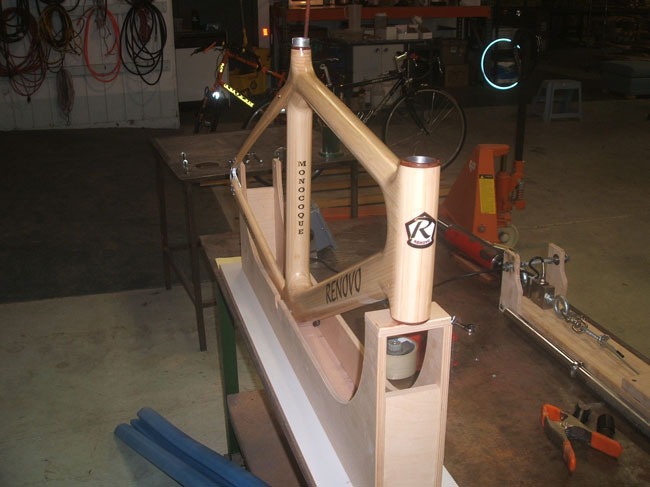 ...and then tested for stiffness and resonance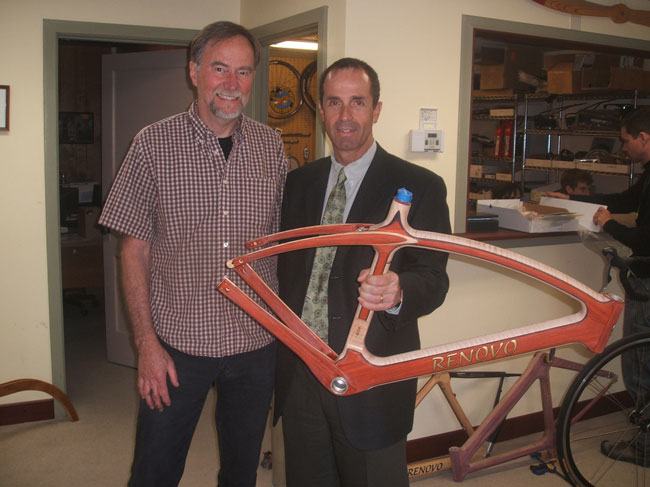 with Ken Wheeler, founder and chief designer, holding a 3lb masterpiece
I am trying to convince myself I deserve one :)
Archive: May 20, 2009
From Durham, NC, after having spent the day flying...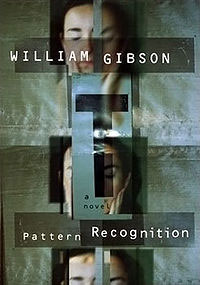 I have been reading William Gibson's Pattern Recognition, enjoying it immensely, and I find that in the way of all great books the world it creates in your head it isn't just engrossing, it makes you think about the world outside your head, too. The central character in P.R. is Cayce, a "coolseeker", who immerses herself in culture and can later tell, in an intuitive way, what "works" and what doesn't. Reminds me that this doesn't only happen with consumer products, it happens in business; you have to understand your customers, immerse yourself in their business, to understand what "works" and what doesn't.
In addition to being interesting and thought-provoking, P.R. is also of it's moment, early 21st century online, more so than any other book I've read; you can tell that Gibson immersed himself in the culture at the time in order to write this book. Examples Palmed while reading: "a cellphone large enough to look passé or unusually powerful", "a James Bond set, Brosnan rather than Connery", and of course, "Palmed". Google is featured, as are blogs and message boards, but you can tell it was published in 2003 and not 2009 because Facebook and Twitter are not :) Post-911 security concerns are also more strongly drawn than they would be today. I love the advertising people and their marketing; a character named Bigend comments "I was drawn to advertising when I realized the way products are positioned is invariably more interesting than the products themselves".
Gibson himself is a coolseeker... the patterns are recursive...
Yes of course the title of this post comes from P.R., you must read the book, silly :)
A travel day, Burbank to Dallas, long layover including an amazing dinner at Mr. G's in the Hyatt Regency in the middle of DFW (a game selection: Bison, Elk, and Quail, paired with amazing Burgundy, and an Italian cheesecake w cherries which was transporting), then Dallas to Raleigh, and here I am in Durham, blogging...
I am still really loving my Kindle. It allowed me to read Pattern Recognition all day, including during dinner in the very dark and formal Mr. G's, where I was able to continue reading by setting the font size to 6.
One result of having watched Megan debate last weekend, I am thinking of many things in the "prop/opp" way; you have a hypothesis, and you have points in favor, points against, and rebuttals for each. Proposition: the government should intervene to save large organizations from going bankrupt. Argue for and against!
We can now consider California as one such large organization. Wow...

Apropos: voters don't just say No, they say No Way. Hasta la vista, Arnold...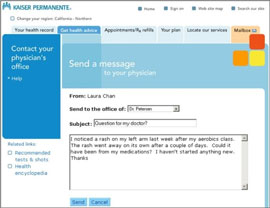 CNet has an image gallery of online personal health tools: taking your health record with you. Ah, but does it include the pathology information? It should :)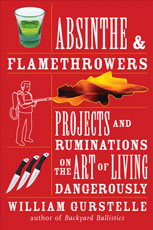 Maybe my next book: Absinthe and Flamethrowers: Ruminations on the Art of Living Dangerously. "I've spent the last two years writing my just released book Absinthe and Flamethrowers, an exploration of a single, important question: Are people who take risks happier than those who do not?" Interesting; I keep thinking I might be happier if I took more risks, but I'm not willing to risk it :)
Dave Winer's big idea for the NYTimes: write about Twitter for your Twitter audience. And let them write about it, too. Huh. I swear, I still don't get Twitter. Everyone else does, I know, even Queen Rania of Jordan, but not me.
Another thing I don't get: researchers store optical data in five dimensions. What does that even mean? It can't just be a five-dimensional array, right?
Looks like VS 2010 is out, at least in Beta form, so it looks like I'll have to try it. I am still using VS 6 for VB and VS 2005 for C++; I've done some experiments with VS 2008 but not for production. Stuck in the stone age :)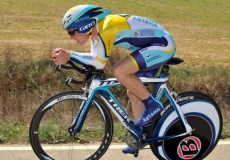 Tomorrow is the big day at the Giro d' Italia, the Cinque Terre time trial which will likely decide the overall winner. It is long and hilly, and most observers think the time gaps will be huge. Go Levi! I wish I could watch...
Archive: May 21, 2008
If you're struggling with the high price of gas, you must read this: Oil Executives try to educate Senate Democrats. "The committee's Democrats attempted no response. They know that they are largely responsible for the current high price of gasoline, and they want the price to rise even further. Consequently, they have no intention of permitting the development of domestic oil and gas reserves that would both increase this country's energy independence and give consumers a break from constantly increasing energy costs." Supply and demand, really simple...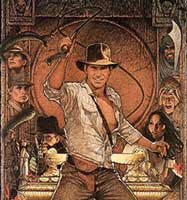 Jason Kottke reviews Indiana Jones and the Kingdom of the Crystal Skull. "If you need a reminder of Harrison Ford's ability to play Indiana Jones after nearly 20 years on the shelf, it comes in the movie's opening scene. Indy is roughly extracted from a car and tumbles to the ground. We see him stumble towards his trademark hat with that walk, a graceful stuttering step, wary of booby traps even on solid ground. Even though the camera shows us only his boots, it's unmistakably Indiana Jones." I haven't seen an actual movie in a theater for a long time. Might have to make an exception for this one...
I thought it might be interesting to give an update on my use of Google as a spam filter. After seven weeks I can declare this a complete success. Google has now filtered 42,080 spams, consuming 271MB, with few false negatives and even fewer false positives. My personal email is usable again!
Jeff Atwood: PHP sucks, but it doesn't matter. He's right, and he's right to compare it to VB, too. For the same reasons that VB succeeded - it made it easy to build cool applications - PHP is succeeding. We use it at Aperio, and it works great for us.
Google - YouTube: was it worth $1.5B? Look at the P&L, the answer is no. Look at the stock, the answer is yes :)
Mike Arrington analyzes Microsoft cashback. Wherein Microsoft pays you to use them instead of Google. "Yes, it will work and it will almost certainly increase Microsoft's market share in search, particularly in commerce search. The question is, how well will it work?" Have you switched? Me neither.
| | |
| --- | --- |
| Titanic, by Megan Eichhorn | |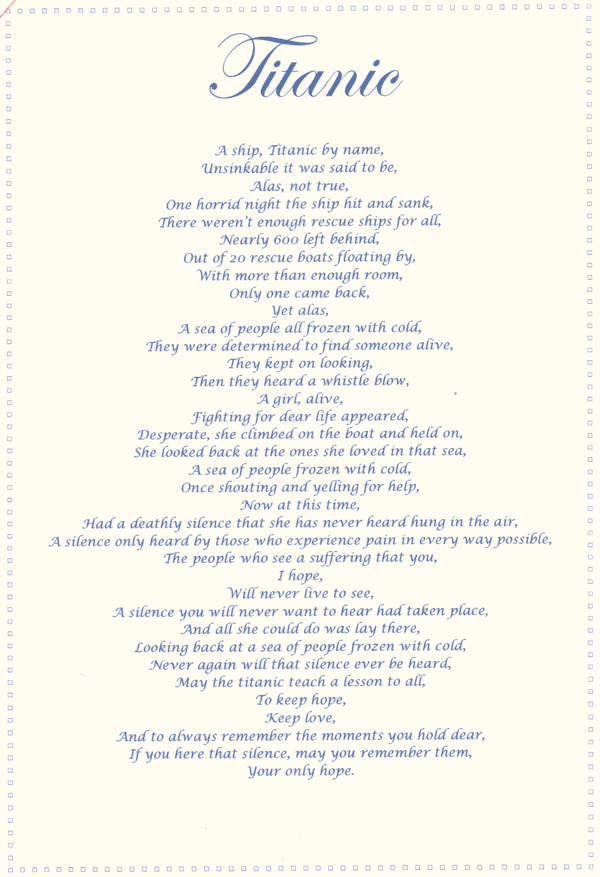 by Megan Eichhorn, 11
or as she prefers, "by ME"
Archive: May 17, 2007
| | |
| --- | --- |
| entrepreneurs inside the machine | |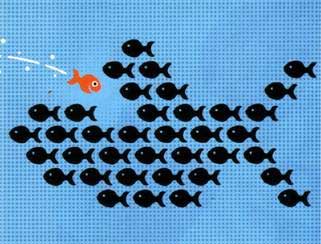 Fortune discusses Entrepreneurs Inside the Machine, regarding integrating acquired entrepreneurs into a big company.
I find this to be an important issue, as a shareholder as well as an entrepreneur. In the early days the value of a company like Aperio lies largely in its people. Over time the value becomes institutionalized, and moves into the customers, the market approach, the brand, the products, etc. (Not that people don't remain important, but they become relatively less important.) If an acquiring company plans to realize the maximum value from an acquisition, they must either provide a good home to those people, or wait until the value has shifted away from the people. Or both.
From my personal experience Intuit bought its billpay business (which was a separate company) too soon, the key people left, and the value was not fully realized. Digital Insight went public, experienced turnover without losing value (over a period of years), and was then ultimately acquired by Intuit, long after the value had moved. PayPal went public, experienced a great deal of turnover and lost some value (over a period of a year), and was then ultimately acquired by eBay. The value to eBay has been immense, but there was an even larger and more valuable business inside PayPal which wasn't fully realized. At one time we legitimately spoke of forming a rival to Wells Fargo and Citibank, now that seems silly. (Many of the PayPal people who left went on to start other successful businesses, YouTube being the highest profile example. Maybe someday Aperio will be another :)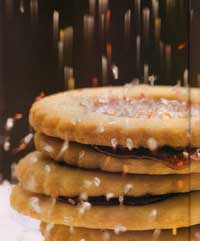 I'd like to refer you to The Bakeoff, an amazing article that I recommend to everyone. Really excellent, really thought-provoking.
This was published in the New Yorker a couple of years ago, and I can't find it anywhere online so I've scanned it.
The article is superficially about the quest for a healthier cookie. At a level down it is actually as much about software development – or innovation in general – as it is about baking; Joel Spolsky is quoted, as is Linus Torvalds, and the philosophy of "open source" is examined, and "extreme programming" is debunked. Jon Udell posted a nice overview if you're too busy to read it all, but the writing is excellent so I recommend you do when you can. The author is Malcolm Gladwell (of The Tipping Point and Blink), and he nails it.
P.S. This is an example of the kind of thing you can't find anywhere else. I can't stand the New Yorker's politics, or the way they seem to sneer at anyone not in New York, but the magazine is invaluable as a bulletin board for this sort of stuff.
Barry Bonds is back in the news as he nears Hank Aaron's record of 755 lifetime home runs. Which recalls this fantastic New Yorker cover, from April 3, 2006: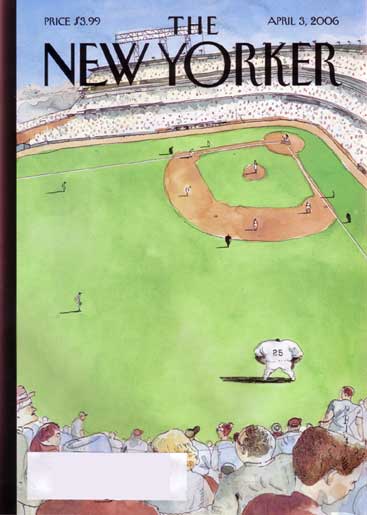 (click to make even bigger :)
Big news - I love it!
Archive: May 21, 2006
Archive: May 21, 2005
| | |
| --- | --- |
| The Force is with Return of the Sith | |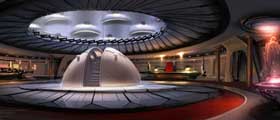 Today I saw Return of the Sith with my daughter and her friend. I loved it. Yeah, really really. Okay, it is a bit campy, but look, this is Star Wars, it is supposed to be campy. I don't care if the dialog is a bit stilted, or if the "love scenes" don't really work. At the highest level this movie did what it was supposed to do - it entertained. We all knew how it was going to end, but the transformation of Anakin Skywalker into Darth Vader worked; in the particular logic of the Star Wars Universe, it made sense.
The Star Wars movies began as a kind of B Western set in space, cowboys and indians, white hats and black. They were fun to watch, and the popcorn went down easy. No, they weren't "deep", and no, the character's weren't fully rendered (although Han Solo came close), and no, the science didn't make any sense. But it was fun. You could see real live space battles without the strings showing. And never mind that sound doesn't travel through space, the sounds were great. There was a force behind these movies that made them so successful.
The "new" Star Wars movies were at once too serious and too silly. With the weight of the franchise behind them, they had to perform, and the labor was evident. The special effects were cool ("pod racing!") but overdone, and the stories faltered. Episode I was okay, but Episode II sucked, by general acclaim. (Yes, we all watched it, but yes, we all hated it - in fact hated is wrong, the movie was too lightweight to merit hate - let's say we all disliked it.) Now we have a "new" movie worthy of the "old" ones, with a clean connector between the stories. I do think I'll watch this one again, and again, and again, just like the original, and just like Empire Strikes back.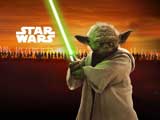 Some critics have opined that this movie is too dark. Some have read political statements into the story. Some have bemoaned the weird science, or the illogic of the plot. I think these people are overthinking things. Just go watch the movie, and enjoy it. Take in the wonderful alien planets, the space battles, the light sabers, and Yoda's strange grammar, and enjoy it all. How often have you seen a light saber duel on a lava flow? At the end we have a fully formed villain, complete with tragic past and axe to grind, and a brand new hero, just born. And may the force be with you.
P.S. Having seen this, I am now convinced there will be an Episode VII. Remember the end of Episode VI? Yeah, Vader was vanquished, not killed. And the best part will be, we won't know where it's going until we get there :)
Archive: May 20, 2004
The other day I posted an RSS cookbook, hoping to entice those of you who haven't yet discovered how cool RSS readers are to do so. Well I figured out a way to make it even simpler, so if you haven't already, please check it out - again. This will be worth it, I promise.
Busy day, for me, for the world, and for the blogosphere...
The frustration Democrats have with the electorate is understandable; even after all the "bad news" from Iraq, cheered on by big media, Bush remains ahead in the polls. Command Post notes Kerry is now trying to make the price of gas an issue. That's a good tactic for him, but realistically there's little the President can do about them. The world is running out of gas, and prices will continue to reflect supply and demand.
John Robb quotes the WSJ: "If current oil prices are sustained, the estimated losses at the airlines is expected to top $5B this year." So be it.
Not shocking, but too bad; China Shelves Plan for Astronauts on Moon. "China plans to build its own manned space station by around 2020 but has shelved plans to put a man on the moon for financial reasons." So be it.
AlwaysOn: Video Gets Personal. "Analysts generally seem to agree that the 'Tivo-ing' of America opens up new markets for on-demand Internet-based video content." Yep.
So today I get an email from Vonage, offering to change my plan from $30/month to $25/month. What! No strings attached. Excellent. They also introduced a new $15/month plan which offers limited calling. If you're still using analog phone lines, you are overpaying for phone service.
P.S. They're offering a $40 referral fee; if you sign up and let me refer you, I'll split it with you :)
Steve Sailer points out Mind - The Adaptive Gap, from the Scientist. A nice review of the current state of evolutionary psychology. "As a field, evolutionary psychology (EP) has the difficult, and some say untenable, mission of discerning whether complex human qualities--everything from sexual attraction to language--are adaptations honed through natural selection or just nonadaptive byproducts of a uniquely human collection of cognitive systems." Great stuff.
The Heisenberg Penguins: The Scientist reports on a study which found penguins with flipper bands are late to breed and less successful at it. (Sounds like a job for RFID.)

If you're a regular reader you know I like modern architecture, and especially Rem Koolhaas. Check out these pictures of new Seattle public library. Wow. That's art. (I love the floor of babble - what a great idea.) Oh, and here are some QTVRs of the interior. [ via Cult of Mac ]

Want to run Mac OS X on your PC under Windows? (Slowly?) The check out PearPC. Here's a report from a guy who got it running.... The use case for this is weak, but I love it!

Remember the old Mac SE? I do, in fact I still have one (named Hen3ry). Check this out - Oliver Soehlke & Lukas Pajonczek have created a web-based simulation (in German, no less)! More proof that some people have too much free time. I must say, it is cool.
It was pretty cool having the OS X screen shot (above, right) and the OS 7 screen shot (above, left) sitting side-by-side in Photoshop. You've come a long way, baby :)
The Atlantic considers Broken Windows, from 1982. This seminal work strongly influenced William Bratton, who first as New York Transportation police chief and then New York city police chief had unusual success by focusing on "broken windows" (literally and figuratively). He was impressively successful at reducing graffiti and crime in New York, and subsequently wrote a book ("Turnaround") and then became L.A.'s police chief (!). So far he's receiving high marks with his efforts here.
Ongoing application of this theory may explain Why Is There a Plunge in Crime?
The Sun reports Star Wars Episode III will be called Birth of the Empire. So be it. "The highlight of the space epic will be a thrilling lightsabre clash between Obi-Wan Kenobi (Ewan McGregor) and Anakin Skywalker (Hayden Christensen) while surfing on lava." Cool. In the wake of Episode II my expectations have been lowered to the point where I'll probably like this one.
MSNBC has a running commentary on "how Episode III can be saved". I'm sure George Lucas appreciates the help (but probably not the suggestion that somebody else direct), but as the creator of what is arguably the most successful movie series in history, I doubt he really needs it.
Tuck Andress on learning to play guitar: It's the Guitar's Fault. [ via Ottmar Liebert ]
Soon it may be illegal to drive while distracted in L.A. What! "Drivers distracted by eating, talking to pets or combing their hair could face new fines under a bill that passed the state Senate." These guys have too much free time. Are they kidding? What if you're driving and a pretty girl catches your eye, does that count? [ via Blogging L.A. ]
My friend Cynthia told me about this the other day, and I didn't believe her: Born a Boy, Raised a Girl, Became a Man. "Dr. John Money, who had authored 40 books on human sexuality, had radical advice. He believed that the gender of a person depends on how a child is raised rather than genetics." This guy was a doctor? Sigh.
Oh, but four trans-gender people are graduating from the LAPD police acadamy. I am not making this up. (I couldn't, I'm not that creative :)
Microsoft.com: The four-letter word that can get people excited. Hint: It starts with a B. [ via Scoble ]
Bill Gates gets blogs and RSS, too.
The RSS bandwagon keeps rolling, Time and ESPN. As Dave Winer says, big bing!
Want to get your feed wet with RSS? Check out my RSS cookbook...
Archive: May 21, 2003
Greetings from Modesto! (don't ask)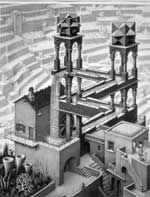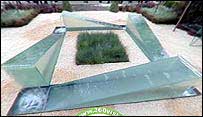 This is SO COOL! Check out this water feature, with water flowing perpetually uphill. Reminds you of an Escher print, doesn't it? The BBC tells you how it was done... I just love stuff like this. [ via Boing Boing ]
It isn't done like this, but it would be cool if it was :)
Cut on the Bias hosts this weeks' Carnival of the Vanities - straight, with biased commentary. My discovery this week is John Lemon's Barrel of Fish; check out "Money for Nothing and Your Grades for Free"!
Dan Gilmor: "Google co-founder Sergey Brin said there were no plans to segregate weblog content from the main search engine results." Well, that is pretty authoritative.
Want to know what's up with SARS? Check out these graphs. Really a great way to see the progression of the disease, broken out by country. The most significant is the "Cumulative Total" graph, fourth from the bottom. Based on this it certainly seems that the disease is being brought under control. Excellent.
On the Fritz: The SARS-spreading Sneetches. More proof, if any were required, that you can find anything on the web.
Home
Archive
this date in:
flight
About Me
W=UH
Email
RSS OPML

Greatest Hits
Correlation vs. Causality
The Tyranny of Email
Unnatural Selection
Lying
On Blame
Try, or Try Not
Books and Wine
Emergent Properties
God and Beauty
Moving Mount Fuji
The Nest
Rock 'n Roll
IQ and Populations
Are You a Bright?
Adding Value
Confidence
The Joy of Craftsmanship
The Emperor's New Code
Toy Story
The Return of the King
Religion vs IQ
In the Wet
solving bongard problems
visiting Titan
unintelligent design
the nuclear option
estimating in meatspace
second gear
On the Persistence of Bad Design...
Texas chili cookoff
almost famous design and stochastic debugging
may I take your order?
universal healthcare
entertainment
triple double
New Yorker covers
Death Rider! (da da dum)
how did I get here (Mt.Whitney)?
the Law of Significance
Holiday Inn
Daniel Jacoby's photographs
the first bird
Gödel Escher Bach: Birthday Cantatatata
Father's Day (in pictures)
your cat for my car
Jobsnotes of note
world population map
no joy in Baker
vote smart
exact nonsense
introducing eyesFinder
resolved
to space
notebooks
where are the desktop apps?
still the first bird
patience
electoral fail
progress ratches
2020 explained