Archive: February 18, 2020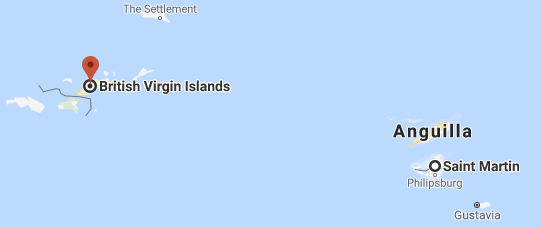 Hi all I'm gone sailin', back in March...
In the meantime look for me on Facebook, I'll try to post some pictures :)
Cheerio
Archive: February 20, 2019
Archive: February 20, 2018
Archive: February 20, 2017
Archive: February 20, 2016
| | |
| --- | --- |
| NASA's space travel posters | |
Did you see these? NASA have made some amazing space travel posters. Of course it would be great if we could actually visit these places, but in all likelihood that may never happen. And when it does happen, these places will be nothing like we can imagine. Except we might visit them via virtual reality. In which case, they could be like anything we can imagine :) Onward!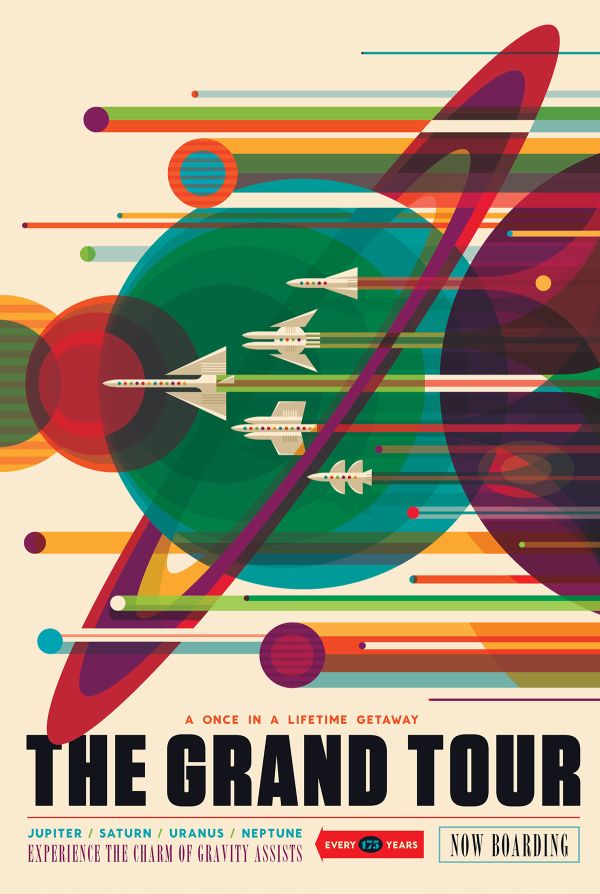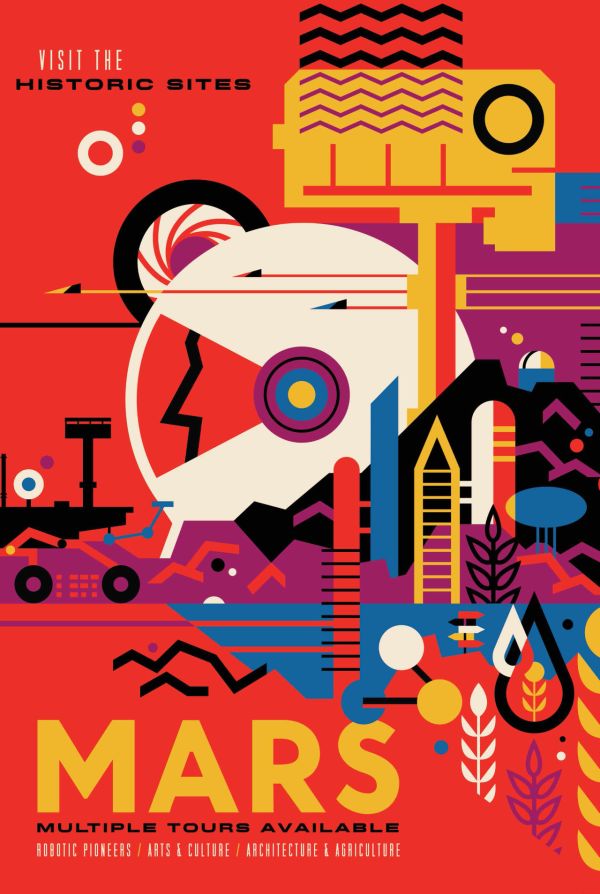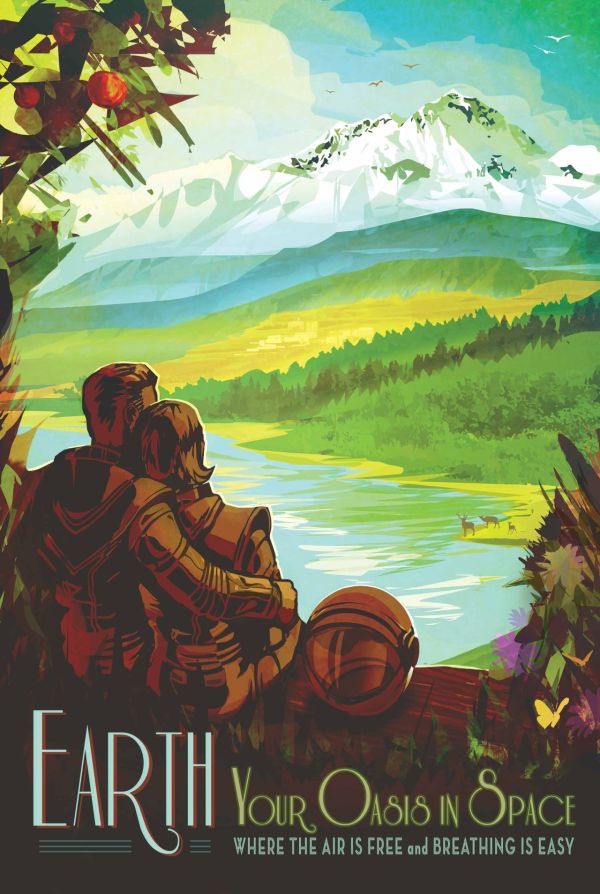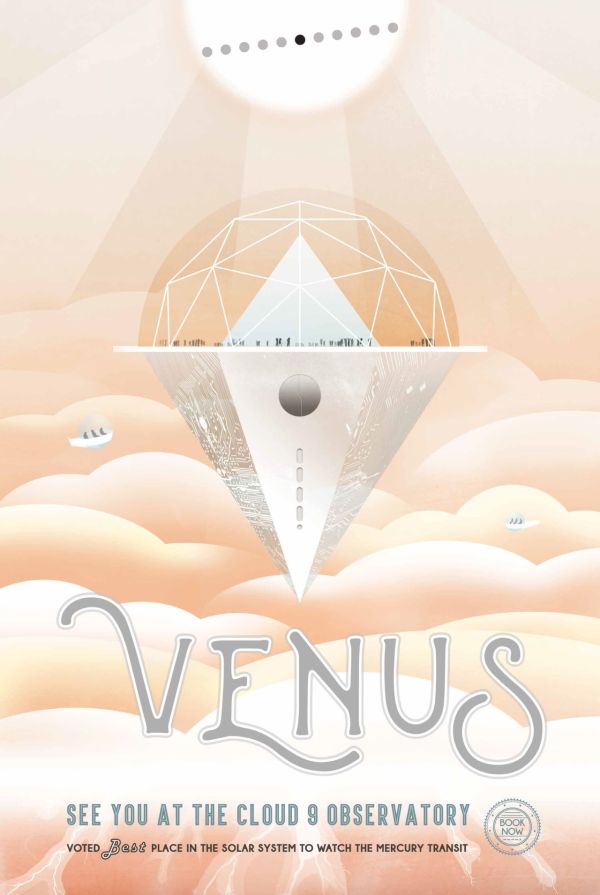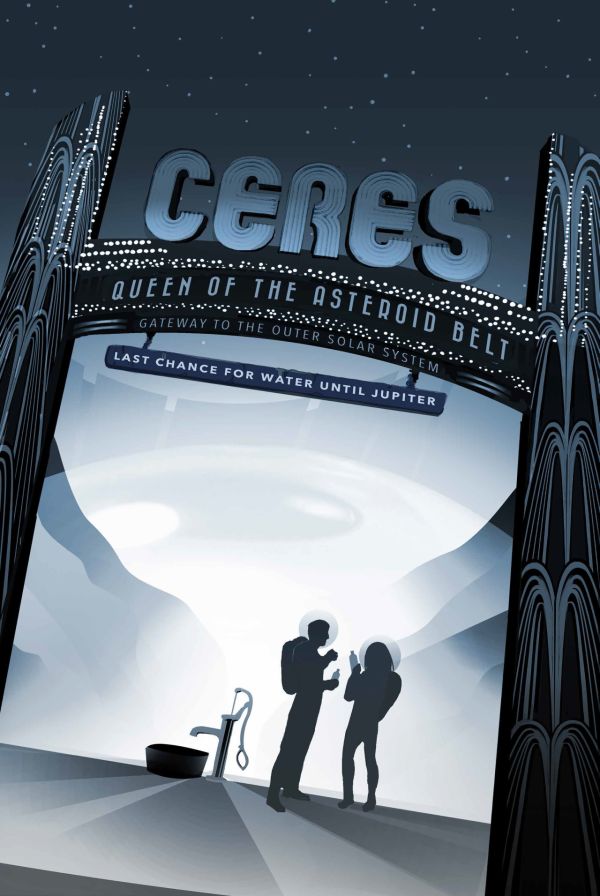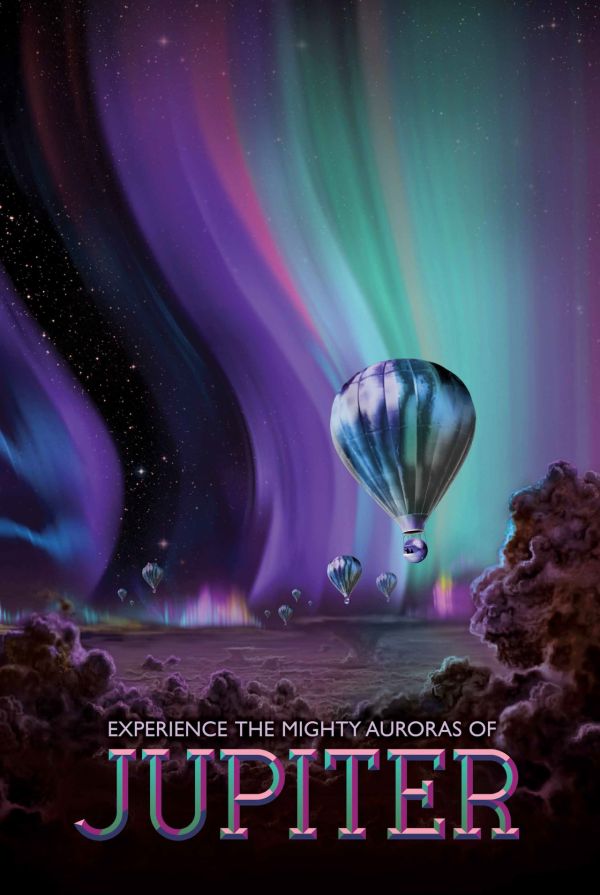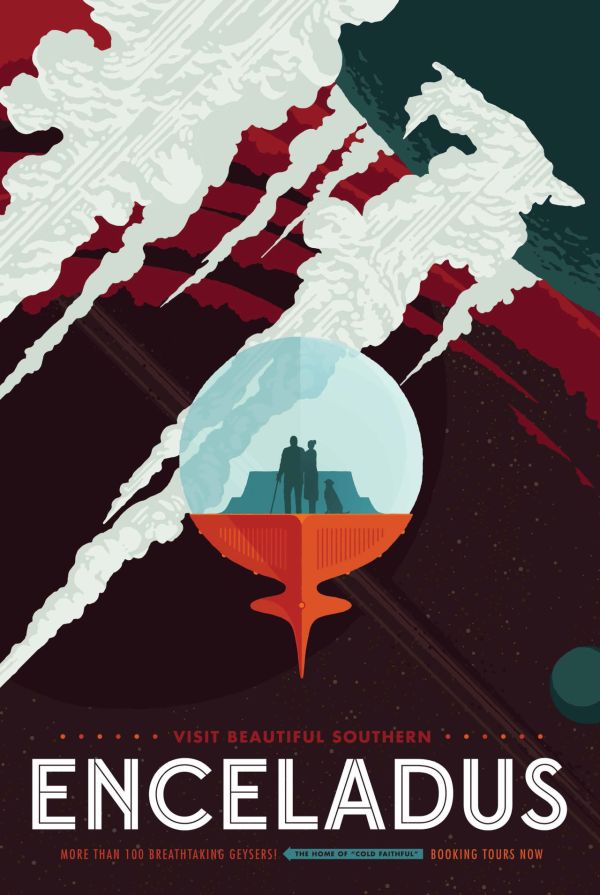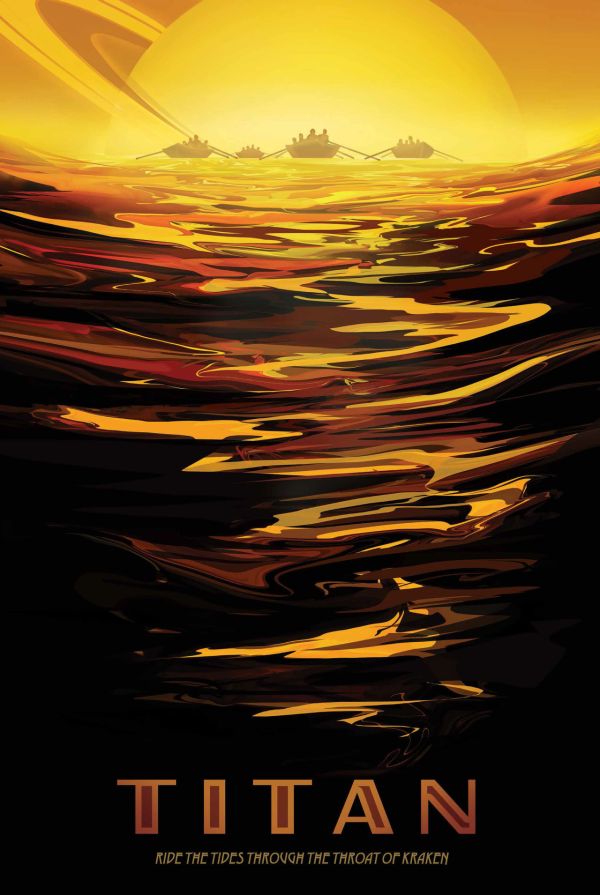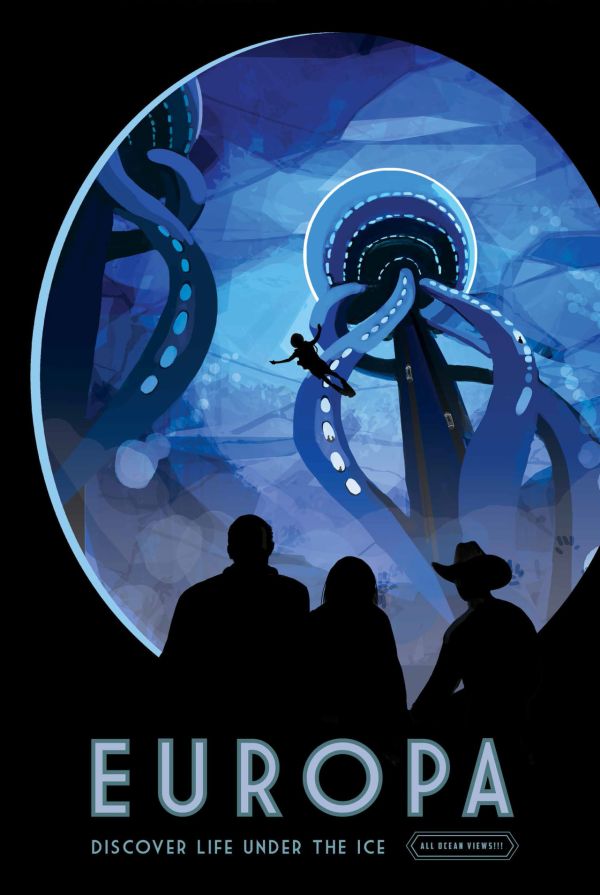 Archive: February 20, 2015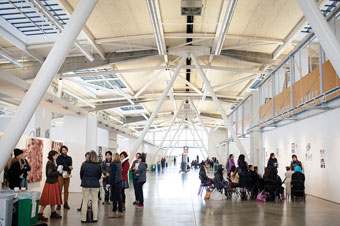 Tomorrow I shall be called upon to arise at 3:30 for a quick trip to San Francisco, taking Meg to visit California College of the Arts. That should be "fun". And so I should be sleeping ... and so I'm blogging instead ...
Scott Walker's new specialty: punting. "Sometimes the best answer to a question is a refusal to answer." Especially when the purpose of the question is a gotcha, rather than an honest attempt to learn.
Mark Cuban says Net Neutrality will f*ck up the internet. I'm not sure I'd put it that strongly, but more government regulation is never the solution to any problem. And it isn't clear there even is a problem here. It bothers me that so many people think net neutrality is obviously right* and don't even understand the issue.
* the way the issue has been named is quite clever, because we're all coached to think "neutrality" is a good thing.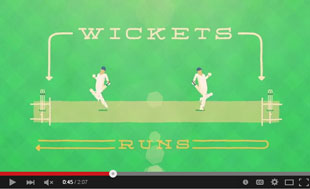 Well played: An animated guide to Cricket. Now you, too can argue infinitely about whether someone was LBW.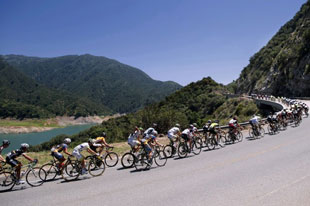 Excellent: 2015 Amgen Tour of California Route announced. Love that they're heading to a mountaintop finish on Mt. Baldy again, and yes, of course I am going to ride it and watch the finish. Great stuff. So glad an America bike race has become one of the top one-week stage races in the world!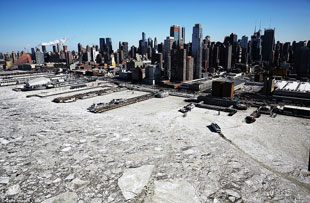 Global Warming update: The coldest day ever. "Temperature records broken across the country by the 'Siberian Express' cold snap as Manhattan hits 1F." Did not realize Al Gore was visiting New York. Click through to see the pictures, they're beautiful as well as impressive; that's the Hudson River, frozen, at right...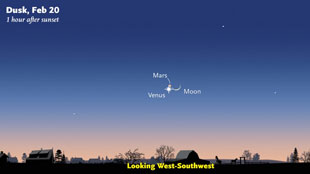 I'm too cold to check this out: Mars and Venus Conjunction tonight. It's pretty rare to have the Moon in the mix too, wonder what that means?
Archive: February 20, 2014
Everybody is rooting for solar power, myself included; at first glance solar power seems to have all the right attributes for a green source of energy. (Entropy!) But on closer examination, it isn't even a contender.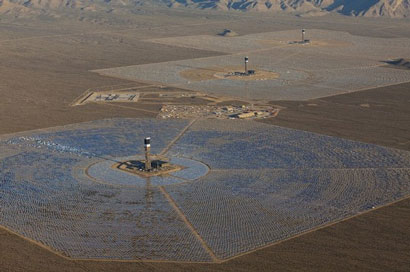 Consider the recent blog post on Inhabitat, celebrating Ivanpah, the world's largest solar thermal plant switching online. "The world's largest concentrating solar power plant, officially started generating energy for California's electric grid. Located just southwest of Las Vegas, the massive solar facility can produce a whopping 392 megawatts of solar energy."
Whopping? Let's just ask, how much electricity does a typical nuclear power plant generate? "In 2012, the 'average' nuclear power plant in the United States generated about 11.8 billion kilowatt-hours (kWh)... The Palo Verde plant in Arizona has three reactors with the largest combined generating capacity1 of about 3,937 megawatts (MW). Fort Calhoun in Nebraska had the smallest capacity with a single reactor at 502 megawatts (MW)."
Okayyy. So the smallest capacity nuclear reactor in the US has a capacity nearly 25% more than the world's largest solar plant. But what about cleanliness? Well let's go back to Inhabitat: "Despite these impressive numbers, Ivanpah has been mired in controversy for its high operating costs and for reportedly killing and scorching alarming numbers of the local wildlife." Hmmm, doesn't sound quite so clean, does it?
The reality is that solar power, like wind power, just isn't ready for prime time as a replacement for fossil fuel power plants, or for damming rivers. The only technology that can deliver the kind of power we need - and the only technology which is truly "cleaner" - is nuclear power. It is so sad that the association with nuclear weapons has put nuclear power on the wrong side of environmental advocates. It is truly our only option.
Archive: February 20, 2013
Archive: February 20, 2012
Archive: February 19, 2011
| | |
| --- | --- |
| blogging while high, again | |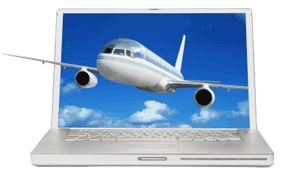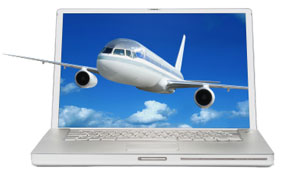 On the road again... starting with a whirlwind one-day trip to Orlando, to attend the HIMSS conference, before spending the week with Aperio's sales team in Vista. I am presently high above ... Arizona? ... en route; thank you Delta for the WiFi. Whew. (Does this count as cloud computing? :) I did manage to have a productive morning; cranked out some stuff I've been waiting to finish for weeks.
Please do not mention the word "compliance" to me. Just ... don't.
And so I am off! And meanwhile, this: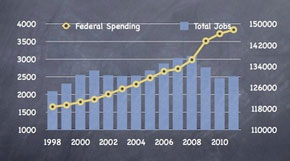 Powerline: what the house did last night. That graph of federal spending vs total jobs is rather scary. So much for the stimulus, huh? And meanwhile we are left with a crushing debt.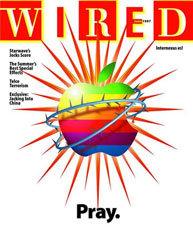 Pretty amazing: A detailed follow up to Wired's "101 Ways to Save Apple" from 1997. I remember that issue well, and I remember thinking "why does everyone always have so much advice for Apple?" And it is still true today; even now, as the most successful tech company on Earth, everyone is always telling them what to do. Even me :)
Apropos: Apple in the Sky with Diamonds: A cloud-based safe deposit box. I love the title (!) but also the discussion; so many people are now saying that the next iPhone/iPod whatever will not have local storage, but will instead rely on cloud servers. I don't think so. Apple is all about the product experience, and accessing your information "in the cloud" is a lousy experience.
The AOL way claims its first victim: Engadget editor Paul Miller resigns. Wow, too bad. I love Engager, I hope this doesn't mean the start of a slow decline, but I fear it does...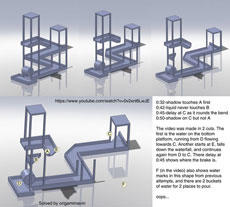 So, is this how the Escher Waterfall Machine works? You have to see the linked video, pretty amazing, even if it isn't "real". How cool is that? (BTW the reverse engineering is clever; even if it isn't right, it's a good guess!)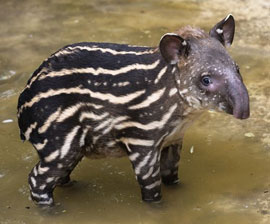 Wow this could be the cutest ZooBorn ever: a baby Tapir. Awww.
Oh, yeah, we survived the invasion! In fact it all went amazingly well. A great group of kids had a great time. How great is that?
Archive: February 19, 2010
Yet *another* max busy week, and another week in which I was gone; in Vista MTW and then flew to San Jose for a meeting yesterday, and just got back tonight. It was a good week in which many good things happened; I feel great. Hope yours was good too? And tomorrow I'm riding the Camino Real Double (!), my first of the year (first of this decade in fact :) and so yes I need a good night's sleep and no I should not be blogging. But I am!
... and we find that as usual, it's all happening ...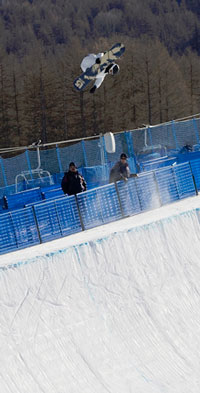 And so this week began the Winter Olympics in Vancouver, did a little watching here and there, including as much of my favorite sport speedskating as possible... and my new almost-favorite, snowboarding. Makes me want to go out and learn to snowboard; I'm a good skier and a rotten sometime snowboarder, and maybe that should change :) Did you see Shaun White? First he won the gold medal, and then he did the world's greatest run ever. Wow.
The best restaurant in the world? That might be El Bulli. Here's what Grant Achatz saw... "Mr. Achatz worked at El Bulli for a few weeks in 2000, and what he saw there shaped his career. Now the chef at Alinea in Chicago, Mr. Achatz wrote back with this reflection." Added to the life list. Along with Alinea :)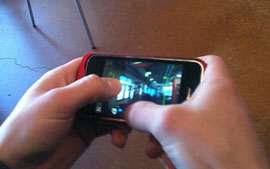 Here we have the fantabulous AR.Drone, an iPhone controlled smart helicopter, kind of a remote telepresence. It is cast as a sort of toy, but the technology here is amazing; the little vehicle actually acts as its own WiFi hub, and the phone communicates with it over TCP/IP. Of course the gyro in the phone can be used to physically control the 'copter. Way cool, and a harbinger of much to come...
Scott [Dilbert] Adams ponders replacing yourself. "Think of the first 20 people you know who have had all the kids they are likely to have. That generally means people over 40. For the purposes of this discussion, exclude anyone over 70. Add up the adults in your group. Then add up the number of offspring they produced. Is the net gain in humans sufficient to grow the population?" Next up, he'll ponder what it means that his group is reproducing less and others more...
The Adolph Hitler parody of all Adolph Hitler parodies, as he himself makes a YouTube video... please set down sharp objects and hot liquids before watching :)
Dan Wineman tries to use a restaurant website from his iPhone. This happens to me all the time; why do people use Flash for this stuff? Bad bad badness... [ via John Gruber ]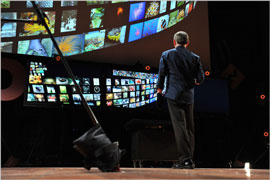 The next generation of UI design? Brad Feld: Oblong dazzles more than just me. "That's a picture of John Underkoffler at Ted on Friday giving one of his jaw dropping demos of Oblong's g-speak spatial operating environment. Lest you think this is science fiction, I can assure you that Oblong has several major customers, is generating meaningful revenue, and is poised to enter several mainstream markets with g-speak derived products." Cool! (but... "Oblong"?)
Dave Winer is now in New York (permanently!) and wonders about the 2nd Avenue Deli. "Not saying anyone did anything wrong, just thinking about how the universe allocates real estate, and how it's changing... Where was the government when the matzoh ball soup and pastrami needed bailing out?"
Oh yeah... red wine and dark chocolate are cancer killers! I knew there was a reason I thought they tasted so great together, and now I know what it was :)
I Lego New York. I lego it.
(check out this blog post for an example ;)
A poll finds Americans are the most attractive people in the world. Here's my perspective on this; there are some amazingly attractive Americans, and in some areas amazing concentrations of attractive Americans. But I don't think on average Americans are that attractive. Too many of us are overweight and out of shape, and dress poorly. IMHO the average Spaniard, Frenchman, or Dutchman is more attractive... I have been conducting informal research on this all my life :)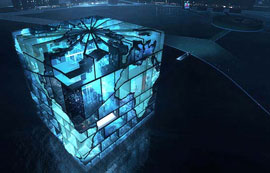 Wow is this cool: the Water Cube Pavilion for the 2012 World Expo in Korea. "The Water Cube's structure is composed of water filled basins, which act as both a temperature buffer as well as the main attraction. A bit like being inside an aquarium, the hollow inner sanctum will be lit with water-filtered light, and will be used as an exhibition center during the Expo."
Cycling analyst John Wilcockson on Stage 8 of the Amgen Tour of California: a sting in the tail. "Four times up the infamous Rock Store climb (4km at 7 percent) will make this a race of attrition... This spectacular conclusion to the California race will almost certainly end with three Tour de France contenders on the final podium." I can't wait...
... but wait I must, and in the meantime tomorrow there's the Camino Real Double. See you Sunday!
Archive: February 20, 2009
| | |
| --- | --- |
| at the Tour: Solvang Time Trial! | |
Today my friend Peter and I visited the Amgen Tour of California - the Solvang Time Trial. Wow, how awesome!
We had a great time, hung out in the town for a while, oogled the Kestrels used by the Rock Racing team, checked out the start house, and then rode the course, and stationed ourselves on the famous tight turn at Baseline and Refugio, and took pictures of all the riders as they came around the corner. In a new innovation we chalked a ruler on the street and measured how wide each of the riders took the turn :) After watching all the riders come through, we rode back into town just in time to watch Levi Leipheimer (the last rider since he was in first place) finish, winning the stage and extending his lead. Then we hung out amongst all the vendor booths and checked out new bikes, hardware, riding clothes, and the various attractive representatives :) A wonderful day!
I took a bunch of pictures, please find them here:
And following are some selected ones, for your viewing pleasure... (click each to enbiggen):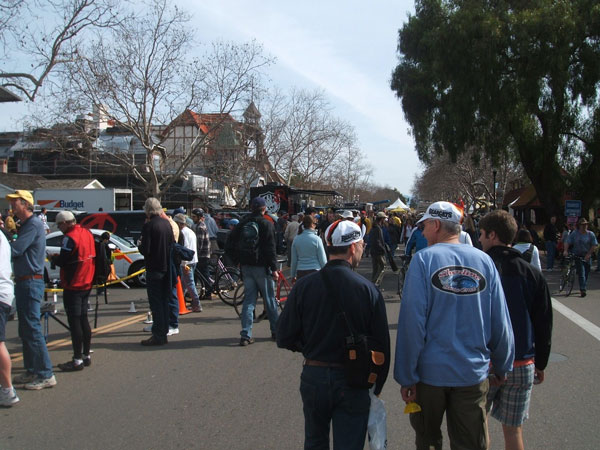 The streets fill up in the town of Solvang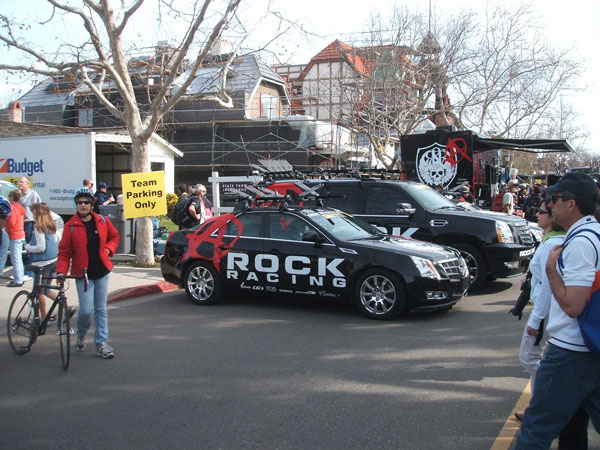 The Rock Racing compound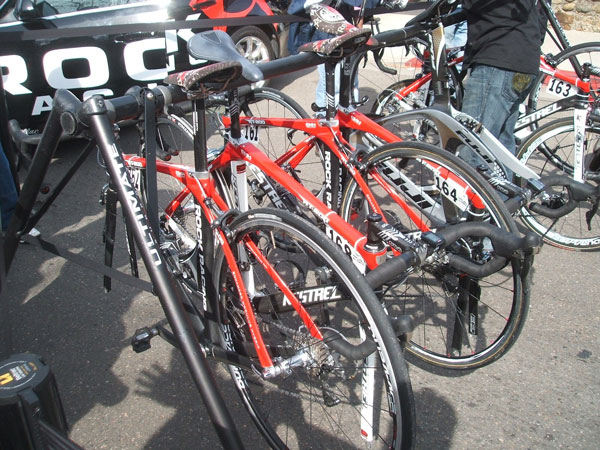 Kestrel RT800s (not to be confused with RT900s)
Man I really like these bikes. I really really like them. Really.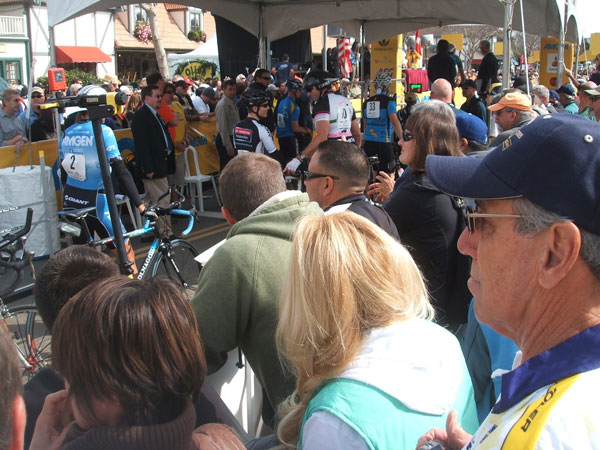 In the starthouse, ready to go...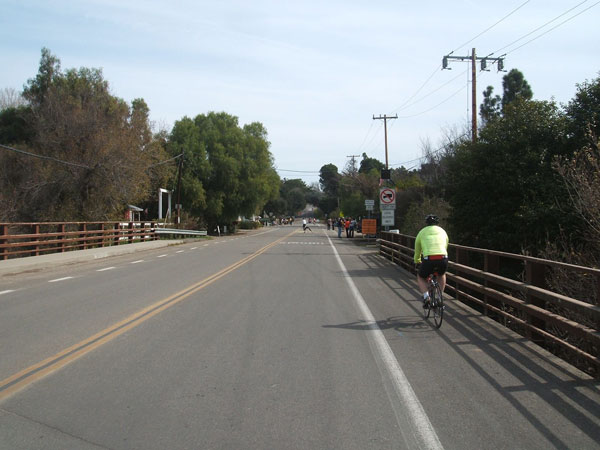 Out on the course, the weather is PERFECT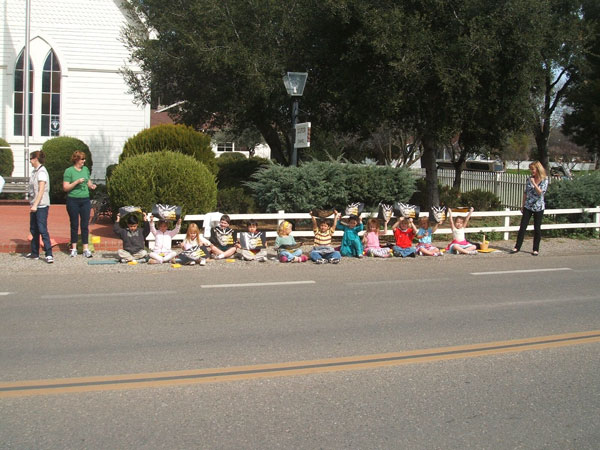 The fans are ready (OMG how cute)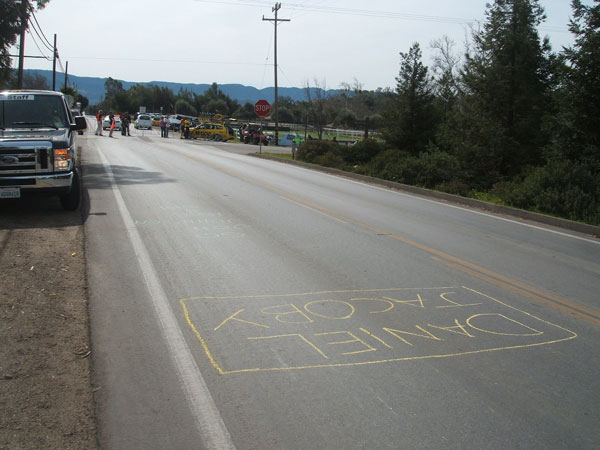 The sharp corner of Baseline and Refugio, where we were stationed
and remembering my friend Daniel Jacoby who passed away from cancer in 2004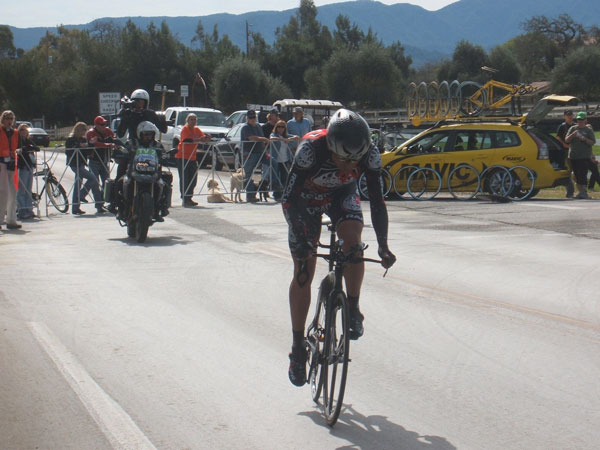 And we're under way!
Freddy Rodriguez has a flat tire, but after a quick change, he's off...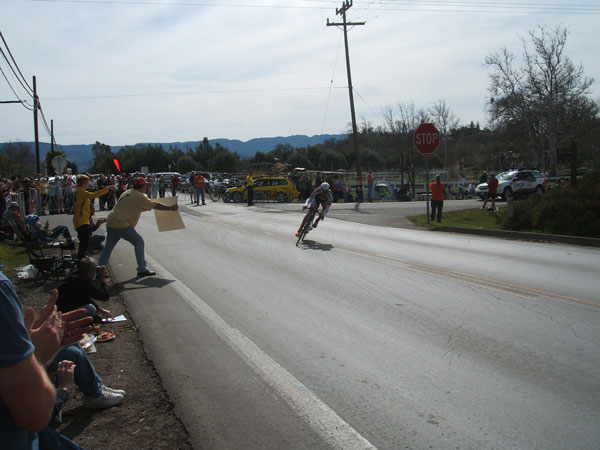 Floyd Landis is back! (NB 2006 TOC winner)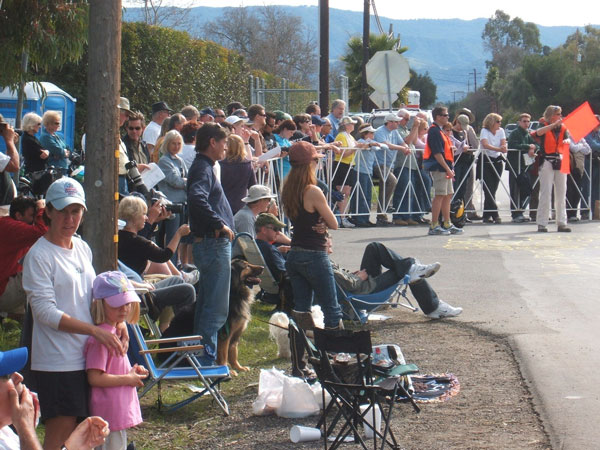 A huge crowd has gathered for the final riders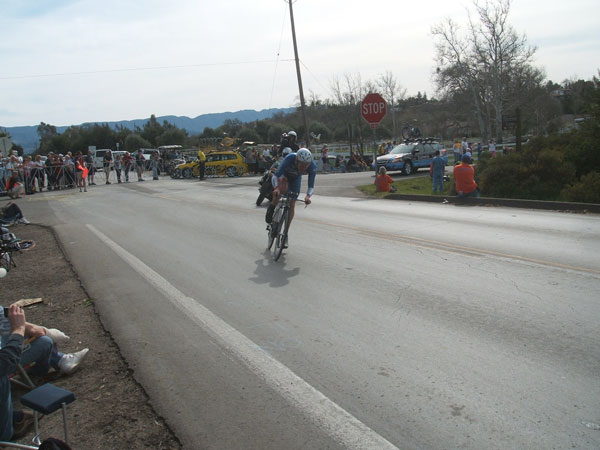 David Zabriske, US TT champion, finished 2nd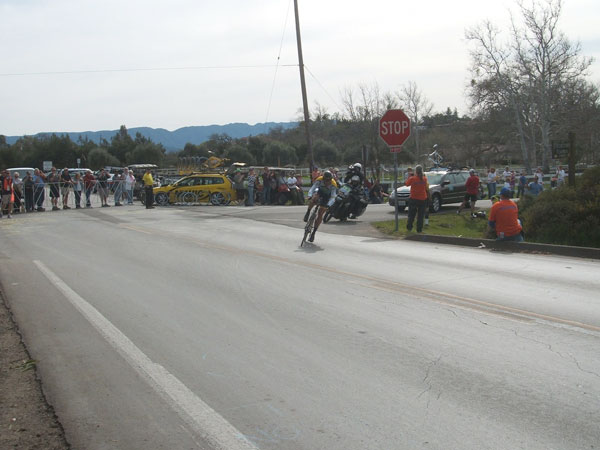 Lance Armstrong - the one and only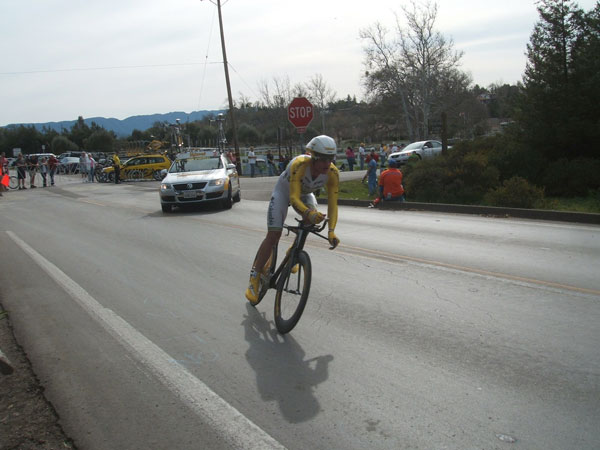 Michael Rogers finished 3rd on the day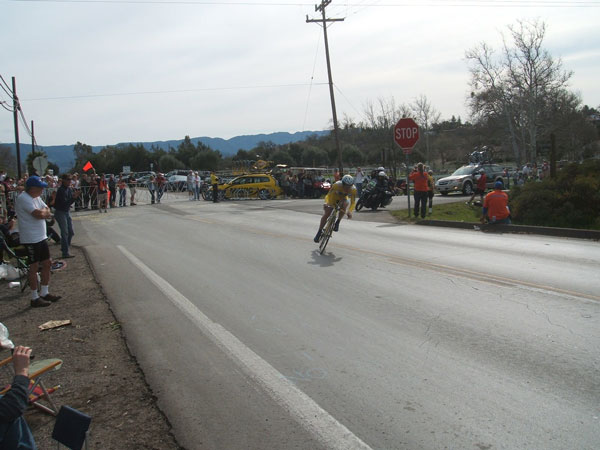 Levi Leipheimer, started in yellow and won to extend his lead!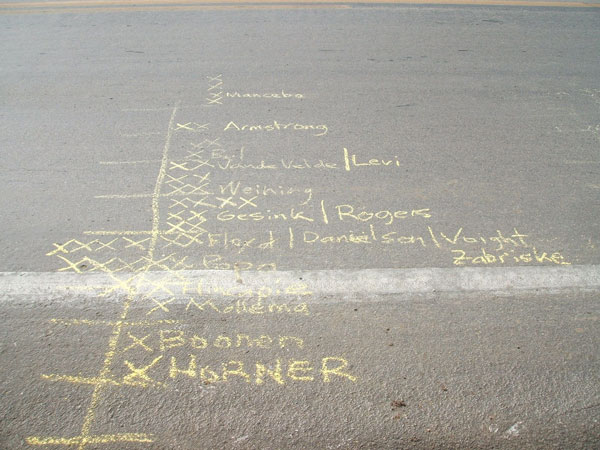 The final scoreboard - Chris Horner "won" with the widest turn :)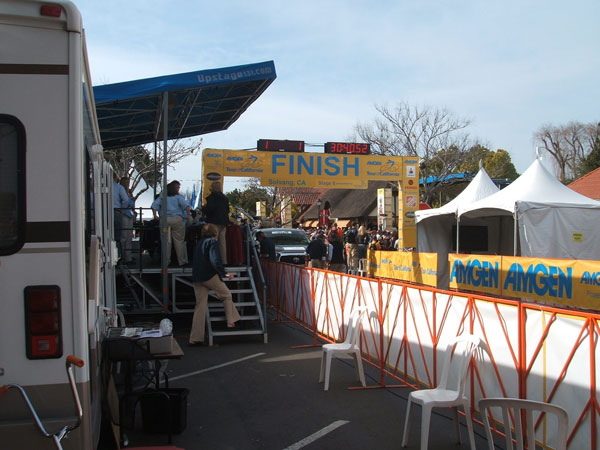 The finish line - with Levi on the podium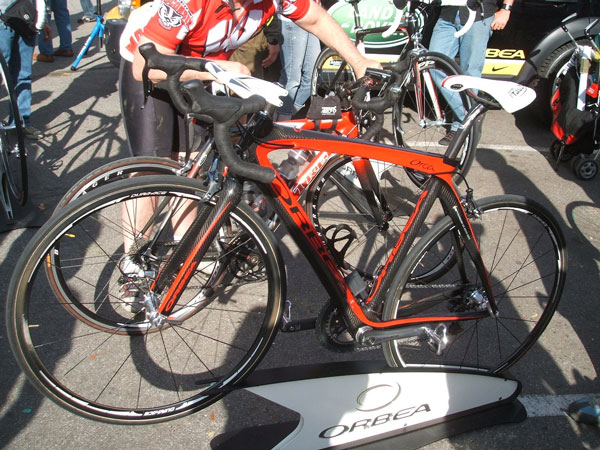 A beautiful Orbea Orca - in red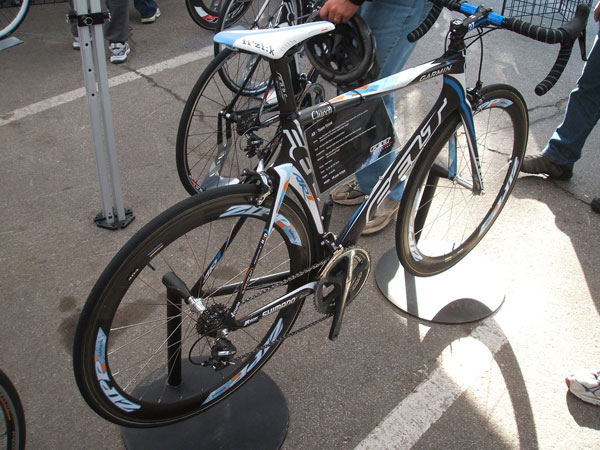 A Garmin Felt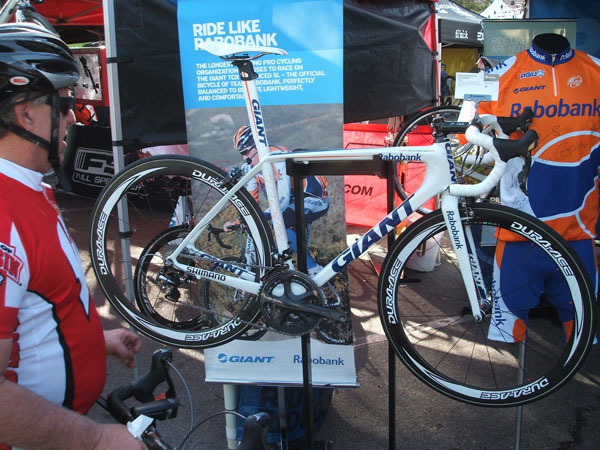 A Rabobank Giant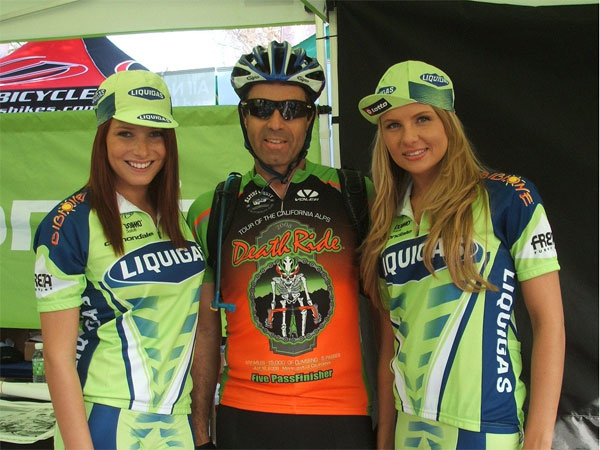 me and the Liquigas girls
All in all a pretty great day! And so tomorrow we have stage 7, a reprise of last year's classic which finishes at the Rose Bowl, and then Sunday, stage 8 including the magnificent climb up Palomar mountain. I intend to be there at the top - stay tuned!
Archive: February+20,+2008
Did you enjoy the nano art gallery I posted a couple of days ago? Did you feel like maybe you were doing something wrong by viewing it? Or that the technology which yields such pictures was somehow wrong? No?
Well you might be interested to hear that two-thirds of Americans think nanotechnology is morally unacceptable. "In a sample of 1,015 adult Americans, only 29.5 percent of respondents agreed that nanotechnology was morally acceptable." These people don't think it doesn't work, or won't work, or can't work, or has dangers, or anything like that; no, they think it is morally unacceptable. This could be the most dramatic evidence yet for Unnatural Selection; it seems the IQ level of our fellow citizens has plummeted. I am always astonished by evolution-denial, but this is even more astonishing. My goodness. Morally unacceptable.
I can't wait for someone to take out a Bible - a series of books written 2,000 years ago by men of that day, and later translated to English by other men of a later but still ancient day - and quote verbatim from some passage they claim "proves" nanotechnology is morally unacceptable. Well, maybe I can wait. But I doubt I'll have to wait long.
A good cure for this intellectual hangover is to re-read Richard Feynman's classic 1959 talk: There's Plenty of Room at the Bottom. His title refers to the fact things could be made orders of magnitude smaller, but it could equally apply to the bell curve of intelligence.
Archive: February 20, 2007
Archive: February 19, 2006

So, we're skiing! And having an excellent time, too. I couldn't be prouder of Alex and Megan, they're skiing like they were born to it. (Actually to be technically accurate Alex is snowboarding, not to be confused with skiing; much cooler, apparently :) So I'm in a condo at Mammoth, and only have dial-up to a local ISP, but of course I brought my trusty Apple WiFi hub and therefore we are all on WiFi here, sharing the 48K dialup. And surprisingly it doesn't suck. Not as fast as DSL, of course, but I've had worse. Anyway, the blogosphere didn't hit pause just because I left town, so let's see what's happening...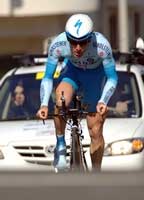 The Tour [of California] started today, and Levi Leipheimer took the prologue. This doesn't surprise me in the least. Ever since he beat Jan Ullrich in the Tour of Germany, he's been my pick for this year's Tour [de France]. Tomorrow is a sprint.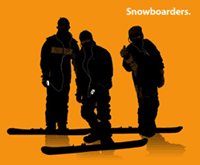 Gizmodo notes Apple's free Olympic publicity. "Though Apple doesn't specifically target athletes, Olympians from figure skater Kimmie Meissner to snowboarder Shaun White have been spotted using Apple's little music device during their runs. Burton Snowboards even designed outfits for the athletes to wear that have pockets designed especially for the iPod." Pretty cool. I was pleased to read that Shaun White listens to Led Zeppelin and AC/DC. I guess that music still has the power it had for me when I was 19! Overall if there is one result of these Winter Games for me, it has been to make X-game sports like Snowboarding seem more "legit".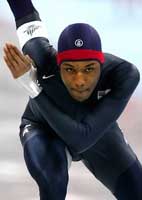 Let's hear it for Shani Davis! Not because he's black - so what - but because he won gold in speed skating for the U.S.! I guess he made the right decision to skip the pursuit, he concentrated on his event, and won. Excellent. [ via Horse's Mouth, who very properly asks "Bryant would you like a glass of whiskey with that crow?" ]
Guy Kawasaki: How to suck up to a blogger. "Blogging has flipped traditional PR on its head. It used to be that ink begat buzz... Nowadays buzz begets ink. Journalists no longer anticipate or create buzz--rather, they react to it." [ via Dave Winer, who notes of Guy "He knew how to blog before he knew he knew" ]
If you're in the market for a new car or just want an entertaining read, check out Confessions of a Car Salesman. If you're in a hurry, start at Part 9 - the concepts and recommendations. Pretty useful stuff. Not surprising, but it verifies all the stereotypes you've heard. Yes, car salespeople can be pond scum. And it also reveals that there are honest car salespeople out there who try to figure out what you want in a car (gasp!) and sell you a car that gives it to you (double gasp!).
This is what we do at Aperio - we call it solution selling - and it has two incredible benefits; first, the customer is happy (because they get what they want) and second, the salesperson is happy, because they don't have to lie and so on, they just have to ask a bunch of questions to understand the customer. Seems simple but apparently it isn't.
Tim Bray on PHP. "So here's my problem, based on my limited experience with PHP: all the PHP code I've seen in that experience has been messy, unmaintainable crap. Spaghetti SQL wrapped in spaghetti PHP wrapped in spaghetti HTML, replicated in slightly-varying form in dozens of places." I have the same problem, and I have it with every web scripting language; whether it be PHP, Perl, ASP, or KSH. There is no separation of data encapsulation from business logic, and no separation of logic from presentation. You can force this - with stored procedures, templates, etc. - but the language doesn't, which can lead easily to kludging. Yet having said that, it is productive, it runs rather well, and it is designed for web interactions and database access. Tim has appended a "virtual comment section" with emails he's received. A great discussion.
Scott Loftesness asks What's your favorite Mac stuff? Then he answers the questions with a good list of his favorite Mac stuff.
I wonder what Scott thinks of prosper.com, a new site trying to be "eBay for money". The NYTimes reports its Like lending to a friend, except you'll get interest. "Prosper's users lend money to and borrow money from other people on the site at what the company says are better interest rates than those available through traditional financial institutions and without some of the risk that comes from typical person-to-person loans." Quite an interesting concept.
Archive: February 20, 2005

One of the things I missed blogging about last month was the new Mac Mini. Man is it cool. Have you seen one? They're tiny. Basically the size of a DVD drive. Very nice, especially considering the $500 price. I'm trying to figure out a good reason to buy one; I am working on a Mac development project...
Here's one thing you might be able to do with one; a concept for a Mac Mini A/V dock. [ via Engadget, who also ran how to turn your Mini Mac into a media center. ] There seems to be a theme to this speculation :)
Robert X. Cringley thinks the Mini Mac is all about movies.
He also ponders whetherthe iPod is the razor or the blade.
Apple. Here's to the crazy ones :) [ via Gerard VanderkLeun ]
I've been flying a bit lately, and I can totally recommend SeatGuru.com. This free site will tell you everything you need to know about every seat on every commercial airplane.

The Seattle PI has a nice article about their new Rem Koolhaas -designed library, and how he almost didn't get a chance to do it. [ Thanks, Tom ]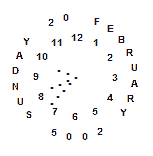 If you're an IE user, check out this cool clock! Ah, the wonders of DHTML. [ Thanks, Diane ] (This illustrates both sides of the DHTML situation; you can do cool things with it, no question, but it is incompatible across browsers.)
What the heck was this? Not quite the way to make a landing... Could this be real? It looks pretty real.
I still have a little link to the Amazon tsunami relief fund on my pages; the Katsushika Hokusai woodcut from 1831. The fund currently stands at $15,751,953, from 190,768 individual donations. Wow. I'm sure there were people from many countries who contributed, but I'm also sure the vast majority of these donations came from U.S. citizens. I think I'll leave it a bit longer...
This is kind of old news by now; there was a blog called Diplomad which chronicled the U.N.'s perfidity in taking credit for U.S. Tsunami relief. (I say "was" because they're not blogging any more, although the site is still on the air.) Anyway the U.N. defies parody; I can't wait until we finally stop funding this horrible excuse for graft.

L.T.Smash weighs in: The Dishonesty is breathtaking.

Meanwhile here's an interesting analysis of the effect of the tsunami on the Indian Ocean seabed. More here.
Gerard Vanderleun ponders Rules? In a Knife Fight? "One gets the impression that the President and his core group would prefer it if Americans and the world began to think of the Iraq stage of the Terrorist War as a kind of Tsunami relief effort with guns." This is always a problem; we fight "fair", some of our opponents do not. But that's the difference between us and them, and why we must win. We just don't want to lose who we are in the process.
And "who we are" is exemplified by that Amazon relief fund!
| | |
| --- | --- |
| think green, think nuclear | |
If you're a regular reader you know that I'm a green in wolf's clothing. I think we must get better at preserving our environment and slowing our consumption of natural resources. And I also think - gasp! - that nuclear power is the key to this.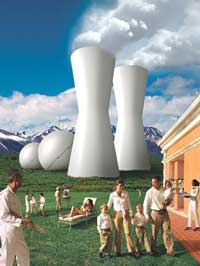 Wired magazine's February issue has a great article on this point of view: Nuclear Now! You should read the whole thing, but here's a taste:
"In the years since [Three Mile Island] we've searched for alternatives, pouring billions of dollars into windmills, solar panels, and biofuels. We've designed fantastically efficient lightbulbs, air conditioners, and refrigerators. We've built enough gas-fired generators to bankrupt California. But mainly, each year we hack 400 million more tons of coal out of Earth's crust than we did a quarter century before, light it on fire, and shoot the proceeds into the atmosphere.

"The consequences aren't pretty. Burning coal and other fossil fuels is driving climate change, which is blamed for everything from western forest fires and Florida hurricanes to melting polar ice sheets and flooded Himalayan hamlets. On top of that, coal-burning electric power plants have fouled the air with enough heavy metals and other noxious pollutants to cause 15,000 premature deaths annually in the US alone, according to a Harvard School of Public Health study. Believe it or not, a coal-fired plant releases 100 times more radioactive material than an equivalent nuclear reactor - right into the air, too, not into some carefully guarded storage site.

"Burning hydrocarbons is a luxury that a planet with 6 billion energy-hungry souls can't afford. There's only one sane, practical alternative: nuclear power.
Amen.
The Wired article has an interesting sidebar: Green vs. Green, which discusses the current state of Green opposition to nuclear power. I've always been amazed that people who are anti-fossil-fuel aren't pro-nuclear power, but perhaps there is an education gap. Nuclear power is not even the same thing as nuclear energy.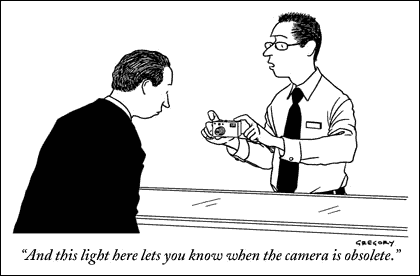 Do you get a discount if the light comes on in the store?
Archive: January 31, 2004
Whew. 12 days without posting. Sorry.
First, I'm fine. Thanks to all of you who emailed asking if everything was okay. Second, I will start blogging again, probably tonight. Thanks to all of you who emailed saying you missed me!
I've been heads' down cranking out code for customer delivery. It is crunch time at Aperio - after two years of development we have finally begun shipping production systems in quantity. (Well, "quantity" is relative - we're not talking hundreds here, but more than onesies and twosies :) We now have a ScanScope device which can scan a rack of 120 microscope slides reliably in about 10 hours - 5 minutes per slide - completely unattended. You put in your slides, go home, and come in the next day with beautiful high-quality in-focus images waiting for your inspection. Awesome.
We've also been doing a lot on the software front, so there are things you can do with these "virtual slides". Of course we have a terrific viewing application, which zooms and pans smoothly through these massive images (typically around 5GB of image data!). The viewer supports a cool annotation facility. We have remote viewing over IP networks, so you can do "telepathology". And multiple people can join together in one viewing session, so everyone's viewing is synchronized, including annotations.
We also have a really cool flash-based web viewer. So you can view virtual slides remotely on any computer without installing software. Remember, these are multi-GB images!
And the coolest thing of all - my focus, pun intended - is our pattern recognition software. I'll probably blog about that some more in the coming days, as we begin rolling that out.
For more info, you might like this post about Aperio's mission.
I didn't plan it this way, but it was actually good to have a brief blogging holiday. Please, stay tuned...
Archive: February 19, 2003
I few days ago I posted In the Elevator and asked for your feedback. Many of you responded - thanks! - and the consensus was that Ms. X would be intrigued. That is good. However, a few of you also felt it was "harsh". That is not so good. So I ruminated on this for a bit...
I think the problem was the word "dumb". It doesn't only mean "not smart", it also conveys "bad". The strange weird amazing thing about intelligence is that unlike many other human attributes, there is an implied moral judgment. Just because you're tall or blond or left-handed or blue-eyed, doesn't make you "better". You could equally be short or brunette or right-handed or brown-eyed. But smart is perceived as better than not as smart. This is a tough thing to get around. People identify smarter with better, and so adjectives which mean "not as smart" also have the connotation "bad". This is not accidental, in fact it is deeply significant and relevant.
So - what to do? Well, first, I've amended In the Elevator to use "less intelligent" and "not as smart" instead of "dumb" and "dumber". Perhaps you could check it out and tell me if this is an improvement. Second, the idea that "not as smart" = "not as good" deserves some air time. I've actually planned a whole section of the book on "Why is This a Problem", after all, it doesn't follow that just because humans are becoming less intelligent, this is bad. Humans are also becoming taller and heavier, and this doesn't seem bad (except possibly to furniture manufacturers).
I played around with adding something about dumb=bad to the elevator statement, and then I realized it is not necessary. (And it would consume two or three floors... :) Although there can be debate on this point - and there will be in the book - most people accept that IF humans are becoming less intelligent, THEN that's a bad thing. Showing the premise is true is the job of part one ("What's Happening?") and showing the conclusion follows is part three ("Why is This a Problem?"). In between we have part two ("Why Isn't This Obvious") which discusses the masking effects shielding the problem.
[Please see Baby Steps if you have no idea what's going on here...]
© 2003-2020 Ole Eichhorn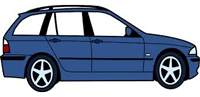 I have a public service announcement. My daughter Jordan now has her driving permit (Congratulations!) If you are driving in Northwest Los Angeles and you see a blue Volvo station wagon, you have been warned.
Have you ever wondered what the makers of kids' software are smoking? This morning my daughter Megan was watching Dora the Explorer on Nickelodeon, and she saw an ad for a game on the Nick Jr. website. She came running into my office to go online and play the game. That's when it started. Twenty minutes later she was happily playing the game, and I was back to work. What happened in the meantime was not pretty.
We launch our browser and go to www.nickjr.com. We immediately see Dora, and click on her. A new window opens, and we get a dialog box telling us there is a new version of Flash available. Forget Flash, we just want to play the game, right? I hit Cancel and on we go. Except we don't because next we get a message telling us we need a newer version of the Shockwave plug-in. So be it. Click the "Upgrade" button. Now we get a 5MB download, then nothing happens. Oh, yeah, I have to go find the file and double-click it to install. Okay, found the file, double-clicked it, installed, all cool. Now we can play the game! Nope. Now we get a gratuitous message welcoming us to Shockwave. Okay, welcome it is, click okay. Now I get a registration form! Man, I want to play a game here, okay? Register me another day. Sheesh. Hit cancel. The browser goes to shockwave.com! Seriously, what are these people thinking? We're trying to play a game here. Back at the Nick Jr. website we now get a message in the browser window telling us 3D Groove is being downloaded. What?! Okay, whatever. Now we can play, here we go... Close, but no cigar. After the download completes we get the following message: "3D Groove SX is compatible with OS X in Classic Mode only". I am not making this up. Now, I happen to understand this message, but how many parents are going to deal with this? Okay, so I quit the browser and relaunch in Classic mode. (If you're not a Mac aficionado, feel free to use this example the next time a Machead tells you how much simpler Macs are than Windows.) You know what happens next, right? Yep, now we have to upgrade our Classic version of Shockwave. Which isn't that easy, because after you download it, where the heck does it go when there's no Classic desktop? After a little searching with Sherlock I find the Shockwave Installer, install it, and now we're going to be happy, right? Noooo - now we get the registration dialog again. Hey, I don't want to register, I want to play the game. Onward... And we get the 3D Groove is being downloaded message again... And this time - finally! - the game starts. Man.
The sad thing is, this is no exception. Software is still too hard to use. Especially if you're a parent.
No America's Cup today, the wind was too shifty. Previously TNZ announced they were replacing tactician Hamish Pepper with backup helmsman Bertrand Pace. The change makes sense; Pace has beaten [Alinghi helmsman] Russell Coutts before and is an aggressive starter, which TNZ badly needs being down 3-0 in the best of nine.
Can you even believe what Kobe Bryant is doing? Tonight he scored 40 against the Jazz, making his seventh straight game with at least 40, and eleventh with at least 35. This is Jordanesque, to say the least. Last night he scored 52 against the Rockets to lead the Lakers to a double-overtime win over Houston, pulling them into playoff position with a performance that featured a gravity-defying monster dunk over 7'6" Yao Ming. Whew.
Microsoft has bought Connectix, the innovative company which makes Virtual PC. They claim this as evidence of their support for the Mac platform, but I'm suspicious; if you take away Virtual PC then Apple can't claim Windows programs run on a Mac anymore. Would have made more sense if Apple had bought them...
So perhaps you think newspapers are outdated? Well, I do. I haven't taken a daily paper for five years. But here in L.A. we're getting a new one - The L.A. Examiner is being reborn, courtesy of ex-mayor (and ex-gubernatorial candidate) Richard Riordan. This project grew out of Riordan's dissatisfaction with the liberal L.A. Times, and is headed by Ken Layne and Matt Welch, the journalists who founded the L.A. Examiner blog. These bloggers are going the wrong way - back to paper. Oh well, they do have a great site. They're hoping to emulate Ira Stoll, who founded the smartertimes.com website to counterbalance the N.Y.Times, then went on to start the New York Sun about a year ago.
P.S. My first job was delivering papers for the L.A. Herald Examiner. It was heavy.
Glen Reynolds, the InstaPundit, has an op-ed piece in the Guardian (U.K newspaper). Interesting becuase 1) Glen leans right and the Guardian leans left, 2) Glen is a blogger and the Guardian is a newspaper, 3) Glen is interesting. Read it!
LGF points to: Human Shields Limp into Baghdad. Charles comments "I hope someone was filming this trip; it sounds like a combination of Spinal Tap and The Big Bus. But dumber." Yep. And speaking of filming trips, if you have broadband, check out Evan Coyne Maloney's antiwar protest vlog. It speaks for itself.
Dave Winer thinks Teoma is as good as Google. Nope. They can't even find me. Google can!
Home
Archive
this date in:
flight
About Me
W=UH
Email
RSS OPML

Greatest Hits
Correlation vs. Causality
The Tyranny of Email
Unnatural Selection
Lying
Aperio's Mission = Automating Pathology
On Blame
Try, or Try Not
Books and Wine
Emergent Properties
God and Beauty
Moving Mount Fuji The Nest Rock 'n Roll
IQ and Populations
Are You a Bright?
Adding Value
Confidence
The Joy of Craftsmanship
The Emperor's New Code
Toy Story
The Return of the King
Religion vs IQ
In the Wet
solving bongard problems
visiting Titan
unintelligent design
the nuclear option
estimating in meatspace
second gear
On the Persistence of Bad Design...
Texas chili cookoff
almost famous design and stochastic debugging
may I take your order?
universal healthcare
entertainment
triple double
New Yorker covers
Death Rider! (da da dum)
how did I get here (Mt.Whitney)?
the Law of Significance
Holiday Inn
Daniel Jacoby's photographs
the first bird
Gödel Escher Bach: Birthday Cantatatata
Father's Day (in pictures)
your cat for my car
Jobsnotes of note
world population map
no joy in Baker
vote smart
exact nonsense
introducing eyesFinder
resolved
to space
notebooks
where are the desktop apps?
still the first bird
patience
progress ratches