Archive: March 28, 2017
Archive: March 27, 2016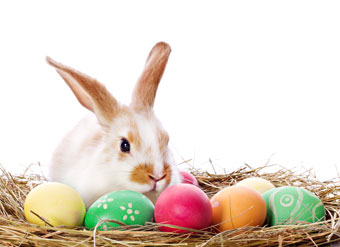 Happy Easter! In which we celebrate the resurrection of the son of God by eating chocolate bunnies... or are we celebrating spring fertility by hunting for hidden eggs? Not clear. At least Easter is a nice opportunity to get together with your family, enjoy a great dinner with some nice wine, and reflect on the nature of the universe...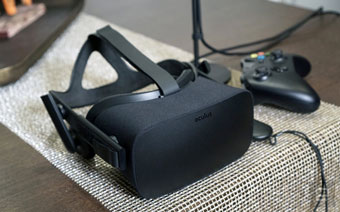 So, the Oculus Rift is out! Yes I am getting one, despite not being a gamer; I can't wait. I believe it may be the first iPod or iPhone or iPad of a whole new product category, VR devices. But two things limit it, the form factor (people are NOT going to end up wearing headsets, I just know that) and the need for a powerful desktop PC to drive it (people are NOT going to buy powerful desktop PCs for VR). The tech issues will get resolved. I just wonder about the form factor. Maybe VR rooms are going to be the future. They have issues too though, but more comfortable and more social. Will be most interesting to watch this play out. There are many things VR can do besides gaming...
While moving I found my Amazon Kindle. Not my new one that I use every day for reading outside, but my original Kindle. It gave me goosebumps. Still works, and works well as a way to read a book. But I so remember getting it, it was 2008, and I was going to Brazil on a business trip, and it was a cool way to bring a bunch of books and a Portuguese dictionary and maps of Sao Paolo and Rio de Janeiro with me. During that trip I had this epiphany, the ebook form factor was great, but the ability to *instantly* access new content was a game changer. Someone mentions a book, and poof! you can download and read it.

When you first put on a VR headset – whether a Cardboard or a Rift – you have this "wow this is cool" experience. As I noted I'm not sure the headset form factor is perfect, but for now it is what it is. I do think that as with ebooks and music and all sorts of other content, the ability to *instantly* access new content is going to be incredible. Say we are talking about Madagascar. With VR, poof! we can go there*. Say we are talking about designing a new bathroom. With VR, poof! we can see what it would look like. Say we are talking about a cool new car. With VR, poof! we can see the car, and we can even drive it. It is going to be so cool. The VR content industry is going to be much bigger than the VR hardware industry.

* I do still want to visit Madagascar in person, and I probably will. But probably not Mars.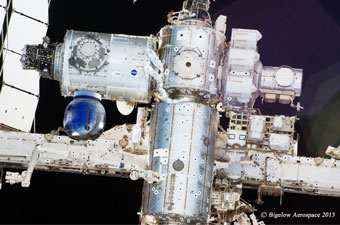 Here's why the next SpaceX launch isn't just about the booster landing. It's also about the Bigelow Aerospace expandable habitat. The picture at left shows it [virtually] attached to the ISS. These "living spaces for space" have significant advantages in size and weight. Excellent.
Scott "Dilbert" Adams: The Elbonian Zombie virus. "Now here's the interesting part. What is the functional difference between the Elbonian Zombie Virus and radical Islamic terrorism? In both cases they are spread by prolonged personal contact. In both cases you have no way to identify infected people until there are symptoms. In both cases the "virus" is deadly to both the person infected and those around them." Adams is on fire as a blogger.
Religions are a mental virus, and idea I first encountered in Susan Blackmore's excellent (and under-appreciated) The Meme Machine, an intellectual follow-on to Richard Dawkins The Selfish Gene. This way of looking at them is amazingly insightful.
News item: California to announce $15 minimum stage wage. Meanwhile: restaurants face pressure to trim menus and staffs under California's wage hike. This is going to be a massive failure, especially for the poor people it is trying to help. Perhaps the only good that will come from it is that the concept will be discredited.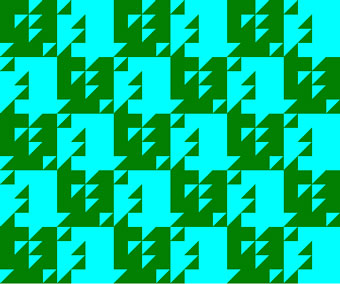 News you can use: Make Escher -style tessellations online! Heh, excellent. Just a little too late for coloring Easter eggs, maybe next year :)
I've decided to call this one "Fongbakt", for obvious reasons.
Archive: March 20, 2015
| | |
| --- | --- |
| Iditarod day twelve: DeeDee in Nome! | |
I'm delighted to report that early this morning DeeDee Jonrowe finished her thirtieth #Iditarod, pulling into Nome in 31st place at 5:10AM, after ten days on the trail. This wasn't her fastest or her highest place, but she finished with 15 dogs, the largest team still running, and she finished! As noted earlier she suffered from severe frostbite earlier in the race, during those cold early days along the Yukon (-40F!), and despite being among the leaders into Huslia, the halfway point, was never able to recover. Congratulations to her for persevering and finishing, wow.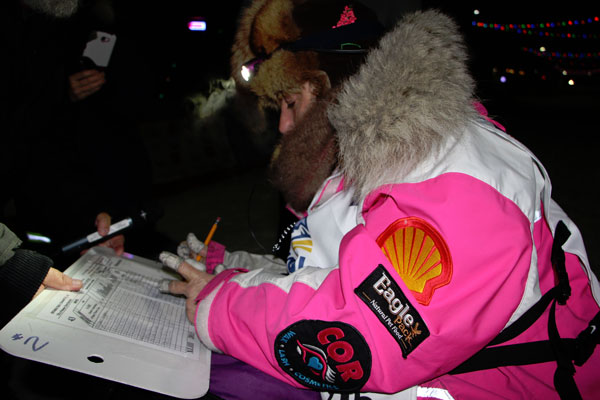 DeeDee signs the finishing register
(note her fingers!)
Speaking of persevering and finishing, I highly recommend Beyond Ophir, a book by longtime Iditarod musher Jim Lanier, which I've been reading as a delightful companion to the 2015 Iditarod. It chronicles his first Iditarod, way back in 1979, and is a wonderful collection of stories of a life well led in the wilds of Alaska. Jim is a retired pathologist (!), and this year at age 74 was the oldest musher in the race. I was sorry to see he scratched yesterday in Unalakleet, due to "musher illness".
And so ends the 2015 Iditarod (for me at least, there are over 30 mushers still "out there", and the Red Lantern Cindy Abbott has only just checked into Unk). Each year at the end of the race I have this sad feeling of leaving a strange and cool little world and returning to "the real world", until next year. Onward!
Oh, and some final pictures...: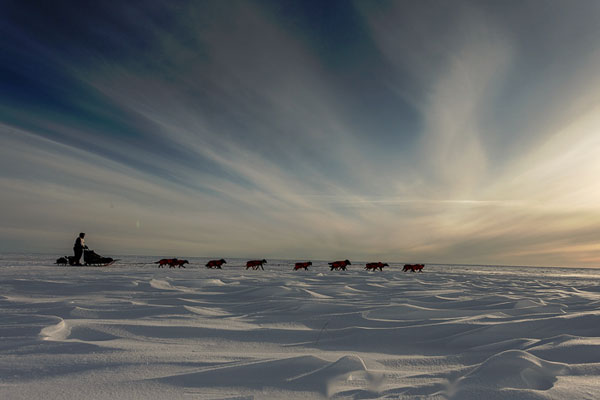 Ken Anderson in the Nome stretch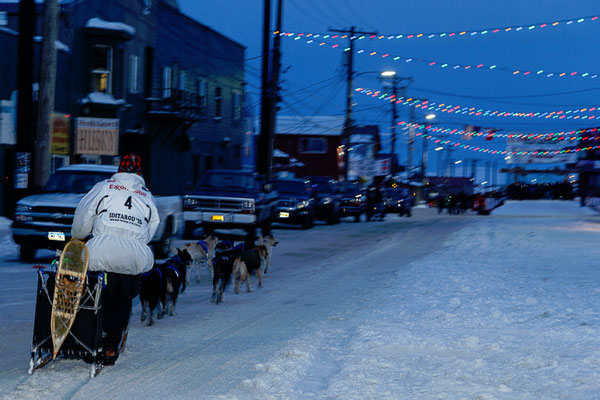 Martin Buser mushes down Front Street toward the burled arch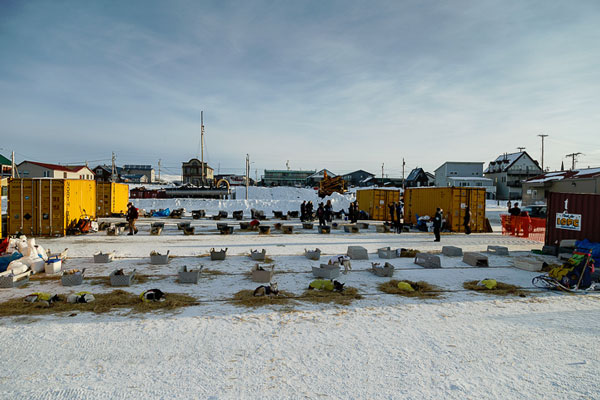 dog tired after 1,000+ miles ... the Nome dogyard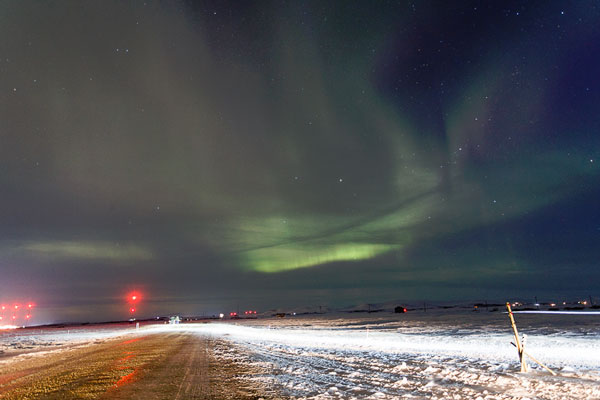 Northern Lights over Nome --- WOW
Onward ... until nextyear!
Archive: March 23, 2014
Archive: March 28, 2013
Archive: March 28, 2012
Archive: March 27, 2011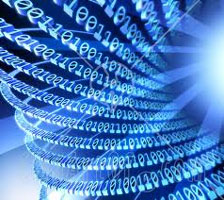 Whew, a long weekend in which I worked most of it in the land of 1s and 0s, productively, heads down on an interesting project. What could be better than that... throw in some decent movies (The American was great!) and some nice dinners, some good wine, and especially some interesting conversations with my daughters, and it couldn't have been much better.
I have rediscovered two things; first, break big projects into little ones, and make steady progress, and second, listen to [the right] music for inspiration. Wonderful :)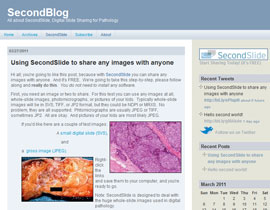 So ... I setup a new blog, SecondBlog, for Aperio's awesome SecondSlide service, along with a Twitter stream and a Facebook page. And I linked it to Aperio's main blog The Daily Scan, which also has a Twitter stream and a Facebook page. That was all pretty cool...
If you're an admin for Facebook pages, check out RSS Graffiti. The perfect Facebook app for pulling RSS feeds from blogs onto your wall or pages. Just works, no muss, no fuss. And even works around that bogus bug where Facebook links no longer have thumbnails. Yippee.

So I can find it later: Anatomy of a Facebook post.
The piling on continues: iPhone App Store review of Color. "Color is a ground breaking new entry in the new genre of MMPRLMG (multi-player real-live marketing games)." If Color manages to succeed after this sort of start, it will be remarkable. We haven't had a starting line face plant like this for a long time.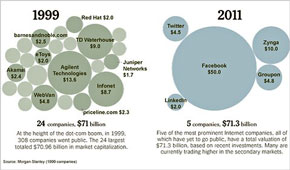 So, are we having a tech bubble? The NYTimes says let's see if it pops... seems to me a bubble is more of an attitude than anything else; the companies with big valuations right now are "real", in the sense that they're profitable, unlike some of the companies back in 1999. LinkedIn is not pets.com.
This is funny: you can tell it's a bubble because startups are raising so much money, they can afford vowels.
Looks like GE might be the company from Atlas Shrugged. Wow. This is some scary reading.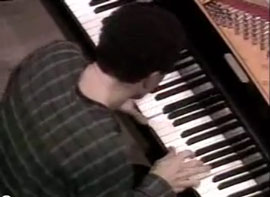 This is awesome: pianist Keith Jarrett, from a 1984 concert in Tokyo. Wow.
Long ago, while working on the outline for Unnatural Selection, I conceived of a chapter called The Piano Player, which would make the point that with worldwide communication at the speed of light everyone competes with the absolute best. 200 years ago you might have been a decent piano player, celebrated as the best in your little town; now, you are compared against Keith Jarrett.
So, is this a moat or a castle? Google teams with Mastercard and Citigroup for NFC payments. I think they think it's a moat, but they're going to lose to people who treat it as their castle. Payments are tricky, and you need customer service and sophisticated fraud analysis to win.
It has been two weeks since my sad / happy / weird day. Things are still a strange combination of sad and happy and weird. Onward!
Archive: March 28, 2010

And so I am back from a week in Washington DC, an amazingly busy and productive week attending the U.S. and Canadian Association of Pathologists annual conference, squeezing in a couple of DICOM meetings, a visit to the National Cathedral, a visit to the National Zoo, and an unbelievable celebration dinner at which a magnum of 1996 Araujo Eisele was consumed which could possibly be the best wine I have ever had...
(and not to mention back from riding a double century yesterday)

...but while all that was happening for me, all this was happening for you:
Well, the health care reform bill was signed (aka insurance reform), so What Happens Now?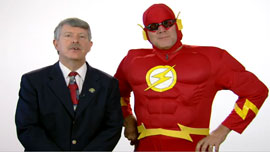 My little city of Westlake Village has applied for Google's Fiber for Communities program; the entry included this video to make the case: Why the City of Westlake Village is the right choice for Google's Fiber for Communities project. Yes, that is Westlake Major Pro Tem Ned Davis dressed as The Flash, alongside current Major Mark Rutherford. Pretty cool - I hope we are selected!
Bringing improved support for Flash to Google Chrome. And so we have Apple vs Google playing out in Flash support too. No way Apple are going to support Flash on iDevices, but I guess Flash will be everywhere else. Question is will it matter?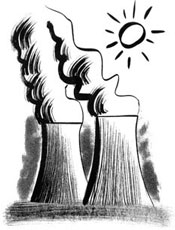 Hendrik Hertzberg: Some Nukes (making the case for nuclear power)... Hendrik is an Obama apologist and I often disagree with him, but in this instance he is dead on. Let's hope we get some change on this issue.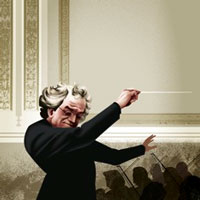 As you know I love Alex Ross, the New Yorker's music critic, and as another example why I offer Battle of the Bands, his column in the March 22 issue. "In the space of thirty-one days, from the end of January to the beginning of March, Carnegie Hall held an unofficial orchestral Olympics, presenting thirteen concerts by symphonic ensembles from six states and three foreign countries... The impulse to pit one orchestra against another is as regrettable as it is irresistible." I swear I am becoming a classical music (and opera) fan simply by reading Alex' columns ;)
Tim (XML) Bray is a Sun employee who didn't want to get absorbed into Oracle and so has joined Google, he will be blogging about it from the inside. A preliminary assessment: Life at Google.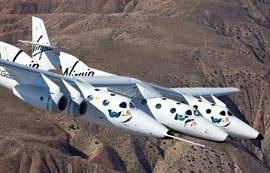 Way cool: the virgin flight of Virgin Galactic's VSS Enterprise. This was a "captive carry", meaning the spaceship itself didn't fly, except as a passenger of WhiteKnightTwo, it's mother ship, but still it was another forward step along the long road to space travel. Onward!
How cool would it be to be Richard Branson, who is wealthy enough and energetic enough to start stuff like this? Really cool :)

The story of bottled water. Entirely a marketing concept, as most tap water is at least as good (if not better) than bottled water, especially in the United States. Ironically the people most likely to drink it are "greens" who would be horrified if they understood the environmental impact of bottled water vs ordinary tap water. Clean plentiful running water is one of the miracles of our civilization.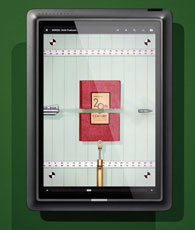 With Apple's iPad imminent, a great cluster of articles from Wired: How the Tablet will Change the World. The main article is great, as is all the side takes; my favorite was Marshall McLuhan's... On a meta level it is interesting how readily Wired has embraced the tablet as a potential delivery channel, and yet Wired remains a magazine with value as a magazine; although their ads are down I could seem them lasting a lot longer in paper form than, say, Time.

Pretty nice point from Jeff Atwood: the opposite of Fitt's Law. It isn't only important to make things users do all the time easy, you want to make things users hardly ever do hard.
This looks amazingly cool: Photoshop CS5's new Content-Aware Fill. I use the world's oldest version of Photoshop (v6, from ahem 2001), perhaps *finally* I have a reason to upgrade. [ via Slashdot ]
The Tivo Premiere makes its debut, and is reviewed by Engadget. In the kiss of death department, note this: "Let's talk about that lag for a moment, since it's inescapable: it feels like the entire UI reloads every time you do anything." Sigh. A sluggish UI will kill a consumer product faster than anything.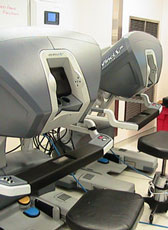 From Technology Review: the Slow Rise of the Robot Surgeon. "Robot-driven procedures are popular, but surgeons say the technology isn't evolving quickly enough." That's certainly one point of view, from another, a slow steady rise is preferable to fast growth followed by pullback when there are problems. Robotic surgery has tremendous value - my daughter Megan had open heart surgery to repair an Atrial Septal Defect when she was four, done by a surgeon with a robotic arm, and it was incredibly successful - but the challenges are significant, too...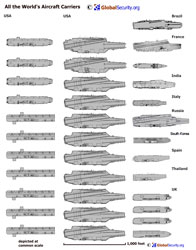 I've posted this before (I think), but it bears re-posting: a graphic which shows all the aircraft carriers in the world. You can click through for an interactive enlargement - please do - but the thumbnail makes the essential point, the U.S. has twice as many carriers as the rest of the world combined, and bigger and better ones, too... no other country comes close. Russia has one, and the U.K. four [smaller] ones. When you factor in our edge in the planes which fly off these carriers and the ammo they carry, our superiority is amazing.
Well this is cool: Boonen to ride Tour of California. Wow, with Cancellara in the mix, looks like Levi will have some serious challengers this year... I can't wait!
Steve Almond: Why it's okay to love Styx. "They've been slagged as embarrassing, over-earnest, everything wrong with '70s music. Forget that: This band rules." Indeed, and if you aren't enjoying them, it just means you aren't listening to them loud enough :)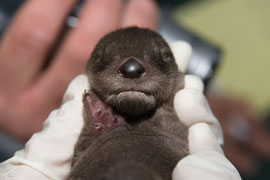 ZooBorns of the week: thermonuclear otter pups. ("They are so lethally cute, we have dubbed them the Thermonuclear Otter Triplets.")
| | |
| --- | --- |
| the unGooglable man (NY 3/22/10) | |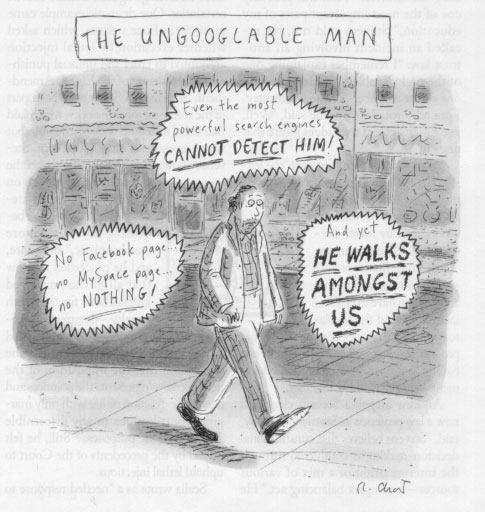 ...I love it...
(I am the opposite, a uniquely Googlable man, thanks to a sufficiently unusual name :)

| | |
| --- | --- |
| Solvang Double Century, x3: in 11:53 elapsed | |
Yesterday I rode the Solvang Double Century, hard upon my return from Washington DC the day before, and I must tell you I had a great ride. It was a spectacular day, Spring has sprung, and I managed to break 12 hours elapsed for a double for the first time (11:53!). Solvang isn't the world's hardest double - about 7,200' of climbing - but no double is easy. Making this one just slightly more interesting, I broke my rear derailleur cable descending Drum Canyon at the very end, and had to ride the last ten miles in my biggest gear.
I came out of the Washington trip on a total high... and it spilled into my ride. I loved replaying the week in my mind, all the things which happened; it was an amazing week. Oh and I replayed the music too; when I ride I am music driven... it was great.
Some pictures: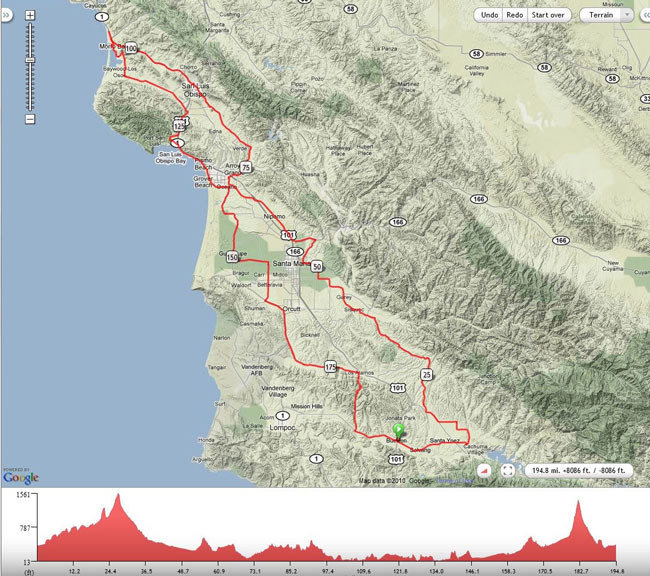 the route: 200 miles, 7,200' from Buelleton up to Morro Bay and back
initial climb is Foxen Canyon, final one is Drum Canyon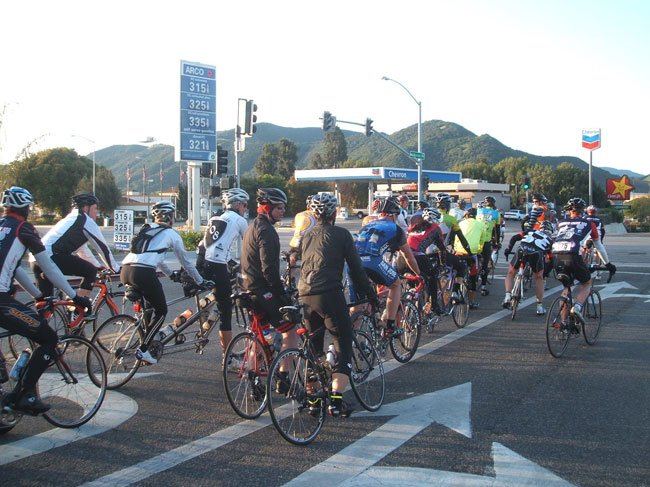 the peloton gets started in the early morning light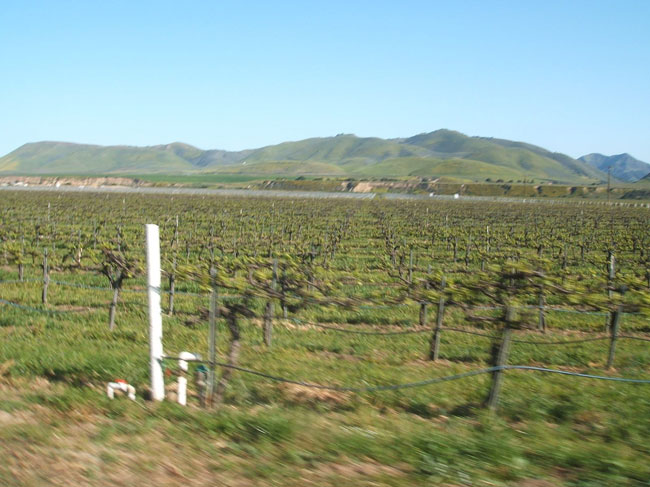 grapes sunning themselves in Foxen Canyon; beautiful!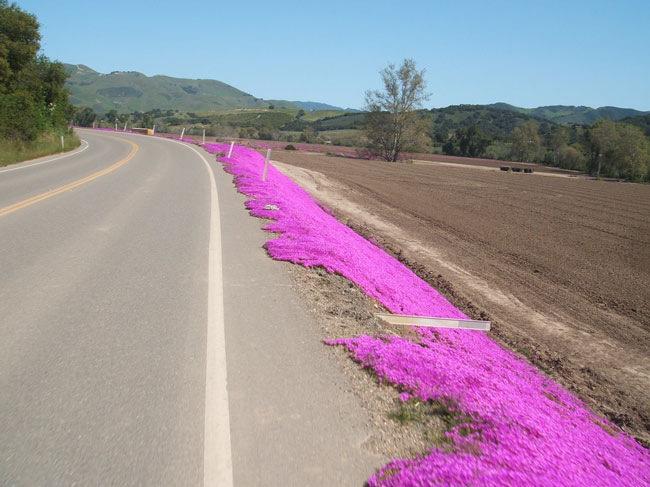 wow, PURPLE; Spring has sprung on the road to San Luis Obispo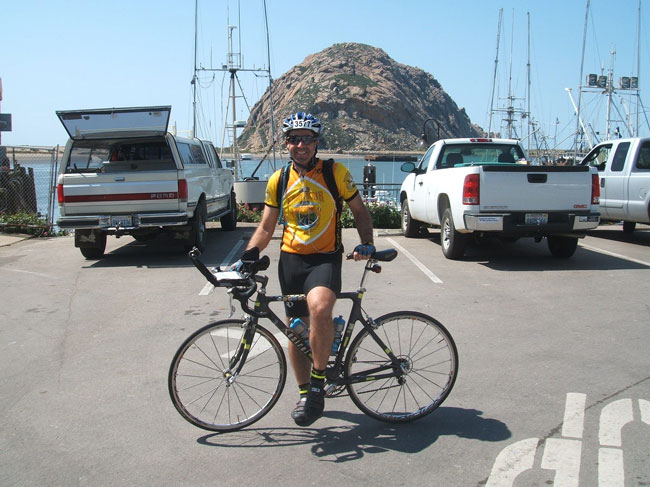 turnaround point in Morro Bay with the famous rock in the background
102 miles down, and it's all downhill from here :)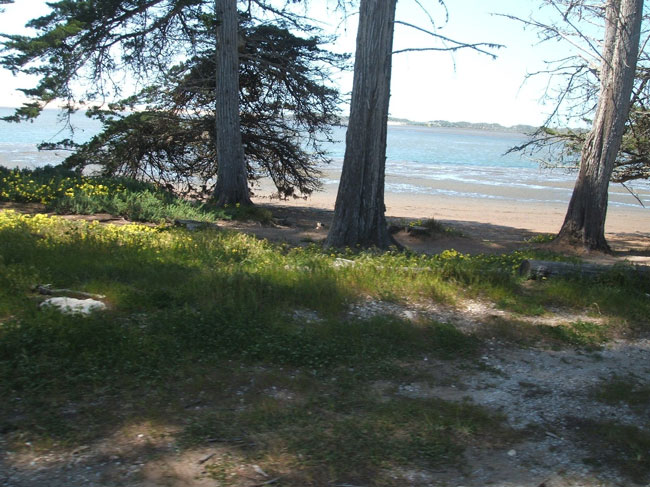 riding along the beach makes me happy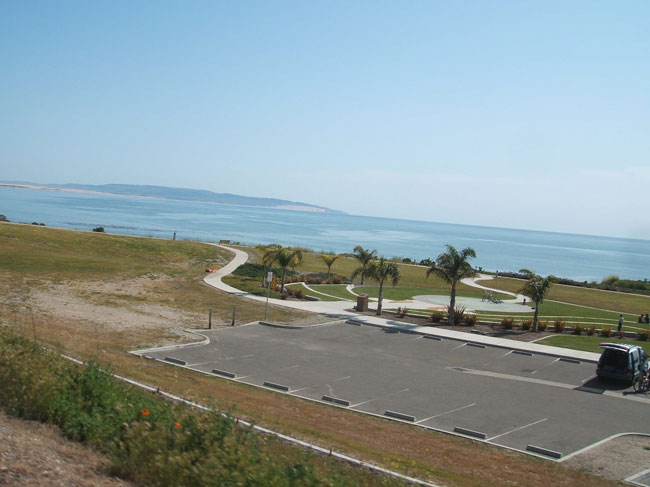 some amazing seaside vistas in Avilla Beach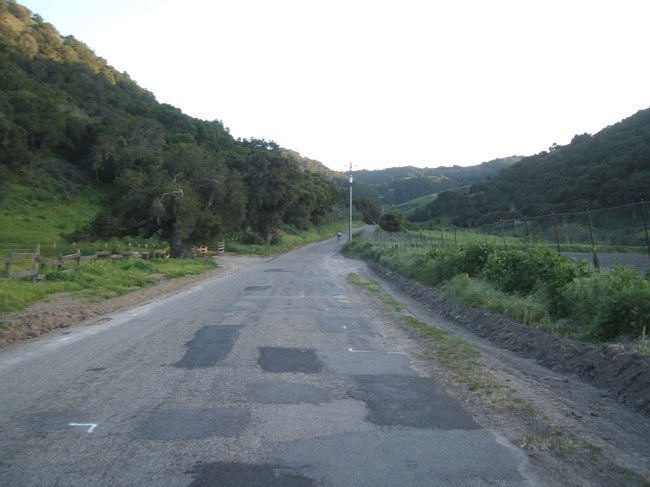 climbing Drum Canyon, the world's worst surface
actually broke my derailleur descending the backside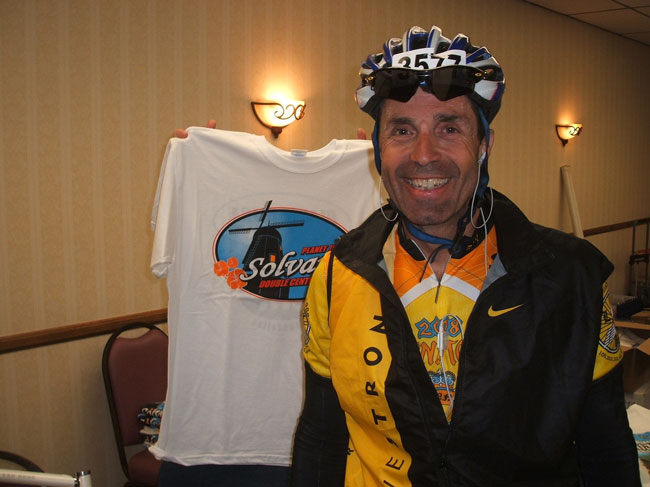 one happy camper with another double under my belt
11:53 elapsed, 10:38 riding time (!)
Onward! Next up the 260km Tour of Flanders...
Archive: March 27, 2009
| | |
| --- | --- |
| The Joy of Craftsmanship, II | |
If you've been reading for a while - well, a long while :) - you might remember The Joy of Craftsmanship, a post about my local bike shop and my favorite mechanic. Well today he did it again, and so today I am posting about him again :)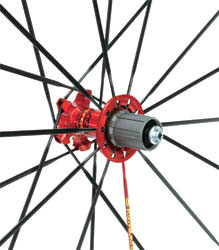 Ever since my bike has been "back" - ever since my weird disaster recovery - it's made a funny sound, kind of a tinkling sound, like there was a playing card clothespinned to twang against my spokes. (Remember that? Nah, I don't either. But I've read about it.) So I checked and there were no playing cards, and no loose spokes, and nothing loose at all. It was a mystery. I knew it wasn't the frame itself; frames creak sometimes, but they don't twang.
So today I took my bike in to have it checked out. Turns out it was simple, my mechanic knew immediately. Squirt a little oil on the spokes, right where they connect to the back axle, and poof, the noise was gone... Delightful.
He checked out all my cables and tweaked the derailleur just a little, and so now I am ready for my double tomorrow. Yay!
Yeah, I watched 'em all (and amazingly called quite a few of 'em right, except for UCLA's trail which of course I called completely and utterly wrong.):
Connecticut(1) outlasted Purdue(5) - 72-60. An ugly first half, both teams looked rocky, but Connecticut pulled it together and cruised in the second... We'll say FS=10:00*, realistically...
Pitt(1) clawed back and beat Xavier(4) - 60-55. A neck and neck battle; Xavier looked good in the first half, but Pitt's caught back up and their quality told down the stretch and right at the end. An entertaining game, if not well played; the Xavier upset potential kept my interest. FS=00:04!
Missouri(3) rather easily handled Memphis(2) - 102-91. The battle of the Tigers :) Wild scoring on both ends, a pro score in college time, with no overtime. Pretty entertaining game. FS=03:00 because Memphis made a late comeback.
Villanova(3) "upsets" Duke(2) - 44-55. I had Villanova in this one, and I'm rooting for them to go all the way (since they made my team UCLA look silly). A defensive struggle and not a great game; Villanova steadily ground out the win. FS=04:30.
Louisville(1) blew out Arizona(12) - 103-64. And so Cinderella goes home, the game wasn't even that close. I'm going to say FS=20:00, but really it was over before halftime. My friends who have chosen Louisville to go all the way have chosen wisely...
Oklahoma(2) over Syracuse(3) - 84-71. A rather routine demolition, Oklahoma looked awfully good. FS=15:00.
Michigan State(2) in a nail biter over (3)Kansas - 67-62. The best game of the round, well played and hard fought, it came down to free throws at the end... FS=00:15.
North Carolina(1) rolled (4)Gonzaga - 98-77. Carolina took the early lead, led at the half, and steamrolled away in the second half... FS=10:00.
* A reminder: FS means "fridge score", the time at which the game is no longer in doubt.
Not the greatest collection of games, somehow. I did enjoy the end of Pitt against Xavier, despite the fact that Xavier lost, and Michigan State over Kansas was a good one. So we have all four #1s left, and they all look pretty good. At this point I'm going to pick Louisville over Oklahoma in the final. But we're only halfway, we have three rounds left... stay tuned!
Archive: March 27, 2008
Hi blogreaders, how are y'all? I've been busier than a cat in a litter box, coding. Good stuff, cleaning up lots of little odds and ends. (And ranting internally about style and documentation.) Meanwhile Spring has sprung, the weather here in SoCal is fantastic. Oh, and I'm ramping up preparing for the Solvang Double this Saturday; doing some tough climbs and [slightly] longer distances.
And in the parallel universe of the blogosphere it's all happening...
Krauthammer: McCain Has 'Hidden Agenda' To 'Kill The United Nations'. What's funny is that this is reported as if it would hurt McCain - I don't know if we really wants to kill the U.N. - I suspect he will ignore it, however - but this can only get him more support, right? (P.S. Bring back John Bolton!)
Geert Wilders' film, Fitna is now online. So be it. Whether you agree or disagree with the content, you have to agree that airing it publicly is a good thing. It is disgusting to see the Dutch government scrambling to criticize the publishing of the film, in a transparent attempt to appease those who disagree with it.
This is amazing: a 37-year old gas fire: Darwaz, aka the door in hell. "Darwaz - mysterious and strange place in Turkmenistan. Imagine range of desert sands and suddenly among the crater from which flames erupts." Our world is stranger than you think, even if you know that about it...
I don't know if you've been following the incredible mess which the America's Cup has become - really I couldn't blame you if you haven't, I mean who cares - but Mascalzone Latino syndicate head Vincenzo Onorato has a nice piece on How to save the America's Cup. It needs something; as it is right now all the racing is taking place in court. What a terrible tragedy to squander the momentum of last summer's races which were the best ever...
Every once in a while you read a headline that isn't intended to be funny, but... and so it is with Paris Hilton Says She's a Role Model for Young Girls. LOL :)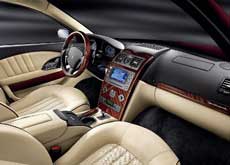 Over at TTAC Jonny Lieberman asks Which Car Do You Want To Be Buried In? "My point? Interiors matter. In fact, some are so good that I want to spend eternity in them. But which one? ... Bury me in the Maserati Quattroporte Executive GT. You?" Yeah well you know what I think - but I'm hoping to put it off for a while :)
Tim Bray on Better feed reading. "The key insight is that I just had to make up my mind and sort the feeds into two buckets, one for the can't-afford-to-miss stuff, the other for everything else." I do exactly the same; I have an "everyday" group I read, well, every day, and a "whenever" group I read when I can, and delete when I can't. My OPML is published, by the way, in case you care :)
I love this post from Maciej Stachowiak: Scences from the Acid test. Whether you care about browser development or not, or web standards or not, you will find this interesting for the tone of pleasure and respect. This is how the process should work.
BTW I have downloaded Safari 3.1 and played with it a little, but haven't seen anything there so far to convince me to switch from Firefox. It is nice to be able to test Mac compatibility under Windows :)
Bertalan Meskó has added a spiffy search engine to his ScienceRoll site: check out ScienceRollSearch.com. This is a really fantastic tool. You can search ClinicalTrials, DrugInfo, eMedicine, Medscape, PubMed Central, WebMD, etc. - all at once, or selectively.
Naturally to test it out I did a search for "Aperio", and found a lot of papers where people have used Aperio equipment for digital pathology! That is so cool.
Archive: March 28, 2007
Archive: March 28, 2006
Archive: March 28, 2005
Archive: March 28, 2004
| | |
| --- | --- |
| Understanding Engineers, Take 4 | |
Continuing our ongoing attempts to understand engineers:
What is the difference between Mechanical Engineers and Civil Engineers?

Mechanical Engineers build weapons and Civil Engineers build targets.
| | |
| --- | --- |
| Most Spectacular Photos of 2003 | |
My colleague Steven Hashagen passed along these five photos, the "most spectacular of 2003". They are indeed amazing. Please click on the thumbnails for a full-size picture (use F11 to maximize your browser's window).
The Australian reports: Syria seeks our help to woo US. "Syria has appealed to Australia to use its close ties with Washington to help the Arab nation shake off its reputation as a terrorist haven and repair its relations with the US." Looks like Libya all over again.
And in similar news, "Egypt has stepped in to host an Arab summit after Tunisia stunned the Arab world with a unilateral decision to scrap the meeting it was hosting, citing the reluctance of some countries to embrace democratic reform." So be it. [ via LGF ]

It sure doesn't look like our foreign policy is a failure to me.
Methane find on Mars may be sign of life. Not conclusive evidence, but really interesting, nonetheless. This is getting really interesting.
And you probably saw this already, NASA jet breaks speed record. "The unpiloted vehicle's supersonic combustion ramjet, or scramjet, ignited as planned and operated for the duration of its hydrogen fuel supply, which lasted about 10 seconds. The X-43A reached its test speed of Mach 7." That's 5,000 mph. Wow.
I can't see where I linked this before, but its worth linking again anyway: Andrew Gumet's RSSTV. Essentially he is using RSS to make "suggestions" to his Tivo. So now anyone can publish their own channel, essentially their own schedule of what to record when. Of course the next step is sharing the content as well as the schedule, which is why Andrew is messing around with Bittorrent...
Hey, check this out. Home Media Centre, an Australian company, is selling PVRs based on the open source MythTV! Very cool. Of course this box would be infinitely hackable - not only Linux-based, like Tivo, but open source. No word yet on whether the UI sucks.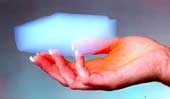 This is some strange stuff - "aerogel" - used in the Stardust mission to capture dust from a comet's tail. It is supposedly the least dense solid ever made. It looks like a hologram, but it feels like hard styrofoam. It is 99.8% air, 1,000 times less dense than glass.
Tim Oren eulogizes HyperCard, which was retired by Apple after 16 years. A very cool product which defied description; a combination of GUI builder, scripting language, multimedia authoring environment, and database. I think a Windows-based product with similar capabilities would be a huge hit.
Interested in Lawrence Lessig's latest book, Free Culture? Well, it's free. Easily downloadable via Bittorrent under the Creative Commons license. And it is also available in audio; various bloggers have recorded chapters. Interesting meta-illustrations of the book's ideas :)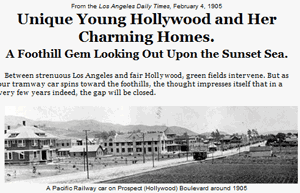 This is really cool, a historical archive of Los Angeles in the 1900s. Check out especially If you were living in L.A. a hundred years ago. The clip at right is from an L.A.Times article in 1905 about "Young Hollywood's green fields". I love it! [ via Robert ]

Timothy Sandefur writes about The Beak of the Finch, a terrific book by Jonathon Weiner. I was given Beak at the same time as I was re-reading Daniel Dennett's classic Darwin's Dangerous Idea, and the two books complemented each other perfectly, theory and practice. Highly recommended.
This is really cool: The Importance of Fudgability, from kasei. [ via Mark Pilgrim ] Required reading for all application developers, especially those building systems to automate a human process.
Joi Ito: Isn't it funny/interesting that Wallop, Microsoft's social networking project is built using Flash, XML and SQL while Orkut, Google's social network project is built using .Net and C#?
The OpenOffice meme picks up speed; Tim Bray talks about meeting the developers in Hamburg. "The way that these guys store the data is massively, fiendishly, outrageously clever. You know what this is? This is exactly what the people who invented XML thought they (er, we) were doing it for." I'm going to have to try OO, *soon*...
I have an important erratum for the table of engineering conversions, courtesy of Russell Day. In the original table, I reported:
1 million microphones: megaphone
This is unit confusion, the correct equivalencies are:
1 million microphones: 1 phone
1 million phones: 1 megaphone
1 million megaphones: 1 bedlam :)
| | |
| --- | --- |
| Understanding Engineers, Take 5 | |
Another in our ongoing series of attempts to understand engineers:
The graduate with a Science degree asks, "Why does it work?"

The graduate with an Engineering degree asks, "How does it work?"

The graduate with an Accounting degree asks, "How much will it cost?"

The graduate with a Liberal Arts degree asks, "Do you want fries with that?"
Archive: March 28, 2003
I'm a pretty calm person. Which is not to say that I'm relaxed. I am a ball of tension inside a calm exterior. Generally the tension stays inside but a few things can cause leakage, which is when I get not so calm. And the most usual thing which causes me to get not so calm is lying.
Lying is all about intent. When you say something you know isn't true in order to influence others, you're lying. If you say something which isn't true but you didn't know it wasn't true, that's not lying. But if you try to influence others by passing off something you don't know is true as truth, you are lying. Even if it subsequently turns out the thing was true.
The thing which really bothers me about politics and diplomacy is that they involve continuous lying. There is a game. Everyone is lying all the time. They are either saying things which they know aren't true, or they are saying things they don't know are true. Once you say something, it is up to everyone else to prove it isn't true. If they can't prove it isn't true, then it counts as true. What a wacko game! Instead of everyone just telling the truth.
The war has really exacerbated my feelings about lying. Each day I read tens of stories about the war (I am drawn to them like a moth to a flame). I can't accept anything at face value. Each story, each posting, even each photograph has to be analyzed; I have to ask, "is this true"? The politicians, the military people, the reporters, and even bloggers like me are all spinning. Everyone is riding the fine line between complete falsehood and "not true but not proveably false". Disgusting.
There is an antidote for lying. It is logic. You start with some facts, and you reason from the facts to make more facts. When you have a hypothesis you can test, you test it. You are continuously searching for truth. This is the essence of science, the core methodology. It works great for things which are simple and static. The laws of physics, the nature of chemical reactions, even the structures of life are all amenable to science. It does not work great for things which are complex or dynamic, like the behavior of people. This is why it is so tough to apply science to markets, or politics.
To deal with markets and politics and other realms involving the behavior of people, you have to rely on statistics. It is easier to predict what 10M people will do than to predict what any one of them will do. But even then you have only a prediction, no certainty. Which opens to the door to opinion. Reasonable people can and do disagree about things which are not scientifically proveable. They can do so honestly - gathering as many facts as possible and reasoning logically - or they can do so dishonestly - selectively picking facts and spinning them to support a predetermined view. That's lying, and I don't like it.
Home
Archive
flight
About Me
W=UH
Email
RSS OPML

Greatest Hits
Correlation vs. Causality
The Tyranny of Email
Unnatural Selection
Lying
Aperio's Mission = Automating Pathology
On Blame
Try, or Try Not
Books and Wine
Emergent Properties
God and Beauty
Moving Mount Fuji The Nest Rock 'n Roll
IQ and Populations
Are You a Bright?
Adding Value
Confidence
The Joy of Craftsmanship
The Emperor's New Code
Toy Story
The Return of the King
Religion vs IQ
In the Wet
the big day
solving bongard problems
visiting Titan
unintelligent design
the nuclear option
estimating in meatspace
second gear
On the Persistence of Bad Design...
Texas chili cookoff
almost famous design and stochastic debugging
may I take your order?
universal healthcare
entertainment
triple double
New Yorker covers
Death Rider! (da da dum)
how did I get here (Mt.Whitney)?
the Law of Significance
Holiday Inn
Daniel Jacoby's photographs
the first bird
Gödel Escher Bach: Birthday Cantatatata
Father's Day (in pictures)
your cat for my car
Jobsnotes of note
world population map
no joy in Baker
vote smart
exact nonsense
introducing eyesFinder
resolved
to space
notebooks
where are the desktop apps?