Archive: May 26, 2017
Archive: May 26, 2016
Archive: May 26, 2015
Back at work after a loong pleasant weekend "off"; checking in with colleagues, partners, customers, and of course coding. And making a filter pass!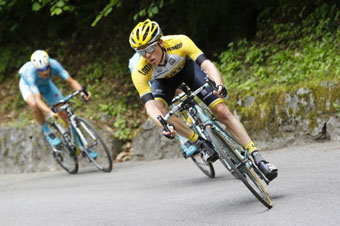 I haven't blogged about the Giro d'Italia this year, but I am watching it, and it has been tremendous fun. Even the "flat" stages have had surprised on GC, with crashes and such, and several breakaways have defied the odds and succeeded. Can't wait to see today's killer stage up the Mortirolo, a legendary climb considered by Lance Armstrong to be the toughest climb he'd ever ridden. (Did he ever ride the Angliru? Must check.) Anyway I'm rooting for Steven Kruiswijk, the young Dutchman, who has been impressive as one of the only riders who can stay with Alberto Contador in the big mountains.
Great advice for graduates, from Ted Nugent:
Life is not fair. Get used to it.
Social justice is a commie scam. Read the drivel of Saul Alinsky and fight it with all you've got.
Nobody owes you jacksquat. You will either earn your own way, or feel like a helpless leech. There is no middle ground.
Economic equality is for sheep. If you really believe we are all equal in our capabilities you will go nowhere.
(I can't help it, reading this, I could hear those amazing opening chords of Stranglehold playing... :)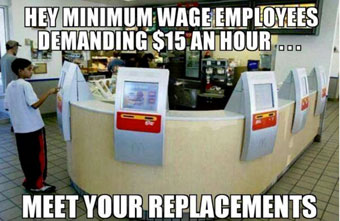 Law of unintended consequences hits liberals again. Sigh. I must write more about this whole minimum wage thing; the entire concept is flawed, and backfires immediately.
Related: Minimum wage hikes hit San Francisco comic book store. "I'm hearing from a lot of customers, 'I voted for that, and I didn't realize it would affect you.'" I have to say these people are too dumb to vote.
Agree entirely: Glenn Reynolds comments on the Irish vote to legalize gay marriage: "It's much better to see change happen this way than by judicial fiat."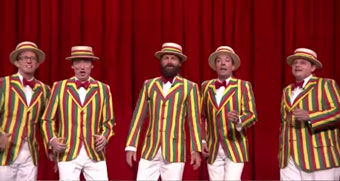 Sting joins Jimmy Fallon to sing Roxanne in a barbershop quintet. Hehe... Excellent.
I have to say, Fallon has been great as the Tonight Show's new host. His sense of playfulness and energy has revitalized the entire concept of a late night "talk" show.
Good news: Bats' white-nose syndrome may be cured. Horrible disease obliterating the bat population, fought with bacteria. Amazing.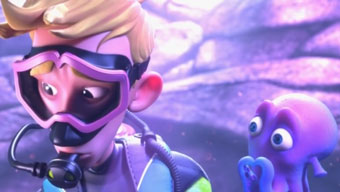 Today's best animation (and it's great): Taking the Plunge. This student project feels as polished as a feature movie from Pixar.
How to mine Bitcoin with a 55-year-old mainframe. A great description of what "mining" means in the context of Bitcoin. I do think the challenge for Bitcoin is going to come from distributed swarms of mobile phones, not ancient mainframes :)
Okay, now to settle down and watch the queen stage of the Giro. Please pass the popcorn!
Archive: May 24, 2014
Hi blog public ... well I'm back from spending a week in Kazakhstan, speaking at a tech conference called ASTEX 2014, and wow was it a great experience. I saw a lot, met a lot of interesting people, and had a chance to get clear perspective on the US and the tech scene in 2014.
My talk was entitled "The Future Store: Mobile e-Commerce", and it turned out to be nicely targeted and well received. Here are some takeaways from my trip:
"Mobile first" is the perfect message for Central Asia. Everybody has a smartphone - Android is much more popular than IOS - far fewer have laptops.

Hadoop is everywhere, the MySQL of the 2010s.

There are giant online companies which are very successful you've never heard of. Every country / region has it's own Google, Facebook, LinkedIn, Amazon, eBay, and PayPal.

Paying for stuff online is hard. Most people don't have credit cards, many don't have deposit accounts. Stored value instruments are popular. Bitcoin and its cyber currency brethren are taken very seriously.

Physical infrastructure is lacking. No Fedex or UPS. Kazakhstan is nearly the size of the US, with few roads, cities, or even people. Biggest question when you order online is not when will it arrive, but how.

Images are huge. With such a potpourri of languages and alphabets and cultures, a picture is worth way more than 1,000 words. Video is big too and getting bigger.
Russian is the lingua franca but increasingly people (try to) speak English. US is respected for its technology but even more for its culture. Perceived as diverse, tolerant, and industrious. Opposite of Russia :)
I haven't had such a "not in Kansas" feeling since being in Prague two years ago. Wish I could bottle and share. And in an attempt to do that, here's a pictorial report (aka photobomb!):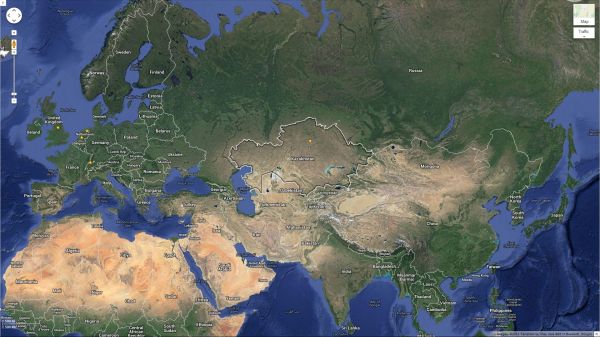 Kazakhstan is huge - and directly in the middle of Eurasia.
And Astana (yellow star) is in the middle of Kazakhstan.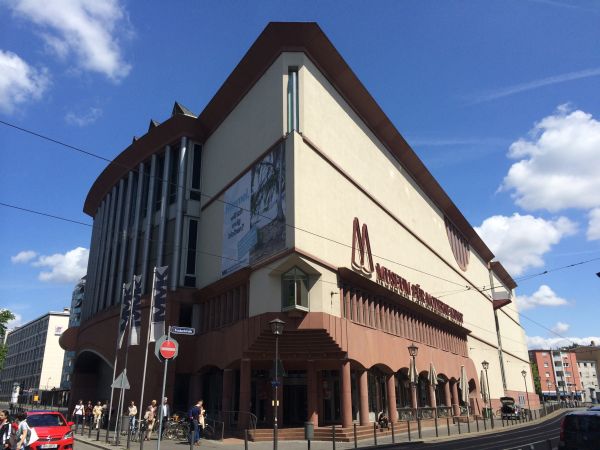 On the way ... layover in Frankfurt ... visited the cool Museum Moderne Kunst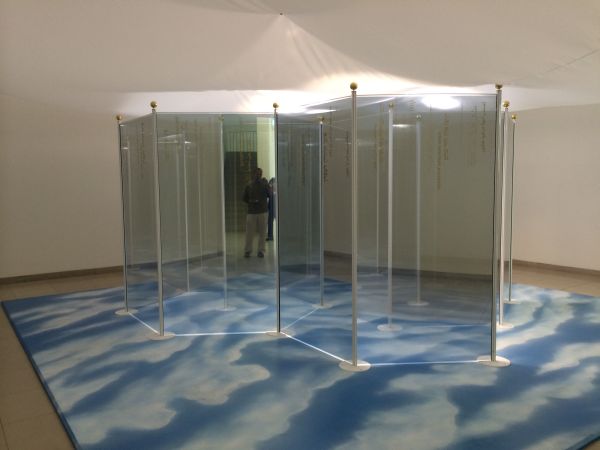 it's me, reflected around the maze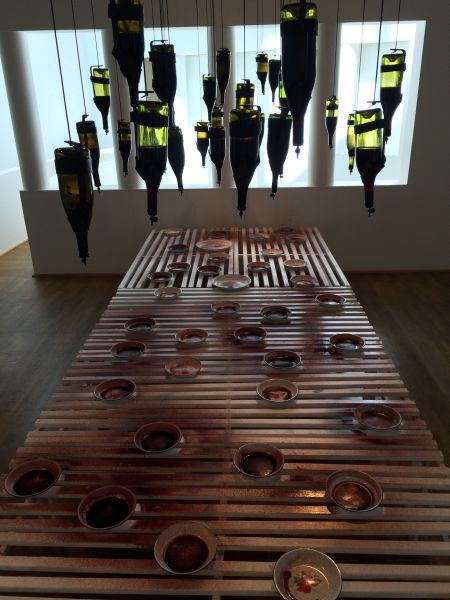 hmmm... so this is "art", eh? bottles of vinegar, dripping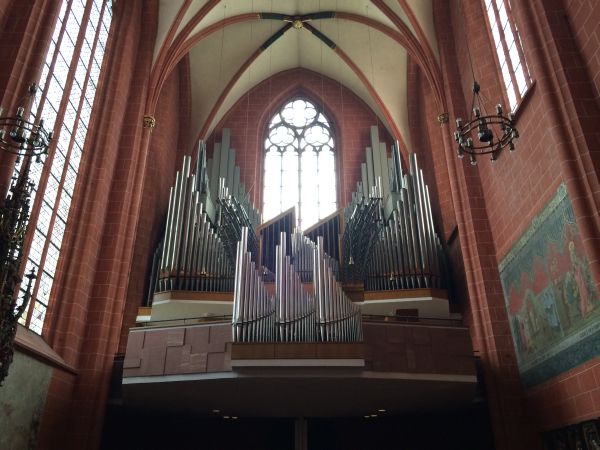 also visited the Cathederal, which enabled me to add to my "awesome organ" collection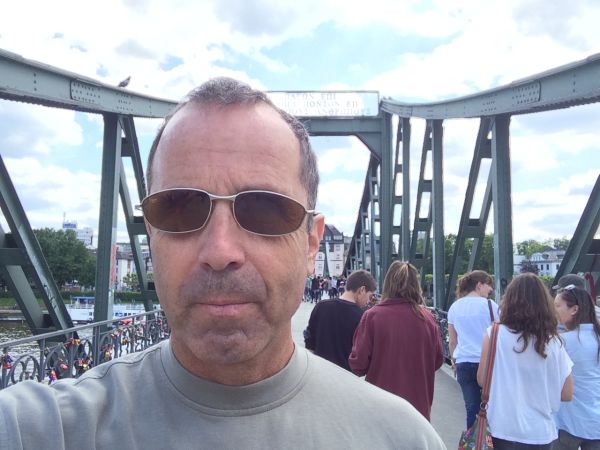 crossing the oldest bridge in Frankfurt, now for pedestrians only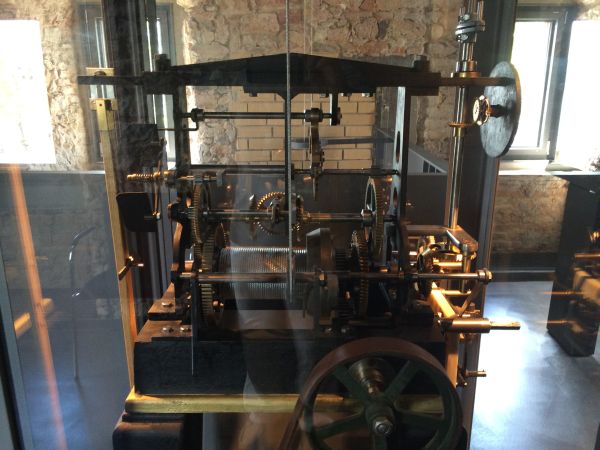 seven-hundred-year-old clock mechanism in the toll tower, still accurate to the millisecond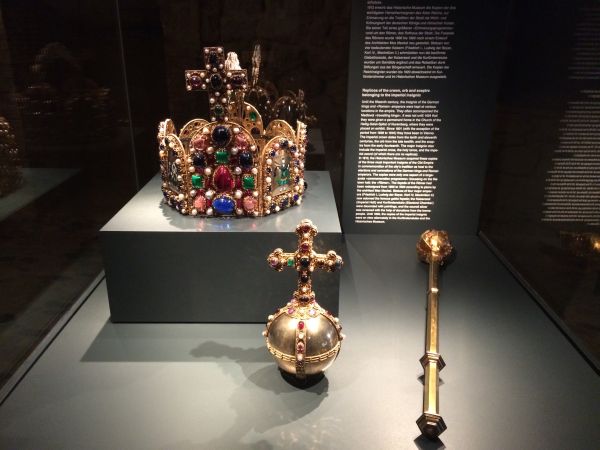 the German crown jewels. Not pictured, electronic security up the wazoo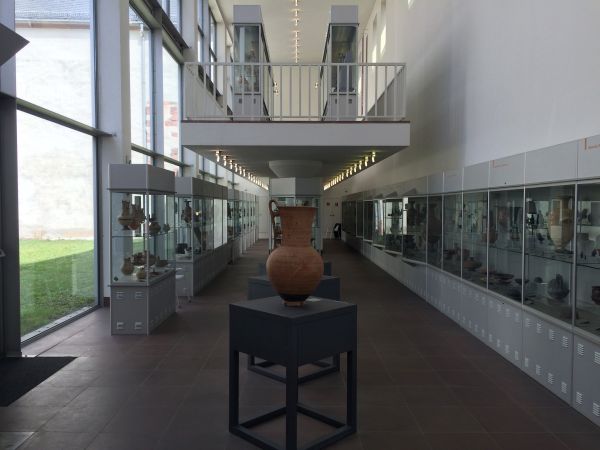 loved this room even more than the ancient art it contains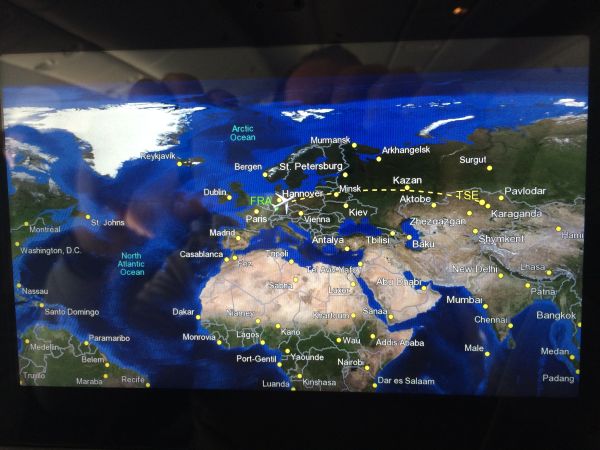 onward to Astana (TSE) ... it's a loooong way East
who knew there was so much land in central Asia (not me before this trip)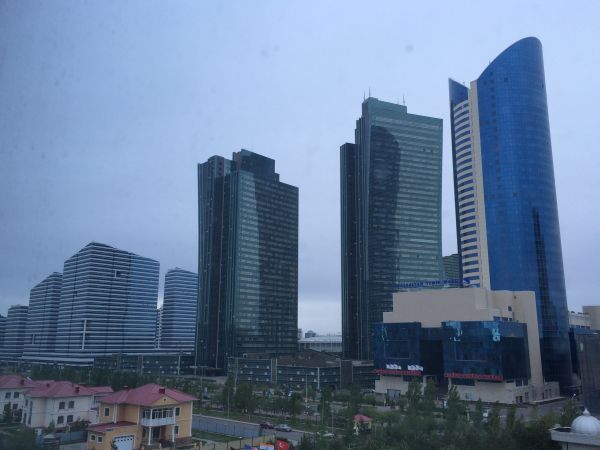 Astana is a new city of 1,000,000 people and incredible sculpture disguised as buildings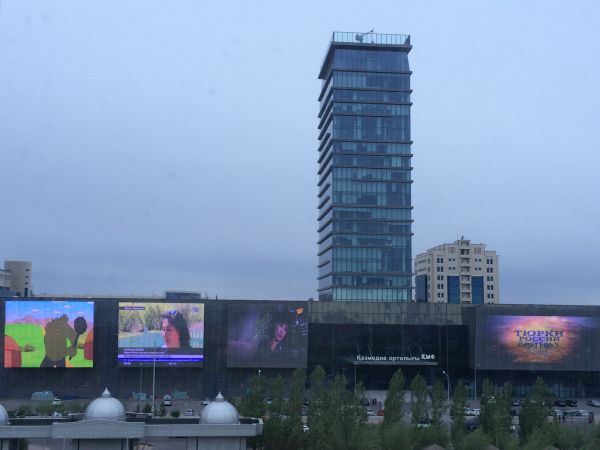 the media center, home of the ASTEX 2014 conference
those giant video screens are transparent, from the inside of the building you can see right through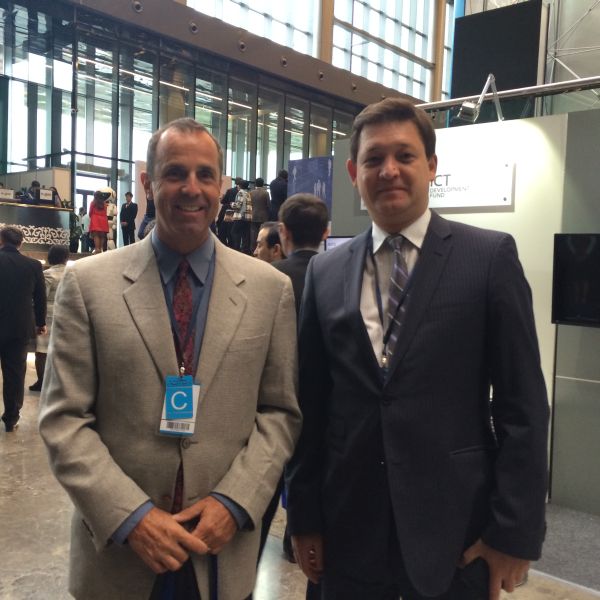 with Sanzhar Kettebekov, my host and chairman of the conference
he is trying to build a tech startup ecosystem in Kazakhstan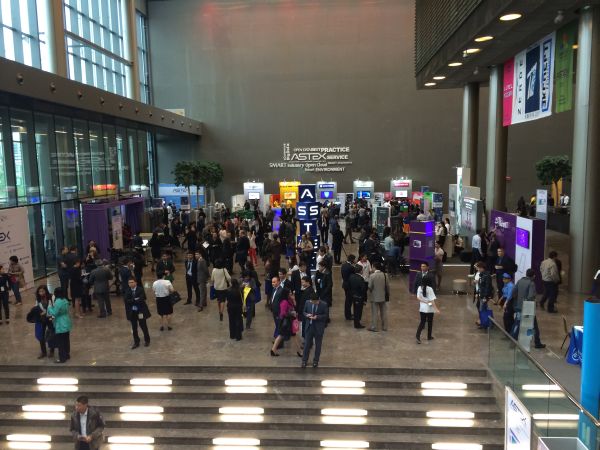 the exposition which accompanied the conference, lots of Kazakh tech startups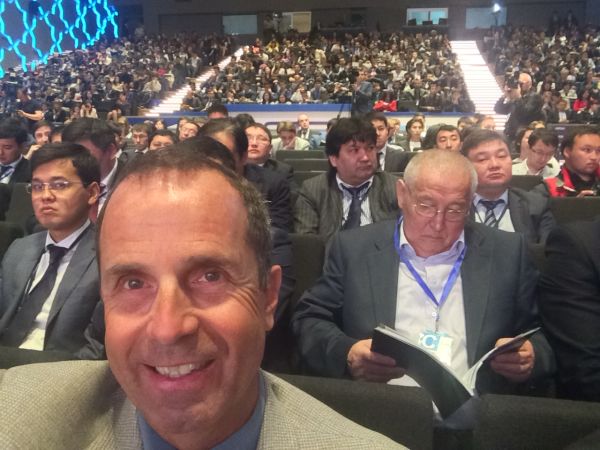 getting ready to present before 1,000 attendees, with simultaneous translation into
Kazakh and Russian, after 25 hours of travel and 0 hours of sleep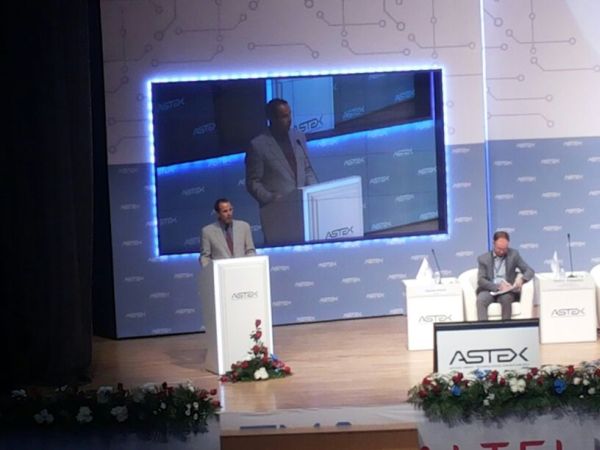 presenting ... The Future Store: Mobile e-Commerce!
(seemed nicely targeted and well received :)

VIP lunch! - with my fellow presenters and local politicians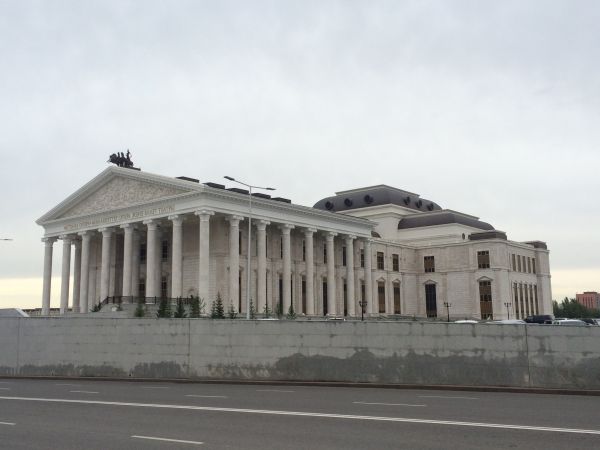 Astana features a huge new Opera House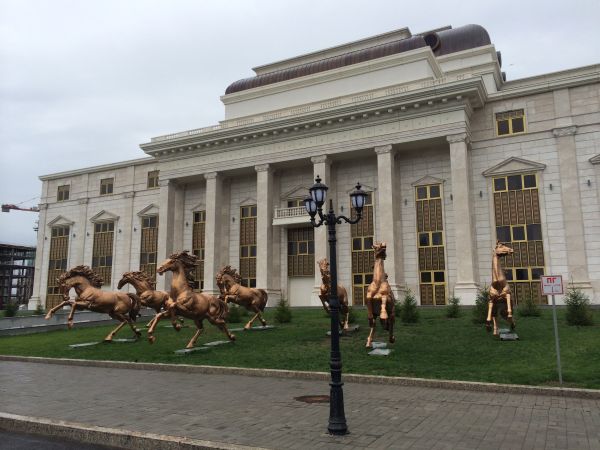 are those horses solid gold? I hope not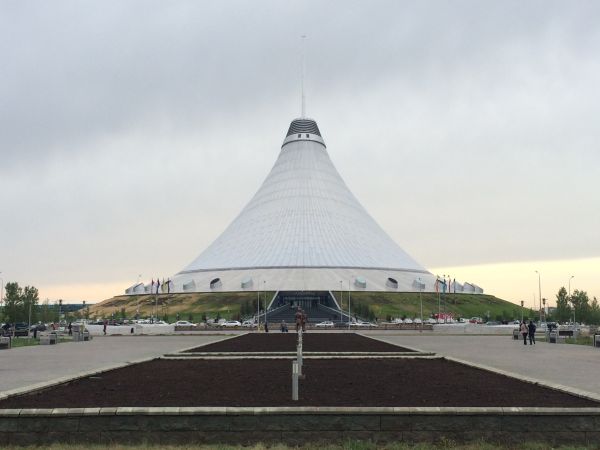 the Khan Shatyr "entertainment center"; a huge shopping mall slash amusement park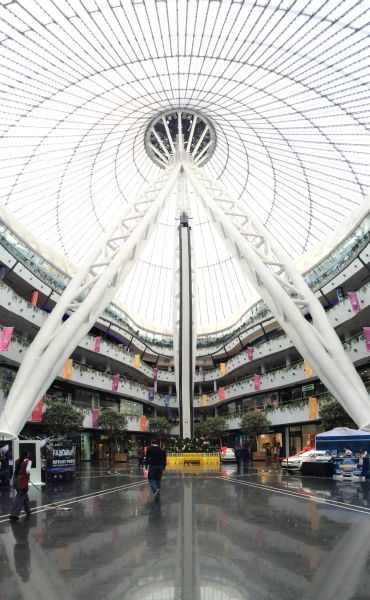 inside the design is like a giant yurt, beautifully lit from above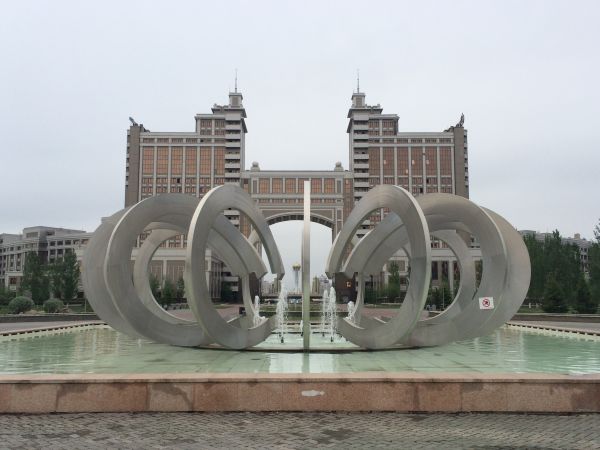 headquarters of the Kazakh national energy company, the source of the country's wealth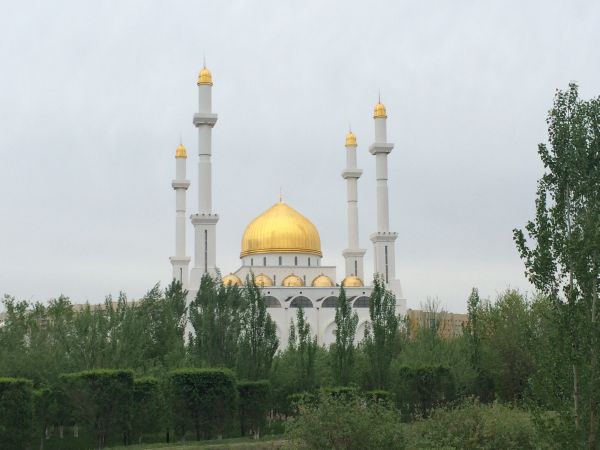 a beautiful mosque contrasts rather dramatically with the neo-glass architecture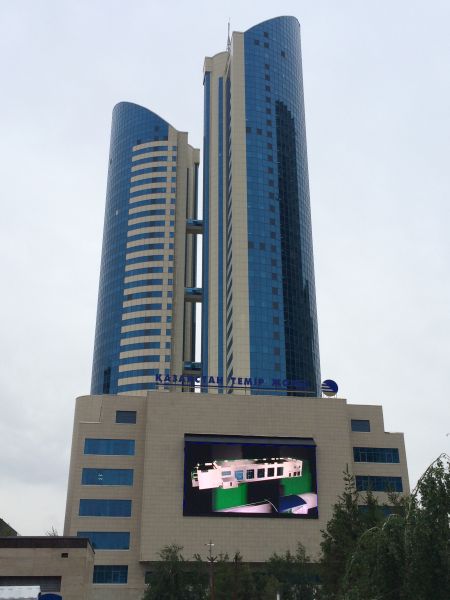 cool buildings and giant video screens everywhere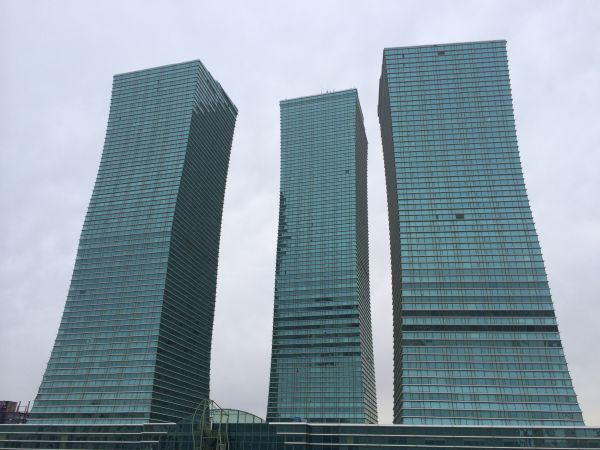 these buildings only seem to be waving in the wind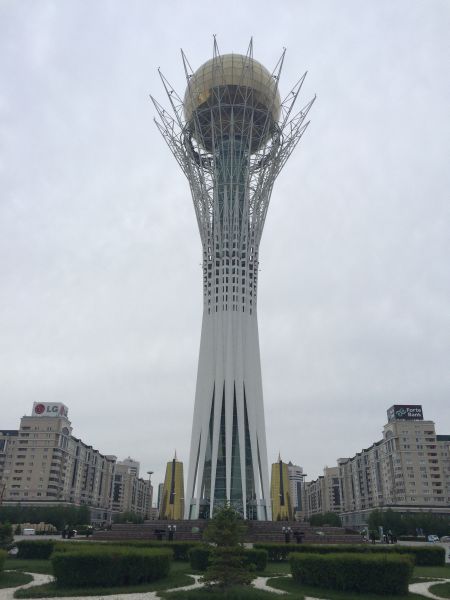 the Bayterek tower, symbol of Kazakhstan independance
97 meters tall; Astana became capital of Kazakhstan in 1997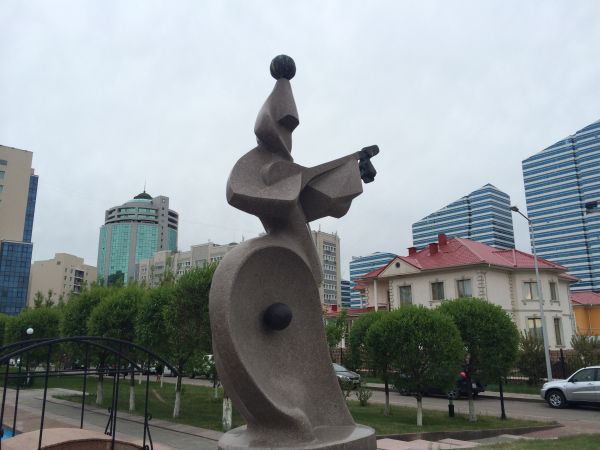 cool sculpture garden in a nice little residential area established for diplomats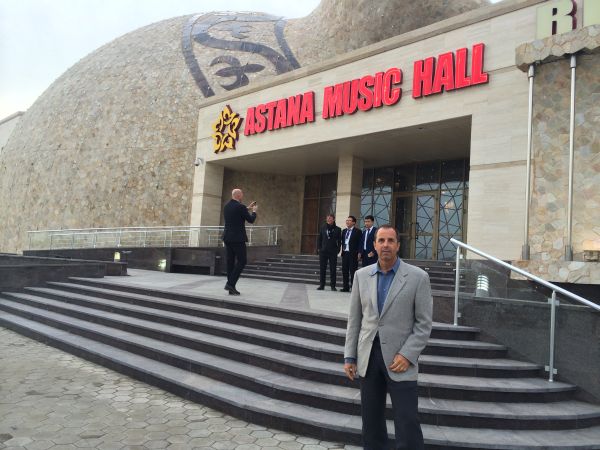 at the Astana Music Hall for a cultural dinner
the building is shaped like a giant vase spilling over

eating traditional Kazakh food while watching traditional Kazakh performers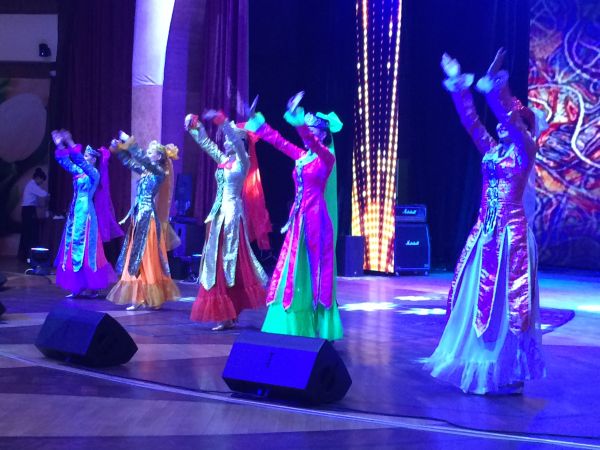 the dancing was cool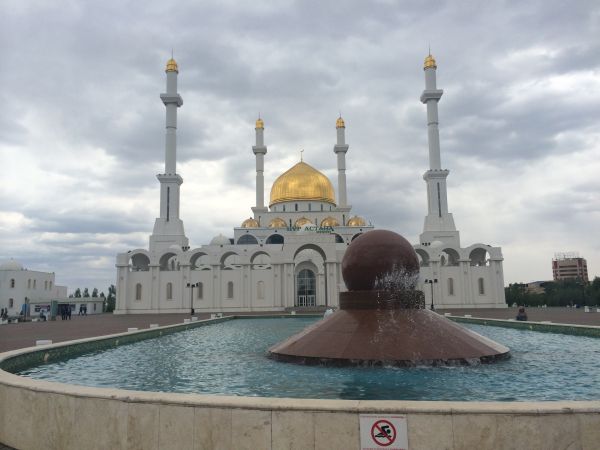 at the mosque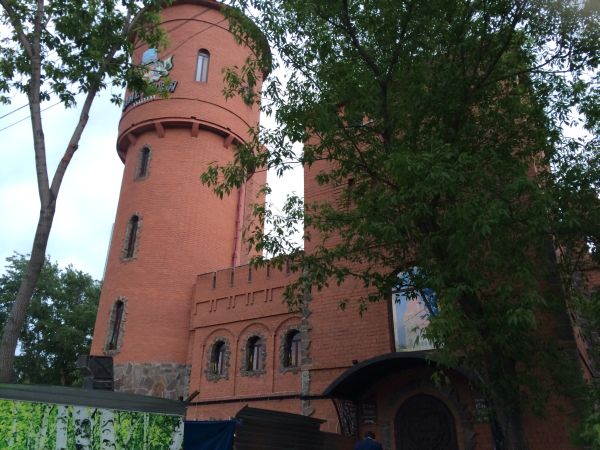 dinner in an old Kazakh castle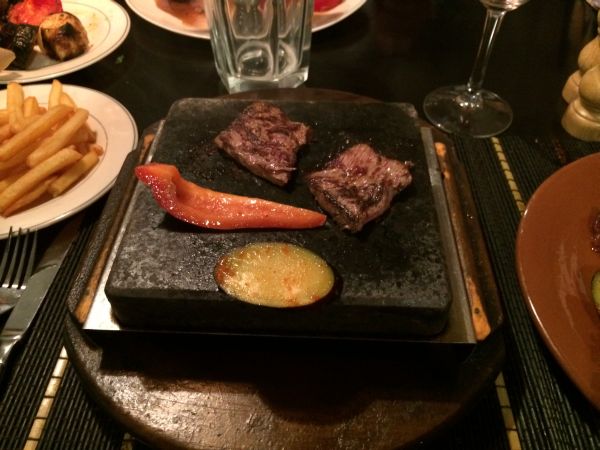 grilling horsemeat on a hot stone - delicious!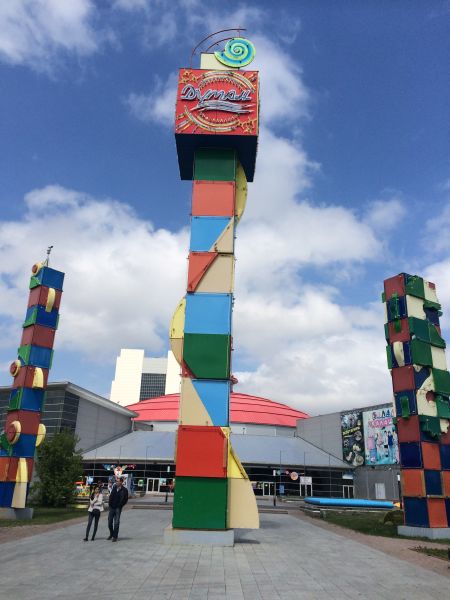 at the Dymah aquarium - furthest in the world from any ocean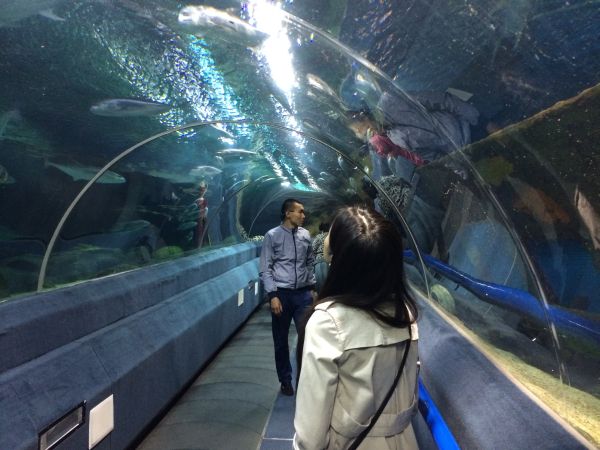 plexiglass tubes pass underneath a giant fishbowl...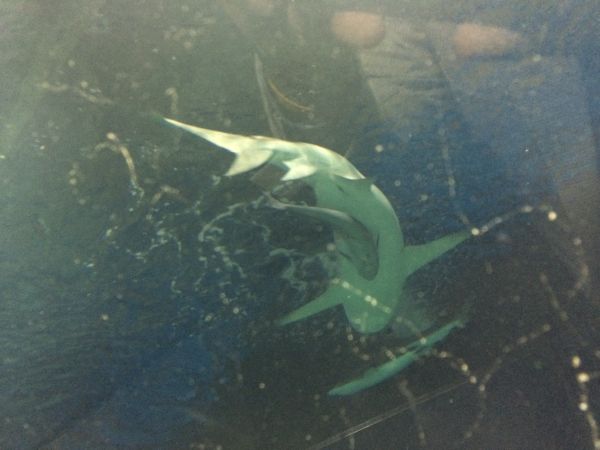 ... so you can see the sharks from underneath :)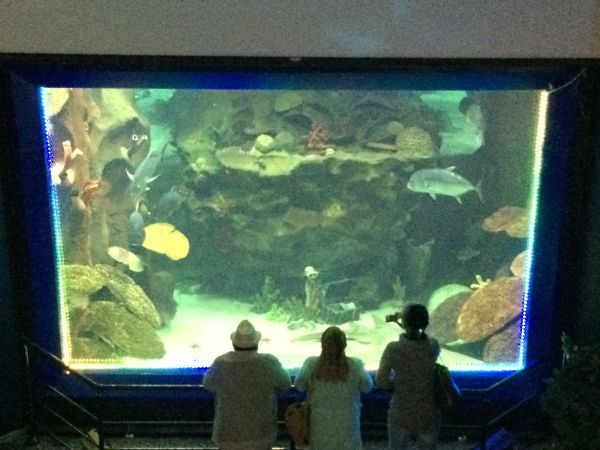 a little amphitheater so you can watch them feed the fish
view of the Presidential Palace from the top of the Bayterek tower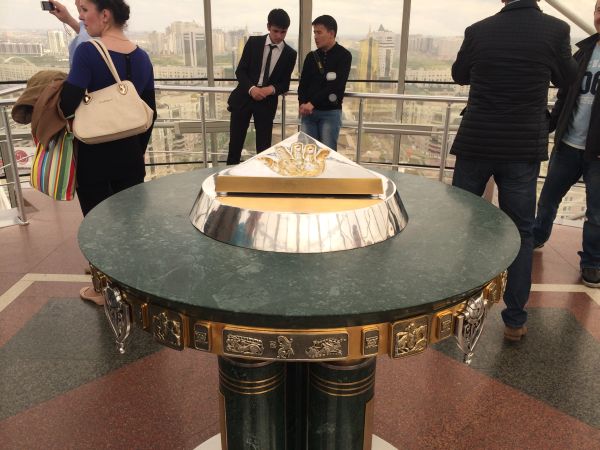 inside the tower is a handprint of President Nazarbayev
you can put your hand in it, and if it fits, a red light comes on ... mine did not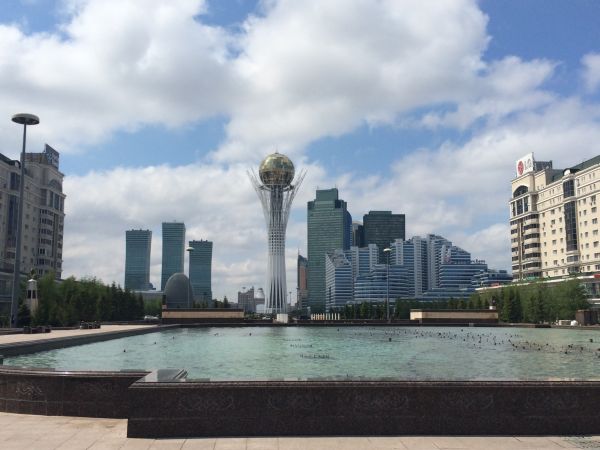 view of the Bayterek and downtown Astana from the Presidential Palace
futuristic architecture for the Astana concert hall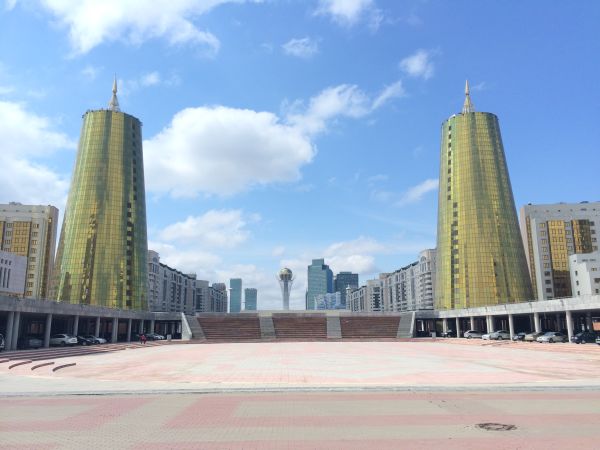 Masonic symbolism? The Bayterek flanked by golden columns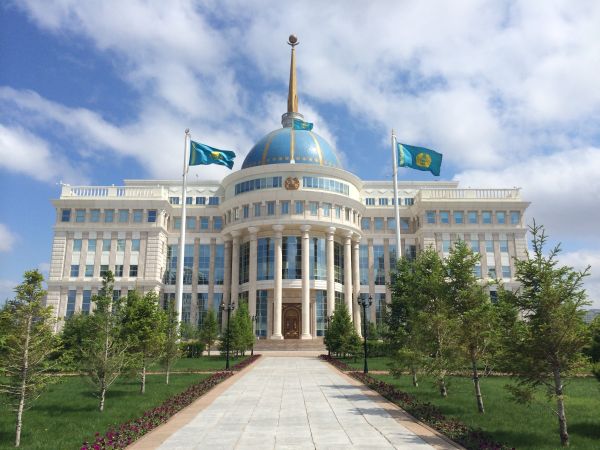 the Presidential Palace, known locally as "the white house"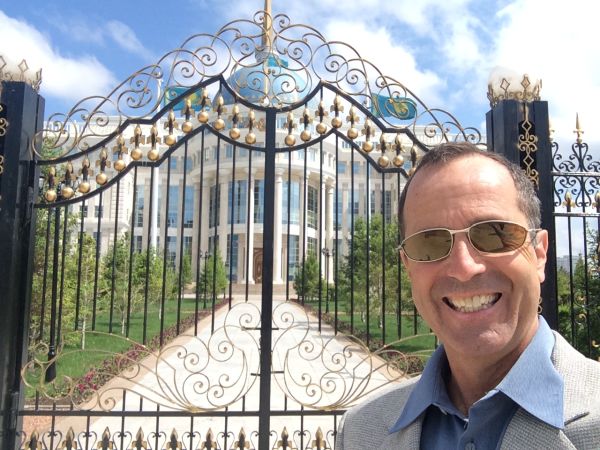 no guards in sight ... should I climb the fence?
maybe not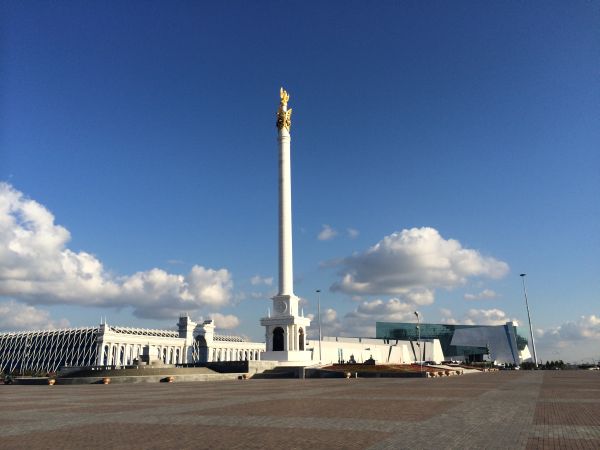 the beautiful Kazakh Eli monument in independence square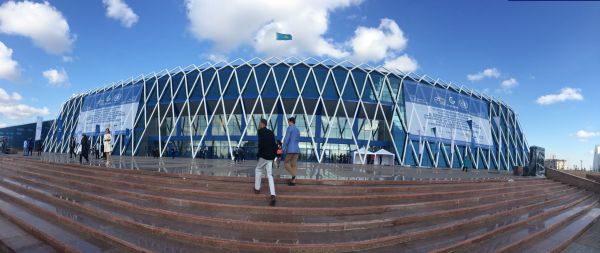 the "palace of independance" hosted the 2014 Astana Economic Forum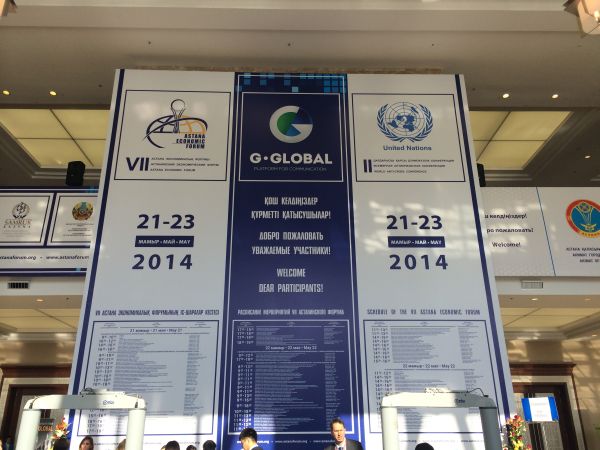 a busy schedule for two days - nonstop speeches, presentations, press conferences, and photo ops :)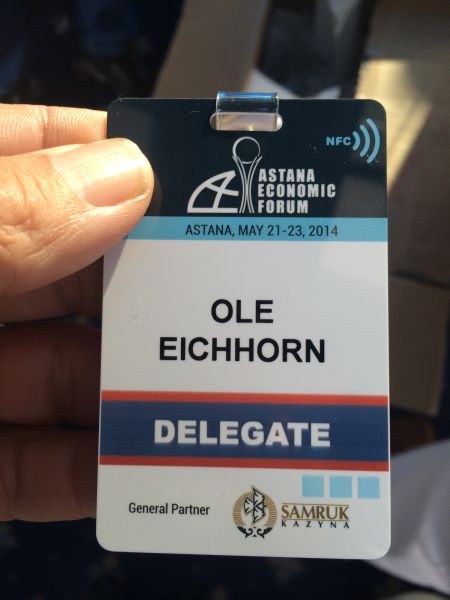 I'm in!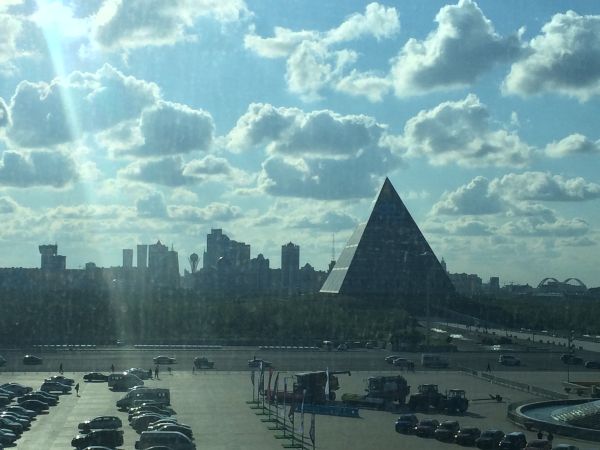 from the third storey of the Palace of Independence
view of the Pyramid of Peace back toward downtown (note Bayterek tower)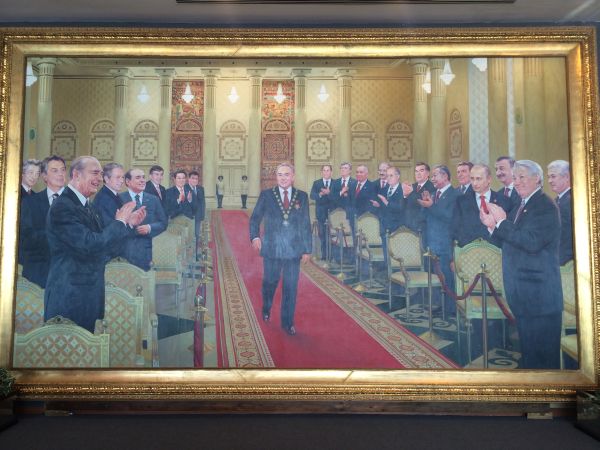 painting of President Nazarbayev's innauguration in 2006
see how many heads-of-state you can spot
(NB Nazarbayev has been Astana's leader since it became independent in 1991)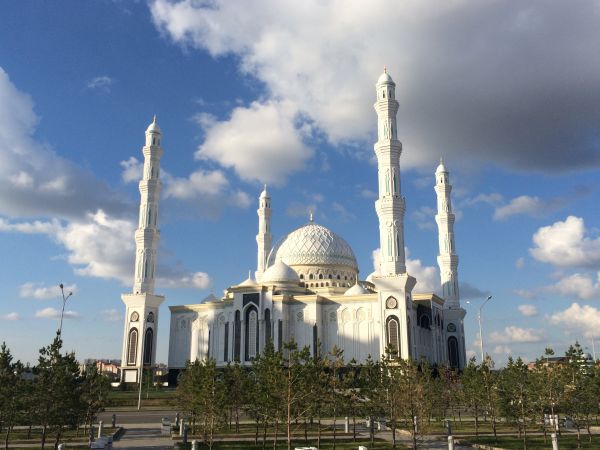 the massive Hazrat Sultan Mosque adjacent to the square
about 47% of Kazakhs are Muslim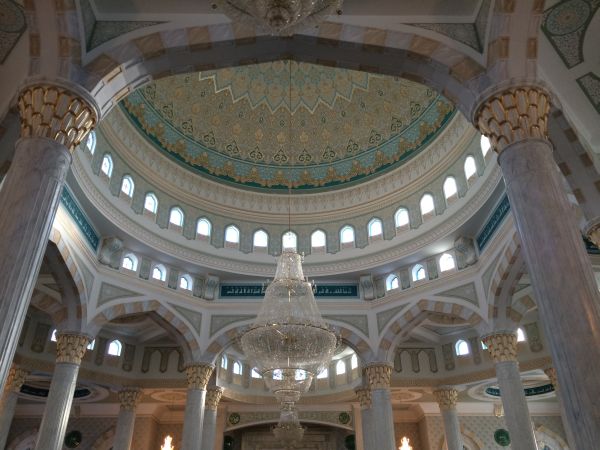 the beautiful mosaic central dome of the mosque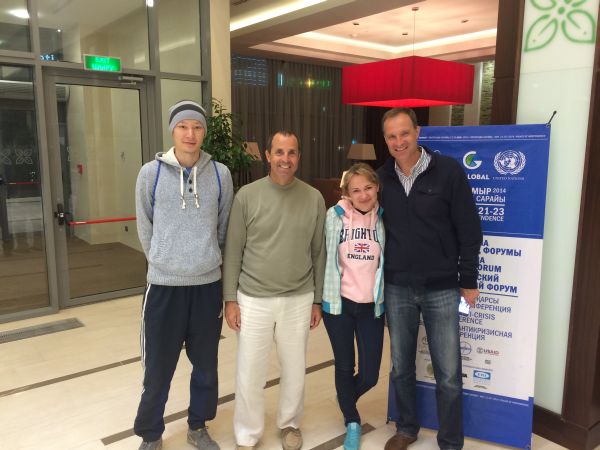 with my new friends
LtoR: Baurjan Nazar, me, Anastaysya Petrova, fellow presenter Bob Bellack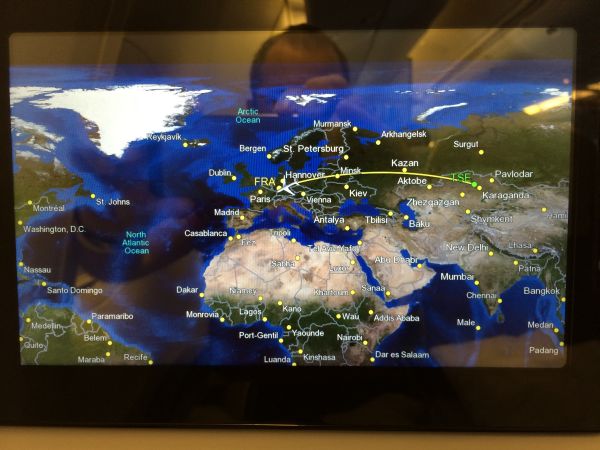 time to head back! First a little six-hour flight back to Frankfurt
(seat power! - started recoding vector indexing logic :)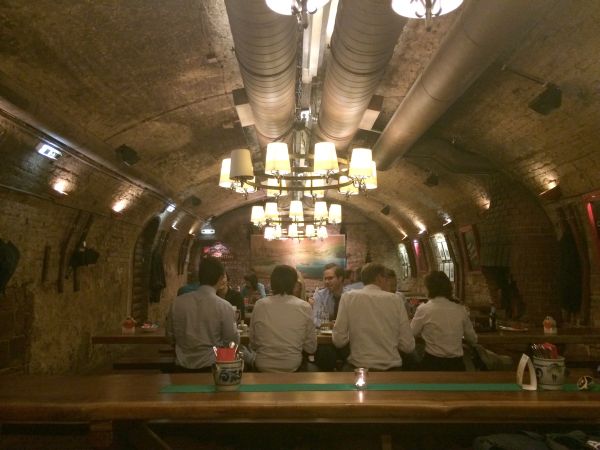 at the Apfulwein Klaus
great setting, good snitzel, but the Wein was Apful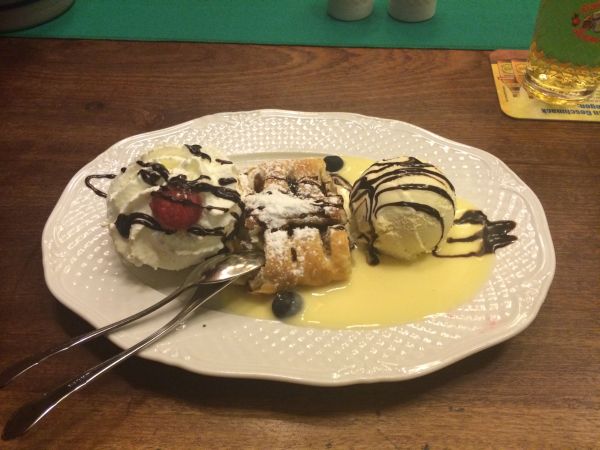 perfect end to the trip - strudel!
I'm sure I'll have more thoughts about this amazing trip after I have time to digest ... please stay tuned!
Archive: May 26, 2013
Archive: May 26, 2012
Archive: May 25, 2011
You guys will remember my enthusiasm for cancer survivor and ace musher DeeDee Jonrowe, who I met when she spoke at an Aperio sales event in February. I followed her performance in the recent Iditarod with great interest; she finished 12th, after competing for a spot in the top ten most of the race*.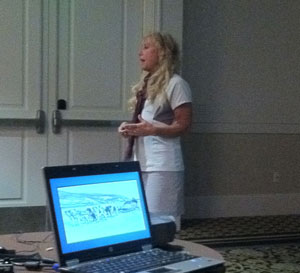 Well guess what? Aperio is sponsoring DeeDee! How cool is that? As a digital pathology company we don't do many corporate sponsorships, but the combination of DeeDee's cancer survivorship, her subsequent advocacy for cancer care and research (with a special emphasis on medical care for remote areas like Western Alaska), her successful efforts to raise money for a cancer center, her amazing sledding career (29 Iditarods, including 12.5 top ten finishes*), and her general positive attitude and sense of being combine to make her a perfect partner for us.
Tonight DeeDee addressed our Leadership team at an offsite event, and she was most interesting and inspiring. A key aspect of her talk was the leadership of a musher with her dog team, and the leadership of the lead dogs. It will be great being part of her team for the 2012 Itidarod - stay tuned!
* Tonight we learned the true story; DeeDee was running 8th when she reached the White Mountain checkpoint, within range of 7th, but all her dog food was stolen! It seems amazing that such a thing could happen in such a major league race, but it did. She had to race that last 75 miles to Nome with a team that was hungry as well as tired, and she ended up dropping 4 places to finish 12th. Incredible.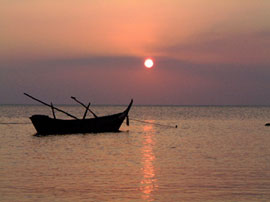 Whew a long day spent in an offsite meeting, but it was great; many interesting messages to absorb and ponder. Like the need to relax and recover. It has me awake and blogging...
From Cringley: Google at Carson's Speed. Given an optimum speed, there is always Carson's Speed, "the speed to get the most extra speed for the least extra cost." Where speed means, um, building datacenters and caching knowledge.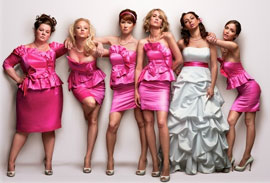 Have you heard of Rent the Runway? It's a great idea for a business; essentially you can rent high-end fashion instead of buying it. That makes so much sense because most people don't wear high-end fashion often, and in fact many only wear it once. This was you can rotate around and everyone gets to wear everything. I forsee great things for this idea.
Zillow are going public, under the symbol "Z". So be it. Time was I liked getting emails from them, telling me how much my house was worth, but now I wish they'd stop already :(
A cooperative cars competition - in Holland! How cool is that? You may remember I wrote long and lovingly about this idea, that many cars combined as a caravan could travel more efficiently.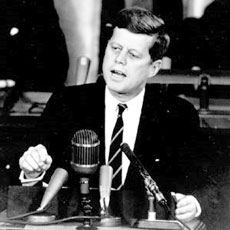 It has been 50 years since JFK's moon declaration. After a frenzied start we did put someone on the moon, within eight years. But then the program tapered off, and now the last shuttle mission is upon us. Maybe we need a program to put someone on Mars? That would be awesome!
And so the always interesting Peter Thiel is paying students NOT to go to college - and to develop business ideas instead. Huh. I get that college isn't for everyone, but in addition to the learning aspect there is also the growing up aspect; I'm not sure most teenagers are ready for business. It will be an interested experiment to watch!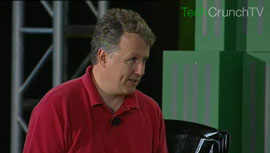 This is awesome: TechCrunch has posted a video of Paul Graham's Office Hours at their Disrupt conference. Amazing how he casually hones in on the key aspects of each business in like five minutes. Without being obnoxious. I love it!
Truth is stranger than Onion: North Korea making its own PCs. The jokes practically write themselves :)
Malcolm Gladwell does a great debunking of the "Apple copied Xerox" creation myth in the latest New Yorker. Many of the original concepts of Apple's Macintosh were developed at Xerox - such as a computer mouse - but the execution and refinement that Apple brought to their implementation was what enabled them to be commercialized.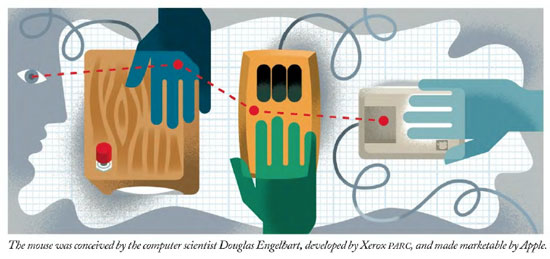 I think about this a lot, and I guess everyone thinks about this a lot; what makes Apple tick? It isn't just the concepts, because they didn't have the first laser printer, or the first ethernet implementation, or the first MP3 music player, or the first laptop, or the first phone :) or the first tablet either! But they were the first to make them awesome, by eliminating complexity and maximizing design and emphasizing usability.
Try to compare an iPhone to a Blackberry or a Palm or an Android. Sure, they all do the same things. But only Apple does them as well as Apple. And that's the key to their success.
I'm attending an Aperio offsite and we are talking about Leadership, and in my opinion the key to leadership is inspiration. And this is why Steve Jobs is such a great leader; he inspires all of Apple to be "insanely great". And they are :)
Archive: May 23, 2010
| | |
| --- | --- |
| Amgen Tour of California: Stage 8 - Rockstore! | |
Today was the *big* day; 2010 Amgen Tour of California stage 8, a four-lap circuit race right in my hometown, including the fabulous Rockstore climb I'm always telling you about, and the terrifying descent down Decker Canyon. I was there (!), and managed to wangle an invitation into the Amgen VIP compound. It was great.
Setting the stage, going in to this final day Michael Rogers of HTC/Columbia was leading overall, followed by Dave Zabriske of Garmin-Transitions 9s back, and Levi Leipheimer of Team Radio Shack 25s behind in third. BTW those three finished 1-2-3 last year, and they figured to do it again; but in which order? With such a tough finishing stage, anything was possible.
Naturally I took pictures, and naturally I'm going to share them with you. Here we go: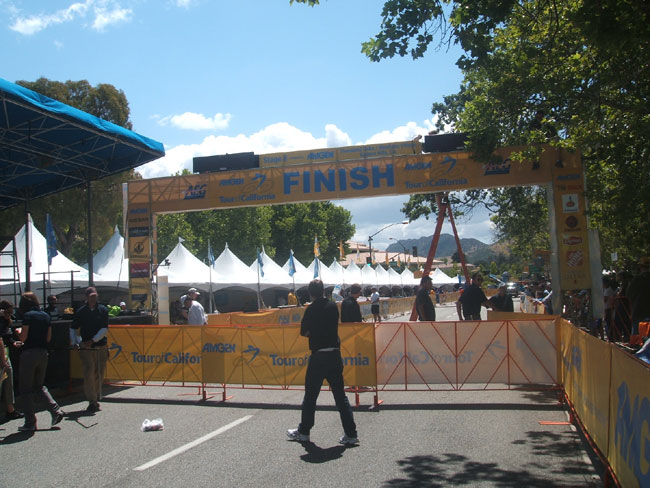 I began at the finish :) in Westlake Village; all calm right now... but later will be a madhouse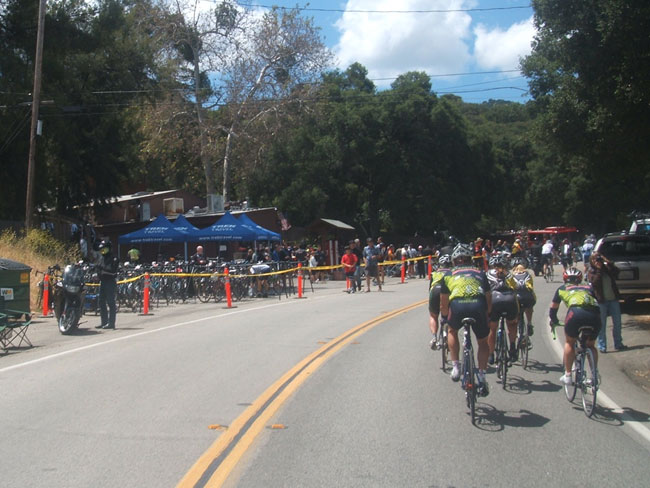 riding up Rockstore, there it is, the Rockstore itself,with a zillion motorcycles parked in front as usual
there was a huge crowd here to drink beer, hang out, and oh yeah watch those cyclist guys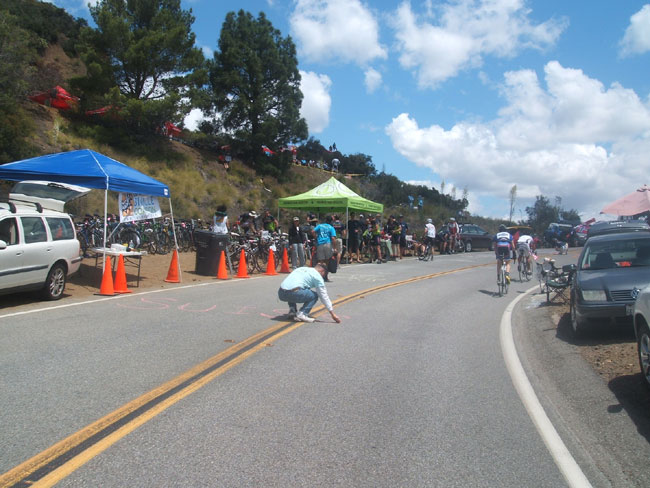 the climb was packed with cars and people and bikes and tents
lots of people chalking the road, too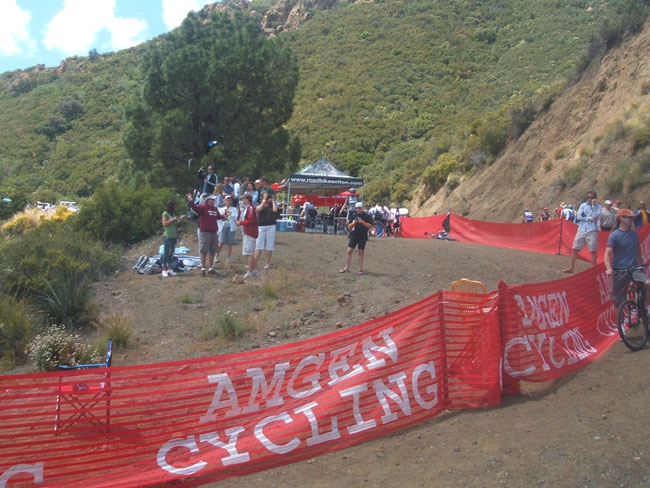 here it is, the Amgen VIP compound, located on that last big turn before the top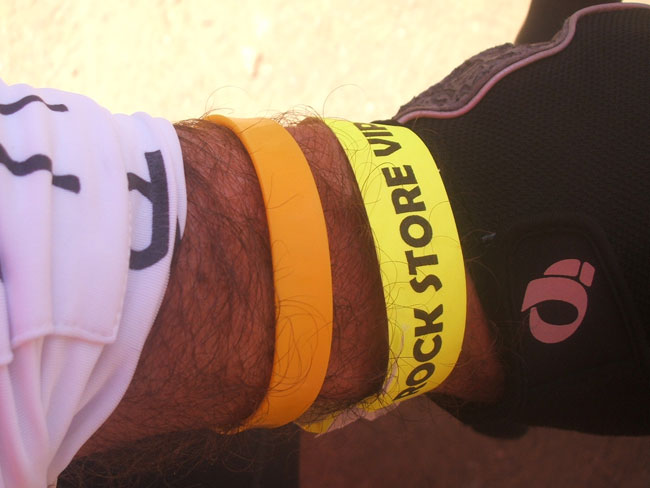 yippee I'm in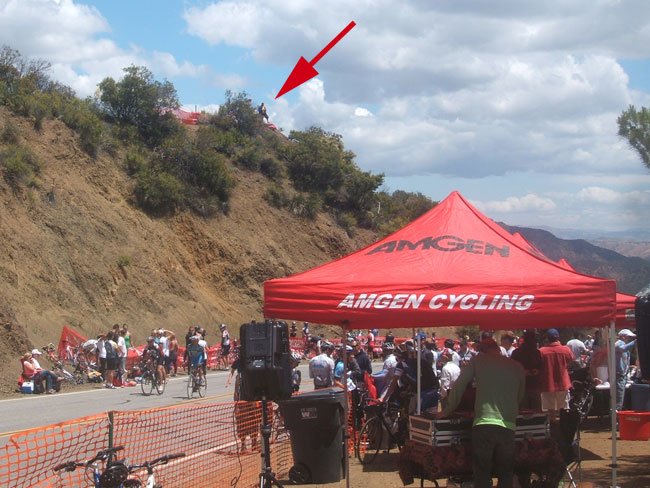 the Amgen area included the peak overlooking the turn - and the whole valley
the red arrow shows where I stationed myself, an awesome spot
note the DJ in the foreground, rocking the Rockstore...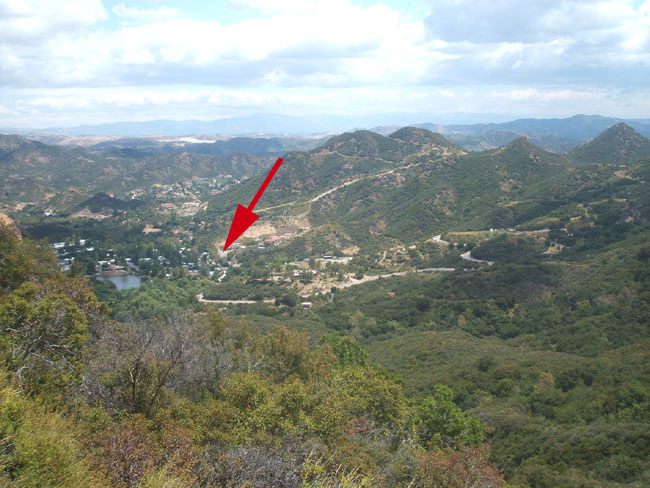 the view of the valley from the peak was unbelievable
the entire climb was visible, it was possible to watch the riders all the way up
the red arrow shows the location of the Rockstore at the base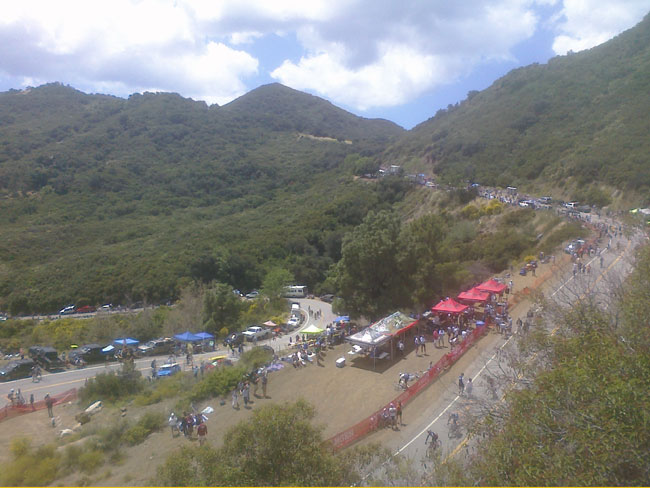 overview of Amgen compound and the final straight of Rockstore up to the KOM point
note the crowds - it was really packed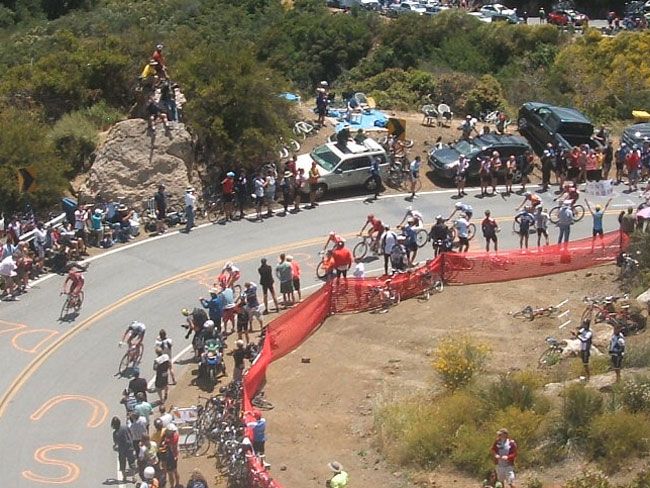 and so the race is on!
on lap two a breakaway of seven riders formed, including George Hincapie
here they have about 2:30 on the peloton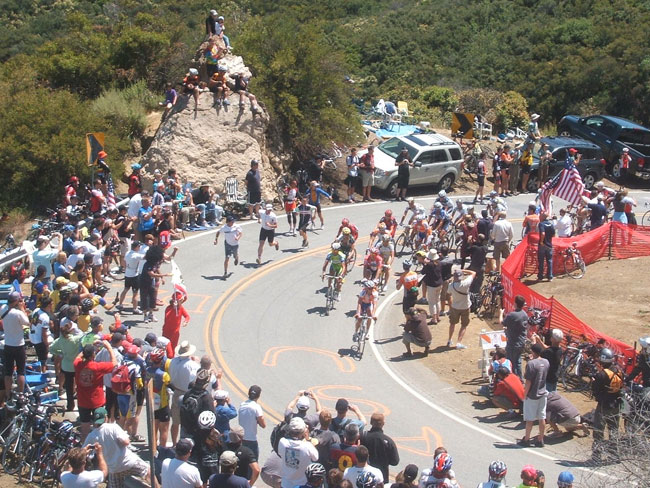 the peloton fragmented behind the break
with the GC men and their domestiques in the chase group
tucked in note Rogers (yellow jersey), Zabriske (orange helmet), and Levi (red and black kit)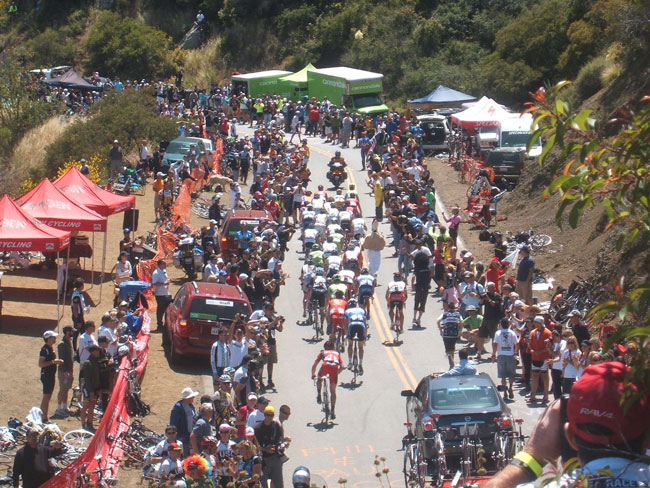 check out the size of the "peloton" after 35 miles of racing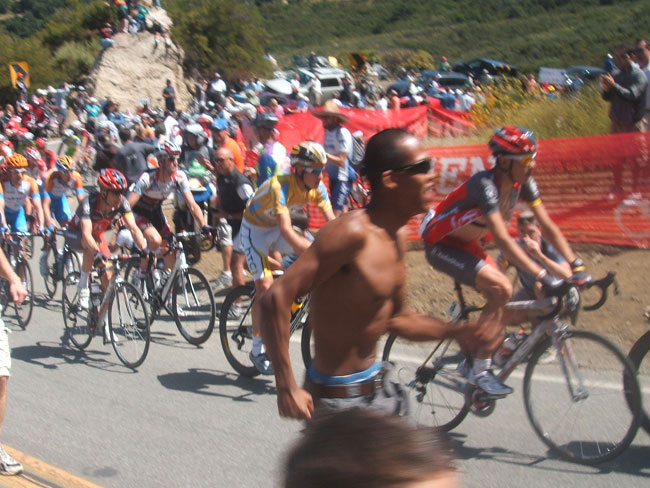 the leaders on lap three
R-to-L: Chris Horner leads Rogers, Rory Sutherland, and Levi, with Zabriske at the far left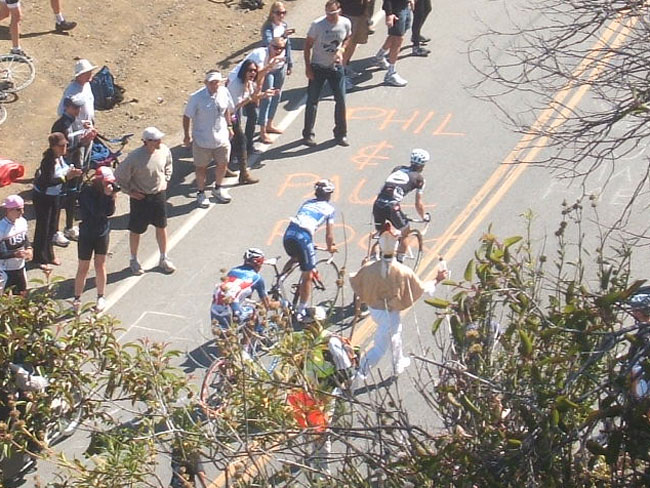 on the final lap the break itself broke; here are leaders Baredo, Pujols, and Hincapie
George was the crowd favorite (of course) and looked great for the win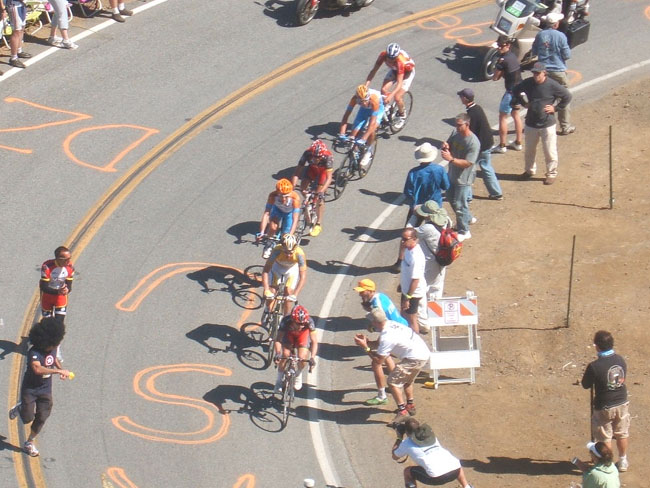 after a series of attacks the GC men pulled out from what was left of the peloton
Levi, Rogers, and Zabriske mark each other, followed by Horner, Ryder Hesjedal, and Thomas Rabou
with no gaps by this point it was evident that Rogers was on his way to the overall win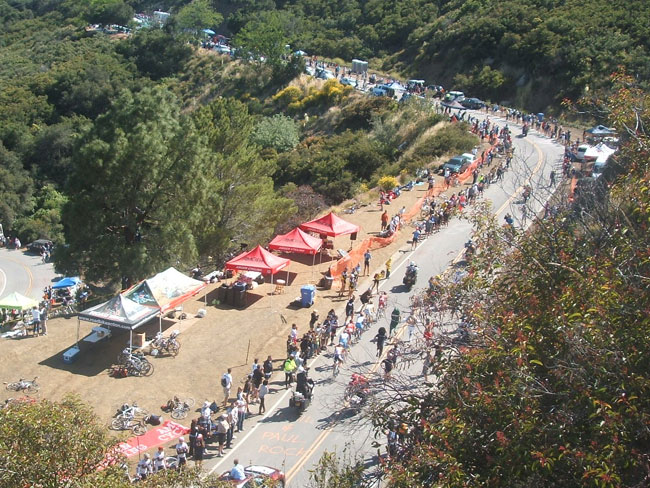 the leaders crest Rockstore on the final lap
what a marvelous sight!
After the peloton passed I rode down Rockstore and cut through Triunfo Canyon to Westlake Village, but instead of heading for the finish line I headed home, so I could watch the whole thing on Versus. Which I did, amazed that only a few minutes ago I had actually been there.
Oh, you want to know what happened? Well, on the Mulholland rollers between Rockstore and Decker Hesjedal attacked, and Horner went with him. They ended up catching the three leaders on the descent, and that group of five sprinted it out to the finish, with Hesjedal edging out George for the win. Congratulations to him but boo; I was really rooting for George to get it. Horner was third.

Must make a point of recognizing Thomas Rabou who won King of the Mountains going away. A promising young rider on Rabobank, he had a horrible accident which took him over a year to recover from, and is now coming back as a member of Team Type 1. He's been living a dream this week.

And in the GC it ended up being a parade; after all that work Rogers, Zabriske, and Levi finished together, and so they ended up on the podium in that order. A great win for Rogers, and poor Dave finishes second in the ATOC for the third time. Maybe next year!
Another fantastic day watching pro cycling... and this time right in my own town, on a climb I ride myself just about every week. I'll never do it again without thinking of today. How did I get here? :)
Wow, quite a weekend, what with Megan's par-tay yesterday and the Amgen Tour stage today. And so whew I get to relax... no wait that's wrong, I get to fly on a red-eye to Philadelphia! I am in fact sitting at LAX at this very moment, waiting for my [late] flight to board. Upon arrival it will be a day of meetings, followed by two days of customer visits, with a late flight back Wednesday and then a trip to Vista on Thursday. I will be one tired puppy. But don't worry, I will blog :)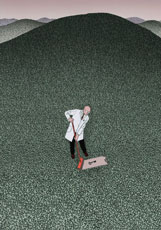 The latest issue of the New Yorker features a fascinating article by Malcolm Gladwell, The Treatment (PDF), about the search for drugs to fight cancer. A must read even if you aren't in the business of building tools for cancer researchers like I am.
Dog bites man story of the day: HP confirms slate to run WebOS. I bet it won't suck, and in fact might give Apple's iPad a run for your money. Of course as with any platform the key will be the availability of content; will there be WebOS Apps? Or perhaps the question should be will there be web apps. You could see a version of Chrome for the WebOS too, including flash...
In this regard, it is interesting to ponder whether the Android platform is fragmenting [already]. What's important here is not bifurcation of versions or features, but whether all versions support the same apps. E.g. Chrome + web = commonality.
More on Apple vs Google, in the wake of the Google I/O announcements: Robert Scoble posts hey Apple, you have mobile competition, and Eric Raymond thinks now's a bad time to be an Apple fanboy. I love this from Scoble: "Hello? This is Scoble. You're not calling me on your iPhone, are you? Why do you say that? Because I can hear you." Ouch. And Eric concludes "Apple has been outflanked by Google's multi-vendor strategy, outsold in new unit sales, and is now outgunned in technology and user-visible features. Again, I was expecting this…but not so soon." In this battle between two successful companies I don't see a loser, and for sure we consumers are the winners!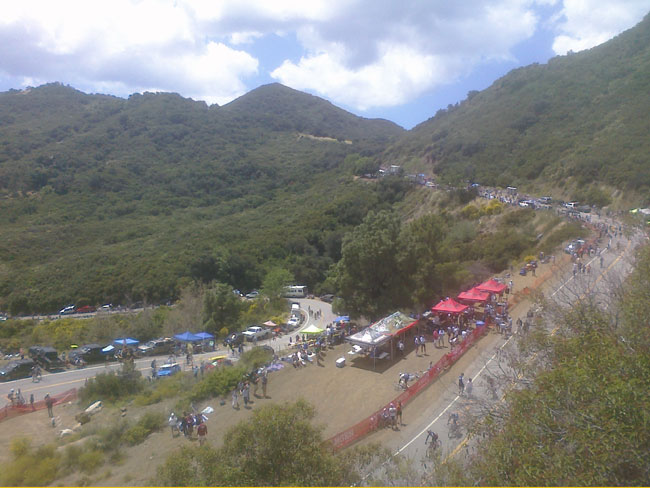 PS to my ATOC stage 8 report, not only did Ryder Hesjedal and Michael Rogers win, but so too did the cities of Agoura Hills, Thousand Oaks, and Westlake Village. There were huge crowds everywhere, and the PR value of all those beautiful aerial helicopter shots is incalculable.
Oh and in the other big cycling race taking place at the moment, Ivan Basso won stage 15 of the Giro! David Arroyo remains the overall leader, as the GC favorites continue to recover time from that amazing break which shuffled the standings. They have a rest day tomorrow but then a week of climbing left.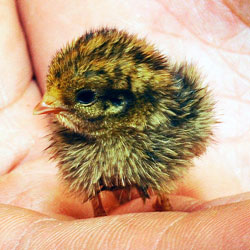 Wrapping up, the ZooBorn of the weekend is this quail chick. Wow. I must tell you I am a sucker for cute chicks :)
Archive: May 26, 2009
| | |
| --- | --- |
| hunter lecturers (New Yorker, 5/25/09) | |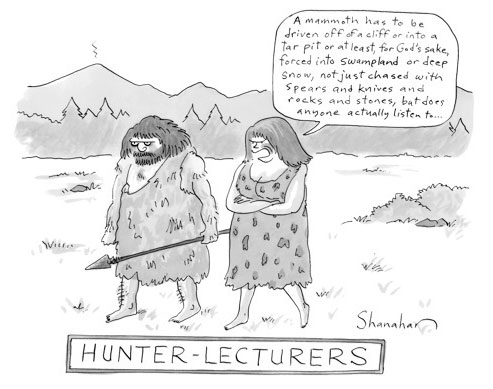 I love it.
aka "the evolution of language"...
Tough to get back into "work mode" this morning (at 4:00AM!), a productive day but a long one - work work work - good thing I enjoy my job because I certainly spent a lot of time on it :) And then a little bike ride up and down the beach (today I thanked the world for allowing me to live in a place where I have such beauty to enjoy while riding) and then a nice dinner with friends / coworkers and then blogging and then... sleep!
My car's airconditioner has crapped out. Crap. It did it in a very unpromising ($$$!) way - loud bang followed by smoke coming out from under the hood. Don't need the A/C but do need the $$$ it will take to fix it. Not thinking about that right now ... nnnn ...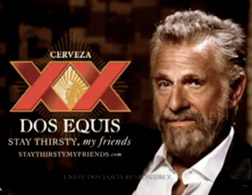 The most interesting commercial on TV... features the most interesting man in the world. I, too, don't always drink beer, but I, too, prefer Dos Equis when I do :) Stay thirsty, my friends!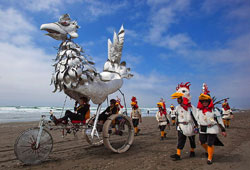 Interesting note from Gerard Vanderleun, Marijuana Country: "The tax-free produce of this fertile region probably produces the only section of California that isn't bankrupt." You'll have to click through for more on the picture :)
Great new feature in PayPal: balance manager. Automatically transfers money when your account goes below $X to reset it to $Y. This is huge for me; the main reason I have to carry two credit cards is that I often forget to check my PayPal balance (which affects the amount available through my PayPal debit card). Ah, it's the little things in life...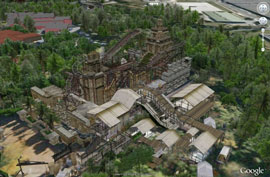 Google Earth have added a bunch of new 3D models, among them Euro Disney. Cool. Now I can go there without, um, going there.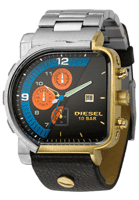 Is this the world's ugliest watch? I think it might be, amid stiff competition. Isn't it amazing that people keep trying to come up with new innovative watch designs, even though just about everything now contains a clock?
Apparently Time Warner are considering spinning out their AOL subsidiary... after trying and failing to find a buyer. The $147B "merger" of AOL and Time in early 2001 has to be considered the peak of the dot-com bubble as well as the "jump the shark" moment. AOL has declined amazingly since then, are they even relevant? Who uses AOL anymore, for anything?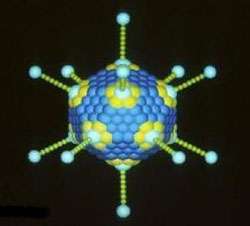 Excellent: Virus Tamed To Destroy Cancer Cells But Leave Healthy Cells Unharmed. "Scientists at Oxford University have tamed a virus so that it attacks and destroys cancer cells but does not harm healthy cells. They determined how to produce replication-competent viruses with key toxicities removed, providing a new platform for development of improved cancer treatments and better vaccines for a broad range of viral diseases." What a cool approach, more please!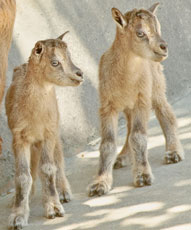 Ever heard of a Markhor? Yeah, me either. Well anyway they are endangered goat-antelopes indigenous to Central Asia, and their babies are cute... ZooBorns of the day!
Archive: May 26, 2008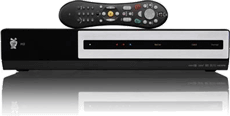 I had a great weekend, thanks for asking... one of the highlights was installing my new TivoHD, which meant I could joyfully disconnect my Time Warner Motorola DVR. Whew. A lowlight would be the crash I had yesterday in the middle of a great long ride. I am now the king of Motrin...
On Memorial Day Powerline asks Are we Safer? Most of the people who ask this imply that the answer is "no", but really when you look at reality, the answer is "yes"; there have been no terrorist attacks against or inside the U.S. in five years. Wow.
So I am still really enjoying my new Centro. While in Ventura, having a cappuccino in a Starbucks, I was able to locate the building easily and view it using Google Maps. I felt like waving to the satellite. Who needs a GPS?
Isn't it weird that such an amazing capability could be free?
Alberto Contador is in pink; today he took over the lead in the Giro d'Italia. I predict he will not relinquish it, either.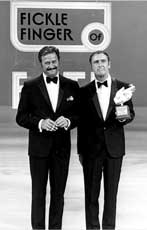 Sadly, Dick Martin has died. Laugh-In was one of the most influential TV shows of all time, and Dick was an essential ingredient; a straight man who didn't get it, but enjoyed it anyway. Goodnight, Dick.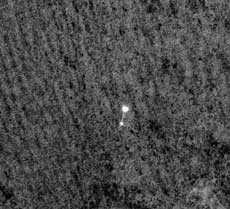 The Mars Lander has landed! Successfully, all systems are go. That is awesome. At right is an amazing picture of the lander landing, taken by the Mars orbiter. How cool is that? [ via LGF ]
Samsung has announced a 256GB solid state disk. Here we go... assuming the price comes down, why wouldn't every laptop have one?
This weekend I voted in the Republican Primary, in the comfort of my office. (Yes, I'm a Republican now, ever since the recall election when I voted for Arnold.) Salient votes:
Elton Gallegly - U.S. Representative, 24th district. A good guy, has been for years.
Jeff Bennett - Judge of the Superior Court. Not a flaming liberal.
Prop 98: no, Prop 99: yes. There is a good way to restrict eminent domain, and a bad way, exemplified by these two propositions. Unbelievably, 98 is really an anti-rent-control initiative in disguise.
Thousand Oaks measure B: no. Most emphatically no, this is an initiative from one business owner to restrict competition from others.
Finally, can I just say once again how much I hate this:

What you see here is the Official Ballot. Note that it is bilingual, everything is in English (the official language of the United States and the state of California) and in Spanish (which has no official standing whatsoever). This is bizarre; everything should be in English, period, and all U.S. citizens should vote in English. And if they don't know English, they should learn it.
Archive: May 17, 2007
| | |
| --- | --- |
| entrepreneurs inside the machine | |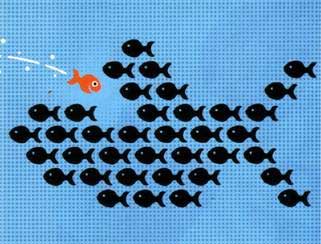 Fortune discusses Entrepreneurs Inside the Machine, regarding integrating acquired entrepreneurs into a big company.
I find this to be an important issue, as a shareholder as well as an entrepreneur. In the early days the value of a company like Aperio lies largely in its people. Over time the value becomes institutionalized, and moves into the customers, the market approach, the brand, the products, etc. (Not that people don't remain important, but they become relatively less important.) If an acquiring company plans to realize the maximum value from an acquisition, they must either provide a good home to those people, or wait until the value has shifted away from the people. Or both.
From my personal experience Intuit bought its billpay business (which was a separate company) too soon, the key people left, and the value was not fully realized. Digital Insight went public, experienced turnover without losing value (over a period of years), and was then ultimately acquired by Intuit, long after the value had moved. PayPal went public, experienced a great deal of turnover and lost some value (over a period of a year), and was then ultimately acquired by eBay. The value to eBay has been immense, but there was an even larger and more valuable business inside PayPal which wasn't fully realized. At one time we legitimately spoke of forming a rival to Wells Fargo and Citibank, now that seems silly. (Many of the PayPal people who left went on to start other successful businesses, YouTube being the highest profile example. Maybe someday Aperio will be another :)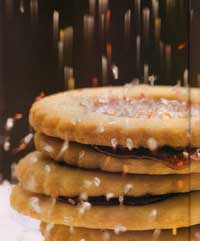 I'd like to refer you to The Bakeoff, an amazing article that I recommend to everyone. Really excellent, really thought-provoking.
This was published in the New Yorker a couple of years ago, and I can't find it anywhere online so I've scanned it.
The article is superficially about the quest for a healthier cookie. At a level down it is actually as much about software development – or innovation in general – as it is about baking; Joel Spolsky is quoted, as is Linus Torvalds, and the philosophy of "open source" is examined, and "extreme programming" is debunked. Jon Udell posted a nice overview if you're too busy to read it all, but the writing is excellent so I recommend you do when you can. The author is Malcolm Gladwell (of The Tipping Point and Blink), and he nails it.
P.S. This is an example of the kind of thing you can't find anywhere else. I can't stand the New Yorker's politics, or the way they seem to sneer at anyone not in New York, but the magazine is invaluable as a bulletin board for this sort of stuff.
Barry Bonds is back in the news as he nears Hank Aaron's record of 755 lifetime home runs. Which recalls this fantastic New Yorker cover, from April 3, 2006: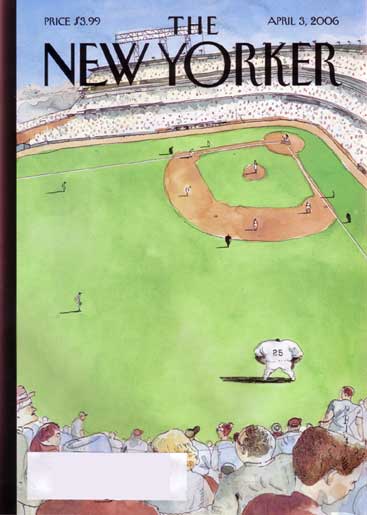 (click to make even bigger :)
Big news - I love it!
Archive: May 26, 2006
Archive: May 25, 2005
The other day I noted Aperio was desperately seeking a summer intern. I mailed flyers to all the local schools. I called their computer science departments. I told everyone I knew. And I posted to my blog. Guess which source of leads was the best?
If you said "your blog, of course", you would be correct. In fact several other blogs linked to mine - most notably Robert Scoble - which amplified the effect. (Thanks!) I received literally hundreds of emails from interested students.
So what happened? Well, we had so many qualified applicants we ended up hiring two interns. One of them is a Masters student at Syracuse University (that would be in New York), who is presently in India. The other is a senior at Cal Poly San Luis Obispo. These guys get to spend the summer in San Diego, on the beach coding for a cool startup. Think the Internet hasn't made the world smaller! Wow.
Anyway we are really excited to have two excellent interns joining us. The power of the blog!
Interesting how much interest there is in the upcoming EU votes in France and the Netherlands, by people who don't normally pay attention to this. I suspect it has something to do with the impending defeat of a Jacque Chirac -inspired initiative; people love to see him fail, at anything. In a broader sense, I think this is an important issue, especially for people in the smaller states of Europe. (Just as the people in, say, Rhode Island were more affected by the U.S. Constitution's safeguards than people in Pennsylvania.) At the highest level it makes sense to me that there would be a "United States of Europe", analogous to the U.S. However this particular effort at a constitution seems doomed to failure; the principles were too murky, and there was too much detail.
Did you know there was an election in Lebannon? Yep, there was - and without the Syrians. How cool is that? Maybe Bush has gotten it right?
One area where Bush has gotten it wrong is stem cell research. This issue is interesting because it is going to split the Republicans; the "true" conservatives vs. the libertarians. Probably a good thing. Maybe we need another party for ex-Democrats :)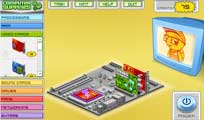 Trying to get your kids interested in computers? Check out Bitman's Place. You can signup for the beta at Jeff Sandman's blog. This is really cool. For parents as well as kids!
Chris Anderson on the dangers of "headism". "The mistake of assuming that the economic incentives and other forces that dominate at the head of a demand curve apply equally down the tail." As usual, great thought-provoking analysis.
Bittorrent adds search. Well that's cool, but unfortunately a few tests reveal it isn't a very good search. They have a ways to go before they're in there with isohunt.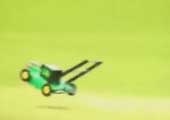 Okay, here we have a flying lawnmower. More proof, if any were needed, that you can find anything on the web. Unbelievable.
Ah, yes, the power of the white suit.
Archive: May 20, 2004
The other day I posted an RSS cookbook, hoping to entice those of you who haven't yet discovered how cool RSS readers are to do so. Well I figured out a way to make it even simpler, so if you haven't already, please check it out - again. This will be worth it, I promise.
Busy day, for me, for the world, and for the blogosphere...
The frustration Democrats have with the electorate is understandable; even after all the "bad news" from Iraq, cheered on by big media, Bush remains ahead in the polls. Command Post notes Kerry is now trying to make the price of gas an issue. That's a good tactic for him, but realistically there's little the President can do about them. The world is running out of gas, and prices will continue to reflect supply and demand.
John Robb quotes the WSJ: "If current oil prices are sustained, the estimated losses at the airlines is expected to top $5B this year." So be it.
Not shocking, but too bad; China Shelves Plan for Astronauts on Moon. "China plans to build its own manned space station by around 2020 but has shelved plans to put a man on the moon for financial reasons." So be it.
AlwaysOn: Video Gets Personal. "Analysts generally seem to agree that the 'Tivo-ing' of America opens up new markets for on-demand Internet-based video content." Yep.
So today I get an email from Vonage, offering to change my plan from $30/month to $25/month. What! No strings attached. Excellent. They also introduced a new $15/month plan which offers limited calling. If you're still using analog phone lines, you are overpaying for phone service.
P.S. They're offering a $40 referral fee; if you sign up and let me refer you, I'll split it with you :)
Steve Sailer points out Mind - The Adaptive Gap, from the Scientist. A nice review of the current state of evolutionary psychology. "As a field, evolutionary psychology (EP) has the difficult, and some say untenable, mission of discerning whether complex human qualities--everything from sexual attraction to language--are adaptations honed through natural selection or just nonadaptive byproducts of a uniquely human collection of cognitive systems." Great stuff.
The Heisenberg Penguins: The Scientist reports on a study which found penguins with flipper bands are late to breed and less successful at it. (Sounds like a job for RFID.)

If you're a regular reader you know I like modern architecture, and especially Rem Koolhaas. Check out these pictures of new Seattle public library. Wow. That's art. (I love the floor of babble - what a great idea.) Oh, and here are some QTVRs of the interior. [ via Cult of Mac ]

Want to run Mac OS X on your PC under Windows? (Slowly?) The check out PearPC. Here's a report from a guy who got it running.... The use case for this is weak, but I love it!

Remember the old Mac SE? I do, in fact I still have one (named Hen3ry). Check this out - Oliver Soehlke & Lukas Pajonczek have created a web-based simulation (in German, no less)! More proof that some people have too much free time. I must say, it is cool.
It was pretty cool having the OS X screen shot (above, right) and the OS 7 screen shot (above, left) sitting side-by-side in Photoshop. You've come a long way, baby :)
The Atlantic considers Broken Windows, from 1982. This seminal work strongly influenced William Bratton, who first as New York Transportation police chief and then New York city police chief had unusual success by focusing on "broken windows" (literally and figuratively). He was impressively successful at reducing graffiti and crime in New York, and subsequently wrote a book ("Turnaround") and then became L.A.'s police chief (!). So far he's receiving high marks with his efforts here.
Ongoing application of this theory may explain Why Is There a Plunge in Crime?
The Sun reports Star Wars Episode III will be called Birth of the Empire. So be it. "The highlight of the space epic will be a thrilling lightsabre clash between Obi-Wan Kenobi (Ewan McGregor) and Anakin Skywalker (Hayden Christensen) while surfing on lava." Cool. In the wake of Episode II my expectations have been lowered to the point where I'll probably like this one.
MSNBC has a running commentary on "how Episode III can be saved". I'm sure George Lucas appreciates the help (but probably not the suggestion that somebody else direct), but as the creator of what is arguably the most successful movie series in history, I doubt he really needs it.
Tuck Andress on learning to play guitar: It's the Guitar's Fault. [ via Ottmar Liebert ]
Soon it may be illegal to drive while distracted in L.A. What! "Drivers distracted by eating, talking to pets or combing their hair could face new fines under a bill that passed the state Senate." These guys have too much free time. Are they kidding? What if you're driving and a pretty girl catches your eye, does that count? [ via Blogging L.A. ]
My friend Cynthia told me about this the other day, and I didn't believe her: Born a Boy, Raised a Girl, Became a Man. "Dr. John Money, who had authored 40 books on human sexuality, had radical advice. He believed that the gender of a person depends on how a child is raised rather than genetics." This guy was a doctor? Sigh.
Oh, but four trans-gender people are graduating from the LAPD police acadamy. I am not making this up. (I couldn't, I'm not that creative :)
Microsoft.com: The four-letter word that can get people excited. Hint: It starts with a B. [ via Scoble ]
Bill Gates gets blogs and RSS, too.
The RSS bandwagon keeps rolling, Time and ESPN. As Dave Winer says, big bing!
Want to get your feed wet with RSS? Check out my RSS cookbook...
Archive: May 26, 2003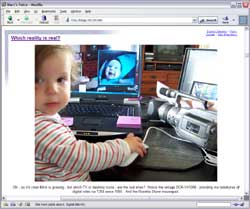 Ceci n'est pas Mimi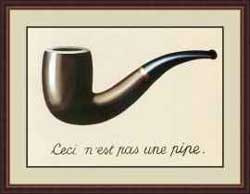 Ceci n'est pas Magritte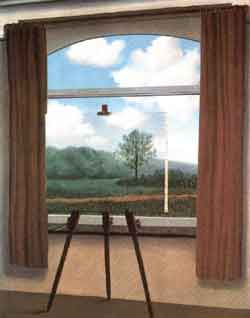 The Human Condition
(click for larger view)
I saw an interesting post on Marc Cantor's site: a picture of his daughter Mimi, next to a computer which has a picture of a computer, which has a picture of Mimi. Marc asks "Which Reality is Real?"
Of course this is a trick - the answer is "none of the above"! The outermost reality is just a web page with a photograph. In fact, as you're viewing this right now you have - a web page with a photograph of his web page with a photograph! Which reality is real, indeed?
This type of confusion of levels was the specialty of René Magritte, one of my very favorite artists. His most famous work is a simple painting of a pipe, with the caption "ceci n'est pas une pipe" which means "this is not a pipe". At one level you are tempted to say "wait a minute, that is a pipe!", but then you realize "oh, it isn't a pipe, it is a painting of a pipe!". Of course this is neither a pipe nor a painting, this is a web page with a photograph of a painting of a pipe.
Lest you think Magritte was only into "thought art", you should check out some of his other work; it is visually amazing as well as thought-provoking. You can Google for other examples of his work on the 'net.

My personal favorite is "The Human Condition", shown below at right. Magritte insisted that this piece be displayed unframed, giving the illusion of a "real" window with a painting on an easel in front of it. The image on the painting appears to be identical to the view through the window, but is it? After staring at this for a bit, you may feel "aha, I get it; Magritte is saying we are like a canvas, and the 'real' world is painted onto it by our senses." Then you realize, "hey, this work of art is painting itself onto my brain." Still later you realize "this work of art has a message, and its message is being painted onto my brain." Cool.
This same confusion of levels is at the core of the Matrix movies - a reality which is a simulation within an outer reality. At the end of the Matrix Reloaded we understand suddenly that the outer reality is also a simulation (!) nested inside a reality another level out. I wouldn't be surprised if the conclusion in the Matrix Revolutions is that all reality is a series of nested realities, with no "outermost" level.
I urge all of you to take a screenshot of this page, and post it on your website. Then you'll have a page with a photograph of a page with a photograph of a page with a photograph... For even more fun, view it through a mirror. Which Reality is Real, indeed!

Memorial Day, 2003. Today we honor all those who gave their lives defending America and in the pursuit of freedom and liberty everywhere. Particularly poignant this year, with the recent actions in Afghanistan and Iraq. I am personally am very grateful and proud of all the men and women in our armed forces, and especially those who've given their lives for our lifestyle. Thank you all.
CNN: Canada, Taiwan wrestle with SARS. I haven't been reporting SARS news - I guess I don't feel I add much to what's already out there - but this continues to be a worry. The only real weapon we appear to have in this battle is quarantine; I was encouraged by the apparent progress in Beijing (still, with China you just don't know the real story), but Toronto and Taipei continue to report new cases daily. The global death toll now stands at a little over 700.
I dislike SUVs. I think they're ugly. I do understand I'm in the minority on this (check out any nearby mall parking lot), and if you own an SUV rest assured this isn't personal; I would staunchly defend your right to purchase an ugly vehicle. Okay, got that out of the way.
Although I'm not an SUV fan, I do think Arianna Huffington's Detroit Project is ridiculous ("drive an SUV, fund a terrorist"). Tim Blair points to a great column by Csaba Csere in Car and Driver which skewers the logic behind this in ten different ways.
Razib has posted a nice review of Matt Ridley's new book Nature via Nurture. Overall he had a lukewarm reaction, perhaps because Matt tends to objectively review issues rather than injecting his own opinions. Sounds like a nice read, I'll have to check it out.
Jeremy Zawodny says PageRank is Dead. "PageRank stopped working really well when people began to understand how PageRank worked." Hmmm... The Heisenberg-ness of this is appealing, but I don't think many people have changed their linking behavior to optimize for Google. Sure, you read about Google bombs but they're isolated incidents. Now that Google is making serious money with their text advertising there may be pressure for them to do things differently, but they seem to be maintaining their integrity. Recently there was a flurry of discussion about Google and blogs (I joined it myself). The bottom line was that Google was concerned that blogs might be disproportionately weighted in their search rankings and they might take corrective action. This wasn't to punish blogs, it was to optimized search results. Part of the problem is that "authoritative" sources like newspapers often hide their archives behind a paywall, and/or don't link through their archives, so they are effectively under-weighting themselves. A while back I suggested a mechanism for weighting links explicitly; this didn't seem to attract much interest (!). However Google continues to weight links implicitly by their source, which is self-correcting. I guess I disagree with Jeremy; there are challenges posed by Google's success (they are no longer merely an observer, they are a major influence), but the fundamental technique of using links to categorize web pages is still valid.
I've been waiting to see if Dave Winer replies to Evan Williams' comments on the blogger API. He noted that he had to read it carefully, but so far he's withheld comment. This matters because Evan and Dave are the authors of the two weblog APIs (blogger and metaWeblog). It sure would be nice if there was only one, and/or if they were compatible. Particularly if you were, say, building a facility to post email messages to blogs :)

Echo the Gecko
(click for larger pic)
We have a new member of our household, please welcome "Echo"! She is a baby Leopard Gecko and we think she is pretty darn cute. Seems like a friendly little thing, too...
Right now she is banded - almost like a snake - but when she's older she'll have spots like a leopard.
Unfortunately geckos eat live crickets - four per day - so when you take on a gecko as a pet, you are also taking on a bunch of crickets and they are not cute. Also they are not silent. Amazingly both Alex (9) and Megan (6) grabbed a cricket and fed Echo. Our cat Reggie is interested in both Echo and the crickets, so we have our hands full keeping nature at bay. Stay tuned.
Home
Archive
flight
About Me
W=UH
Email
RSS OPML

Greatest Hits
Correlation vs. Causality
The Tyranny of Email
Unnatural Selection
Lying
Aperio's Mission = Automating Pathology
On Blame
Try, or Try Not
Books and Wine
Emergent Properties
God and Beauty
Moving Mount Fuji The Nest Rock 'n Roll
IQ and Populations
Are You a Bright?
Adding Value
Confidence
The Joy of Craftsmanship
The Emperor's New Code
Toy Story
The Return of the King
Religion vs IQ
In the Wet
the big day
solving bongard problems
visiting Titan
unintelligent design
the nuclear option
estimating in meatspace
second gear
On the Persistence of Bad Design...
Texas chili cookoff
almost famous design and stochastic debugging
may I take your order?
universal healthcare
entertainment
triple double
New Yorker covers
Death Rider! (da da dum)
how did I get here (Mt.Whitney)?
the Law of Significance
Holiday Inn
Daniel Jacoby's photographs
the first bird
Gödel Escher Bach: Birthday Cantatatata
Father's Day (in pictures)
your cat for my car
Jobsnotes of note
world population map
no joy in Baker
vote smart
exact nonsense
introducing eyesFinder
resolved
to space
notebooks
where are the desktop apps?