| | |
| --- | --- |
| Iditarod day seven: racing across the ice | |
Now the race is really on, as the leaders in the 2015 #Iditarod have reached the coast. There's still well over 200 miles left to go, but after today there are only a handful of teams racing for the win.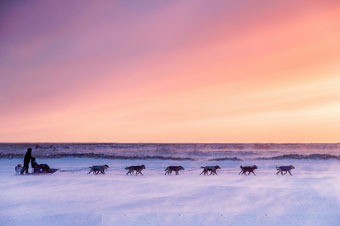 Aaron Burmeister was the first to reach Unalakleet, at 3:45 this afternoon; he rested about 4 1/2 hours and then took off again. (that's his team, at left; beautiful!) Aliy Zirkle was second in at 6:06, she rested for 4 1/2 hours also before heading for Shaktoolik. But Dallas Seavey came in at 6:06, rested 5 minutes, and was the first one out; he seems to be driving the team to beat. His father Mitch was fourth in and third out after resting just 12 minutes in the checkpoint. One of those four teams is going to win. Jess Royer is racing a strong fifth but is probably too far behind now to win, still, congratulations to her on a great race so far.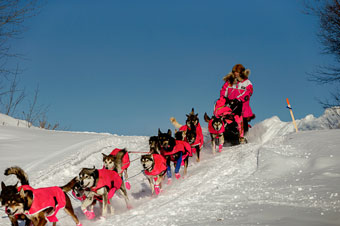 The conditions up the coast are considerably warmer than they were on the portage (and significantly warmer than the sub-forty-below conditions along the Yukon River!), and not as windy as feared. Good snow is falling on the ice making it easier for the teams to make progress. We'll have to see who's the fastest across the bay and who has gas left in the tank for the final push West to Nome!
That's DeeDee Jonrowe at right, with her easily identified team all in pink; she's presently running about 25th.
In the GPS Trackers shot below, Dallas is #46, Aaron #63, Mitch #18, and Aliy #32. Jessie is #3, her flag is underneath the TOT flag for the Teacher-on-Trail.