| | |
| --- | --- |
| Iditarod day six: the big shakeout | |
The 2015 #Iditarod is starting to shake out, as the leading teams have blasted out of Huslia and down the river to and through the checkpoints at Koyukuk, Nulato, and Kaltag, on their way to the coast at Unalakleet. As they do the weather is getting warmer and windier.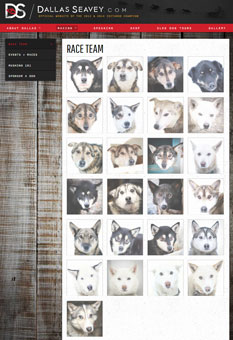 Aaron Burmeister continues to lead, he seems to have the longer / slower run rest ratio well in hand. He is presently resting in Kaltag after being the first musher to reach that checkpoint. He could either continue this way and win, or be caught by Dallas Seavey, presently in second, with a shorter / faster run rest ratio, or Aliy Zirkle, presently in third. Also in the mix are Dallas' father Mitch and Jessie Royer.
A lot of mushers have their own websites; 2104 champion Dallas Seavey has a great one,including a beautiful page describing his race team (right). Please click through; I love the descriptions of the dogs and their personalities...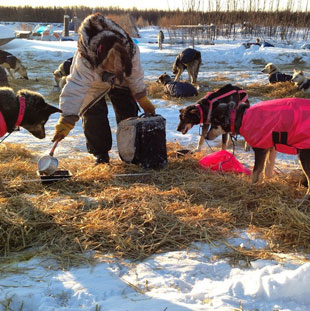 You might wonder about our favorite DeeDee Jonrowe, who was one of the first to reach Huslia but rested there much longer than her required 24-hour break, and is now mushing again but back in 25th place. Apparently she has suffered from the cold; the picture at left from the Fairbanks Daily News is captioned: "DeeDee Jonrowe ladles a mix of hot water, kibble and meat to her dogs in #Koyukuk this morning, despite having frostbite on six of her fingers, include two on her right, dominant hand that she thinks will have to be amputated after #Iditarod2015." Oh no :( Let's keep our fingers crossed for her!
Tomorrow will be the big day in the race, where the leaders reach the coast at Unalakleet (UNK) and start up across the Bering Sea ice through Shaktoolik (SHK) and Koyuk (KYK). It will be most interesting. In the GPS tracker shot below, #63 is Aaron Burmeister, #46 is Dallas Seavey, and #32 is Aliy Zirkle, and #18 is Mitch Seavey. You can't see but #3 is Jessie Royer; her flag is right under Mitch's, just beyond Nulato (NLU).