| | |
| --- | --- |
| Iditarod day eight: into Koyuk! | |
The #Iditarod 2015 leaders have reached Koyuk! At the top of the Bering Sea ... meaning from now on it is overland about 130 miles to Nome. The finish should take place late tonight!! No silly of course not, it will be tomorrow morning; I forgot everyone has to take an 8-hour break at White Mountain...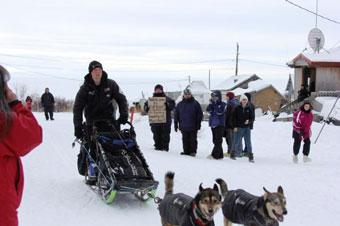 Dallas Seavey was the first in, after catching Aaron Burmeister just outside the checkpoint; he came in about 10 minutes later. Both teams will rest a while here, probably allowing Aliy Zirkle to catch up to them; she is presently about 10 miles away still out on the ice. Jess Royer has almost caught her (!), for fourth, and Mitch Seavey is about five miles further back in fifth.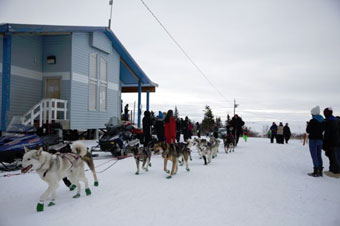 Aaron has been running longer slower runs and Dallas shorter faster runs. Most observers think Dallas has the edge, now that he's caught up to Aaron. Aliy is still in it and so is Jess, as her team seems to be moving really well.
It isn't over 'till its over, you may remember last year Jeff King was about to win before he had to scratch, and Dallas won while thinking he was finishing second (and Aliy finished second while thinking she was racing for third). So anything can happen ... stay tuned!