| | |
| --- | --- |
| Iditarod day four: halfway Nome | |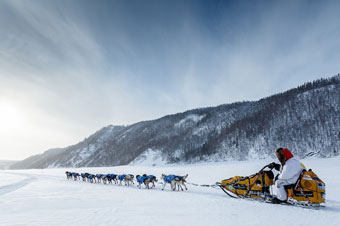 After a long day of mushing in perfect conditions, Aaron Burmeister, the #Iditarod 2015 leader, has just reached Huslia, the approximate halfway checkpoint of this year's race. He's there for his 24-hour rest, and looks to have a decent lead. Nearing Huslia are last year's champion Dallas Seavey, 6 miles out, and Thomas Waerner, at 14 miles. Behind them Martin Buser and Hugh Neff are 50 miles back, and presently camped at "Shelter Cabin".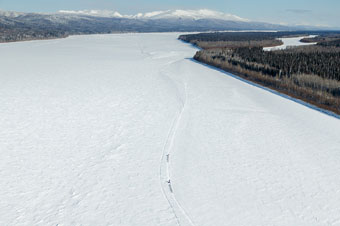 Meanwhile there's about 30 (!) mushers resting at the Galena checkpoint, most of whom are probably taking their 24-hour there. First in was Jeff King, who almost won last year; he'll be leaving at 4:37 - (2*59) = 2:39. It took Aaron 15 hours to reach Huslia from Galena, so that means Jeff might well reach Huslia before Aaron can leave. After that is Aliy Zirkle, who can leave at 5:54 - (2*32) = 4:50; she might well be in second. You'll recall she has finished second the last three years ...
Our favorite DeeDee Jonrowe is presently in 20th place, amid a whole pack who are closely bunched. A lot of racing left!