| | |
| --- | --- |
| Iditarod day two: on the Yukon | |
Day two of the 2015 #Iditarod has come and gone, and the leading mushers are about 220 miles closer to Nome, having traveled along the Yukon River to rest in Tanana. Almost all of them are taking their mandatory 8 hour stop here. (All the teams also have to take a 24 hour stop somewhere along the way, and another 8 hour stop in White Mountain.)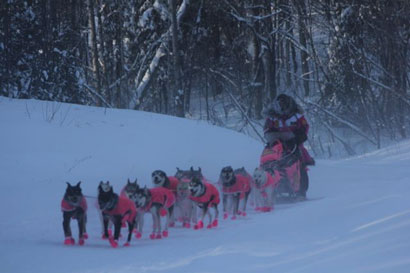 First in was Martin Buser, who said he wasn't going to be the rabbit again this year, but has been well ahead anyway. Hugh Neff was second, 1:34 behind (0:54 after start correction*), Aliy Zirkle was third at 1:40 (0:40*), and Aaron Burmeister was fourth at 1:53 (though he's actually ahead by 0:05 after start correction*). Brent Sass was fifth but has sadly been disqualified; he's carrying an iPod Touch, for music and movies, but because it can use WiFi for transmission it's a two-way communications device, and hence prohibited. He posted a nice video apology, he just didn't realize. That's too bad. And our favorite DeeDee Jonrowe was sixth at 2:47 (1:57*). Go DeeDee!
* The mushers start at two minute intervals, and the delay is subtracted from their 24 hour break. You can tell how long the delay was from the musher's bib number; DeeDee is #29, so she started 58 minutes late, and will make it up when she takes her 24 hour break. At this point of the race higher bib numbers are further ahead. Aaron Burmeister #63 is actually ahead of Martin Buser #4 when you apply the correction.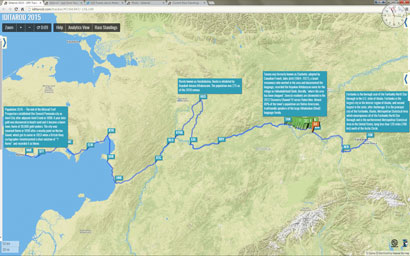 The rest of the pack have / will follow; at this writing 20 mushers are in, including all the favorites, and none have decided to push on. It just makes too much sense to rest through the night and take off on the long 119 mile leg to Ruby in the morning. Where by morning I mean, oh-dark-hundred; Martin will leave around midnight, and DeeDee at 2:00AM.
(for more detail, click map at left to enbiggen)
Aside from poor Brent Sass all the mushers are still racing, and almost all still have 16 dogs. That's a sign that so far the mushing has been "easy", or maybe we should say "easier". Tomorrow's long run to Ruby and then Galena should be more of the same, but then things will get harder with the run away from the river up to Huslia. The leaders will probably be there tomorrow night ... stay tuned!
[Update 23:17: just see that Aliy Zirkle has taken off! No 8-hour for her then. Will be interesting to see if anyone else follows. Oh, it looks like Aaron Burmeister is on the move, too. Aliy and Aaron might just be moving out of the dogyard and resting further down the trail, but the 8-hour must be taken in a Yukon checkpoint, so they'll have to do one in Ruby or Galena.]
[Update 00:30: now Martin Buser is off. That seems weird to me, he had nearly made it to the 8 hour mark, and had declared he did not want to be the rabbit this year. And yet ... he's off, too.]
[Update 00:48: actually Martin did make it to the 8-hour mark, the first to do so. And so he's off... But so is last year's champion Dallas Seavey, after only four hours in the checkpoint. Different strategies... Next after an 8-hour will be Hugh Neff, at 1:49, and then DeeDee at 2:02.]