| | |
| --- | --- |
| Iditarod day three: still a pack | |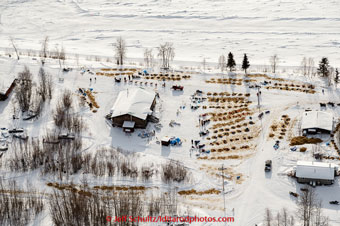 On the long flat reaches of the Yukon River, the 2015 #Iditarod is still a tight pack. The top 20 mushers are all piled into one checkpoint along the Yukon River. The differences are the effort expended so far, the amounts of rest, and the mental energy.
According to bloggers like Sebastian Schnuelle, the trail to Galena is perfect. Mitch Seavey was first in to Ruby, followed closely by his son, last year's champion Dallas Seavey, and by Aaron Burmeister. Mitch and Dallas will likely take their 8-hour break here; Aaron has taken his already, so he's actually in first. Others in include Martin Buser, who has taken his 8, Aliy Zirkle, who has not, and Joar Ulsom, who has. It's a bit complicated :) There are actually about 20 mushers in Ruby at the moment, and the [current] standings will be determined by how long each one waits.
[Update: Jeff King is first out of Ruby, and he's taken his 8, so he is leading. Aliy Zirkle second and Aaron Burmeister third (neither one of whom have yet taken their 8), and Martin Buser fourth (he has, so he's really in second).]