| | |
| --- | --- |
| Iditarod day five: decanting the leaders | |
The fifth day of the 2015 #Iditarod - which has been pretty "easy" do far, despite constant way-sub-zero temperatures - and we're starting to see a shakeout. Most of the top mushers are in Huslia hunkered down for their 24-hour breaks. Aliy Zirkle is off - she likes to camp along the trail - along with Mich Seavey and Jeff King. Those three are definite contenders to win. Neither Aliy nor Mitch have yet taken their 8-hour breaks, so Jeff will gain some time. Also in the mix are Dallas Seavey and Aaron Burmeister. I think the winner will come from those five.
Tomorrow will see the action really heat up as the teams start down the river headed for the coast. The faster teams are going to gain a lot of ground on the slower teams, and the winner will probably be the first team to Unalakleet.
Here's the scene in the dogyard at Huslia (can you spot DeeDee's team?):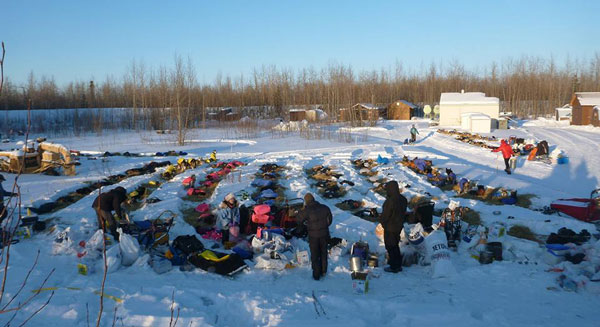 And here's a blast from the past, the finishers of the 1994 Iditarod. That's DeeDee in the center :)