Today was a sine wave of emotions; great excitement with the SpaceX astronauts reaching the International Space Station, and great sadness watching rioting and looting all over the United States.
Reading my Facebook and Twitter feeds, it seems we may have reached peak virtue signaling...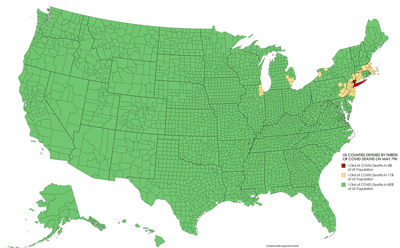 Meanwhile, oh yeah, we have a pandemic. And check out this amazing graphic; the green counties are 1/3 of all the deaths in the US, the yellow are another 1/3, and the red the final 1/3. Wow. Please click to enbiggen...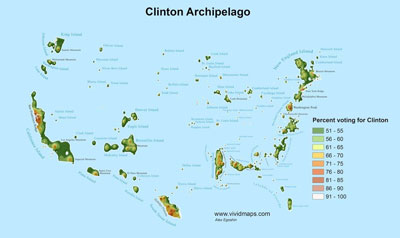 Reminds me of another remarkable map, The Clinton Archipelago, showing the areas of the US which voted for Hillary Clinton over Donald Trump, which famously contain more than 50% of the population. Please click to enbiggen...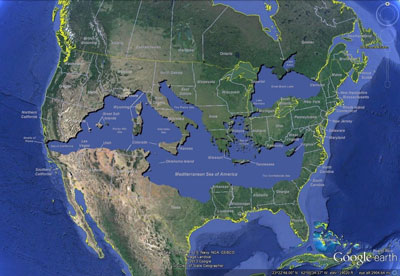 As long as we're doing remarkable maps, here's another... The Mediterranean Sea of America. Interesting that it is *so* large, and also, that the latitudes line up so well. Who would have thought Northern Italy lined up with North Dakota? This map also includes the Black Sea, which overlays the Great Lakes pretty nicely, both in size and location. Supercool.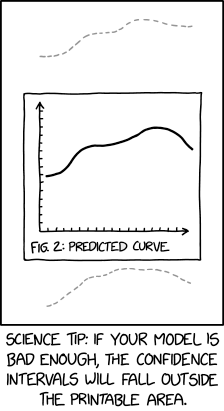 As we are all looking at models and maps, the inimitable xkcd nails it: confidence interval.
The CDC's New 'Best Estimate' Implies a Covid-19 Infection Fatality Rate Below 0.3%. That rate is much lower than the numbers used in the horrifying projections that shaped the government response to the epidemic. But if they were so wrong before, maybe they are equally as wrong now? (What is the confidence interval? :)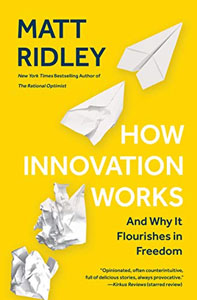 Matt Ridley has a new book out: How Innovation Works. "Innovation is the main event of the modern age, the reason we experience both dramatic improvements in our living standards and unsettling changes in our society." In the queue...
Finally, have you been following Magic Leap? This company was founded in 2010 and has raised $2.6B (yes!) to develop augmented reality systems. So far the demos have been excellent but the products have been terrible, and the company recently announced half the staff would be laid off "due to Covid-19". Riight. But wait! - they have now raised a new $350M (yes!), but their CEO is resigning. John Gruber helpfully offers a Translation From VC-Backed PR Jargon to English of Magic Leap CEO Rony Abovitz's Statement That He's 'Stepping Down'. "I am amazed that we raised $2.4 billion and have managed to stretch this con out for 7 years and counting. We even convinced Google to invest. Google!" Stay tuned.
Well that's today's filter pass (and exercise in mapmanship); let's hope tomorrow is less exciting, and the day after even less so. 2020 is not messing around!
| | |
| --- | --- |
| wrap master Christo, 1935-2020 | |
Hi all, did you watch? I don't think I've been this nervous, since, well ever. Anyway if you didn't watch, everything went great. The two astronauts are now successfully in Earth orbit, heading for their rendezvous with the International Space Station scheduled for 7:29AM tomorrow morning. And they also have an Apatosaurus aboard, more on that below.
SpaceX continue to broadcast live, I'm watching the Earth slooowly pass beneath the Dragon on its way "up" to the ISS.

And so it begins … about an hour before liftoff, the clouds are clearing and all is in readiness…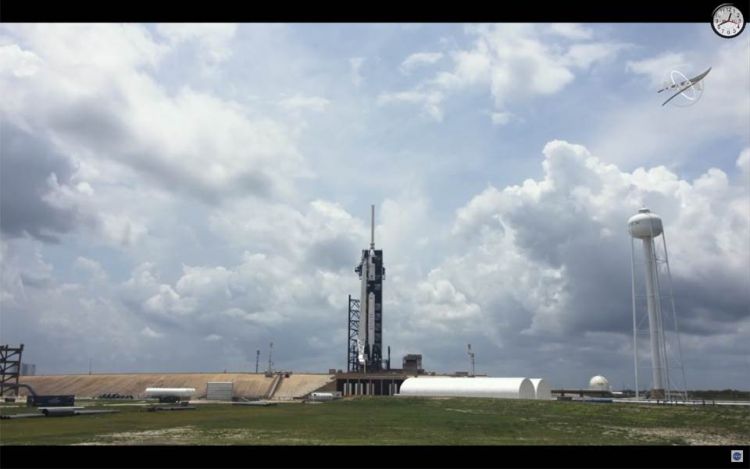 Astronauts Bob Behnken and Doug Hurley arrive at the launch pad (in a Tesla Model X, of course):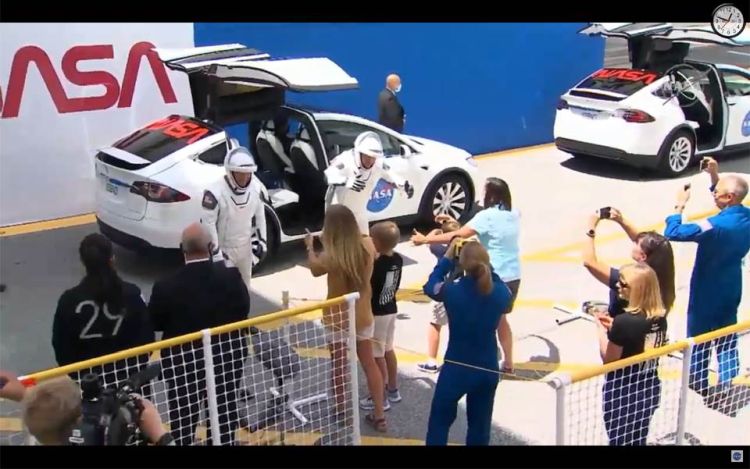 All is ready at NASA mission control at Kennedy Space Center in Cape Canaveral, Florida: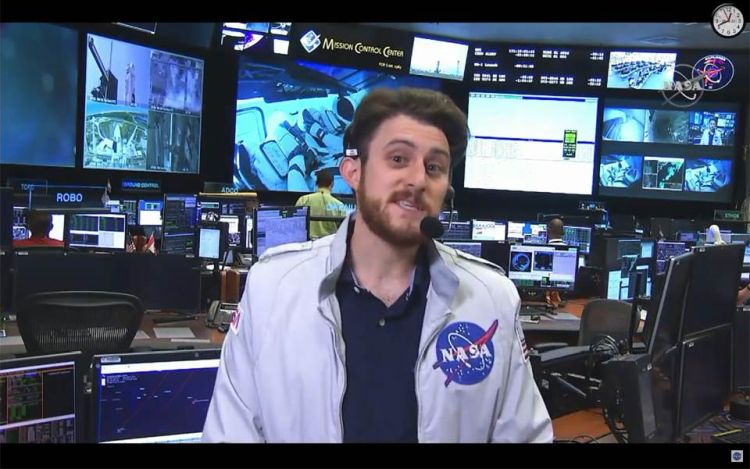 T – 14 minutes, the tension is so thick you can cut it with a knife. SpaceX did an interview with Gwen Shotwell, COO of SpaceX. Cannot believe she was so calm although she said she wasn't. She doesn't get enough credit for running SpaceX day-to-day. Her final thought: "thanks Elon for hiring me" :)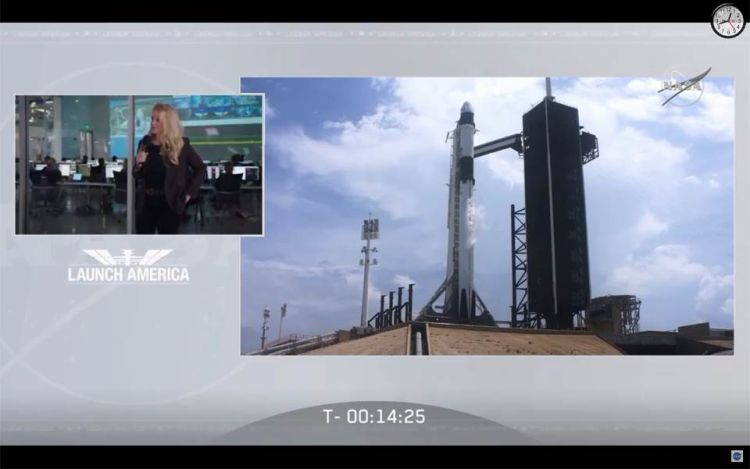 And so finally after all the preparation and waiting, it's showtime! T -0, a huge blast of flame, and liftoff!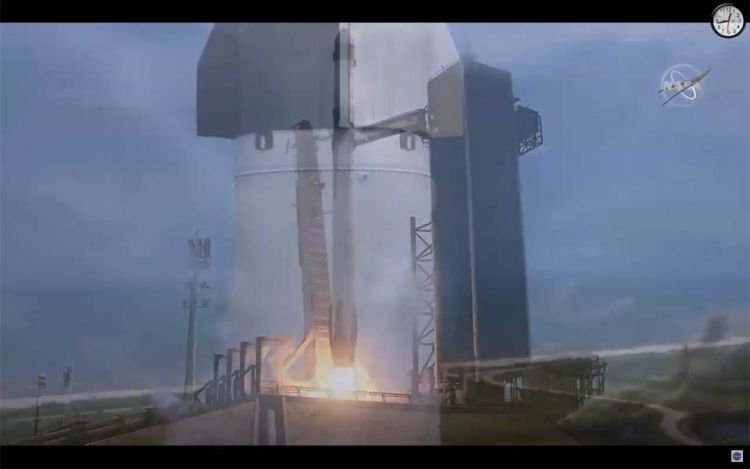 At T +2:42, it's time for first stage separation. Went off without a hitch. With picture quality like this you have to remind yourself, this is real, not a movie.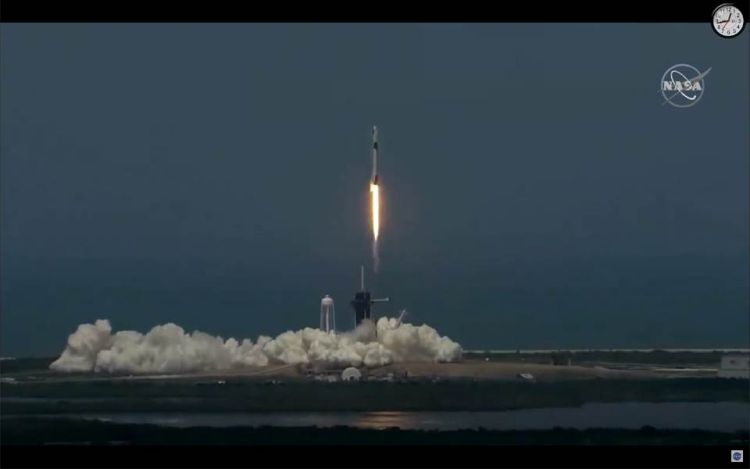 At T +5:58 we have the cool split view we're used to with SpaceX launches; on the left the view inside the capsule, note the Earth :), and on the right the view looking down from the first stage rocket, fins extended, on its way down back down to land.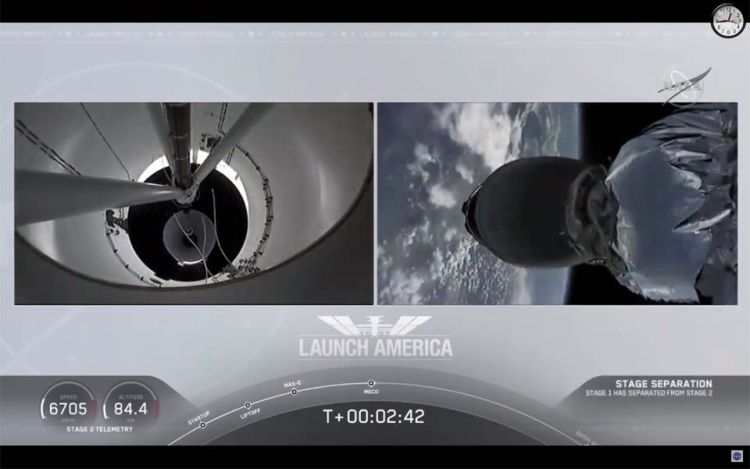 SpaceX "mission control" in Hawthorne, CA … everyone wearing masks.
T +8 minutes, the first stage rocket doing its landing burn.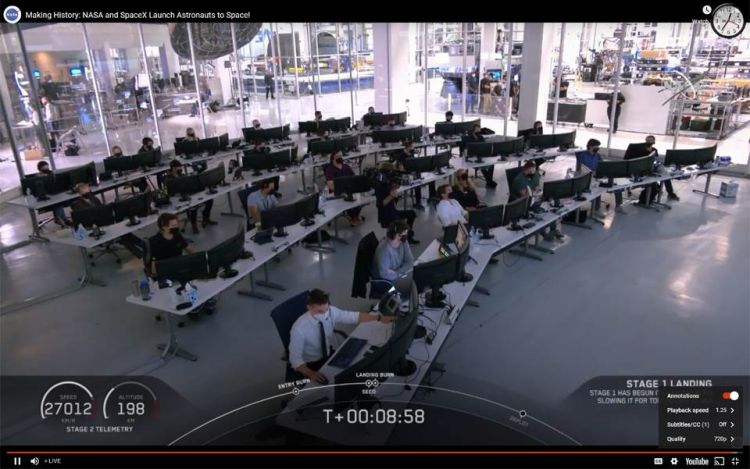 Woo hoo! They stick the landing on the "of course I still love you" barge in the Atlantic. In other missions this would be the huge success, but in this one it is just a sideshow. Note the monitor above the astronauts showing their position in orbit. Looks a bit like a Tesla GPS :)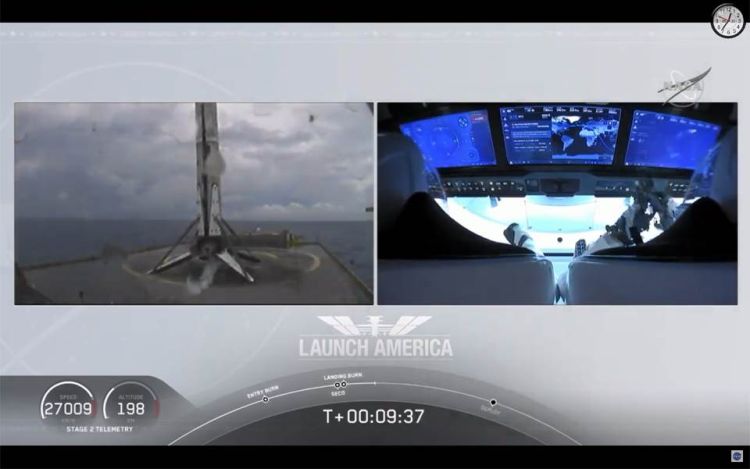 Ten minutes after launch, the astronauts are orbiting Earth and weightless. To prove it, they floated a small inflatable Apatosaurus named Trimmer. Do not know if NASA had cleared this beforehand; presumably, yes. Expect your kid to want one.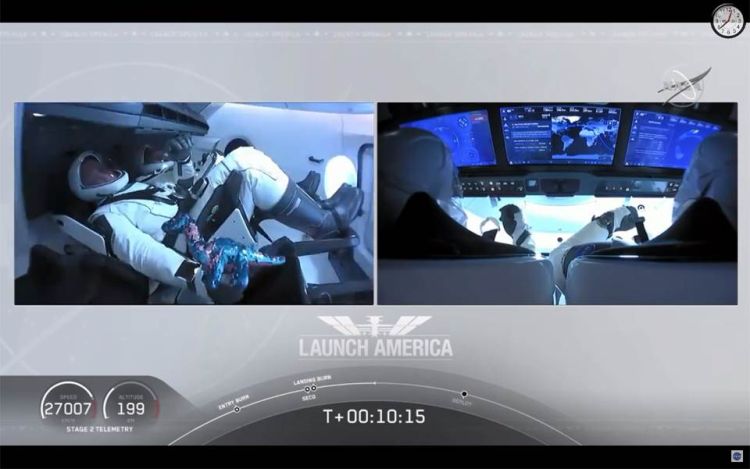 T +11 – stage 2 separation. The Dragon is now on its own… traveling at 27,000 k/h at an altitude of 200km. Whee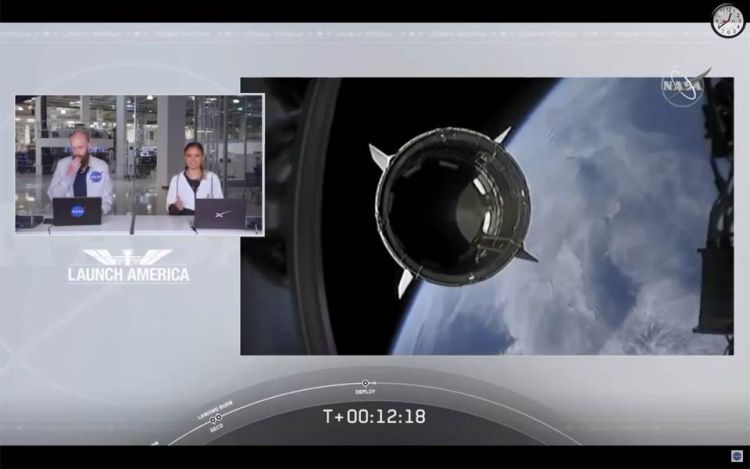 And finally, a cool "interview" with the astronauts including a tour of the inside of the capsule. The slight transmission delay was evident, but otherwise audio clear as a bell. Certainly the A/V is good enough for telehealth!
Oh, and the great reveal: astronauts Bob and Doug have named their vehicle Endeavor. And indeed it is.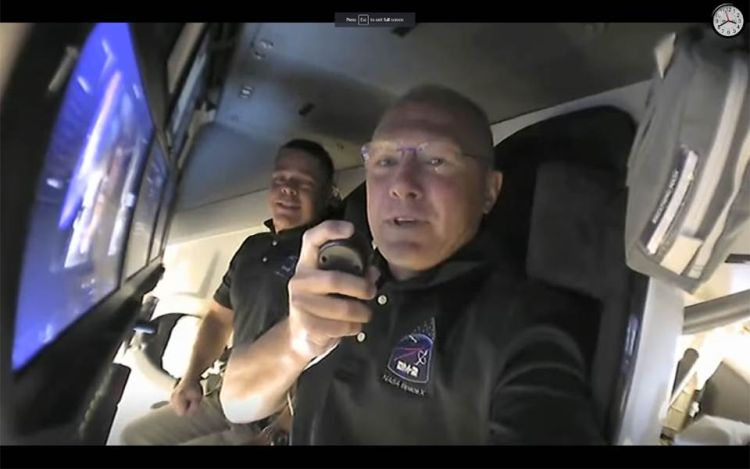 Cheers and onward!
So ... the big SpaceX launch was -> <- all set to launch yesterday but at the last moment was delayed by weather, to next Sat 5/30 (mark your calendars). This picture shows the situation: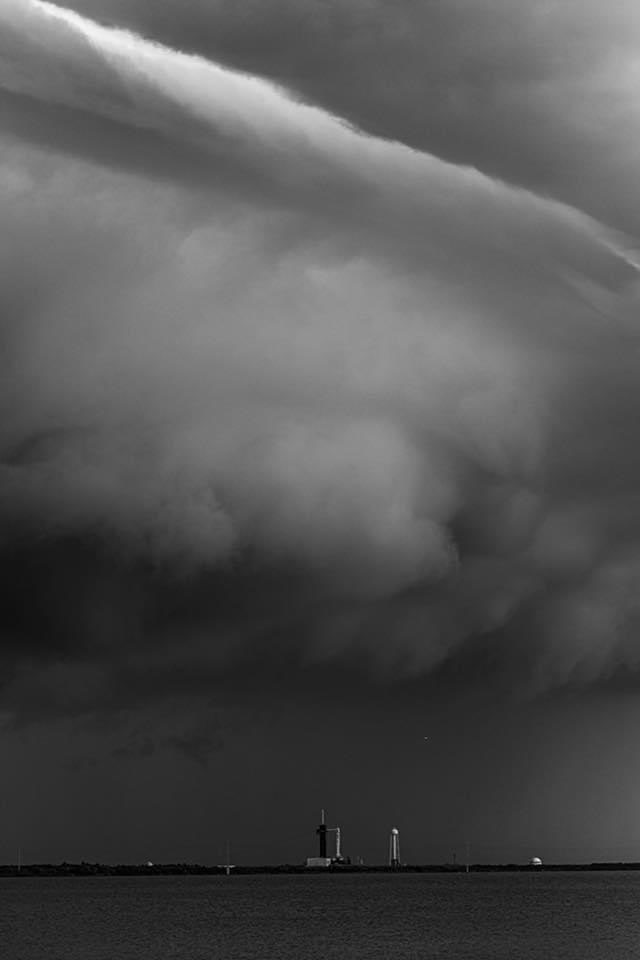 Wow.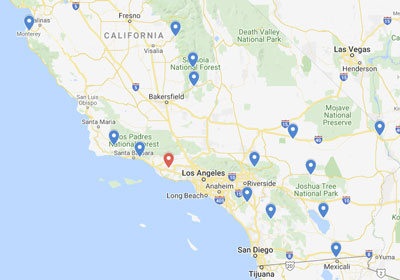 Probably like many of you, I've made a weekend habit of escaping, voyaging to the far corners of California (at least, far as reachable by car) and riding my bike or sailing my boat.
These trips have taken me to Lavic, 29 Palms, Lake Arrowhead, Lake Isabella, Lake Elsinore, and the Salton Sea. Oh, and to Calexico and the Mexican border, and to Needles and the Arizona border. And to Monterrey, riding the 17 mile drive. And to Three Rivers, the gateway to the Sequoia National Forest. Not to mention Los Olivos :) And so it was that yesterday I drove up to Kernville, and did a great ride along the Kern River in the South Sierras, and today I went sailing in Santa Barbara. My own personal take on "sheltering in place".
Every state is unique and has amazing places to visit, but California is truly amazing, so much to visit and see. And I haven't even ventured into the top half of the state yet!
And so where should I go tomorrow?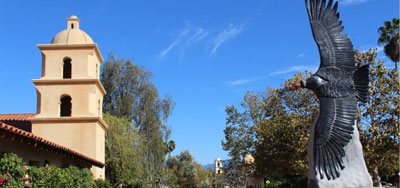 The Discoverer helpfully notes: The Best Small Town in Each State. For California their pick is Ojai, a worthy choice but not far away and already well known to me. I would love to visit Skagway, Alaska - was just reading a book about the Yukun gold rush - but that would be a bit of a long drive. Bisbee, Arizona looks nice, but it's also too far, and Virginia City, Nevada is even further. Stay tuned...
The other day I noted the upcoming SpaceX manned mission to the ISS next Wed; Elon Musk just tweeted this beautiful picture from high above the gantry. Keep telling yourself, this is not a movie... (click to enbiggen amazingly).
Congratulations to Rogers Cadenhead for the 7,500 day anniversary of his blog Workbench (quick math: it began on Nov 7, 1999). I've been subscribed since nearly then.
Congratulations to Scott Johnson for the 18 year anniversary of his blog Powerline (May 24, 2002). I've been subscribed since nearly then.
In case you're wondering, Critical Section started on January 1, 2003.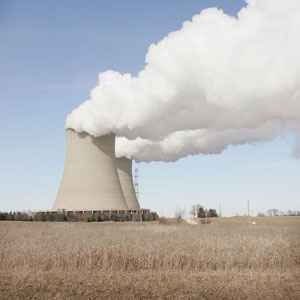 Popular Mechanics via Instapundit: America just made a Huge Investment in Next-Gen Nuclear Power. Yay.
The other day I recommended Michael Moore's anti-"renewable-energy" documentary Planet of the Humans; nuclear power is the *only* truly renewable entropy source we have.
Instapundit notes: Beyond Parody: CNN taps Greta Thunberg for expert coronavirus panel. "In case you didn't realize how hard the writers at the Babylon Bee have to work to surpass reality." It would be funnier if it were less true.
Warrant Buffett: Never Bet Against America. Love it, and also love that fancy Powerpoint template :)
Another longtime blogger I like, Kim du Toit: Remembering. "To anyone who may take issue with me over this: fuck with me at your peril." Yes, you must read click through.
Daring Fireball: What time is it in London? "Every other service that tries to answer 'What time is it in London?' gets it right. Only Siri gets it wrong." Siri has been so bad for so long, that it defies explanation. Apple are surely aware of this and have the resources to fix it.
Related: Why is the modality of IOS so screwed up? Mostly, I have to turn off my phone to use Siri. Seriously.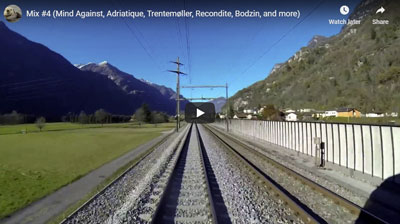 I am a not-so-closet Eurodance fan. Cascada, September, Ian van Dahl, I love them all. And so I love this: Trains Speed Through Swiss Countryside to Techno Beats. Even cooler than you might imagine.
While I was out not blogging in 2016 Steven den Beste passed away, a giant of the early days of the blogosphere. (His blog USS Clueless is still up, yay.) Glenn Reynolds notes his evergreen unified theory of left-wing ideas:
"Isn't it interesting that no matter what the current global crisis is, according to leftists, the solution is always the same: a benevolent world dictatorship of the enlightened elite, and mass transfer of wealth from rich nations to poor nations."
Cheers all, and happy voyaging!
Hi all – it's your friendly neighborhood SpaceX reporter checking in …
I have sadly neglected my reporting duties; my last update was Jan 7 for a Starlink mission, and SpaceX have had four more successful missions in the meantime, having now placed 420 satellites into low-Earth orbit. Yes, wow.
But the bigger news is that SpaceX are scheduled to send two human astronauts to the International Space Station next Wed May 27, at 1:33PM PT, in the so-called Demo-2 Mission. Mark your calendars!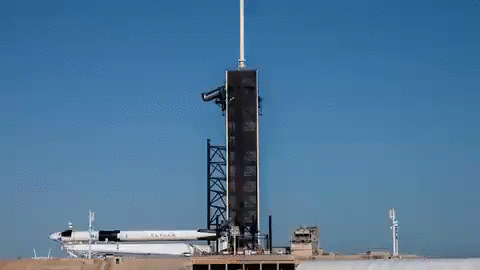 Elon Musk just tweeted the animation at right, showing the rocket and capsule vertical on the launch pad in Cape Canaveral, ready for action.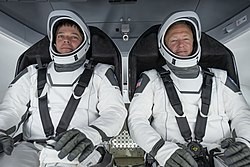 Captain Doug Hurley (R) and Commander Robert Behnken (L) will take about 24 hours to reach the ISS at 17,000mph, after which they will join Expedition 63. Meanwhile the capsule will return to Earth empty, fourteen days after launch.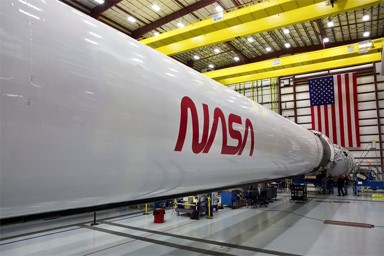 The significance of this mission cannot be overstated. It will be the first US manned launch in nine years, since the last Space Shuttle mission in 2011 which was fittingly captained by Hurley. And it will be the first private manned spacecraft to "reach space". (Okay, okay, SpaceShipOne reached space defined as 100km back in 2004, but this will be real space, the ISS orbits at 408km.) Underscoring the importance, this will be the first spacecraft to sport the famous NASA worm logo since 1992.
Cheers, fXf, and please stay tuned!
PS to those who ask "should we be launching spacecraft in the middle of a pandemic", I say "yes"
| | |
| --- | --- |
| commence societal release | |
Well, this lockdown thing was all very exciting, but I can tell, here in LA people are not having it anymore. They are out and about, and going back to work and to life. I get that we were worried about health systems' ability to handle Covid patients, and I get the argument that we need to wait for a vaccine or at least a better treatment regime before we release everyone. But it's a free society and people are going to do what they need to do.
Which is not to say the new normal will be the same as the old normal. A lot of things have inflected permanently, including working from home. I would guess when kids get back to school, a lot of their parents are going to spend a lot more time working from home.
One thing which has definitely inflected is telehealth. Healthcare is not going back to the way it was. Yay!
These two companies are changing healthcare as we know it. Once of them is Teladoc.

Oh by the way, did you notice? Traffic is way up and the Internet seems fine. Did we maybe spend too much time debating net neutrality? Yes.




If you're going to get out, the Discoverer has news you can use: The Best Road Trip in Each State. Excellent. The very first is my very favorite: The Seward highway in Alaska.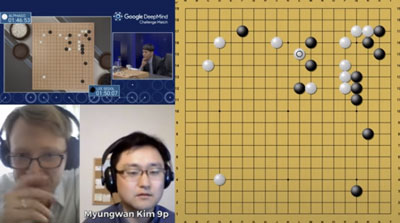 I have a couple of recommendations for you. You should most definitely watch this video about Alpha Go and the match with Lee Sedol. An absolutely fantastic accomplishment. This, far more than Deep Blue defeating Garry Kasparov in chess, was a defining moment for Artificial Intelligence.
Shortly after, AlphaGo learned to play chess in 24 hours, and is now by far the strongest chess player ever.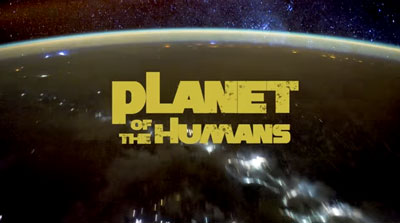 And equally as important and thought-provoking, please watch Michael Moore's Planet of the Humans. I recommended it before and just rewatched it. On the second pass, it was more powerful for me. It's not anti-climate-change, in fact, it's quite strongly pro-climate-change, but it's actively and strongly anti-renewable-energy. Every single current source of "renewable energy" actually depends on fossil fuel. Wind, solar, "biofuel" (aka logging and burning trees). The fraud is staggering.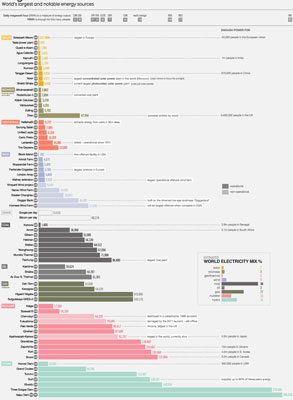 Apropos: The world's largest energy sources. Keep in mind all the renewal sources listed are really fossil fuel driven.
This job description is excellent. Makes you want to apply for this job, doesn't it?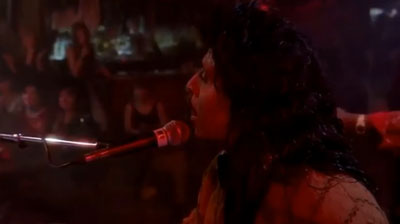 So we lost Little Richard. As much credit as he gets, I think maybe it's not enough. A tremendous musical legacy. Watch this awesome track as see how many bands you can name who were influenced by him.
Want a new word? Just click here to have one custom made. They're very good.
The man who thought too fast. Frank Ramsey - a philosopher, economist, and mathematician - was one of the greatest minds of the last century. Have we caught up with him yet?
Onward ... commence societal release!
| | |
| --- | --- |
| SpaceX ISS docking simulator | |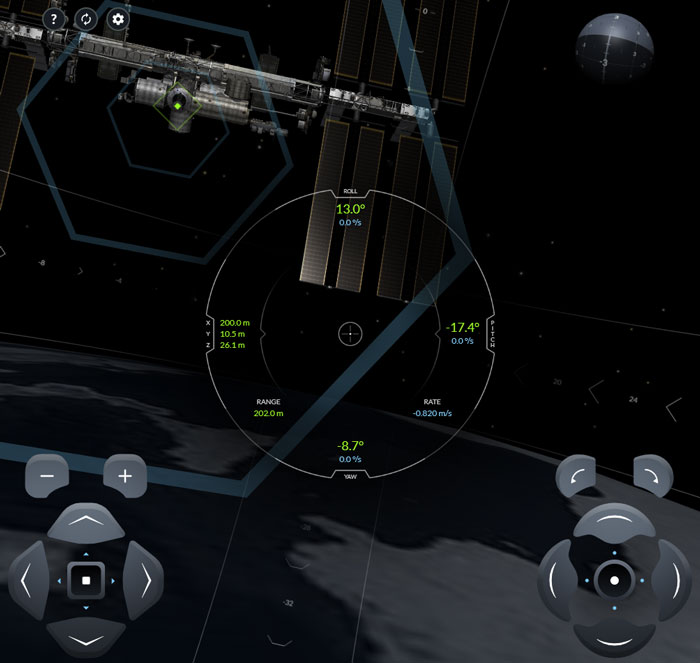 in case you have a few hours to kill
awesome!
2020 is not messing around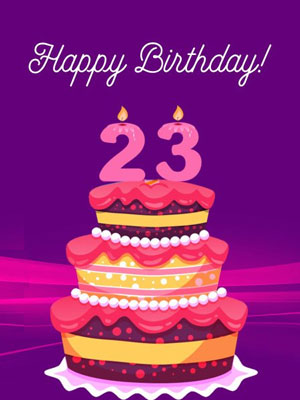 O.M.G. cannot believe my baby is 23 years old! Congratulations on another trip around the sun, and may the next one be your best ever.
Some life milestones don't seem that significant except in retrospect, but some hit you like a ton of bricks right in the moment. I remember turning 50, that was big. (Turning 60, eh, not so much.) Having a grandchild, yeah, that was big. And now seeing Megan Sailor turn 23, well, that seems big too. Time continues to pass, at varying rates of speed but never backward.
Cheers and onward!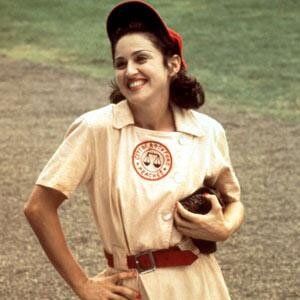 May! That's not just a name, it's an attitude :)
I sense everyone is not having the "sheltering in place" thing anymore and everything is gradually going back to "normal", whatever our politicians may say. The "flatten the curve" thing was all about avoiding overloading our hospitals; well they are sitting empty. No amount of sheltering is going to defeat the virus; for that we'll need a vaccine, and we may not get one. Note: there is no SARS vaccine yet, and it's still out there...
I've noted how my company Teladoc's business is booming; so too all "business" video systems like Zoom. But as the WSJ notes, Microsoft isn't cutting Zoom any Slack (great punny headline), their Teams product is a worthy competitor. Teams is integrated into Office 365 and it's a pretty nice combination of Slack and Zoom. The new Microsoft in action...
Tim Bray: Bye, Amazon. "I quit in dismay at Amazon firing whistleblowers who were making noise about warehouse employees frightened of Covid-19." Wow. Read the whole thing; not good.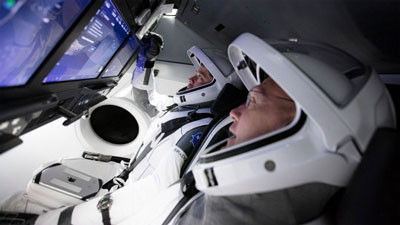 You know what's going to happen in May? NASA: Get ready to launch, America! "A new era of human spaceflight is about to begin. American astronauts will once again launch on an American rocket from American soil to the International Space Station as part of our Commercial Crew Program!" Yay. Planned for May 27, mark your calendars!
This is a fantastic bug story. "I shipped a word processor that formatted the hard drive every 1024 saves." The comments are great. Via Clive Thompson.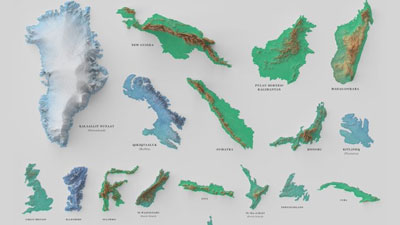 Visual Capitalist: Visualizing the world's 100 biggest islands. So great. Can you even believe how big some of them are?
Indonesia may be an island nation, but some of those islands are huuge...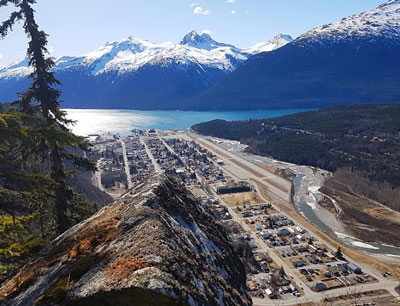 From the awesome Discoverer: The best small towns in every state. The California pick is Ojai, and it's a good one. Would love to visit them all!
Bucket list item: Skagway, Alaska. Was just reading a novel about the Klondike gold rush. The whole Alaskan Inside Passage is a must see for me.
Everyone's adapting: World Tour teams to race Zwift's new Tour for All stage race. Starts tomorrow and lasts five days; stages are expected to last between 75 min and 2 hours. Well, cool. And broadcast "live" on Eurosport, too.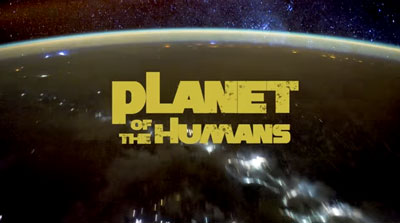 So, have you watched Planet of the Humans yet? It's Michael Moore's latest documentary, it's free to everyone on YouTube, and it's pretty astonishingly anti-climate-change. Actually it's more accurately anti-green-energy. "It's easier to fool the masses than to convince them that they are being fooled. -Mark Twain." I've watched it and I found it was pretty mild. But religions do not take apostasy lightly.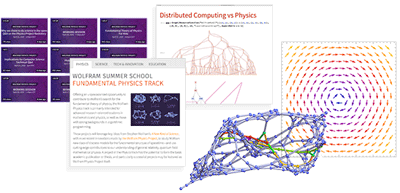 Keep an eye on this: The Wolfram Physics Project: the first two weeks. In which Steve Wolfram and a band of interns try to rewrite physics from the ground up ... using automatons. Will it work? Stay tuned...
News you can [most definitely] use: NetNewsWire is reborn on IOS. Yay! I've been looking for a good RSS reader for my iPad; NetNewsWire is a good RSS reader. It's like Christmas!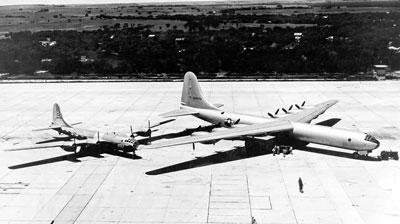 The 10-engine plane that time forgot. Yes you read that right, 10 engines, including six backward facing propellers and four jets.
Soooo beautiful: A very close look inside the Mandalorian's ship. I love this sort of fantasy reverse engineering.
And of course ... May the Fourth be with you!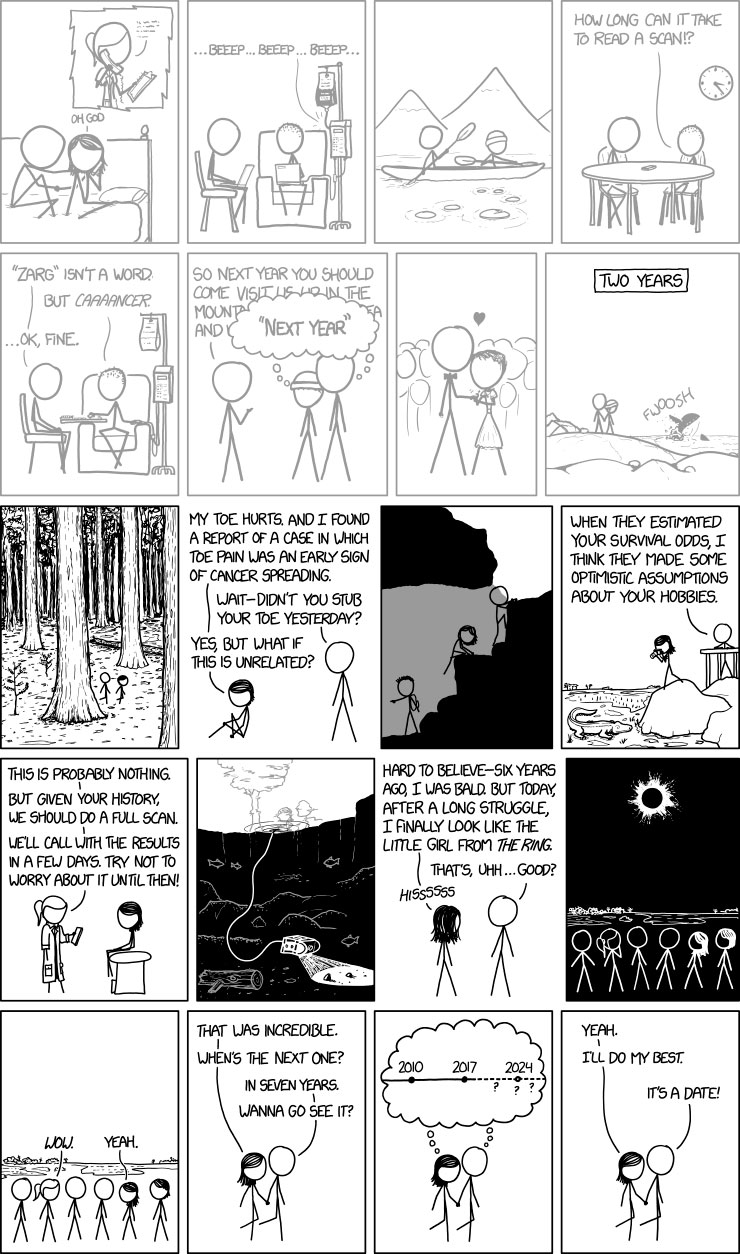 so beautiful
possibly my favorite xkcd of all time, amid heavy competition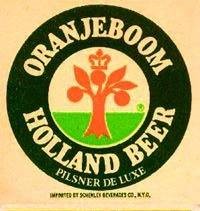 Hi all –
April 27 is the day on which Dutch people celebrate the birthday of their King. Everyone wears orange (the Dutch royal family are the house of Orange), drinks beer, and generally has a good time.
On a typical King's Day Dutch cities are filled with people celebrating; it will be a bit different this year (although likely similar amounts of beer will be consumed). Would you like to learn a Dutch word? Oranjegekte (oh-ran-yuh-kek-teh) means "orange craziness". Please feel free to Google it to see what happens when Dutch people get excited, could be a football match, cycling, F1 racing, or just the King's birthday.
Cheers, happy Koningsdag, and stay safe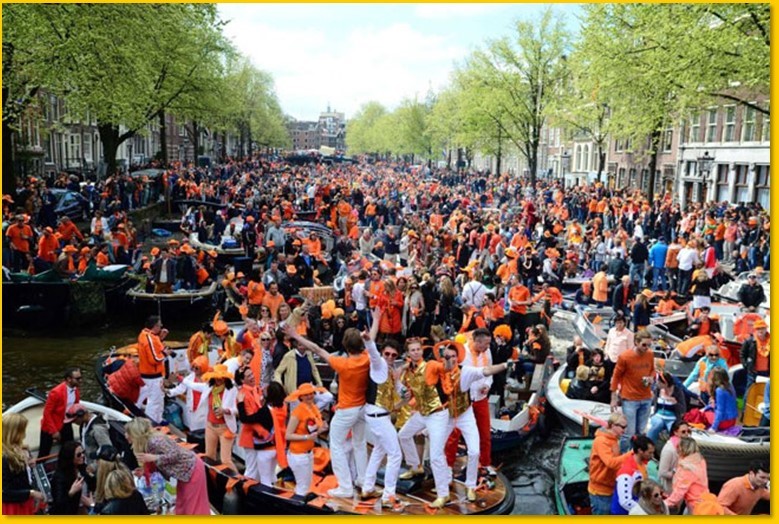 Fairly recent posts:
| | |
| --- | --- |
| 05/31/20 09:03 PM - | |
| 05/31/20 08:56 PM - | |
| 05/30/20 05:07 PM - | |
| 05/29/20 06:38 PM - | |
| 05/28/20 12:50 PM - | |
| 05/24/20 11:05 PM - | |
| 05/22/20 10:39 PM - | |
| 05/19/20 04:52 PM - | |
| 05/17/20 11:26 PM - | |
| 05/16/20 09:22 PM - | |
| 05/10/20 01:26 PM - | |
| 05/06/20 07:25 PM - | |
| 05/03/20 11:39 PM - | |
| 05/02/20 10:37 PM - | |
| 04/27/20 01:04 AM - | |
| 04/26/20 11:02 PM - | |
| 04/19/20 10:39 PM - | |
| 04/19/20 10:26 PM - | |
| 04/12/20 11:43 PM - | |
| 04/12/20 11:04 PM - | |
| 04/05/20 11:38 PM - | |
| 03/31/20 11:55 AM - | |
| 03/30/20 10:26 PM - | |
| 03/29/20 11:05 PM - | |
| 03/29/20 11:01 PM - | |
| 03/21/20 11:27 PM - | |
| 03/21/20 11:09 PM - | |
| 03/14/20 11:51 PM - | |
| 03/14/20 11:37 PM - | |
| 03/08/20 09:28 PM - | |
For older posts please visit the archive.
Home
Archive
this date in:
flight
About Me
W=UH
Email
RSS OPML

Greatest Hits
Correlation vs. Causality
The Tyranny of Email
Unnatural Selection
Lying
Aperio's Mission = Automating Pathology
On Blame
Try, or Try Not
Books and Wine
Emergent Properties
God and Beauty
Moving Mount Fuji The Nest Rock 'n Roll
IQ and Populations
Are You a Bright?
Adding Value
Confidence
The Joy of Craftsmanship
The Emperor's New Code
Toy Story
The Return of the King
Religion vs IQ
In the Wet
solving bongard problems
visiting Titan
unintelligent design
the nuclear option
estimating in meatspace
second gear
On the Persistence of Bad Design...
Texas chili cookoff
almost famous design and stochastic debugging
may I take your order?
universal healthcare
entertainment
triple double
New Yorker covers
Death Rider! (da da dum)
how did I get here (Mt.Whitney)?
the Law of Significance
Holiday Inn
Daniel Jacoby's photographs
the first bird
Gödel Escher Bach: Birthday Cantatatata
Father's Day (in pictures)
your cat for my car
Jobsnotes of note
world population map
no joy in Baker
vote smart
exact nonsense
introducing eyesFinder
resolved
to space
notebooks
where are the desktop apps?
still the first bird
patience
progress ratches
2020 explained