I sailed today. The wind was blowing, the competition was great (no, I didn't win, sigh), and I'm smiling. Nothing beats a day on the water.
---


Remember the Go-l computers? Really cool laptops, desktops, and servers. Well, they have a cool logo, too. "So, what will yours look like?... Every time you receive your new computer or product, there is always the extra surprise factor on the looks of the logo on your machine. Because they are different on every one." These logos really rock! (sorry :)
Three Google engineers have posted a paper on The Google File System. "Component failures are the norm rather than the exception. The file system consists of hundreds or even thousands of storage machines built from inexpensive commodity parts... The quantity and quality of the components virtually guarantee that some are not functional at any given time and some will not recover from their current failures." Pretty cool, check it out.

Europe's First Moon Mission Blasts Off. "The Ariane-5 rocket carrying the SMART-1 moon exploration probe and two commercial satellites blasted off at 8.14PM from the European Space Agency (ESA) launch center at Kourou, in French Guiana on the northeast coast of South America. The probe will provide data on the still uncertain origin of the moon and has been described by ESA as an important instrument 'to unraveling some of the secrets of our neighboring world'." Cool. Unmanned probes are really the way to go for this type of exploration; far less expensive than manned probes, and able to go places men are not. The BBC discusses the technology of this rocket, which uses an ion stream from charged Xenon for propulsion.
ZDNet Australia reports Brains Can Have Wireless Upgrades. (It is harder and harder to tell "real life" headlines from the Onion.) "It could well be the ultimate in hands-free adaptors: A researcher claims that in a decade, people will have wireless networks in their heads." I don't know about the timing - ten years seems optimistic - but there is no doubt this will happen.
The other day I mentioned iBlog, a blogging front-end for Mac OSX. Just want to be clear this is not an Apple product - yet! - but clearly endorsed by them. John Robb thinks it is a "try before you buy" situation.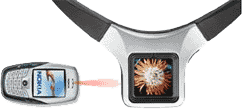 Hey, digital jewelry! Why not? Nokia has brought out this medallion, which displays pictures "beamed" to it from compatible Nokia bluetooth phones. I don't wear jewelry, but for this I could make an exception... Seems like the front edge of something big, doesn't it? [ via Xeni Jardin ]
Wired expresses amazement at Zagat's new WiFi Hotspots guide. I did too, when I found it inside the latest issue of The New Yorker. Not exactly a geek mag, either; WiFi is becoming pretty mainstream.
Getting ready to buy an HDTV? Not so fast, here comes UHDV, with a resolution sixteen times greater. "UHDV displays images with 4,000 horizontal scanning lines, compared to the 1,000 offered by the current state-of-the-art high definition television (HDTV) technology and just 625 for standard TV broadcasts." This truly is Reality TV.
The MPAA is calling for a ban on "screeners"; preview copies of movies sent to Academy voters. This is an admission that the Academy's own members are a major source of file-sharing "piracy".
Often when a movie is on Kazaa before it has left theaters, it's a screener...
Via Gizmodo: "An overzealous cop in Australia arrested a man for talking on his cellphone while driving a horse and carriage. The coachman, Dean Crichton, was going a dangerous 2mph when the policeman pulled him over and field-tested him for alcohol. A judge ended up throwing out the case." I love it.

This truck seems to be slightly overloaded... A Somali truck laden with corn. A great picture for a caption contest... [ via Cory Doctorow ]