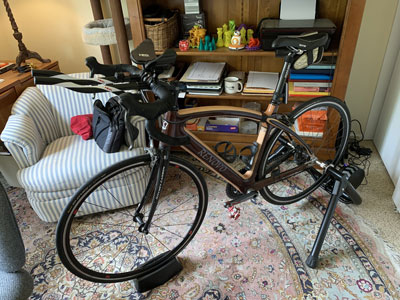 Like a lot of you my activities have moved indoors, and while road cycling is still possible in California (you just have to do it in the middle of nowhere), I decided to scratch a longtime itch and get a Zwifting setup.
A what?
Zwift is an online community of cyclists who ride "smart trainers". It's a sort of dynamo for your bike. You mount your bike on a stand which includes a flywheel that connects to the back wheel which measures your speed. And the flywheel is connected to Zwift via your computer.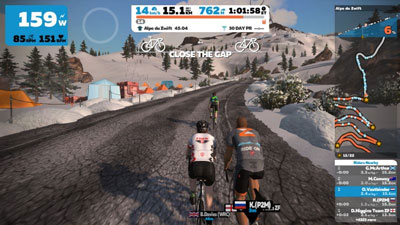 You ride various courses - either on Zwift's own virtual island of Watopia, or "real" courses like Alpe d'Huez - and Zwift shows "you" riding on the screen. The faster you pedal, the faster you go. Heading uphill, Zwift tells the trainer's flywheel to increase the resistance, downhill, yippee, you can fly.
The experience is not exactly like riding - the biggest difference I've noticed so far is there is no cooling wind in my office (!) - but it's a lot of fun and a great workout. And you get to ride "against" a bunch of other people, so it's competitive. In fact a lot of pros are on Zwift, working out until pro racing gets going again. (You cannot believe how fast you get dropped by those guys with dollar signs on their jersey :)
After a bit of research I ended up getting a Wahoo Kickr smart trainer, which seemed to be one of the most popular. So far it's working perfectly. It connects to my laptop via Ant+, so I needed a little Ant+ USB dongle.
You can also get on the Kickr and "just ride" ... for example, while watching old pro races from last year :) I actually out-sprinted Matthew Van der Poel to win the 2019 Amstel Gold ... in my mind :)