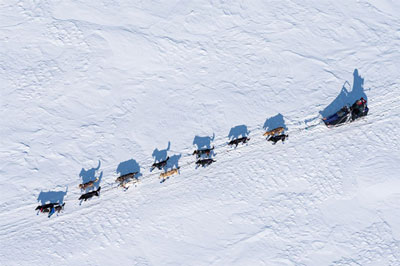 Hi Iditarodians – I'm sure you've all been closely following the Iditarod sled dog race, right? (With everything cancelled, there's nothing else to watch)
The leaders have been mushing along the Yukon River and have now left the last Yukon checkpoint of Kaltag, making the long run to Unalakleet on the coast of the Bering Sea. The weather has warmed up and with all the snow that's fallen recently, it's made for heavy going. This is not going to be a record year.
Right now surprise contender Thomas Waerner is leading by about 8 miles over longtime competitor Aaron Burmeister, with another veteran Jesse Royer a mile behind him.
That's Thomas and his team at left – sporting the spiffy orange jackets - and Jesse and her team above right.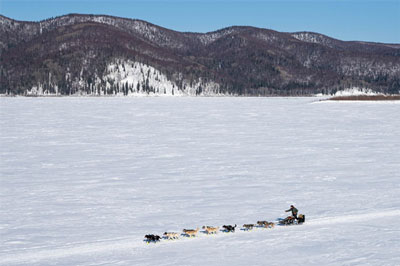 Brent Sass is fourth, still in Kaltag, waiting out his mandatory 8 hour rest*, as is fifth-placed Peter Kaiser, the defending champion. But sixth place Wade Marrs is also there and has already completed his 8, so he'll likely leave first and then be running fourth.
* each team is required to take a 24 hour rest somewhere along the trail, an 8 hour rest on the Yukon River, and an 8 hour rest in the penultimate checkpoint at White Mountain
Right: Brent Sass and his team mushing along the frozen Yukon River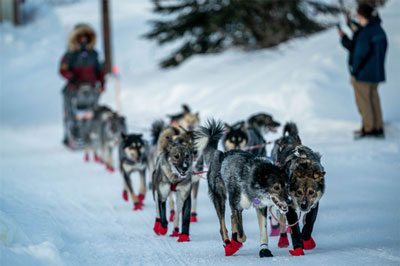 2018 champion Joar-Leifseth Ulsom is "only" in 8th, three-time champion Mitch Seavey is back in 10th, and four-time champion Lance Mackey is 15th. The snowy slow conditions have definitely altered the race.
You may remember the last two years Nic Petit was leading coming out onto Norton Sound, and both years his team had issues and self-destructed. This year he's back in 21st, taking it easier.
Left: Nic Petit and his team coming into Nulato checkpoint
So how about our favorite Jim Lanier? Well sadly, he was the first team to scratch, after having serious problems in Rainy Pass crossing the Alaska Range. Since then I've been rooting for Jesse… Cheers and please stay tuned for more!

Richie Diehl mushes into Ruby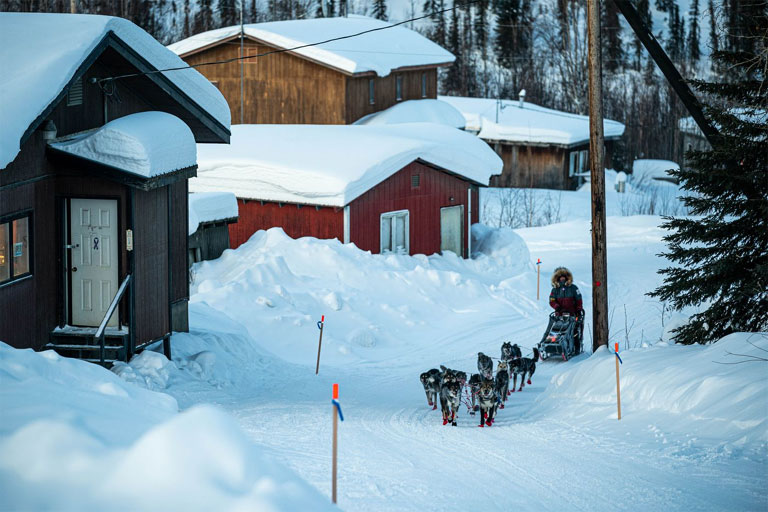 Joar-Leifseth Ulsom and Thomas Waener talk strategy in Ruby checkpoint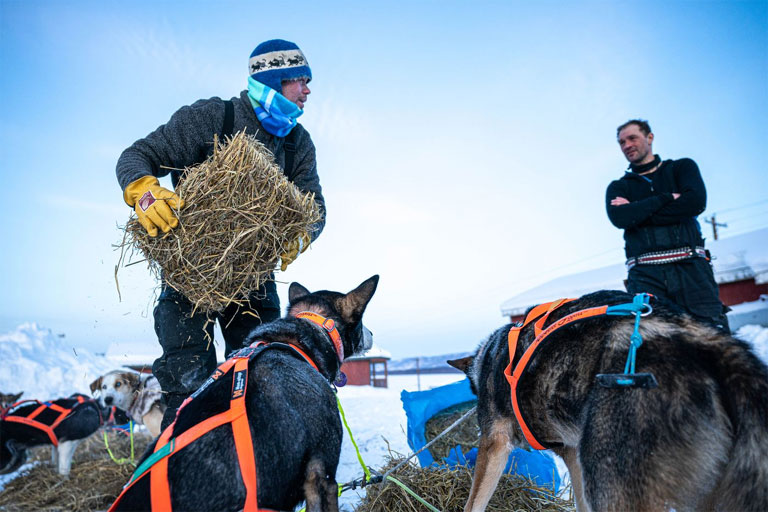 Best in show: Kristovan, Aaron Burmeister's leader, during a break Iditarod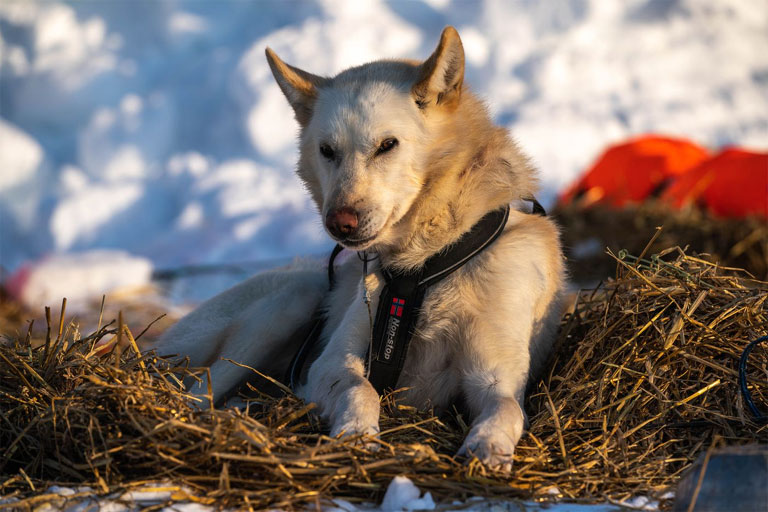 GPS tracker view of the entire route. Still about 400 miles remaining: the long trek down to the coast, then up and across the ice of Norton Sound, and then the wild and windy trek along the shore into Nome.