| | |
| --- | --- |
| we're going to make some history today | |
Ten years ago, today: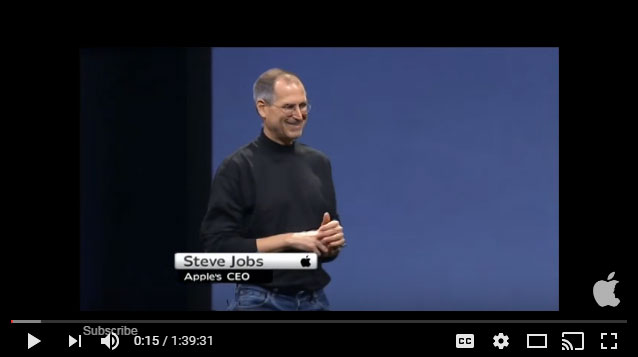 "we're going to make some history today"
Well that was true. Wow.
Notes on rewatching:
Hehe, Macs running on Intel, how amazing.
iTunes Store ... 5M songs per day. Of course, no app store yet!
Zune, we hardly knew ya.
Those old iPod ads were the best. Those white earbuds.
Apple TV! Who can remember, it was introduced at the same time. Nice hobby.
22 min in ... every once in a while, a revolutionary product comes along that changes everything.
Who wants a stylus? Nobody wants a stylus.
iPhone runs OS X. Really!?
Sync with iTunes. Yep the first iPhones required a computer. Quaint.
3.5mm headphone jack. "All your iPod headphones fit right in."
Accelerometer. Weird to think turning your phone sideways didn't used to do anything.
"To unlock my phone I just take my finger and slide it across."
"You had me at scrolling."
"The killer app for a phone is making calls." Hehe not any more.
Random access voicemail. Another breakthrough we now take for granted.
First public call was to Jony Ive. Of course. "It's not too shabby, is it."
SMS texting pre-iMessage. Hardly ever see green anymore :)
Pinch to zoom - big ovation.
Yahoo! Mail. Yay. Biggest mail service in the world. That was then.
Realtime stock updates... APPL was up $2.40 during this keynote. Heh.
"I want to show you something truly remarkable" ... Google Maps on iPhone!
Calling Starbucks: "I'd like to order 4,000 lattes to go please" ... so great.
It's my pleasure to announce ... the CEO of Google, Eric Schmidt! This was before Android :)
"You can't think of the internet without thinking of Yahoo!" Um ... yeah.
Launch network Cingular. Remember them? Eleven days after AT&T had bought them!
Love that anecdote about Woz and the TV scrambler at the end.
Wayne Gretsky: "skating where the puck is going to be". Yep.
Finally, can I just say, that version of IOS looks so much better!
Pretty much the best tech product introduction of all time. The benchmark.
Can you remember what was in your pocket on that day? I proudly carried a Palm Centro.
I don't care what you say, that was a better time. (...more history...)
Home
Archive
this date in:
flight
About Me
W=UH
Email
RSS OPML

Greatest Hits
Correlation vs. Causality
The Tyranny of Email
Unnatural Selection
Lying
On Blame
Try, or Try Not
Books and Wine
Emergent Properties
God and Beauty
Moving Mount Fuji
The Nest
Rock 'n Roll
IQ and Populations
Are You a Bright?
Adding Value
Confidence
The Joy of Craftsmanship
The Emperor's New Code
Toy Story
The Return of the King
Religion vs IQ
In the Wet
solving bongard problems
visiting Titan
unintelligent design
the nuclear option
estimating in meatspace
second gear
On the Persistence of Bad Design...
Texas chili cookoff
almost famous design and stochastic debugging
may I take your order?
universal healthcare
entertainment
triple double
New Yorker covers
Death Rider! (da da dum)
how did I get here (Mt.Whitney)?
the Law of Significance
Holiday Inn
Daniel Jacoby's photographs
the first bird
Gödel Escher Bach: Birthday Cantatatata
Father's Day (in pictures)
your cat for my car
Jobsnotes of note
world population map
no joy in Baker
vote smart
exact nonsense
introducing eyesFinder
resolved
to space
notebooks
where are the desktop apps?
still the first bird
patience
electoral fail
progress ratches
2020 explained