| | |
| --- | --- |
| Iditarod wrap: Seaveys one two again, Sass 20th after 26 hour delay, DeeDee 44th! | |
The 2016 Iditarod is history (sorry for the delayed wrap, but I picked a lousy time to move :)... and I'm going to say it was kind of boring at least compared to other years. Defending champion Dallas Seavey won for the third time in a row and fourth time in five years (wow, but ... yawn), and his father Mitch finished second for the second year in a row; he's won twice but would have won four times if it wasn't for his son. They are pretty dominant right now, and Dallas is the youngest champion ever, so it could be is quite a dynasty.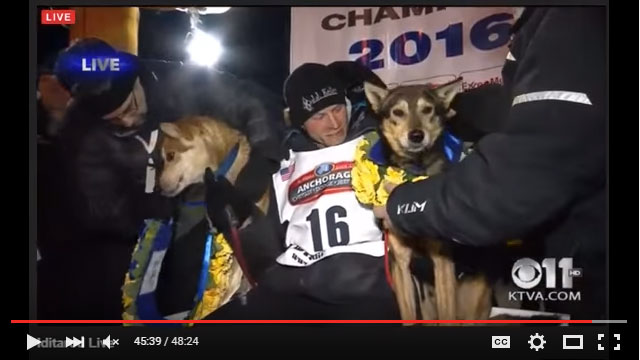 Dallas and his leaders, top dogs of the 2016 Iditarod.
Click through for live video of the finish! (actual finish is at about 24:00)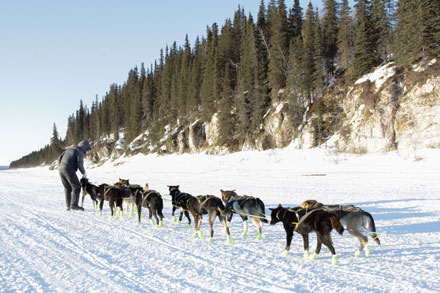 The most interesting story was Brent Saas and his team; after being in the top three with Dallas and Mitch for the whole race, he came into White Mountain in third, and took his mandatory eight-hour break. But then ... his team didn't want to go! He ended up saying in White Mountain for 26 hours, resting and feeding his team, and finally finished 20th. Too much run and not enough rest caught up with them; they ran a great 900 mile race, but the Iditarod is 1,000 miles.
right: Brent Sass and his team *try* to leave White Mountain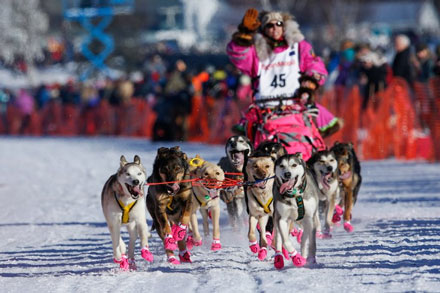 My favorite (and many others') DeeDee Jonrowe finished a fine 44th. She was never in it to win it, but ran a steady race and finished strong. After all she went through this past year (losing her Mom to cancer, and her home to a fire) it was a great showing. Look for her to be back next year, running strong!
left: DeeDee and her team finished a steady 44th
My favorite part of this year's race was hacking together my little Iditaflow tracker, which made watching the race way more interesting (and way less time consuming, because you could see easily what had happened). I have a number of ideas for improvement, but they'll have to wait for next year.
Below is the final view of the tracker, showing all 86 mushers' tracks. Onward, 'till next year!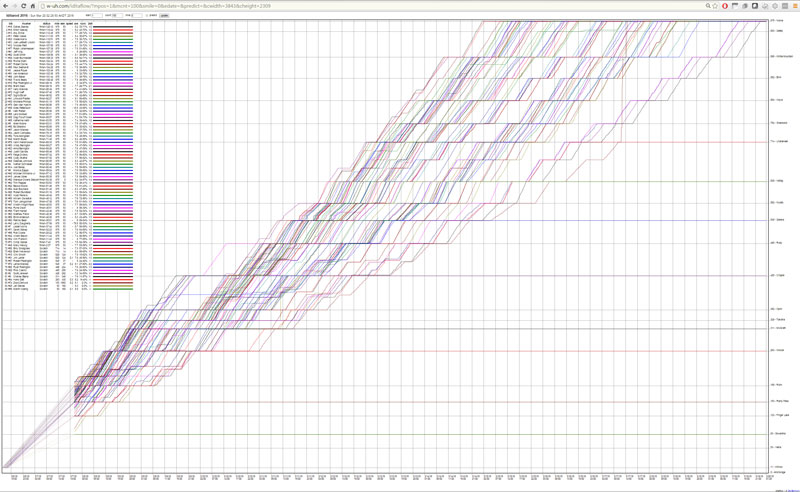 (please click to enbiggen amazingly)