| | |
| --- | --- |
| the Iditarod race flow tracker! | |
Hi Iditarodians ... I am excited to announce the Iditarod race flow tracker!
For years I have tried to find a "better" way to watch the Iditarod, the ongoing ebb and flow of teams across nine days of racing. And here is my modest effort to do so: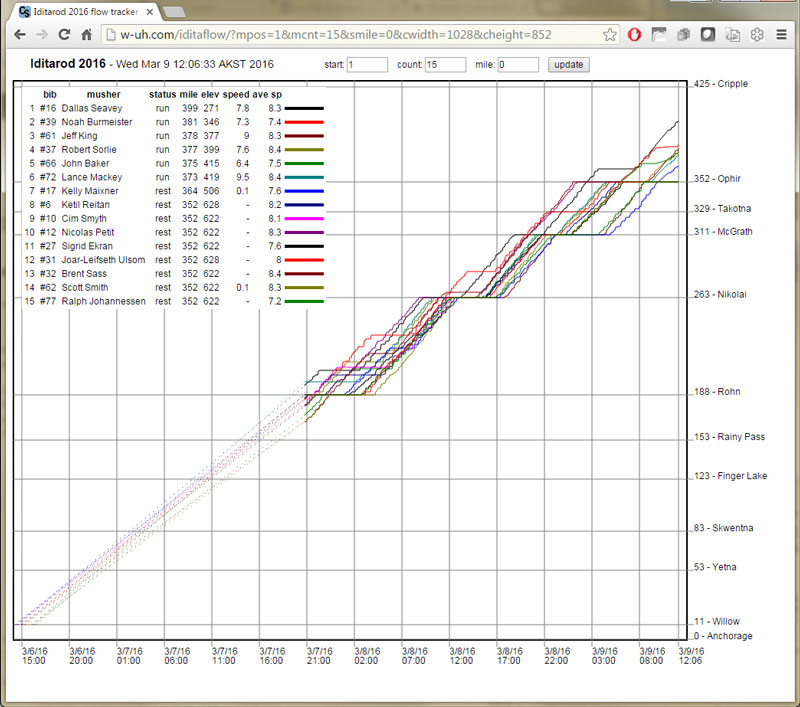 (please click to launch!)
This tracker shows a realtime graph of the top mushers*, where they are (y-axis) at each point in time (x-axis), and how fast they are going (slope). The Iditarod checkpoints are shown along the right, and Alaska time is along the bottom. The graph extends "up" and "right" over time, as the race unfolds.
With this view, you can learn a lot by watching :) Rests are shown as horizontal lines (many but not all at checkpoints). A team's speed is shown by the slope of their line, and the length shows how long they've run between rests.
I'm going to keep playing with this through the next week - your comments are eagerly solicited - but even now in baby form I think it's pretty cool.
* by default the graph shows the top 15 mushers + teams. The starting position and number of mushers can be changed in the fields at the top. You can also "clip" the graph by entering a mile number. This has the effect of zooming into the upper right corner, where the action is!