Yesterday I had the need / opportunity to visit my local Fry's Electronics, aka "the toy store". I hadn't been there for a while, but fortunately nothing had changed. Well actually the store is in a constant state of upheaval, with new aisles and products and product categories all the time, and old ones gradually being phased out, but much like a stream of water from a faucet the overall shape remains the same.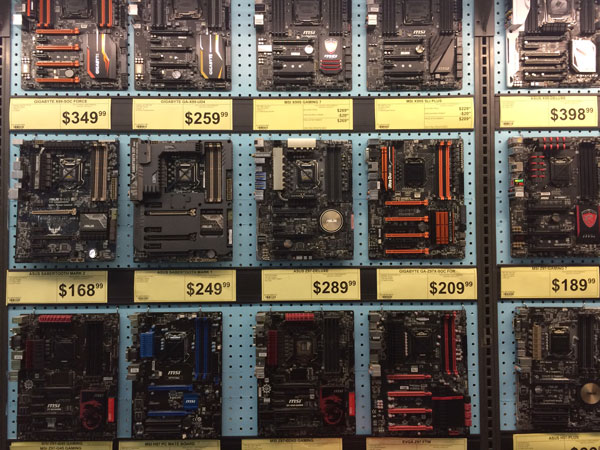 (click to enbiggen)
I was especially delighted to see a large wall of motherboards for sale. Over the years the specs have changed - possibly they change daily! - but the idea that you can build your own computer remains. I've never done this, but something inside me wants to, and it's a comfort to know that I can.
Other random observations:
Can't believe they *still* sell software in boxes. Not nearly as much, but still.
Computer gaming seems to have peaked and is now in decline. No doubt consoles have eclipsed PCs for general gaming. Xbox etc.
Desktop PCs are history. Laptops are where it's at, along with Chromebooks and tablets and phablets.
Glad to see they still sell basic electronic components like power supplies and circuit boards. With the demise of Radio Shack (and the previous conversion of Radio Shack from hobbiest heaven to phone stores), Fry's are the last bastion of do-it-yourselfish-ness.
Stereo systems are definitely on the decline. Replaced by ... what, exactly? Multimedia centers, maybe. Still plenty of speakers but they are TV/video -oriented, not necessarily for listening to music.
Curved TVs we hardly knew ya. 3D TVs ... huh? And now we have 4K. So be it.
Interesting how much home security stuff they now sell. Complete surveillance systems.
3D printing has come to Frys... they have printers, filament, etc. Yay!
Random prediction:
Wearable computing will be big. By Fall there will be a huge section of them at Fry's.
I'll be back...
Home
Archive
flight
About Me
W=UH
Email
RSS OPML

Greatest Hits
Correlation vs. Causality
The Tyranny of Email
Unnatural Selection
Lying
Aperio's Mission = Automating Pathology
On Blame
Try, or Try Not
Books and Wine
Emergent Properties
God and Beauty
Moving Mount Fuji The Nest Rock 'n Roll
IQ and Populations
Are You a Bright?
Adding Value
Confidence
The Joy of Craftsmanship
The Emperor's New Code
Toy Story
The Return of the King
Religion vs IQ
In the Wet
the big day
solving bongard problems
visiting Titan
unintelligent design
the nuclear option
estimating in meatspace
second gear
On the Persistence of Bad Design...
Texas chili cookoff
almost famous design and stochastic debugging
may I take your order?
universal healthcare
entertainment
triple double
New Yorker covers
Death Rider! (da da dum)
how did I get here (Mt.Whitney)?
the Law of Significance
Holiday Inn
Daniel Jacoby's photographs
the first bird
Gödel Escher Bach: Birthday Cantatatata
Father's Day (in pictures)
your cat for my car
Jobsnotes of note
world population map
no joy in Baker
vote smart
exact nonsense
introducing eyesFinder
resolved
to space
notebooks
where are the desktop apps?