| | |
| --- | --- |
| Le Tour 2014, stage 4: yet another sprint to Kittel | |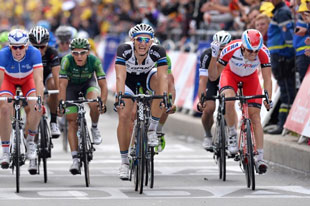 After a smashing start the 2014 Tour has settled into a (yawn) pattern; the field ride for several hours, millions of people cheer them on, and then Marcel Kittel outsprints everyone else for a win. It's happened three times now in four stages, and it's getting just a bit old. Today was a bit closer than yesterday but the result was the same. It does not make for gripping spectation.
Tomorrow will be different however (!), we have a flat stage featuring nine cobbled sections of pave, duplicating a substantial section of the famous Paris-Roubaix race. The GC contenders will all be trying to finish intact while the classics' specialists like Fabian Cancellara try to pull off a win. In fact, with most of the field just two seconds behind current yellow jersey wearer Vincenzo Nibbali, there's a great chance for someone to take the overall lead, at least for a day. That should make for a great race. Onward!