| | |
| --- | --- |
| on the road again, and again, and again | |
I've been doing a lot of riding, and haven't been posting about it - bad Ole Bad - so here's an abbreviated report.
Trona 308 - 308 miles, 20,400 feet, 4-man team, 18:30
Tour of Two Forests - 197 miles, 15,000 feet, bonked and bailed
Santa Clarita Century - 98 miles, 6,900 feet, 6:47
First, a couple of Saturdays ago I raced in the inaugural Trona 308 as part of a four-man team, with my friends Gary Feldstein, John Quinones, and Tim Skipper. And ... we won! Took us 18 1/2 hours, and we beat everyone by over half an hour. Not bad for a bunch of old guys. I had the honor of riding the 4th and 8th "anchor" legs. Each "pull" was about 40 miles, which took about 2 1/2 hours. It's quite different riding as hard as you can for 2 hours instead of riding for 8+, and it was really fun. And this was the first race I have ever won :)
The route was 100% high desert, from the start in Valencia to Trona, on the outskirts of Death Valley, via California City and Johannesburg. Not necessarily the most beautiful and the monotony can get you, but it is good for meditation riding.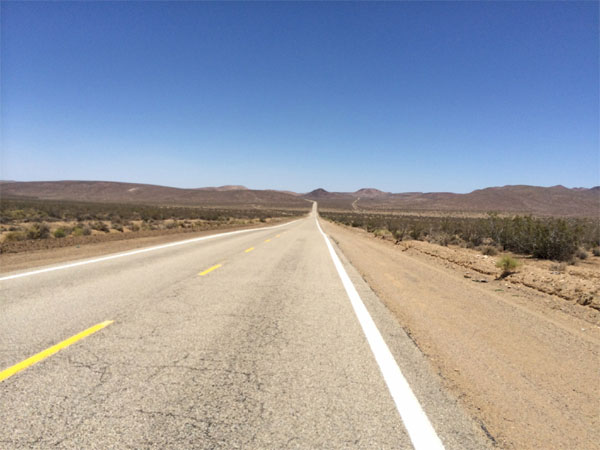 typical view ... miles and miles and miles of riding through the high desert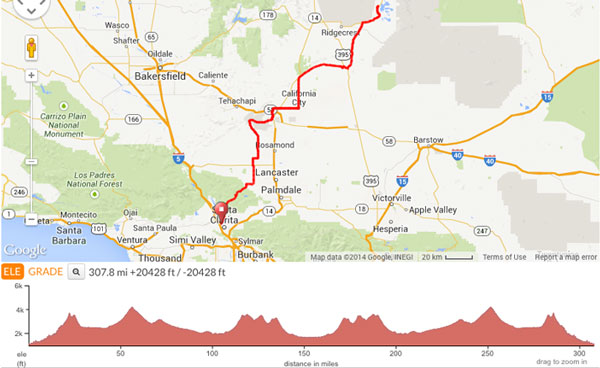 the route from Valencia to Trona and back, 308 miles, 20,400 feet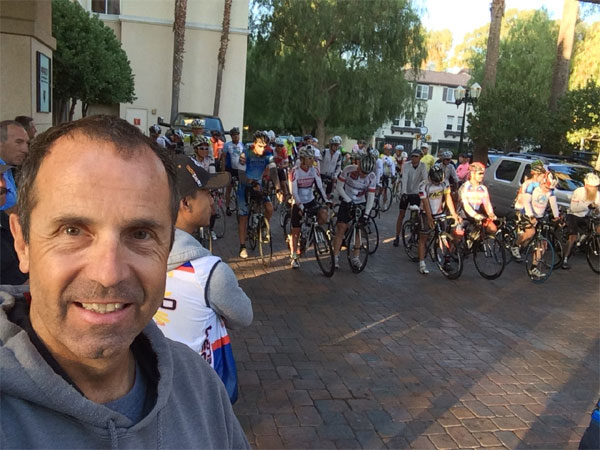 at the start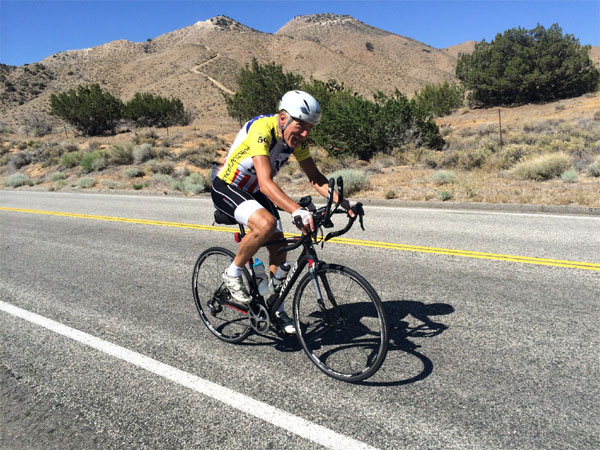 Gary Feldstein ... cranking away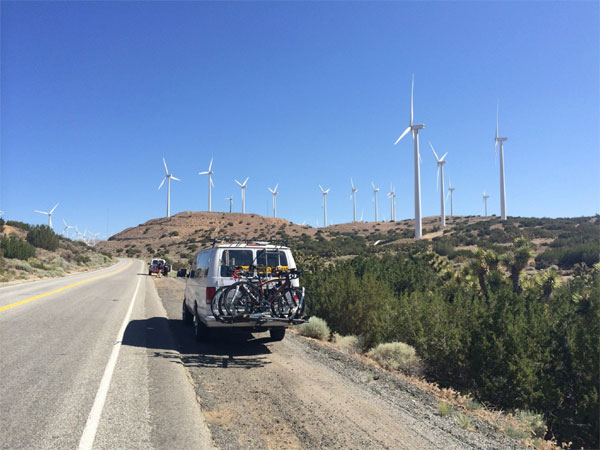 support van leapfrogging riders - those windmills are there for a reason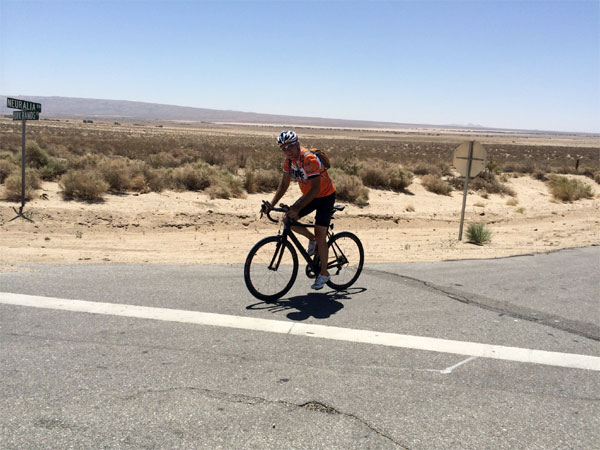 Tim Skipper in the wide open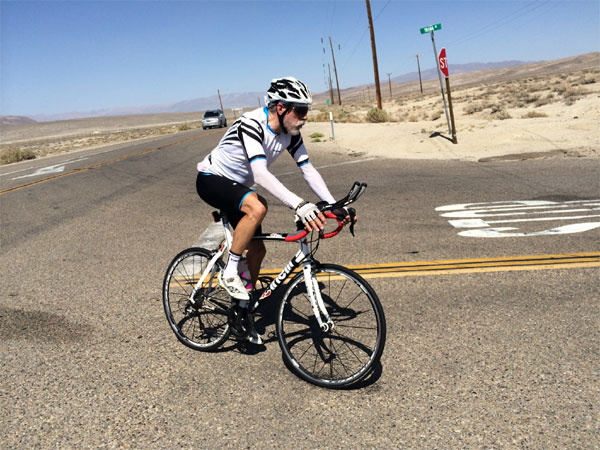 John Quinones ... not pictured, *wind*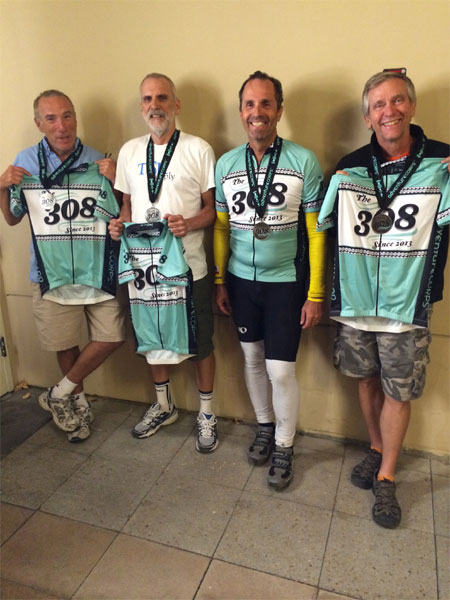 to the victors go the spoils, including spiffy new jerseys
Last weekend I rode the Tour of Two Forests Double Century, and ... well, I only ended up touring one of the two forests. After 100 miles I bonked climbing so-called Heartbreak Hill, and retreated to a nearby bar and waited for a rescue. Fortunately I was able to watch the Belmont Stakes and the Kings game, so it wasn't a total loss :)
This is a very nice ride through some beautiful scenery, but the forests are most definitely in mountains.
typical view ... miles and miles and miles of forest in mountains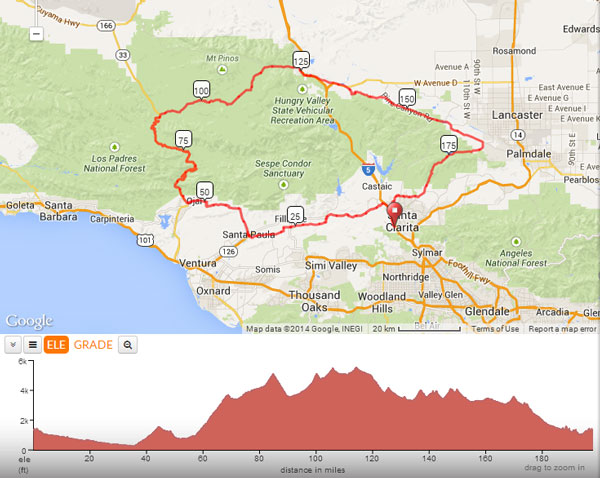 the route - 198 miles 15,400 feet through Los Padres and Angeles National Forests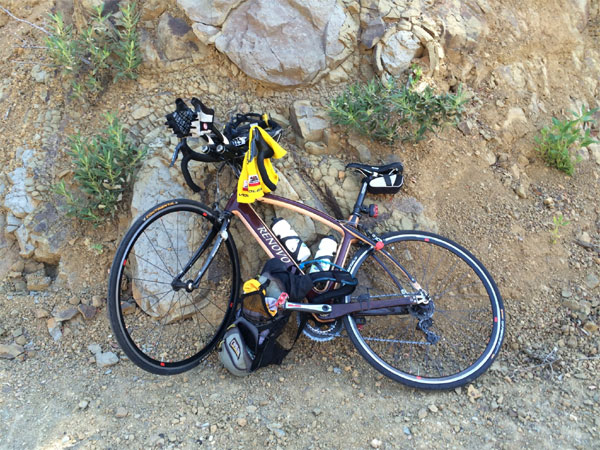 my mighty steed - I stopped to de-layer from early morning warmers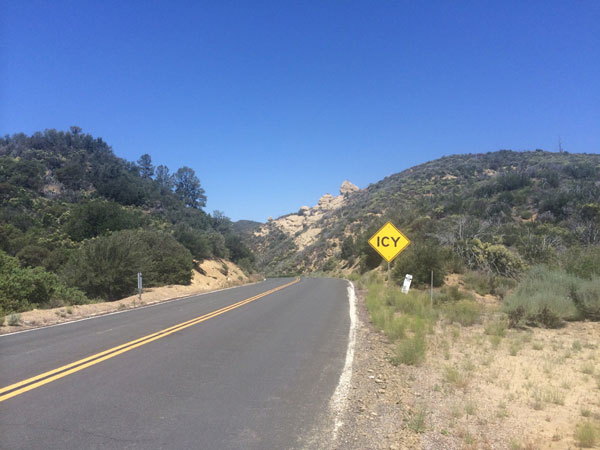 not Icy today ... hot and dry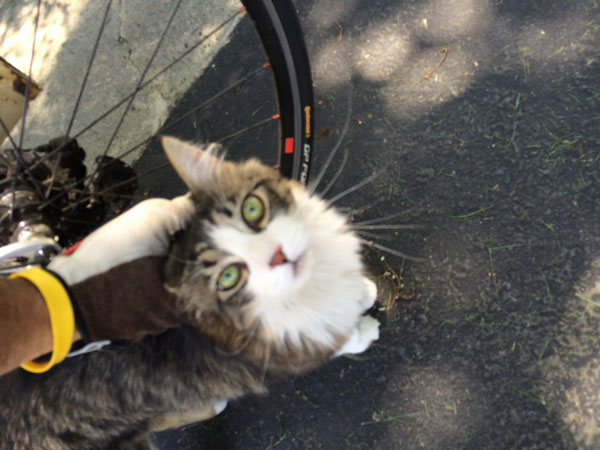 made a new friend at a Ozena Ranger Station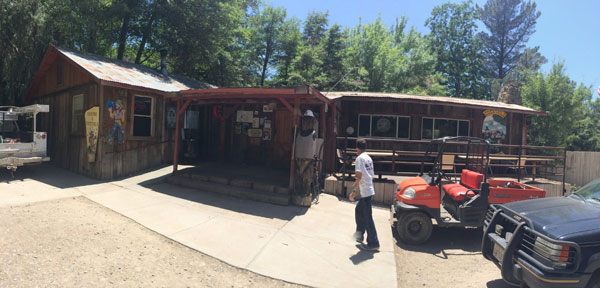 abandoned and retreated to the Reyes Creek Bar and Grill
On the road once again, today I rode the Santa Clarita Century. It was a nice course through the Angeles National Forest - approximately the part of the Tour of Tour Forests I *didn't* ride last weekend - and I made it without bonking, yay. Took me 6:47 and the ride was so well supported I hardly stopped at all.
Highlight of the day: I was passing a couple of guys climbing Mt. Emma, and one says to the other, "dude, you just got passed by an old guy riding a wooden bike". Awesome.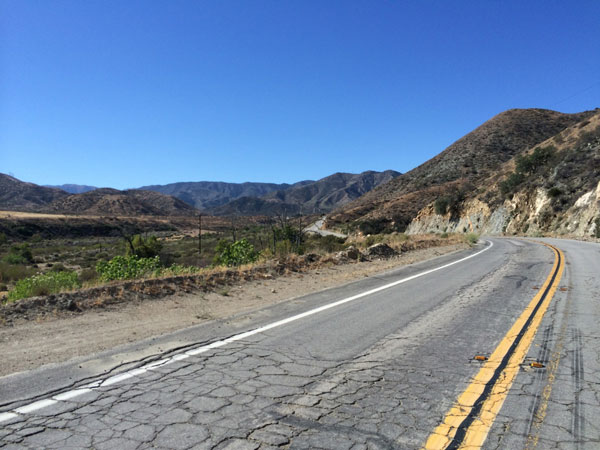 typical view ... miles and miles and miles of riding through high desert in the mountains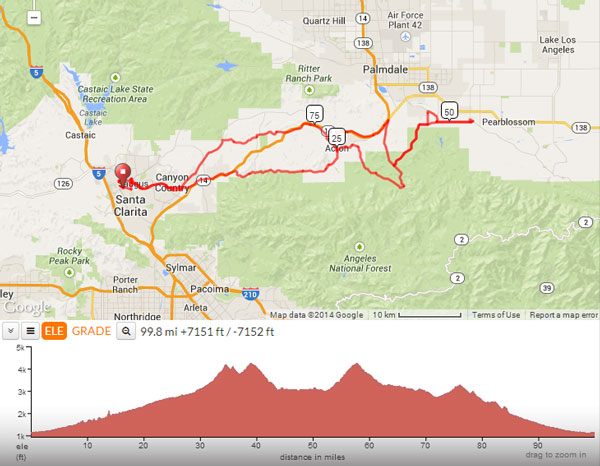 the course - 99 miles, 7,100 feet, out and back Santa Clarita to Pearblossom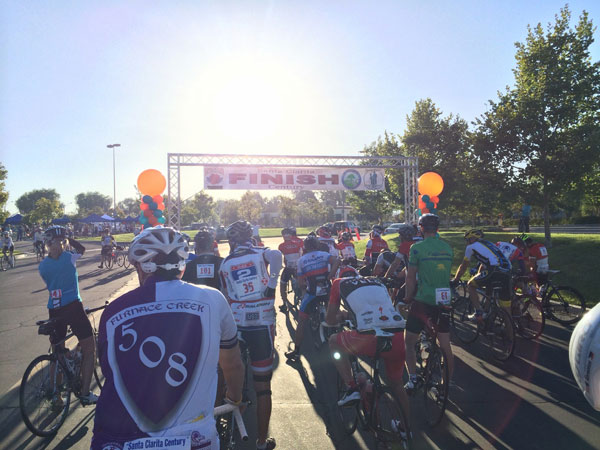 at the start - hotshots jockeying for position; it's 100 miles, guys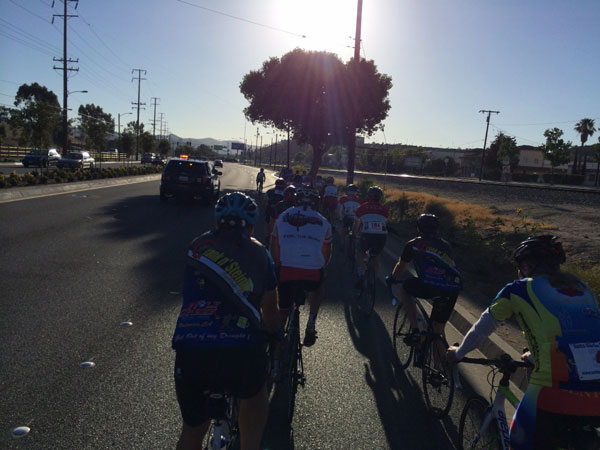 police escort for the early morning leader's paceline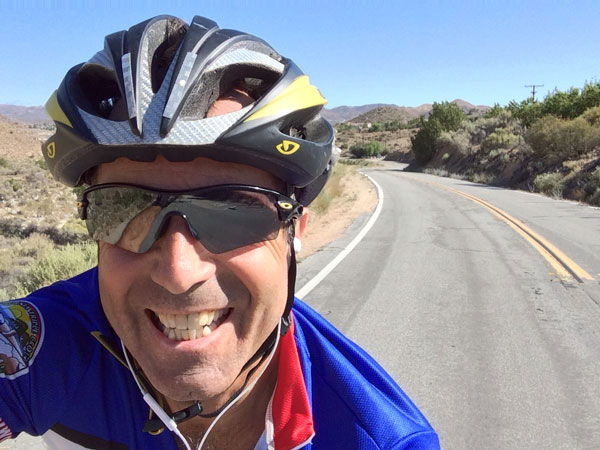 on the road again... yay


And so it goes... next weekend I will NOT be riding; but I'm sure I'll do a little in the week before and after. And I'd better, because in two weeks I'm riding the terrifying Alta Alpina Double Century, probably the hardest one there is. Whew!