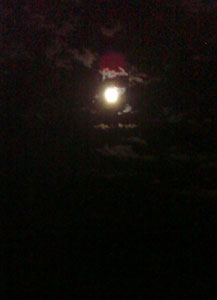 midnight moon over Torrey PinesThe other night, after a long busy day and a long enjoyable dinner, I decided to take a little bike ride. Nothing unusual about that, although having had several glasses of Pinot I knew I'd be slow and tired. Just a few miles, from Carlsbad down the coast a little ways and back. The moon was full, and it was the nicest possible night; a slight cloud cover kept the heat from escaping, stirred by a little breeze wafting off the ocean.
Three hours later I'd covered 35 miles, including climbing up to the top of Torrey Pines Nature Reserve. I blame my iPod; it managed to pick the absolutely perfect selection of music, starting out mellow (Carlos Santana, Samba Pa Ti) and gradually working up to cranking just as I was climbing up Torrey Pines (Black Sabbath, Heaven and Hell, and of course on the way down, Supertramp, Take the Long Way Home :)
You get on a bike, you never know what will happen.