Whew, another long day with many meetings and no coding (although I did see a demo of a really cool new analytics graphing capability which made me long for the days when I coded such things :). I did get in a great ride along the beach, and had a nice dinner with a colleague, but you don't care about any of that, you care about...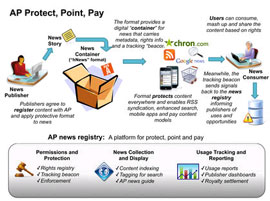 This diagram perfectly explains the Associated Press' new DRM scheme... ha! Man they are even dumber than the RIAA and the MPAA if they think we can't strip tags out of HTML.
And so it happened: Microsoft and Yahoo made a deal for search, in which Microsoft's Bing will be Yahoo's search engine. (Bingoo!) I guess this makes sense, sort of; take the best technology and the best distribution you can and try to fight Google. At least they have deep pockets. I have tried Bing and found it unremarkable, not horrible but not compellingly better than Google.
PS the markets didn't think much of this deal, but time will tell...

PS2 YHOO shareholders transfer $2.9B to MSFT shareholders. Bet they're happy about that :(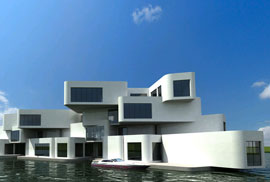 So you know how The Netherlands has lots of really low land, and how they battle the ocean and tides with dykes and dams? Well here's a new solution: a floating apartment complex! I am not making this up...
For those of you [like me] suffering from Tour withdrawals: Andy Schleck, Ivan Basso headline strong Vuelta field. Personally I am rooting for Cadel Evans. He had such a crappy Tour, he is going to come back with a vengeance! (or not :) Oh and Alejandro Valverde will be in the mix. The weird rumor of the year is that Alexander Vinokourov will be riding - for Astana! Well it is him team after all; everyone forgets that Alberto Contador and Lance Armstrong were riding in the Tour for a team from Kazakstan... explain that to a time traveler from five years ago.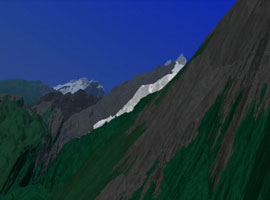 A cool CGI movie... Vol Libre from 1980. Yeah, the stone ages of computer-generated film, in which the use of fractals to simulate terrain was considered amazing. Pretty cool. I like the anecdote that the Boeing engineer who made this film was offered a job at Lucasfilm on the spot.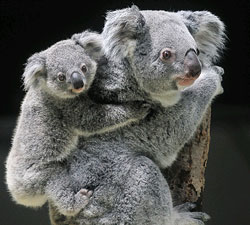 ZooBorn of the day: a baby Koala. The rule is, you can run as many Koala pictures as you want; they are all amazingly great.
... see you tomorrow!