| | |
| --- | --- |
| Furnace Creek 508 recon update | |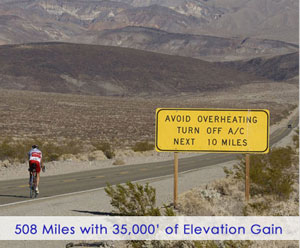 A couple of weeks ago I drove the Furnace Creek 508 route in my car, and wrote a reconnaissance report. The intended audience was my riding partner Mark Burson and our "crew" for the ride, Mark Elliot and Dan Pizano. In typical 2008 fashion Google indexed the report, and pretty soon I was getting visitors from everywhere who were interested in the 508, including Chris Kostman, Mr. 508 himself, Chief Adventure Officer and Race Director!
Chris had some nice things to say about the report, and asked if he could host it on the 508 website... Of course, Chris, you're welcome! He also pointed out a number of errors and omissions; as a newbie who hasn't even ridden the route on a bike yet, I am barely qualified to give such an overview, while Chris has been running the race for eighteen years. So today I went back and used Chris' remarks to update the report. It is still probably "wrong", but at least it is right-er :), and who knows, it might appear on the 508 website soon!