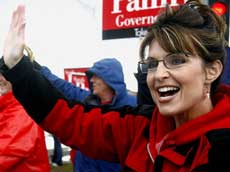 Awesome choice!
Sen. John McCain today announced Alaska Gov. Sarah Palin as his vice presidential candidate, calling her "the running mate who can best help me shake up Washington." Palin says she "was just your average hockey mom in Alaska," before getting involved in politics.
I like her already. She's 44, a first term governor, and a conservative Republican. "Her past occupations included being a commercial fishing company owner, outdoor recreational equipment company owner and sports reporter, according to Congressional Quarterly. She is blunt, outspoken and charming. And don't assume she can't stand toe-to-toe with Joe Biden. She is a great debater. And she was runner-up for the Miss Alaska title, won Miss Congeniality in that contest, and plays the flute." She'd be considered too inexperienced except by comparison with Obama (!) Her nickname is "Sarah Barracuda"; it will be interesting to see her debate against Joe Biden :)
If the reaction in my household is any guide, this was an inspired pick.