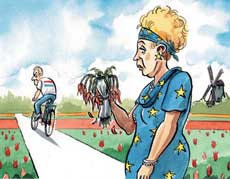 Apropos my post one of their kind, the Economist's Charlemagne writes about Going Dutch, how the Netherlands fell out of love with Europe.
Over the past 60 years the Netherlands has been one of Europe's biggest success stories. The Dutch are among the richest (and tallest) people on earth. Their social tolerance is widely admired. Yet immigration and the rise of Islam have triggered a backlash. Rotterdam may soon become the EU's first big Muslim-majority city. The meteoric political career of Pim Fortuyn, a populist who was assassinated in 2002, followed two years later by the murder of Theo van Gogh, a film-maker, by a (Dutch-born) Islamist radical has left scars on a society that once took pride in its embrace of multiculturalism. The Netherlands is a place that is now palpably fretful about its future.
This is so true. The idyllic symbiosis between the people and their culture is under threat, and all feel it.