| | |
| --- | --- |
| contemplating breathless agony | |
This Sunday night finds me contemplating Breathless Agony, a century in which I plan to ride next Saturday. This appropriately named ride features 12,000 feet of climbing in 114 miles, and reaches 8,443' at the Onyx summit above Big Bear Lake. Here's what the route profile looks like: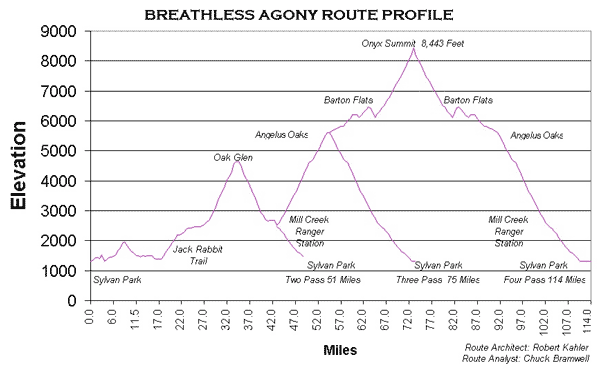 Here's the route map as plotted on Google Maps: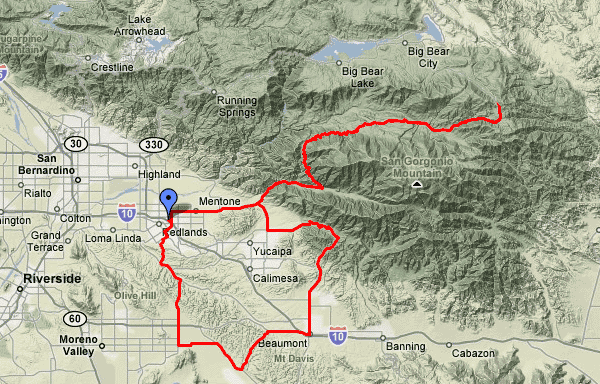 There are four main passes, the Jack Rabbit is 4 miles at 4% (max 8%), the Oak Glen is 5 miles at 6.7% (max 16%), the Damnation Alley is 11 miles at 5.2% (max 10%), and the Onyx Summit is 9 miles at 4.4% (max 10%). That is two Cat 2s and two Cat 1s. In fact Damnation Alley could be an HC. This could be a Tour stage, it is that tough.
Extreme rides require extreme measures, I am considering removing my aero bars for this ride. I won't need them, and they're just another pound to lug up the hills. That will require rewiring my computer, but so be it. Another key decision is whether to use bottles or a camelback; bottles are lighter, but with a camelback it is easier to drink continuously. There are SAG stops at the top of each climb, so some don't take water at all. I think I'll stick with my trusty camelback, this is no place to bonk.
Should be fun!