| | |
| --- | --- |
| renewing the war on cancer | |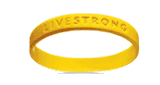 Lance Armstrong, writing in the Boston Globe: Renewing the war on cancer.
Now, what is our government's victory plan?

After six years on the President's Cancer Panel, I can say with reasonable certainty that there isn't one. Few of our leaders, with the exception of Senator Edward M. Kennedy, are still devoted to this fight. And to be fair, cancer is one of many causes competing for resources and attention in Washington.

Still, you'd expect the number one killer of Americans under 85 to merit more outrage, more opposition, more resources. But funding for the National Cancer Institute and the National Institutes of Health is static or declining in recent years. There is no central command, no general who looks over the broad spectrum of this disease and is able to deploy resources where they will save lives and advance this fight. A pessimist would say that cancer is winning. Luckily, I'm not one.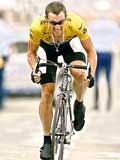 Lance is one of my personal heros, not only for his personal and athletic accomplishments, but because he has channeled the fame and fortune those accomplishments created into this critical fight. Let's hope he is successful, but more than that, let's all support him in any way we can.