I'll start by saying what everyone says the first time they see pro bike racing in person: WOW. Today my friend Peter Simons and I stationed ourselves at the top of the last grade of stage 6 in the Amgen Tour of California. It happens to be a climb we've done together many times - slowly, gasping for air - and it was an amazing experience. This was a 90 mile stage - short, by pro race standards - with four categorized climbs. Here's the stage profile; the little green arrow is where we were:

We got there about two hours before the race arrived, armed with folding chairs, water, cameras, and cellphones (so we could monitor the race via VeloNews' blow-by-blow blogging). There was a pretty good crowd, which got bigger as the race got closer, and more excited. Here's the view up the hill, and the view down:
Pretty soon cars stopped coming by, so we knew the road was closed. Then race vehicles started coming up the road, with lights flashing, and highway patrolmen with sirens blaring. The excitement level built. Oh, and there were trucks with swag, too; I scored a chocolate Cliff bar.
Finally there were helicopters overhead, and a cavalcade of motorcycles, and then - there they were, the race leaders! The crowd erupted in cheering and yelling as the riders flashed past. I must tell you, they crested this climb like it was nothing.
And close behind the leaders, the peloton flashed past. Amazing. A sudden burst of color and sound and motion, a whoosh, and they were past. Here's a little video I shot with my camera of the passing of the peloton: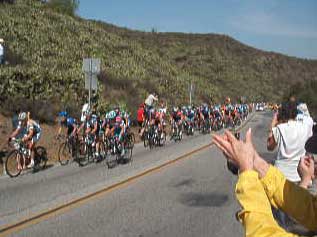 the peloton
(click to view movie)
As I said, WOW.
What's cool about bike racing is that unlike every other sport, the competitors are right there. It is possible for anyone to just go and see a bike race, and stand by the side of the road, and have professional racers zoom past within six feet of you. I don't know how many people total saw this stage (I'm guessing there were thousands at the finish on the Amgen campus), but all of them had a front row seat. Excellent.
Now that I've seen a race in person, I'm not going to miss any other chances to see another.