I was gone sailing for a week, and then gone on vacation for a week, both in locations where I didn't have OLN and didn't have a fast internet connection. So I didn't get to watch the Tour de France live, I had to settle for daily updates and snippets here and there. (By the way, if you're into bike racing check out the Daily Peloton, I found they had the best blow-by-blow blogging and the best commentary. Great site.)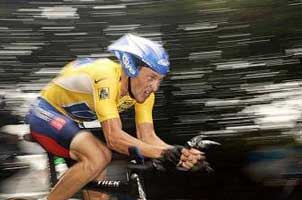 So last night I decided to catch up, and fired up Bittorrent to download the most interesting stages of the Tour. This morning I just finished watching Stage 20, the final time trial, which [of course] Lance Armstrong won, out-powering Jan Ullrich to put his final stamp on the 2005 Tour. It was really great; time trials are interesting because unlike the other stages, the riders are "naked" and they go all out the whole time - in this case for a bit over an hour, on a really nasty course featuring some steep climbs, some tricky descents, spectators all over the place, hairpin turns and slick roundabouts, and narrow little town streets. Quite a test. It was noticeable that Lance has a faster cadence than anyone else, he seems to be in fast-motion compared to all the other riders, just attacking the course. Awesome to be able to ride that hard, that well, for over an hour.
Of all the things I'm somewhat good at, the gap between me and professionals is largest in bike racing. I'm a decent sailor, a decent baseball player, a decent bike rider, etc. (Even a decent programmer :) Watching this morning I was struck by how hard it would be just to finish that course, let alone finish it for time, let alone ride that hard for that long, let alone ride that hard for that long on that course. My hat's off to every tour rider, not just Lance. He's the best of the best, but they are all amazing athletes. What an excellent sport.
I have to say OLN's coverage is pretty darn good. Too many commercials (which of course I don't watch), and too many promos for Survivor (does anyone really care about that any more?), but on balance it was really cool. And thanks to whomever scraped their Tivo to post the torrents. OLN should post them for sale - I for one would be happy to buy them - but since they don't the Internet fills the void nicely :)