| | |
| --- | --- |
| Happy Birthday, Uncle Sam! | |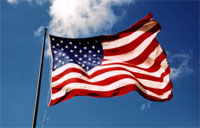 Happy Birthday, Uncle Sam. You're the best.
I spent the weekend sailing, hanging out with my kids and good friends, and eating. And also thinking about all the men and women - my daughter Nicole among them - who make my life possible, protecting our freedom and way of life. Thank you all.
It turns out I'm not the only one who thinks so; a recent Gallup Poll revealed that "The American public has more confidence in the military than in any other institution." Other tidbits from the poll, "big business and Congress tied for the second- and third-lowest rankings" - not surprising in view of either's lack of integrity, and "Gallup noted that public trust in television news and newspapers reached an all-time low this year". See, you can fool some of the people some of the time, but...
By the way, there has been a flurry of discussion recently about whether it should be illegal or even unconstitutional to burn a U.S. flag. So I think it is a horrible thing to do, but it should not be illegal, and I can't even imagine under what pretense it could ever be unconstitutional. People should be entitled to express their opinion, however much we disagree with it. Mark Frauenfelder posted an interesting conundrum for those who would make burning a U.S. flag illegal. At what point is a flag a U.S. flag (does close count)?
Here's a nice post for the Fourth: The Endgame. [ via Tim Oren ]
Finally, do you want to thank the troops? Click here. It only takes a minute to send a short message to someone serving overseas, and imagine how much they'd appreciate it. [ via Smash ]