Good Morning! And Happy New Year!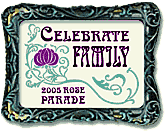 My first post of 2005. And this is my blogiversary; I have now been blogging for two years... wow. We're sitting here watching the Rose Parade, and I'm waiting for the Caltech Robot float, of course, while watching the robot cam on my laptop. These floats are amazing; the technology behind their construction gets more sophisticated every year. And all the decoration is still with flowers - high tech meets low tech, or maybe I should say biotech.
The whole parade thing is kind of weird - the ultimate "humans entertaining other humans" activity. All the time, effort, and money that went into producing this parade, just so that the thousands attending and the millions watching on TV can be entertained.
Well, Happy New Year everyone. Later today we have football watching (!) with friends, and of course eating Shirley's chili (!!). Perfect way to greet 2005!
[ Later: Okay, I get Michigan in the Rose Bowl, they're the Big 10 Champion, of course they should be here. But Texas? WTF? And Pac-10 champion USC is playing in the Orange Bowl, in Florida, two days from now? This whole BCS thing is bogus. If there were any doubt, consider that any system which results in Texas playing in the Rose Bowl cannot be right. ]