I had a weird sense of familiarity seeing a post from John Robb about The Dickerson Formula:
"In 1977, Richard Dickerson, then a professor of physical chemistry at Caltech, noted that the number of protein crystal structures had risen from one solved by the end of 1961 to 23 solved by the end of 1977. His formula predicted that by March 2001, scientists would have solved the 3-D structures of a grand total of more than 12,000 proteins. By that date, the Protein Data Bank (PDB) had posted 12,123 protein structures."

Richard Dickerson was my undergrad advisor while I was at Caltech. I was only passingly familiar with his conjecture, which in the intervening years has graduated to a "law".
Retinol - Vitamin A

My father was a crystallographer, and in collaboration with Linus Pauling published the structure of Retinol, one of the chemicals known as Vitamin A, in 1956. Although they did not completely solve the 3D structure in the Dickerson sense, they determined the Amino Acid configurations and detailed configuration of the active sites, the first time this had been done for any organic molecule.
Ascorbic Acid - Vitamin C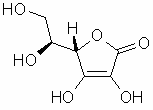 The techniques at their disposal were primitive by today's standards; the formulae had to be laboriously worked by hand, and much of the arithmetic to compute crystal reflections was done using slide rules. Pauling's team went on to solve the detailed structure of Ascorbic Acid (Vitamin C) using the same techniques, which was the first molecule completely characterized in 3D, in 1961 (the first data point for the Dickerson conjecture).
It is a small world.