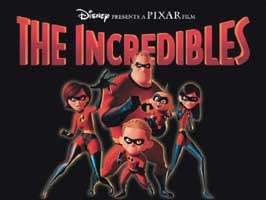 I saw The Incredibles with Megan this afternoon. I thought it was - excellent. I can't wait to see it again, and to have the DVD. I'll say what everyone else always says about Pixar movies, it isn't the animation or the technology, it's the story. And this was a wonderful story. I mean, how great was it that the "supers" were retired by liability lawsuits? And I loved the line "when everyone is super, nobody is", and the graduation from 4th grade to 5th grade. A politically incorrect but terrific statement, embedded in an action movie disguised as a kid's cartoon. The whole thing just worked.
One suggestion for the Pixar team, not that they need it; in the sequel, it would be great if there was a "super" who wasn't genetically super. Sure, some are born with "special powers", but you can be super through hard work and determination, too.
I can't wait for Incredibles, Too.