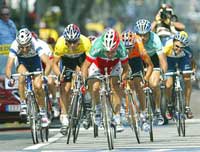 Are you following the Tour de Lance? Today featured another close call: Armstrong keeps Tour lead on a harrowing day. If you're a Lance fan the good news is that last year's runner-up and strong competitor Joseba Beloki is now out after a horrible crash. The bad news is that Alexandre Vinokourov won the stage and is a mere 21 seconds back. Lots of exciting racing left!
AOL and Tivo team up. "America Online and Tivo detailed a new partnership under which TiVo users can program their machines remotely via AOL's online network." I thought Tivo 2 users could already program their machines via the web. So what does this add? Marketing sauce...
Andrew Anker considers McProcessors. "The microprocessor has come an incredibly long way when it is inexpensive enough to make its way into millions of throwaway toys that come free with a $2.98 meal." And at the other end of the scale, we have today's laptops...

Electric Plaid - hand-woven textile or computer display? "Electric Plaid is a revolutionary display technology used to create hand woven, sensuous individual artworks, interior design and architectural surfaces... textile patterns and colors change magically before your eyes." It looks pretty cool,but I wouldn't be caught dead wearing it :)
Finally - please welcome Sailing Anarchy to my blogroll. Yeah, no RSS feed. But they are really cool anyway, check 'em out. (Thanks, Peter...)