If you visited Google yesterday, you might have been intrigued by their logo; a grayscale drawing which showed a couple of hands drawing each other. This was their very cool way of celebrating M.C.Escher's birthday.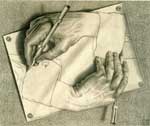 "Drawing Hands" is one of my favorite works (and Escher is one of my favorite artists); a print of this piece is actually hanging in my office as I, er, speak. Please click on the pic at right for a larger view of this amazing piece. Up close, the detail is nearly photographic. But execution aside, the idea behind this piece is amazing; I like to call it "the C compiler" (because C compilers are often written in C).
The message seems to be a piece of paper drawing itself, or perhaps hands drawing themselves. But at another level this is a metaphor for humans; we create works of art which are then perceived by us. In essence we are drawing ourselves. Escher created many interesting "self-portraits", but none more intriguing than this one. Fascinating.