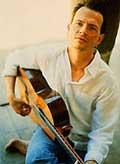 Last night we saw Ottmar Liebert at the House of Blues. We had a terrific time - drank too much ('97 Kendall "Artist Series" reserve - excellent / 92!), ate too much, and laughed too much. Thanks Liz and Cyn for setting it up!
Ottmar was terrific. I had never heard of him or his band, Luna Negra, but they have a great latin flamenco style. (Their website plays a brief audio clip.) The stage presence is very laid back, almost mystical - Ottmar plays guitar barefoot, sitting in an easy char, and one of his band members sits crosslegged on the floor and plays a Macintosh Powerbook. Wow. If you ever have a chance to see him/them, take it.
Naturally this morning I wanted to buy some of Ottmar's music. Did I run out to the store? Are you kidding - too hard! Did I buy an album from Amazon? Are you serious - I don't want to wait! Did I download it from Kazaa? No, of course I went directly to Apple's Music Store, where I could preview the music, pick the album I wanted, and download it. I am now listening to Barcelona Nights, the best of Ottmar Liebert (Amazon). It is synced to my iPod, so I can listen to it in my car. I burned it to a CD so Shirley can listen to it. This whole experience shows how right the Apple Music Store is.
Adding excellence to awesomeness, Ottmar has a blog! Naturally I've added him to my extended blogroll, and intend to visit regularly. It is really interesting to see the artist's point of view... I encourage you to read it if you're thoughtful about DRM, the music business, consumer rights, etc.
His most recent 'blog entry was about something I've been interested in for some time - why is there no "Tivo for radio"? Actually he put it differently, he asks "why is there no Tivo-like audio recorder", and perhaps that's the best way to look at it, because "tuning shows" like Tivo does for video is not really important for audio, what is important is simply recording a pre-tuned audio stream. Actually makes the problem simpler.
He points out that with a handheld version and a microphone you could just keep it on all the time - recording everything around you - and when there was something you were interested in playing back, you could. Great for journalists, students, businesspeople, and - musicians!