Archive: March 2015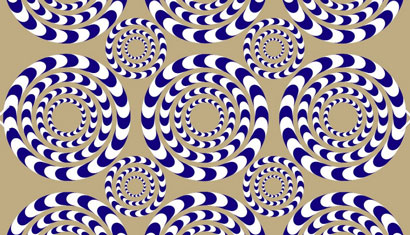 If you liked "the dress", you'll love these illusions. Wild.
By the way, in case you're wondering, I'm in the white-and-gold camp. Could not see blue-and-black at all.
Spacetech is Venture Capital's final frontier. Or perhaps the next one.
Should work out better than greentech, I think, as there will be actual money to be maid instead of just money to be extorted from governments...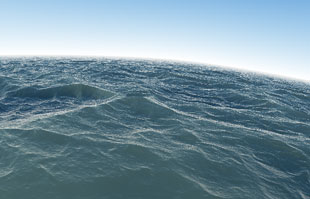 Jason Kottke links the algorithmic sea. "Using just 185 lines of WebGL JavaScript code, you can get super-realistic ocean waves rendered right in any modern web browser at 60 frames/sec." Wow!
Ben Parr: The top ten ways to capture attention. Give people hot coffee is at the top of the list :) Missing from the list: make a top ten list.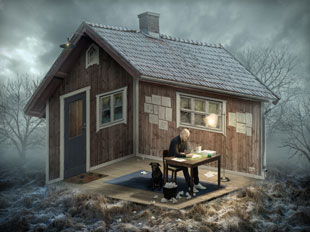 Surreal optical illusion photos by Erik Johansson. These are amazing. Kind of Escher-ian and yet strangely familiar. Definitely in the category of "just when you think you've seen it all, you realize, you haven't even".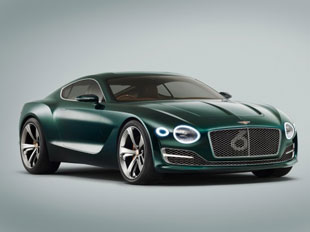 Just a concept so far: The Bentley EXP 10 Speed 6. Terrible name but beautiful car. Want!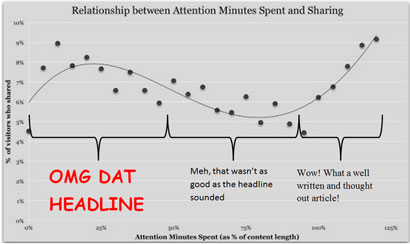 The fundamental unit of the blog is not the blog post.
The fundamental unit of the blog is the stream.
Nope.
Disagree entirely. I can see why Medium might want to move in the direction of more and shorter posts, but that doesn't change the fact that the units are posts. "The stream" is an aggregation of posts.
I honestly don't get Medium. I like some of the stuff people post on Medium, but to me it's simply another publishing platform, like Wordpress or Moveable Type or Blogger. I don't visit Medium or subscribe to it, I simply go there when following links, just like I might visit YouTube or Tumblr or Flickr. It isn't a destination, it's a vessel for destinations.
Do you agree?
Coolness aside, this is just another chance for government regulation, argh. I love reading about aeroplanes in the 1930s, when anyone could fly one anywhere and just land in a handy field. It was dangerous, but ... so what?
This is so interesting because it shows how much of what we see is really synthesized by our brains rather than captured by our eyes.
Wow, this is so cool: American shopping malls in 1989: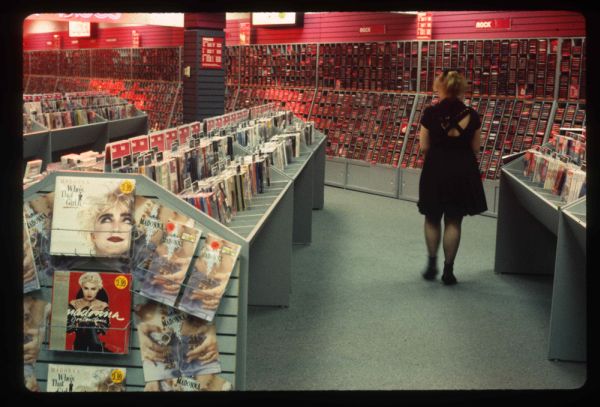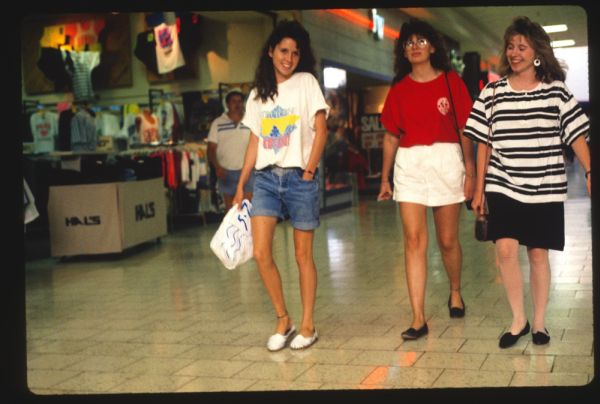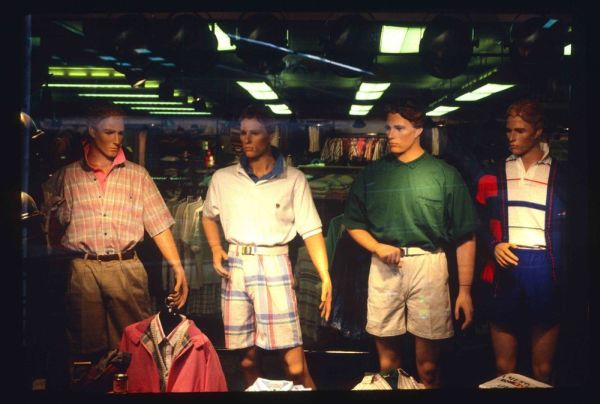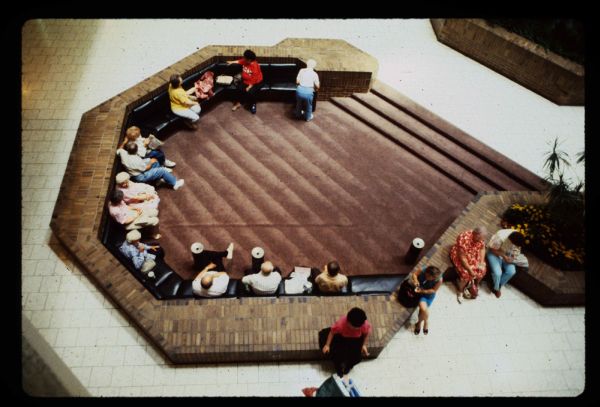 Aside from minor differences in dress and style, not that different, right? Except no cell phones, no internet, no online anything. Hard to believe...
What do you think would be most surprising to people from 1989 if you put them in a mall today?
| | |
| --- | --- |
| Iditarod: day zero (the ceremonial start) | |
Are you ready for some dogsled racing? The 2015 #Iditarod started today, the annual 1,000 mile dogsled race from Anchorage to Nome. Today was the "ceremonial start"; on Monday the real race starts with the "restart", which this year has been moved all the way North to Fairbanks, to ensure enough snow and good trail conditions.
Here's this year's route (click to enbiggen):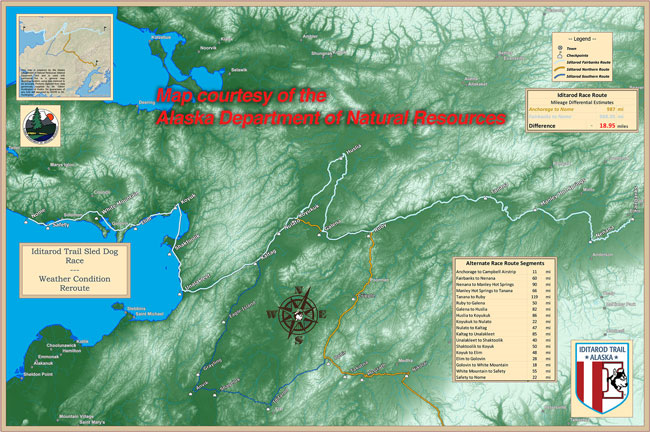 The first part of the route is entirely new, from Fairbanks to Ruby. Ruby and Galena are checkpoints in the usual Northern route*, but then a new leg has been added up to Huslia, and down through Koyukuk before joining the usual Northern route at Nulato. Ex-competitive musher Sebastian Schnulle will be blogging about the race; he posted this detailed note from Tom Huntingon about the new route.
* The race alternates between a Southern and Northern route; the usual Northern route is in orange, and the Southern route is in blue. This was supposed to be a Southern year, but the weather has not cooperated.
From what I've read the mushers are pretty excited about this change. The conditions will make for great racing, it will avoid some of the sections early in the old route which became treacherous with lack of snow and too much ice, and it will take the race into some beautiful wilderness.
As far as changes to strategy; the route checkpoints are a little further apart, which means mushers may decide to camp and rest along the trail. At least we'll have GPS trackers so we can follow the action.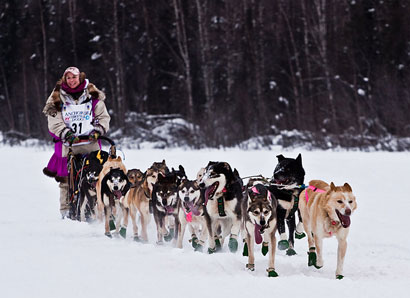 If you're not a fan, here's the high line: Each musher starts the race with a team of sixteen dogs and must finish with at least five dogs. (Dogs are typically "dropped" at the various checkpoints, due to injuries or because they are tired or under-performing; every dog is examined by a veterinarian at every stop.) Each team must make one 24-hour stop along the way, and two 8-hour stops; when and where to take stops is a key point of strategy.
There are seventy-nine teams in the race (the most ever), and I am of course rooting for DeeDee Jonrowe, pictured with her team at left. DeeDee has competed in the Iditarod since 1980 and has finished in the top ten fifteen times. Go DeeDee!
In case you want to get a little more background, here's a summary of all my 2014 Iditarod posts. Last year's race was one of the most exciting ever. Be sure to check out this final wrapup, which details the wild strategy on the last day.
[All Idirarod 2015 posts]
For you #Iditarod fans out there, here's an index of my 2015 Iditarod posts:
| | |
| --- | --- |
| 03/06/15 08:32 PM - | |
| 03/09/15 09:46 PM - | |
| 03/10/15 10:46 PM - | |
| 03/11/15 11:50 PM - | |
| 03/13/15 01:19 AM - | |
| 03/13/15 09:36 PM - | |
| 03/13/15 09:40 PM - | |
| 03/14/15 09:29 PM - | |
| 03/15/15 10:35 PM - | |
| 03/16/15 02:51 PM - | |
| 03/16/15 03:07 PM - | |
| 03/16/15 10:07 PM - | |
| 03/17/15 01:55 PM - | Iditarod day nine: (Tracker video): Dallas opens up into White Mountain |
| 03/17/15 11:37 PM - | |
| 03/18/15 03:59 PM - | |
| 03/18/15 06:08 PM - | |
| 03/20/15 09:29 AM - | |
Onward!
So, did you see the Apple announcements this morning? I have to confess I'm more excited about the new MacBook than about getting an Apple Watch. Well okay maybe just as excited. As an old fashioned clicky keyboard fan it will be interesting to try the new keyboard to see how it feels. Sure is thin! And the new trackpad also seems like it will be cool. Seems like the force-touch (harder press) is intended to replace the right-click. Steve Jobs never did like two buttons!
We didn't learn too much more about the Apple Watch, but there was considerable emphasis on how it is going to work, which was appropriate, I think. Most people have never worn a smartwatch so they have no idea how it might be useful. (I have a Pebble Steel and I like it, but it hasn't changed my world. It's just kind of a nice to have.) From what I've seen the Apple Watch is going to be more useful than the Pebble, but the same idea; it is a wrist-based extension of your phone. We're all going to have one. Maybe it will even reduce the prayer meetings where everyone is staring at their phone instead of the live humans around them.
The pricing of the Watch was not a surprise – speculation had the gold models starting at $10K, so we were all attuned to that already. Maybe the surprise was that there was no surprise. I actually thought maybe they'd be lower than everyone expected, but they weren't. Clearly not too many people are going to spend that much on a watch which will be out-of-date within two years (p.i.)*. Longer term maybe Rolex and Patek Phillipe and Hublot need to worry, but not in the short term. I think most people are going to go for the stainless steel models which are in the $600-$1,000 range.
I think the emphasis on health monitoring is pretty cool. I use the Argus app on my iPhone, which measures my activity (and which does a pretty good job of it, too!) It can tell when I'm cycling and can sort of guess when I'm working on an elliptical trainer. Still a wrist based device which you wear *everywhere* and which has access to your heart rate as well as motion sensors will be much cooler. Whether it will actually cause me to exercise more will be tough to say. I think the Argus is sort of an in-your-face indication when you haven't done anything, but it's pretty binary. The Strava-like competition with friends that I experience from cycling is more likely to drive activity. Maybe we'll all end up competing with each other :)

One more observation: using your watch to pay for stuff could end up being the biggest driver of adoption. I'd get one anyway, but that's the feature that has me the most excited :)
As far as the event, it was polished but unspectacular. I was actually a little let down. Best line of the day, from Tim Cook, about answering a phone call on an Apple Watch: "I've been waiting to do that since I was five years old." On reflection I think Apple have botched the launch of a luxury item like a $10K+ watch. Are we supposed to click add-to-cart and then just pay $10K with our credit card? Nah, not going to happen. Maybe they will sell plenty of these in their stores, but I doubt it. And the bigger problem is that they have failed to build a luxury brand. I am now significantly less motivated to pay that much for an Apple Watch than I was yesterday...
* I am reminded a little of the situation Lexus faced when they entered the market, in 1991. Back then established luxury brands like Mercedes and Jaguar were overpriced relative to their value, but that's how it works with luxury products; you pay for the association, not the value. Lexus came in a little lower, but with huge technical superiority. Still it took a while before they were known as a luxury brand and conferred the same halo on the owner. Tesla were a little like that when they launched a few years ago, too.
[Update: the Internet has not been kind to the $10K price point: "The new standard in douchebag detection." Heh]
| | |
| --- | --- |
| Iditarod day one: and they're off! | |
And yes, they're off, the 2015 #Iditarod is under way, with what is reported to be perfect racing conditions leaving Fairbanks. The course follows the Yukon River for the first 350 miles or so, meandering down to Nenana (60 miles), up to Manley (90 miles), through Tenana (66 miles), and then meeting the "normal" Northern route at Ruby (119 miles). Those are big gaps and while the teams are going to be moving fast along the river (10mph+), most mushers will camp out every 7-9 hours or so, rather than running checkpoint-to-checkpoint.
As usual the Iditarod website is the best repository of information, including the fabulous GPS tracker. Here's the view as of 10:00PM PST (Alaska time is two hours earlier):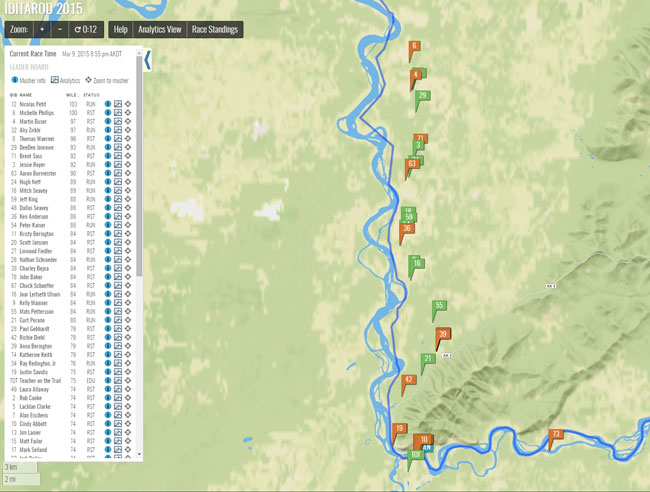 If you look closely you can see #12 Nicholas Petit is leading, at mile 103, with #6 Michelle Phillips and #32 Aliy Zirkle in second and third, at mile 100. My favorite #29 DeeDee Jonroe is in sixth, at mile 92. Go DeeDee! Green flags mean the team are running, brown mean they are resting. The tracker shows #73 Christian Turner is the "red lantern", the last musher racing. This might be the last tracker shot which shows all 79 teams.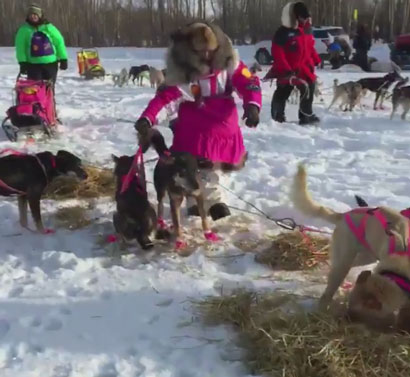 Here's a picture of DeeDee caring for her team in the Nenana checkpoint; she was only there for about 20 minutes before moving on. Care and feeding of the team while stopped is of course crucial so they can keep moving for a week. These dogs burn around 10,000 calories a day, and it's well known that you can predict how fast a team will run by watching them eat.
Right now there are no surprises in the leaderboard. Some mushers like Nicholas Petit and Martin Buser like to start fast and stay in front, others like Mitch and Dallas Seavey (defending champion), and Jeff King, like to start slower and let attrition take its toll. Seeing Lance Mackey thirty miles behind already is unexpected, but there's a looong way left to go.
[Update: you might enjoy this primer for Iditarod newbies, some great info...]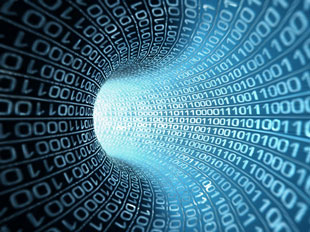 I've been coding on something cool, it's a lot of fun. A rickety quick-and-dirty mechanism is slowly being torn down and replaced by a solid structure, layer by layer. Not earth shattering but quite satisfying. Teaching the zeros and ones to dance :)
And meanwhile, it's all happening...
My day two thoughts about Apple have evolved a little from yesterday, but in the same direction. The new MacBook is cool but now that I realize it is actually less powerful than the current MacBook Air, I'm less interested. I already have an iPad, so... this doesn't solve any problems for me.
I think Apple have stumbled badly with launching the Edition watches. For people to pay luxury prices, there has to be significant brand appeal and differentiation. When you buy a Maserati it has a golden brand, and it looks and feels differently from other cars. The Apple brand doesn't stand for luxury, and the Watch Edition is functionality identical to a $350 Watch Sport. Perhaps Apple should create a new brand entirely for luxury products, like Toyota did with Lexus, and Nokia did with Vertu. Sell them in different ways, and have different stores or market them via existing luxury retailers. I'm actually surprised that Angela Ahrendts didn't see this coming. Or maybe she did, but was overruled by Tim Cook and Jony Ive? Neither have ever launched a luxury brand before.

Or maybe I'm wrong and the Edition is going to be a huge success :)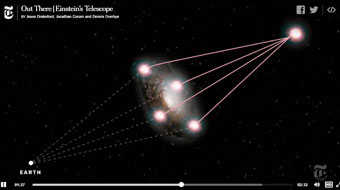 Awesome: Astronomers watch a supernova and see reruns. This is perhaps the most convincing evidence yet for relativity. Amazing. (Definitely worth clicking through to watch the video.)
From esr: Why I won't mourn Mozilla. "By failing to defend and support Eich, the Mozilla Foundation wronged a man who had every right to expect that he, too, would be judged by his work alone. They abandoned the hacker way and trashed their own legitimacy. It was a completely unforced error." I don't know to what extent Mozilla's decline is attributable to this - perhaps Google's Chrome is more responsible - but it definitely didn't help.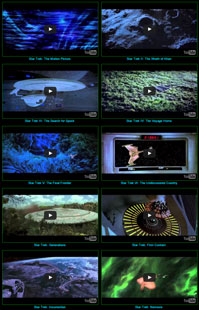 From jwz: Star Trek movies, the ships only. As suggested click play on all of them at once, to boldly go ... as a wise Vulcan once observed, fascinating \\_//-
| | |
| --- | --- |
| Iditarod day two: on the Yukon | |
Day two of the 2015 #Iditarod has come and gone, and the leading mushers are about 220 miles closer to Nome, having traveled along the Yukon River to rest in Tanana. Almost all of them are taking their mandatory 8 hour stop here. (All the teams also have to take a 24 hour stop somewhere along the way, and another 8 hour stop in White Mountain.)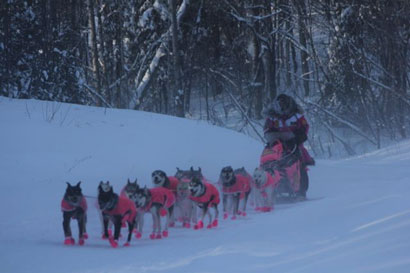 First in was Martin Buser, who said he wasn't going to be the rabbit again this year, but has been well ahead anyway. Hugh Neff was second, 1:34 behind (0:54 after start correction*), Aliy Zirkle was third at 1:40 (0:40*), and Aaron Burmeister was fourth at 1:53 (though he's actually ahead by 0:05 after start correction*). Brent Sass was fifth but has sadly been disqualified; he's carrying an iPod Touch, for music and movies, but because it can use WiFi for transmission it's a two-way communications device, and hence prohibited. He posted a nice video apology, he just didn't realize. That's too bad. And our favorite DeeDee Jonrowe was sixth at 2:47 (1:57*). Go DeeDee!
* The mushers start at two minute intervals, and the delay is subtracted from their 24 hour break. You can tell how long the delay was from the musher's bib number; DeeDee is #29, so she started 58 minutes late, and will make it up when she takes her 24 hour break. At this point of the race higher bib numbers are further ahead. Aaron Burmeister #63 is actually ahead of Martin Buser #4 when you apply the correction.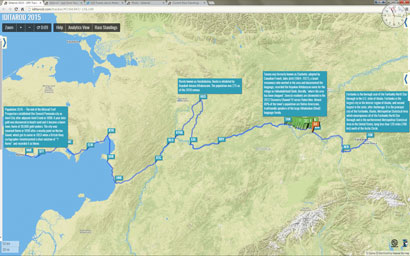 The rest of the pack have / will follow; at this writing 20 mushers are in, including all the favorites, and none have decided to push on. It just makes too much sense to rest through the night and take off on the long 119 mile leg to Ruby in the morning. Where by morning I mean, oh-dark-hundred; Martin will leave around midnight, and DeeDee at 2:00AM.
(for more detail, click map at left to enbiggen)
Aside from poor Brent Sass all the mushers are still racing, and almost all still have 16 dogs. That's a sign that so far the mushing has been "easy", or maybe we should say "easier". Tomorrow's long run to Ruby and then Galena should be more of the same, but then things will get harder with the run away from the river up to Huslia. The leaders will probably be there tomorrow night ... stay tuned!
[Update 23:17: just see that Aliy Zirkle has taken off! No 8-hour for her then. Will be interesting to see if anyone else follows. Oh, it looks like Aaron Burmeister is on the move, too. Aliy and Aaron might just be moving out of the dogyard and resting further down the trail, but the 8-hour must be taken in a Yukon checkpoint, so they'll have to do one in Ruby or Galena.]
[Update 00:30: now Martin Buser is off. That seems weird to me, he had nearly made it to the 8 hour mark, and had declared he did not want to be the rabbit this year. And yet ... he's off, too.]
[Update 00:48: actually Martin did make it to the 8-hour mark, the first to do so. And so he's off... But so is last year's champion Dallas Seavey, after only four hours in the checkpoint. Different strategies... Next after an 8-hour will be Hugh Neff, at 1:49, and then DeeDee at 2:02.]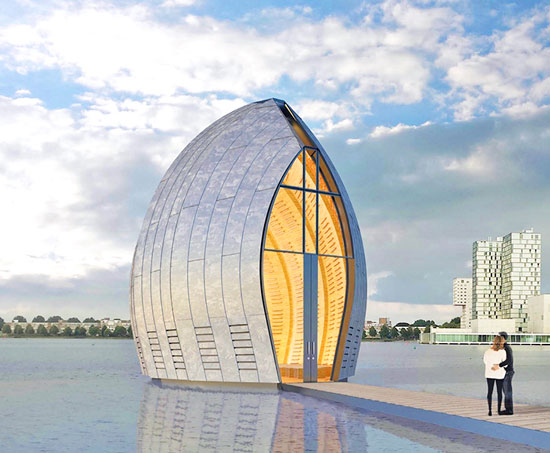 Amazing art-chitecture
I think some of the coolest sculptures are functional buildings
this is an as-yet-to-be-built chapel on a lake in the Netherlands...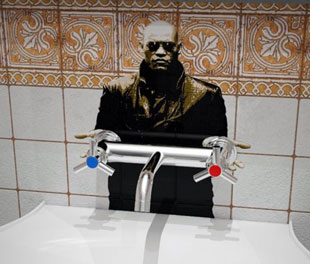 Another busy day. Time management, doing what I should do vs what I want to do. Blech. Choose wisely :)
Regarding the Large Hadron Collider: "We have a fantastic model - that we hate. It has stood up to precision measurements for 50 years. We get more and more precise, and it stands up and stands up. But we hate it, because it doesn't explain the universe." It's too complicated to be right. W=UH!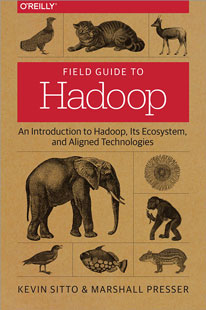 To be read: Field Guide to Hadoop. Preordered!
Headline: 95-year-old man breaks 200m sprinting record. My first reaction was, "sprinting" at 95? But watch the video - this is awesome.
More Apple Watch -man-ship: Why Apple Watch marketing so far is mediocre. Could be a great product, but they haven't made the case for it yet (p.i.). Part of the problem is "expectational debt" created by other personal electronics like laptops, phones, and tablets. The watch will not be like them.
To be clear, I think Apple have two marketing challenges: first, to create demand for smartwatches, which to this point have received a lukewarm reception in the market, and second, to create demand for an Apple-branded gold watch, a new luxury item. The first challenge is not new to Apple and they've succeeded brilliantly in the past, by establishing a clear value proposition (iPod: 1,000 songs in your pocket, iPhone: a smartphone easy enough to use, etc). They haven't done that yet for the Apple Watch - "it does everything and it's cool" is not quite a catchy slogan - but perhaps they will. The second challenge is new for Apple and I posit they are off to a bad start.

I did think this was interesting: Apple Watch with new casing materials likely arriving in Q4. See, if they had made that case out of carbon fiber, *that* would be cool... might even be worth $10K :)
News item: Lyft raises $530M in fight with Uber. Wow. I can't imagine a company raising $530M to provide taxi services. But that's the world we live in today..;.
| | |
| --- | --- |
| Iditarod day three: still a pack | |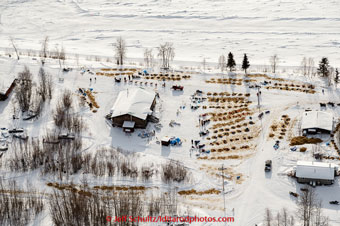 On the long flat reaches of the Yukon River, the 2015 #Iditarod is still a tight pack. The top 20 mushers are all piled into one checkpoint along the Yukon River. The differences are the effort expended so far, the amounts of rest, and the mental energy.
According to bloggers like Sebastian Schnuelle, the trail to Galena is perfect. Mitch Seavey was first in to Ruby, followed closely by his son, last year's champion Dallas Seavey, and by Aaron Burmeister. Mitch and Dallas will likely take their 8-hour break here; Aaron has taken his already, so he's actually in first. Others in include Martin Buser, who has taken his 8, Aliy Zirkle, who has not, and Joar Ulsom, who has. It's a bit complicated :) There are actually about 20 mushers in Ruby at the moment, and the [current] standings will be determined by how long each one waits.
[Update: Jeff King is first out of Ruby, and he's taken his 8, so he is leading. Aliy Zirkle second and Aaron Burmeister third (neither one of whom have yet taken their 8), and Martin Buser fourth (he has, so he's really in second).]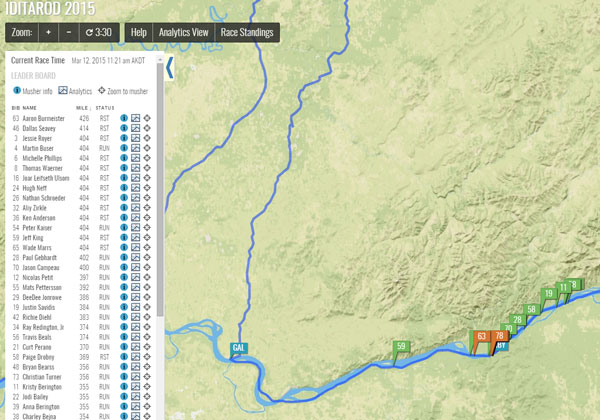 | | |
| --- | --- |
| Smithsonian photo finalists | |
The finalists in the Smithsonian's annual photo contest have been announced, and they are stunning. My favorite took a while to choose, but it's this teeny Caracolara snake, perfectly posed to get its entire body in the shot: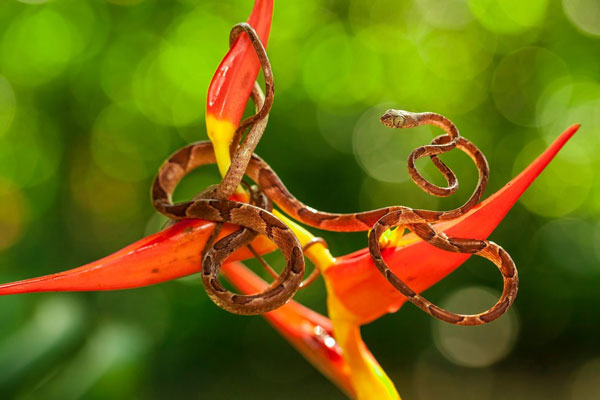 Which is your favorite?
| | |
| --- | --- |
| Iditarod day four: halfway Nome | |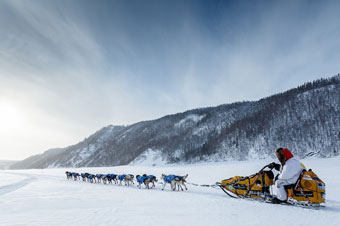 After a long day of mushing in perfect conditions, Aaron Burmeister, the #Iditarod 2015 leader, has just reached Huslia, the approximate halfway checkpoint of this year's race. He's there for his 24-hour rest, and looks to have a decent lead. Nearing Huslia are last year's champion Dallas Seavey, 6 miles out, and Thomas Waerner, at 14 miles. Behind them Martin Buser and Hugh Neff are 50 miles back, and presently camped at "Shelter Cabin".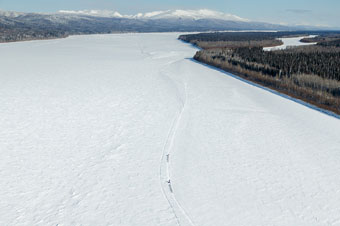 Meanwhile there's about 30 (!) mushers resting at the Galena checkpoint, most of whom are probably taking their 24-hour there. First in was Jeff King, who almost won last year; he'll be leaving at 4:37 - (2*59) = 2:39. It took Aaron 15 hours to reach Huslia from Galena, so that means Jeff might well reach Huslia before Aaron can leave. After that is Aliy Zirkle, who can leave at 5:54 - (2*32) = 4:50; she might well be in second. You'll recall she has finished second the last three years ...
Our favorite DeeDee Jonrowe is presently in 20th place, amid a whole pack who are closely bunched. A lot of racing left!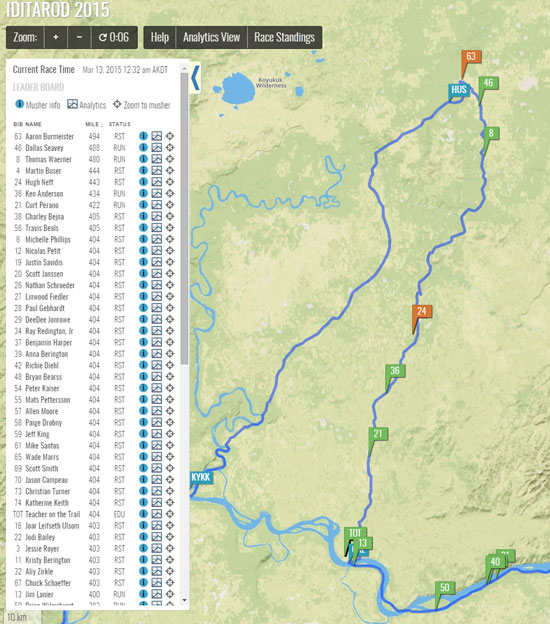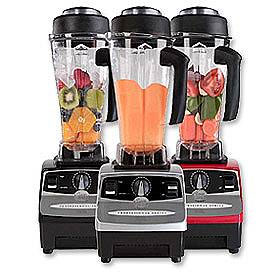 Quick blogomatic spin before heading off to bed (tomorrow I'm riding a century for the first time in ... a long time ... :)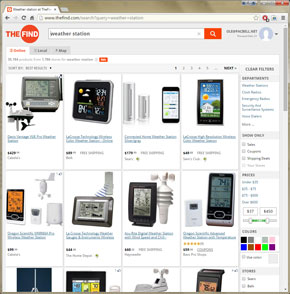 Hmmm... Facebook acquires social shopping site TheFind. I'm not sure what to think about "social shopping"; I get that your friends' recommendations are important and could see this helping with task-based shopping, but ... are you going to spend much time with these services? Not sure.
PS Facebook are big enough they can experiment; I don't think this means they're convinced, either.
Esquire: the escalating scale of drunkenness, explained. "The thing about one drink — a glass of liquor we're talking about, hopefully a stiff pour — is that it doesn't involve enough alcohol to make anything stop working. Your eyesight, your natural grace, your moral compass — they're all left intact. Because one drink doesn't compromise anything. It enhances. You have one drink and your world becomes slightly better. The bar is a slightly better bar. Your dog is a slightly better dog. Your work is slightly more brilliant. And for that, you pay no price." Absolutely true, I'll drink to that.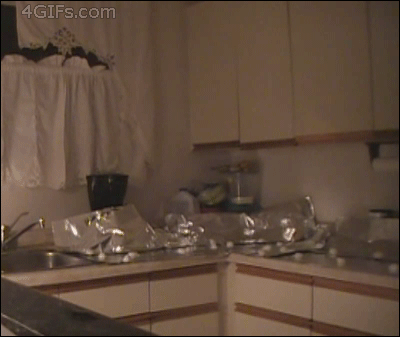 foiled!
| | |
| --- | --- |
| Iditarod day five: decanting the leaders | |
The fifth day of the 2015 #Iditarod - which has been pretty "easy" do far, despite constant way-sub-zero temperatures - and we're starting to see a shakeout. Most of the top mushers are in Huslia hunkered down for their 24-hour breaks. Aliy Zirkle is off - she likes to camp along the trail - along with Mich Seavey and Jeff King. Those three are definite contenders to win. Neither Aliy nor Mitch have yet taken their 8-hour breaks, so Jeff will gain some time. Also in the mix are Dallas Seavey and Aaron Burmeister. I think the winner will come from those five.
Tomorrow will see the action really heat up as the teams start down the river headed for the coast. The faster teams are going to gain a lot of ground on the slower teams, and the winner will probably be the first team to Unalakleet.
Here's the scene in the dogyard at Huslia (can you spot DeeDee's team?):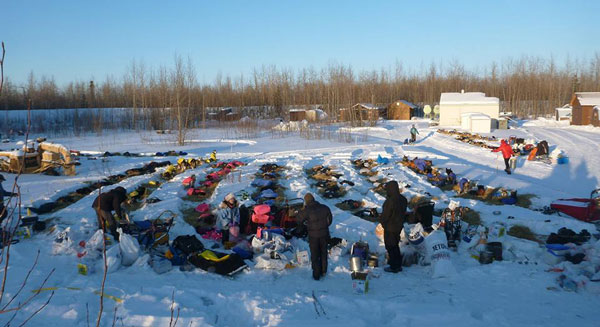 And here's a blast from the past, the finishers of the 1994 Iditarod. That's DeeDee in the center :)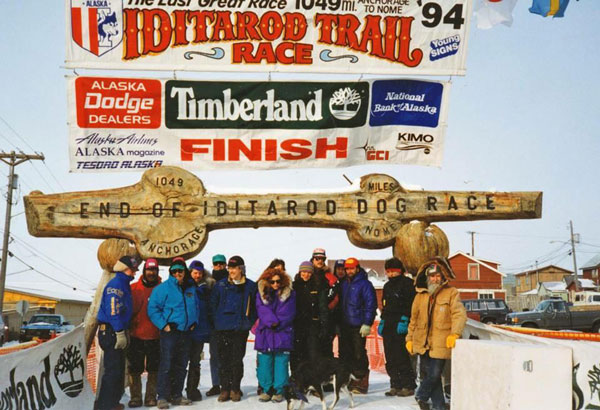 WOW, check out this amazing video from #Iditarod.com, featuring the dogs running along the Yukon River (click to play):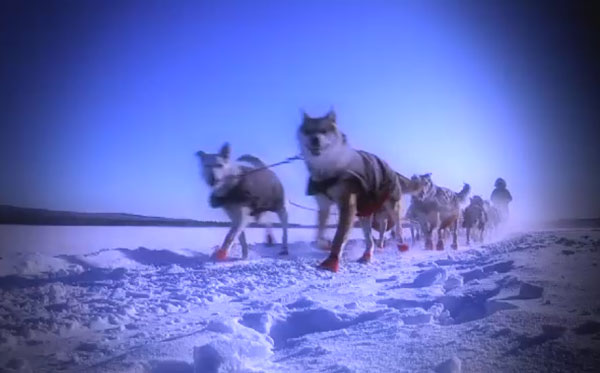 Really even if you're not a dogsled fan you should click through and watch ... beautiful!
Today I was on the road again, celebrated Pi Day by riding the Solvang Century in 6:28. I've ridden this many times, and this wasn't my fastest or my best effort, but on the whole I am really happy. I rode a solid 100 miles climbing 5,284 feet, practiced good body and bike management and didn't bonk (!), and it was good to get another long ride under my belt. I've been riding a lot lately and it felt good. Next big ride is the Breathless Agony in early May, and I'm not as afraid of it as I was :)
Some pictures...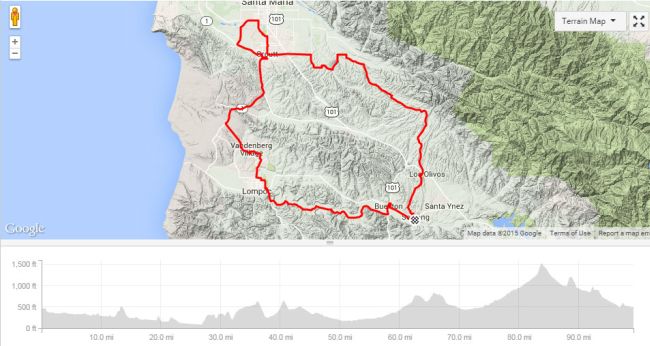 the route: a nice 100 mile 5,280 foot circuit of the Santa Ynez valley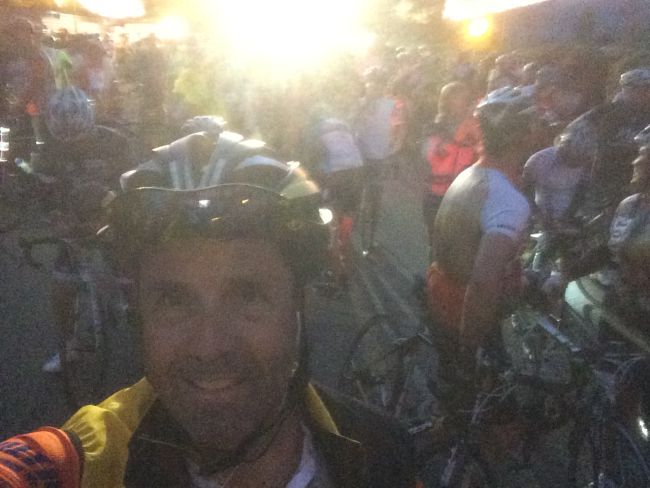 before the start: nervous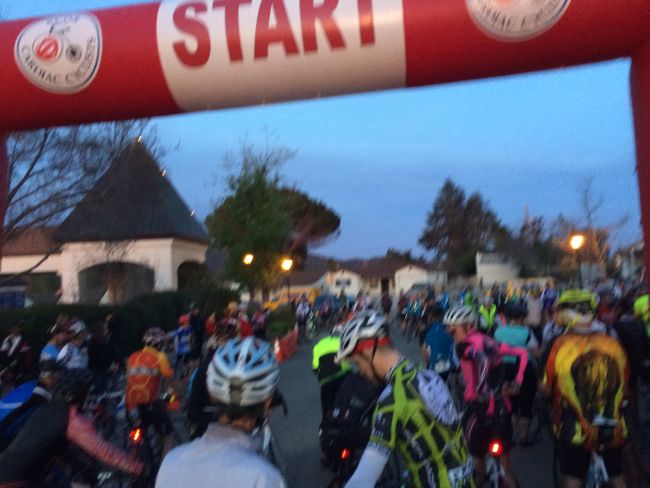 4,500 riders assemble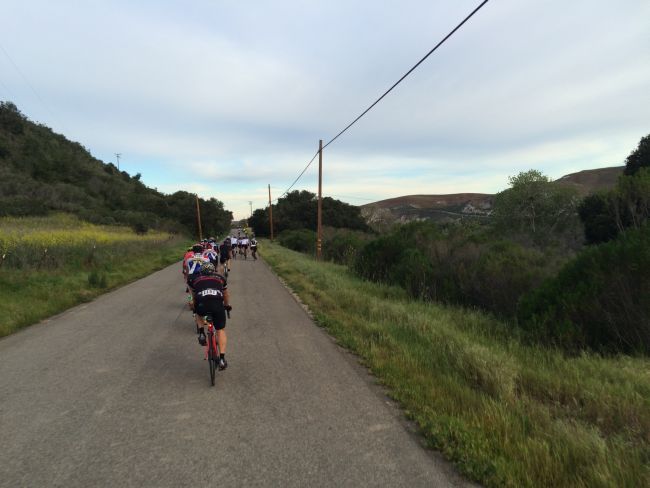 and we're off - pacelines through the Santa Rita Hills
(home of the world's best Pinot Noir :)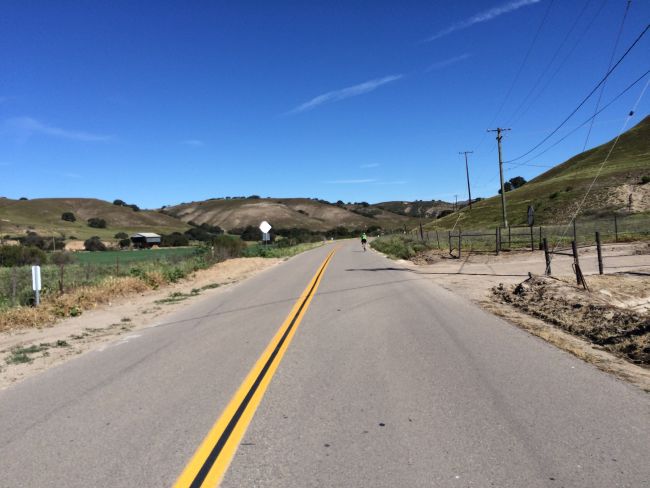 quietly touring the vineyards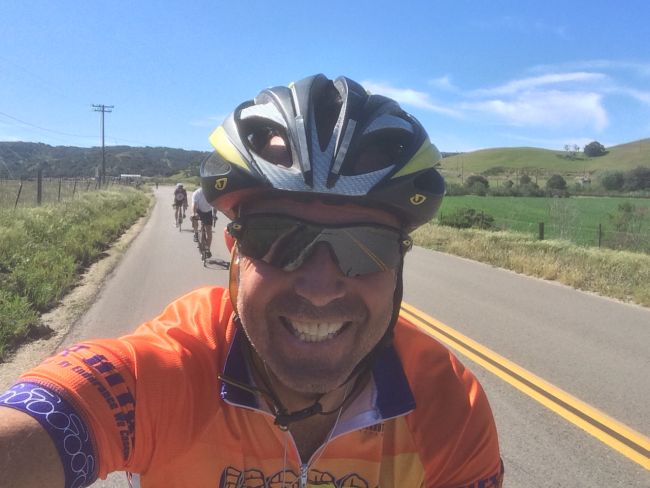 still smiling - the climb up Foxen Canyon is ahead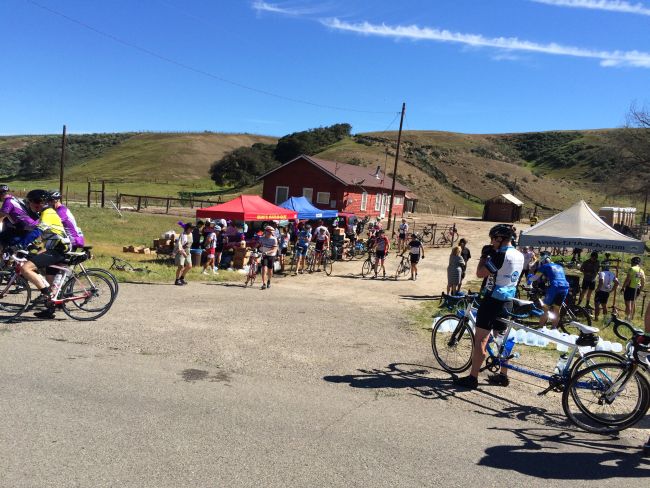 last checkpoint before the climb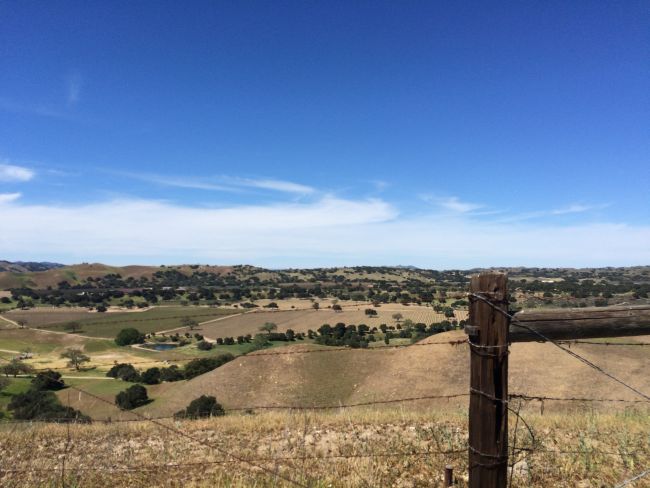 the view of Fess Parker Winery is great
but the climb to get up here ... not so great ... whew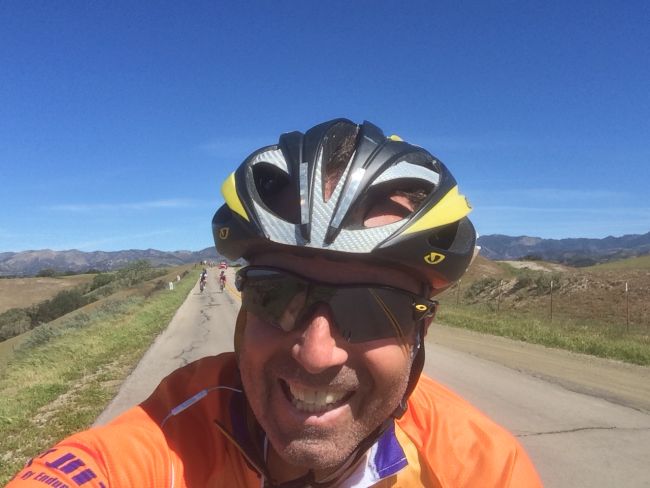 still smiling, the end is in sight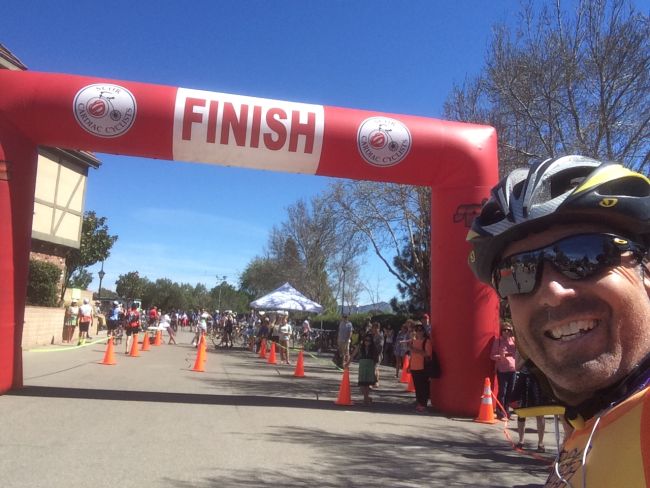 made it! - yay - 6:28 riding time to celebrate Pi Day
| | |
| --- | --- |
| Iditarod day six: the big shakeout | |
The 2015 #Iditarod is starting to shake out, as the leading teams have blasted out of Huslia and down the river to and through the checkpoints at Koyukuk, Nulato, and Kaltag, on their way to the coast at Unalakleet. As they do the weather is getting warmer and windier.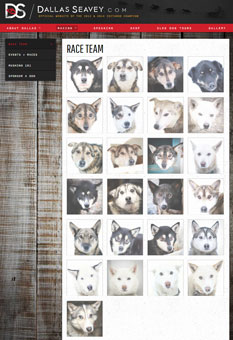 Aaron Burmeister continues to lead, he seems to have the longer / slower run rest ratio well in hand. He is presently resting in Kaltag after being the first musher to reach that checkpoint. He could either continue this way and win, or be caught by Dallas Seavey, presently in second, with a shorter / faster run rest ratio, or Aliy Zirkle, presently in third. Also in the mix are Dallas' father Mitch and Jessie Royer.
A lot of mushers have their own websites; 2104 champion Dallas Seavey has a great one,including a beautiful page describing his race team (right). Please click through; I love the descriptions of the dogs and their personalities...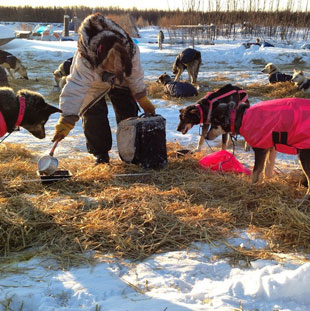 You might wonder about our favorite DeeDee Jonrowe, who was one of the first to reach Huslia but rested there much longer than her required 24-hour break, and is now mushing again but back in 25th place. Apparently she has suffered from the cold; the picture at left from the Fairbanks Daily News is captioned: "DeeDee Jonrowe ladles a mix of hot water, kibble and meat to her dogs in #Koyukuk this morning, despite having frostbite on six of her fingers, include two on her right, dominant hand that she thinks will have to be amputated after #Iditarod2015." Oh no :( Let's keep our fingers crossed for her!
Tomorrow will be the big day in the race, where the leaders reach the coast at Unalakleet (UNK) and start up across the Bering Sea ice through Shaktoolik (SHK) and Koyuk (KYK). It will be most interesting. In the GPS tracker shot below, #63 is Aaron Burmeister, #46 is Dallas Seavey, and #32 is Aliy Zirkle, and #18 is Mitch Seavey. You can't see but #3 is Jessie Royer; her flag is right under Mitch's, just beyond Nulato (NLU).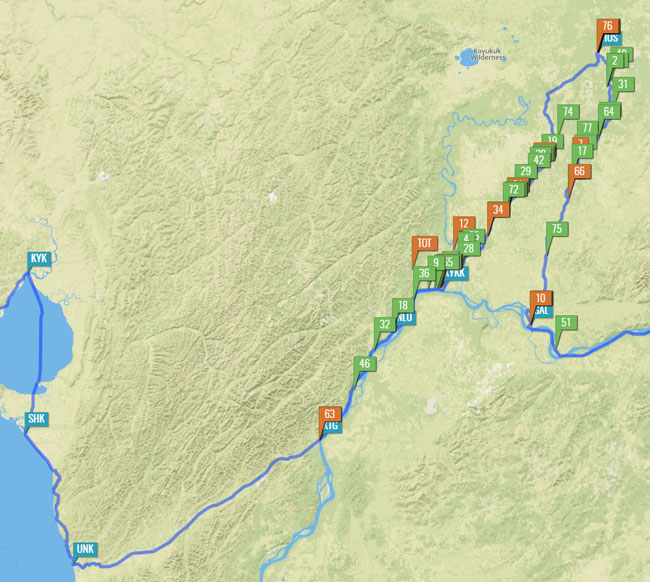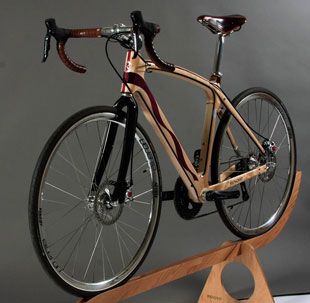 Whew, a long and interesting weekend ... with a long and interesting week ahead! And then I'm off for two weeks, on a long and interesting trip to Boston (business) and London (pleasure, visiting my daughter Alexis, who is studying there for a semester). But meanwhile, it's all happening...
The pic at right is a Renovo beauty. Just couldn't resist :)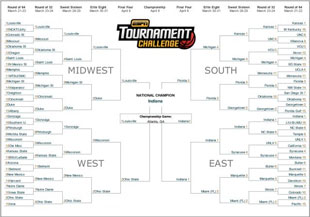 I have to confess, with March Madness impending I am not feeling it. I don't have a rooting interest and I haven't watch a single game of basketball this year. I have a Tivo with four tuners which has been recording game after game after game but I just can't feign interest. Not sure why.
Easy to do: Imagining Scott Walker vs Hillary Clinton. Quite a contrast.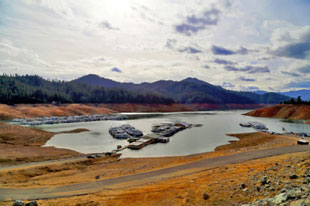 Yikes: California has just one year of water left. And then what?
Well this is exciting: Tesla promises to end 'range anxiety' on March 19th. Calendar, marked. They've said it will be a software update available to all current cars, so I suspect they'll have a new feature which automatically reduces the car's power to get you where you need to go. Sort of like a cruise control but for power instead of speed. (I've asked them for that already :)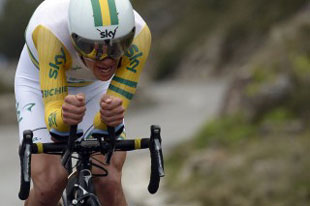 Congratulations to Richie Porte for winning the Paris-Nice stage race. He won in fine style, by winning the final time trial up the Col d'Eze. I rode up that in a car once, and wow, what a climb. Good for him.
Are streaming music companies about to bite the dust? An overly dramatic headline - the article isn't nearly as skeptical - but it does raise an important issue; even the most successful of these companies like Spotify and Pandora are not growing. They're good businesses but perhaps not VC-fundable revolutionary huge-IPO businesses...
| | |
| --- | --- |
| Iditarod day seven: racing across the ice | |
Now the race is really on, as the leaders in the 2015 #Iditarod have reached the coast. There's still well over 200 miles left to go, but after today there are only a handful of teams racing for the win.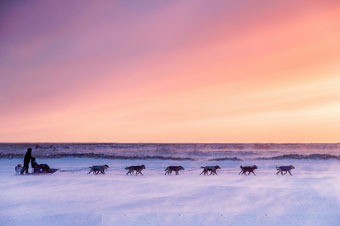 Aaron Burmeister was the first to reach Unalakleet, at 3:45 this afternoon; he rested about 4 1/2 hours and then took off again. (that's his team, at left; beautiful!) Aliy Zirkle was second in at 6:06, she rested for 4 1/2 hours also before heading for Shaktoolik. But Dallas Seavey came in at 6:06, rested 5 minutes, and was the first one out; he seems to be driving the team to beat. His father Mitch was fourth in and third out after resting just 12 minutes in the checkpoint. One of those four teams is going to win. Jess Royer is racing a strong fifth but is probably too far behind now to win, still, congratulations to her on a great race so far.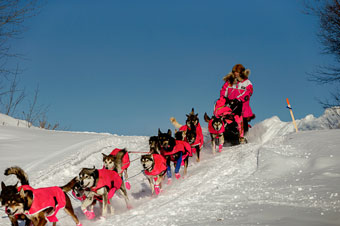 The conditions up the coast are considerably warmer than they were on the portage (and significantly warmer than the sub-forty-below conditions along the Yukon River!), and not as windy as feared. Good snow is falling on the ice making it easier for the teams to make progress. We'll have to see who's the fastest across the bay and who has gas left in the tank for the final push West to Nome!
That's DeeDee Jonrowe at right, with her easily identified team all in pink; she's presently running about 25th.
In the GPS Trackers shot below, Dallas is #46, Aaron #63, Mitch #18, and Aliy #32. Jessie is #3, her flag is underneath the TOT flag for the Teacher-on-Trail.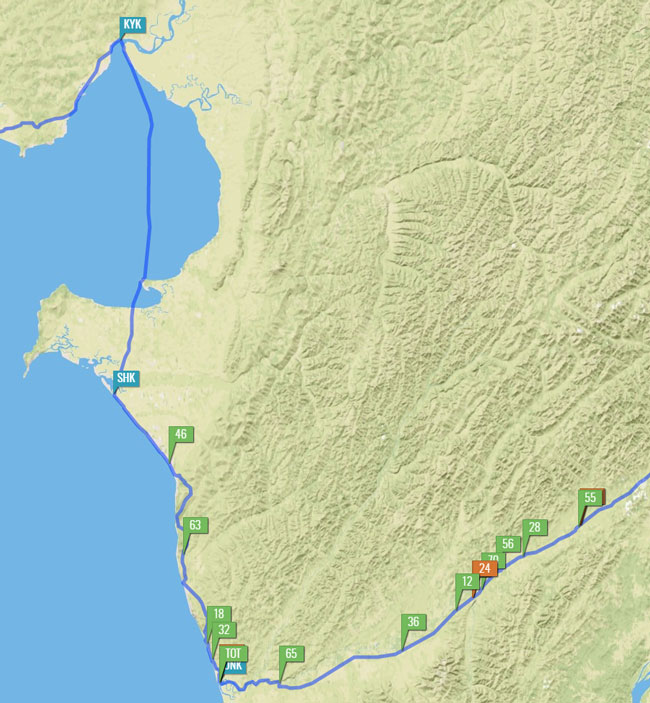 | | |
| --- | --- |
| Iditarod day eight: into Koyuk! | |
The #Iditarod 2015 leaders have reached Koyuk! At the top of the Bering Sea ... meaning from now on it is overland about 130 miles to Nome. The finish should take place late tonight!! No silly of course not, it will be tomorrow morning; I forgot everyone has to take an 8-hour break at White Mountain...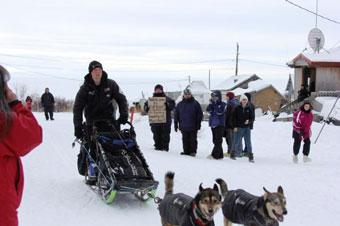 Dallas Seavey was the first in, after catching Aaron Burmeister just outside the checkpoint; he came in about 10 minutes later. Both teams will rest a while here, probably allowing Aliy Zirkle to catch up to them; she is presently about 10 miles away still out on the ice. Jess Royer has almost caught her (!), for fourth, and Mitch Seavey is about five miles further back in fifth.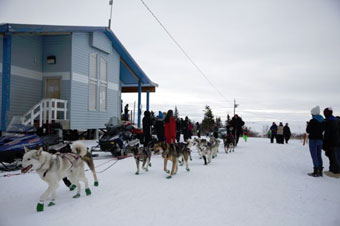 Aaron has been running longer slower runs and Dallas shorter faster runs. Most observers think Dallas has the edge, now that he's caught up to Aaron. Aliy is still in it and so is Jess, as her team seems to be moving really well.
It isn't over 'till its over, you may remember last year Jeff King was about to win before he had to scratch, and Dallas won while thinking he was finishing second (and Aliy finished second while thinking she was racing for third). So anything can happen ... stay tuned!
| | |
| --- | --- |
| Iditarod: Jesse Royer and Dallas Seavey mushing videos | |
#Iditarod 2015 superblogger Sebastian Schnuelle gave GoPro cameras to Jessie Royer and Dallas Seavey as they mushed across the Bering Sea from Shaktoolit to Koyuk, and here's the amazing result (click to play):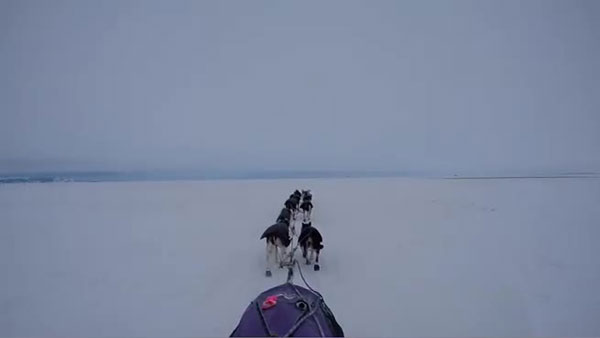 Jessie is flying right along, in fourth, catching Aliy Zirkle.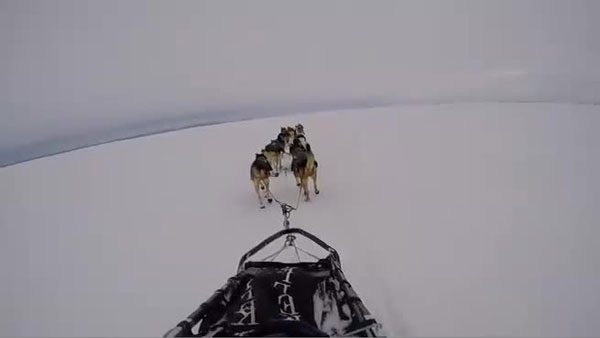 Dallas is in second grinding down Aaron Burmeister for the lead.
| | |
| --- | --- |
| Iditarod day eight, cont: into the Nome stretch | |
The leading teams in the 2015 #Iditarod are now mushing away from Koyuk toward Nome, with the checkpoints at Elim, White Mountain, and Safety in between. (And a manditory 8-hour break at White Mountain.) Dallas Seavey was the first to leave and is in command; his team are moving about 1-2mph faster than Aaron Burmeister and his father Mitch, who are battling for second. A bit further back Jesse Royer and Aliy Zirkle are fighting for fourth as well as being the first woman to finish. It is tempting to conclude that this race is over, until you remember what happened last year. Still that was with much worse weather; this year the forecast has nothing that disruptive coming up.
Some views along the trail: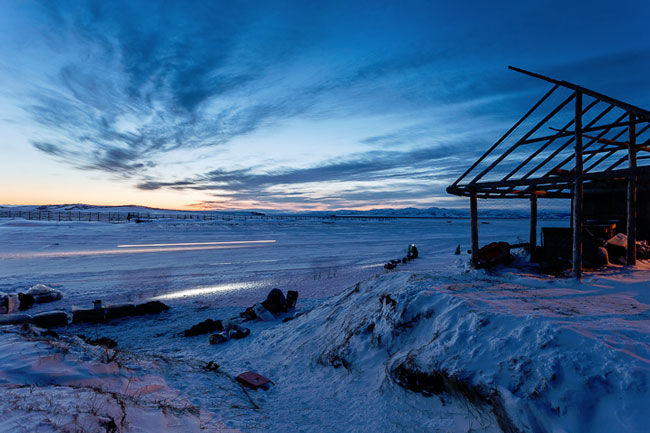 Scott Janssen and team, outside of Unalakleet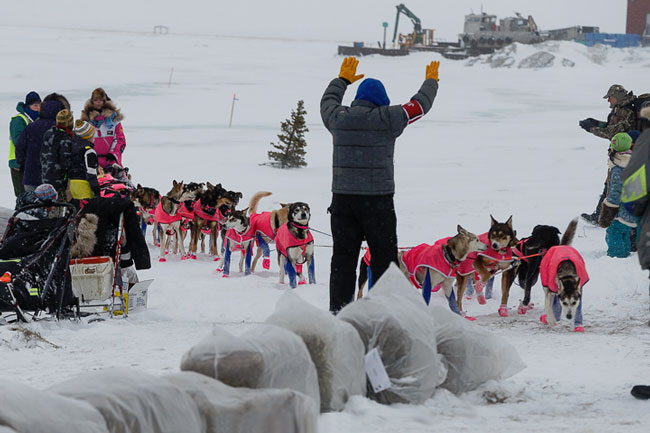 DeeDee Jonrowe and team enter Unalakleet (with fifteen dogs, most left in the race!)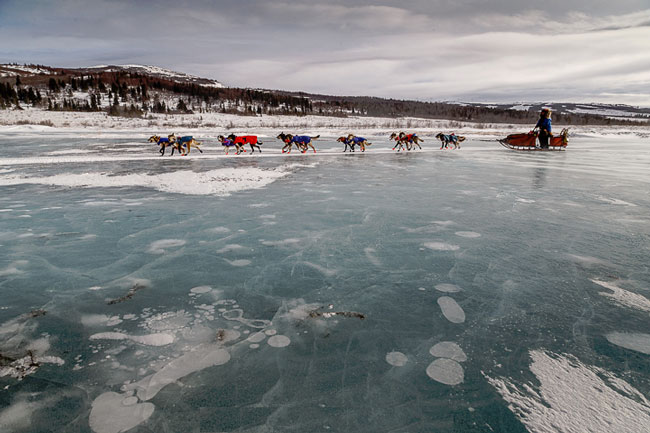 Michelle Phillips and team leave Unalakleet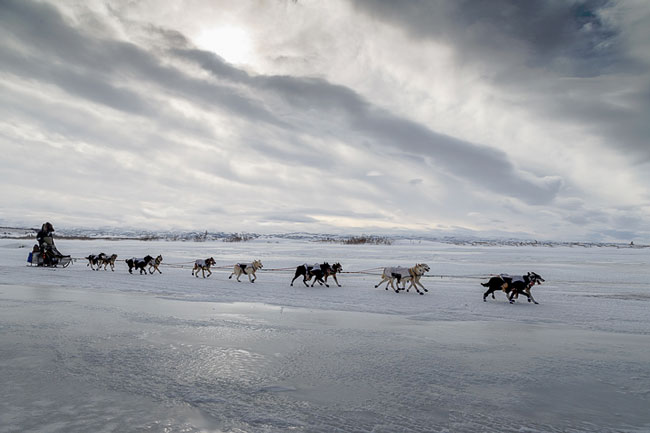 Ray Redington, Jr and team, outside of Unalakleet
Here are the current positions as shown by the GPS Tracker: Dallas is #46, well out in front, with Aaron #63 chasing along with Mitch #18. Further back you can see Jessie #3 and Aliy #32. That's your top five.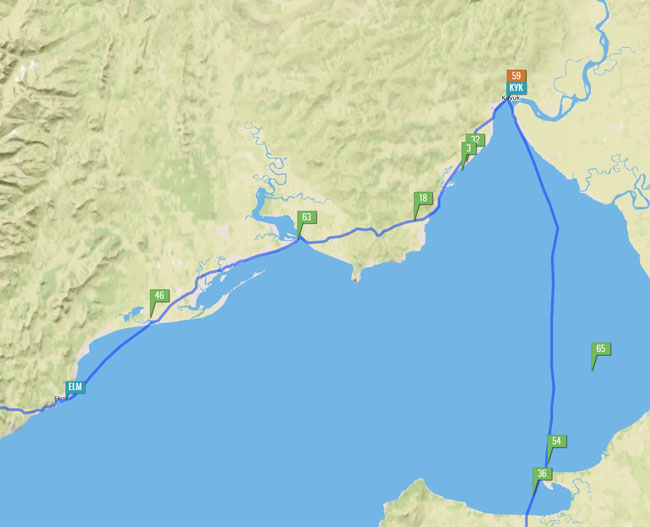 | | |
| --- | --- |
| Iditarod day nine: (Tracker video): Dallas opens up into White Mountain | |
I recorded this little video of the #Iditarod 2015's awesome GPS Tracker, a speeded up version of the action which has taken place over the last 18 hours, showing defending champion Dallas Seavey (#46 in the tracker) extending his lead as he blasts from Koyuk into White Mountain by way of Elim, followed by Aaron Burmeister (#63) and Dallas' father Mitch Seavey (#18). Further back racing for fourth and first woman bragging rights are Jessie Royer (#3) and the past three years' runner up Aliy Zirkle (#32).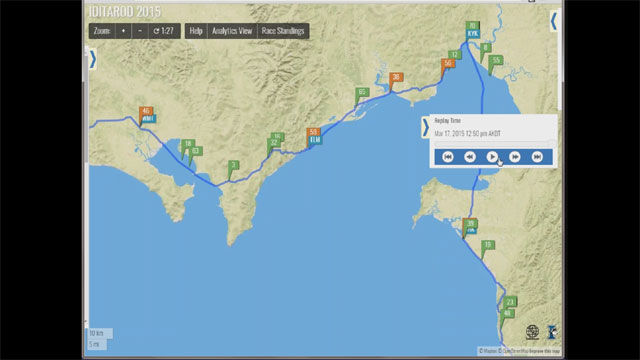 All the teams will take a manditory 8-hour break in White Mountain, and will resume racing late tonight. You might think its over but its never over 'till its really over, as everyone found out last year! Stay tuned...
| | |
| --- | --- |
| from highest to lowest on Earth | |
| | |
| --- | --- |
| Iditarod day nine, cont: halfway to Safety | |
As the last full day of the 2015 #Iditarod ends, Dallas Seavey is out of White Mountain and about halfway to Safety, both literally and figuratively (the next and last checkpoint is named Safety). He's about four hours ahead of his father Mitch, who just left White Mountain after his [mandatory] 8-hour break there. That should be an insurmountable lead. Aaron Burmeister is third, another hour or so back, and that's most likely where he'll finish too. He's just about to leave after his 8-hour.
While lacking in suspense, the finish of this year's "Last Great Race" will provide some drama; we have Dallas, winning his second in a row and third overall, just ahead of his father, who has also won twice before; a family dynasty. And we have Aliy Zirkle breaking her string of three second places to finish a likely fifth, after battling Jessie Royer. And who knows what else might happen?
Dallas has about 40 miles left to go and is traveling about 7mph, so that's around six hours 'till he finishes. Most likely he won't stop, although he could easily afford to rest in Safety for a bit. So we'll probably have a winner early tomorrow morning!
In the meantime, here are some pictures from the trail...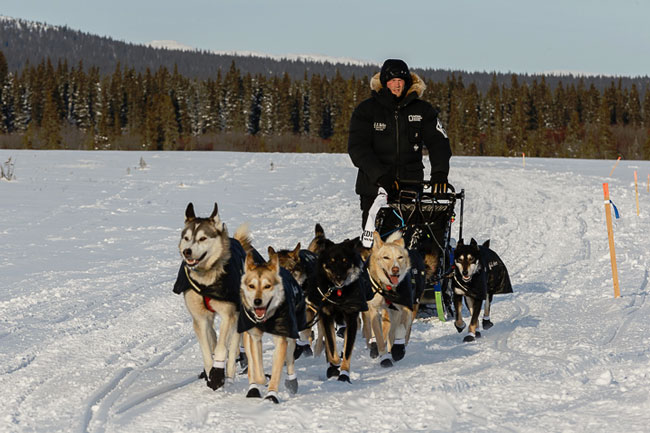 Dallas Seavey and team leave White Mountain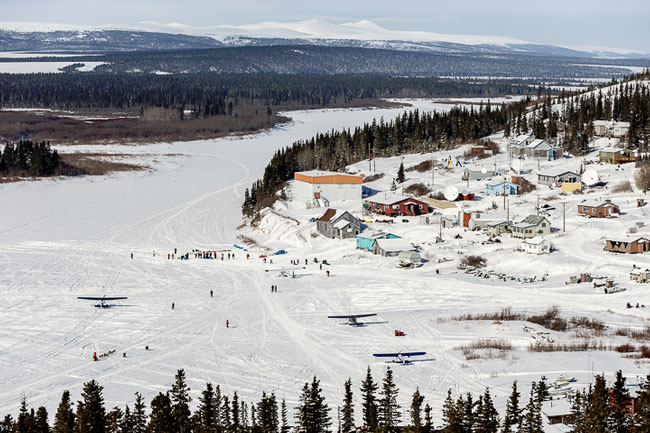 White Mountain on the Fish River
Mitch Seavey's team pulling into the checkpoint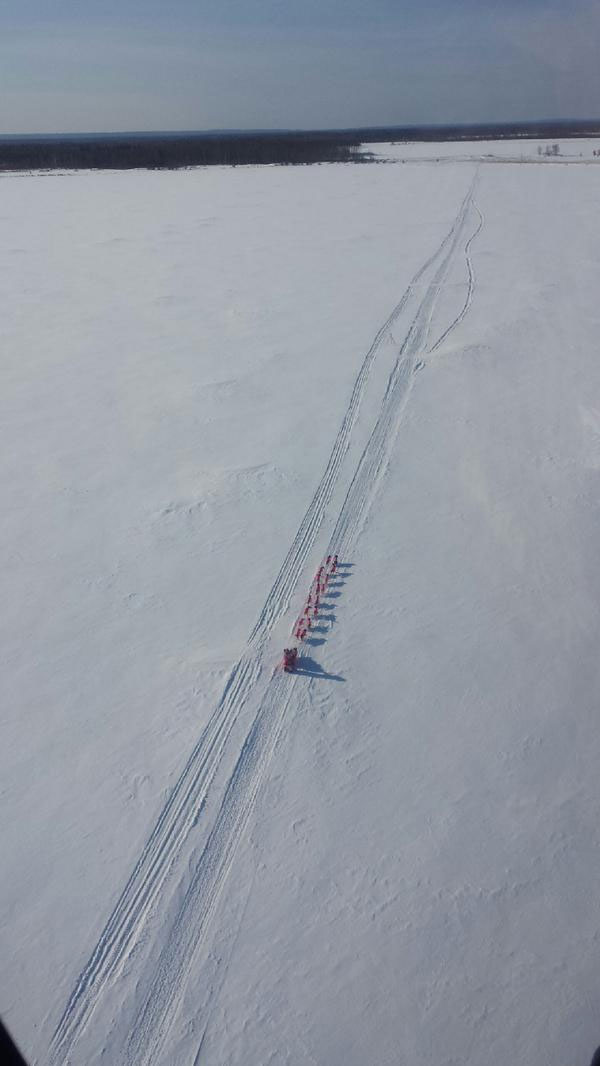 DeeDee Jonrowe and team, from the air
they are presently heading for Koyuk, in about 30th place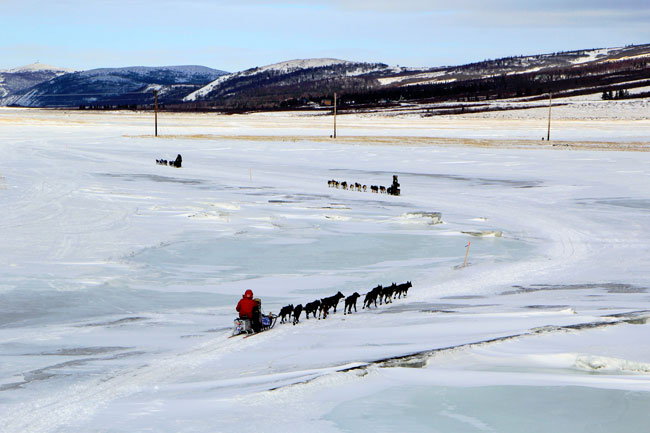 three teams leave Unalakleet at the same time
headed over the ice to Shaktoolik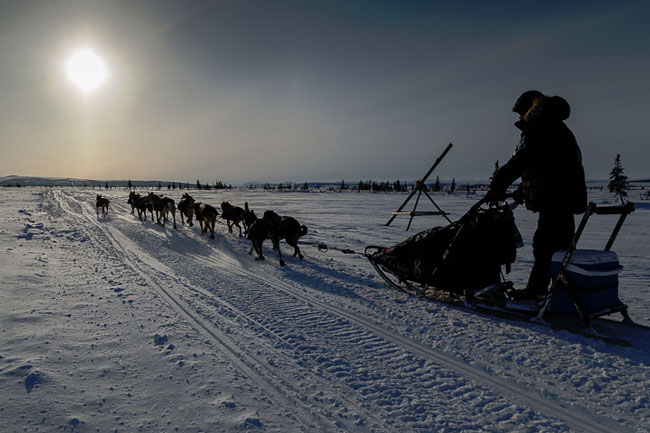 Team Dallas Seavey mush into the sunset
| | |
| --- | --- |
| Iditarod day ten: Seaveys hit Nome runs | |
Here's a video of Dallas Seavey cruising to his third #Iditarod victory this morning just after 4AM in Nome. Four hours later his father Mitch finished second, quite a family dynasty they've got there. Aaron Burmeister finished third, all by himself, a great result for him and his best ever. Still on the trail but almost Nome is Jessie Royer, who will finish fourth, and the top five will be rounded out by Aliy Zirkle. She can take some comfort from the fact that at least she didn't finish second again (which she's done the last three years!)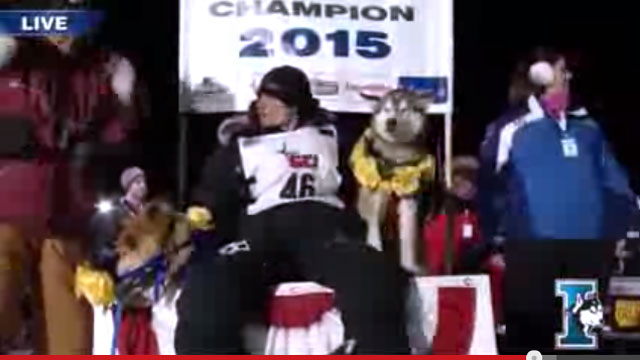 | | |
| --- | --- |
| Iditarod day ten, cont: Jeff King in the Blowhole | |
Here's an awesome GoPro video of #Iditarod musher Jeff King flying through the "Blowhole" between White Mountain and Safety. Thirty mile an hour winds are no picnic for a dog team, especially after 1,000 miles on the trail. Wow.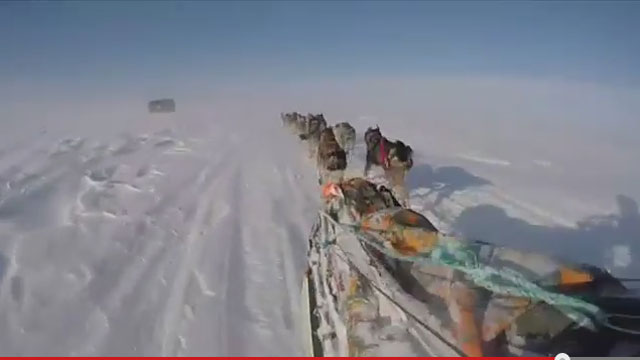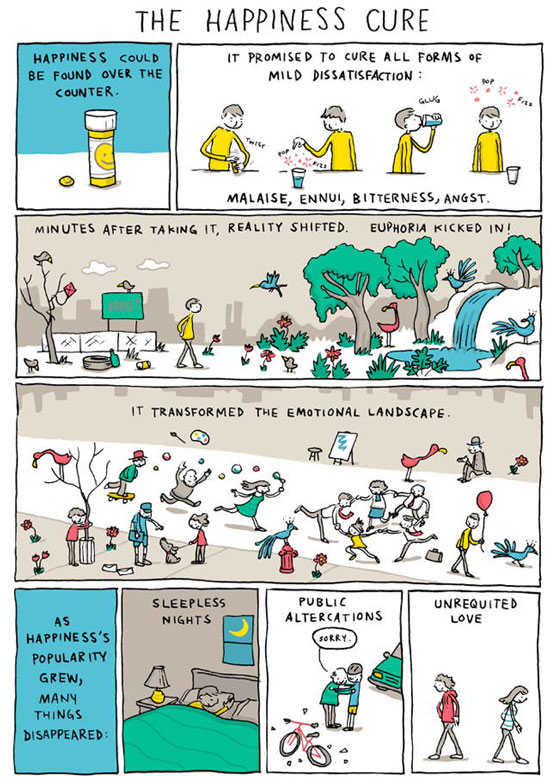 this makes me happy :)
| | |
| --- | --- |
| Iditarod day twelve: DeeDee in Nome! | |
I'm delighted to report that early this morning DeeDee Jonrowe finished her thirtieth #Iditarod, pulling into Nome in 31st place at 5:10AM, after ten days on the trail. This wasn't her fastest or her highest place, but she finished with 15 dogs, the largest team still running, and she finished! As noted earlier she suffered from severe frostbite earlier in the race, during those cold early days along the Yukon (-40F!), and despite being among the leaders into Huslia, the halfway point, was never able to recover. Congratulations to her for persevering and finishing, wow.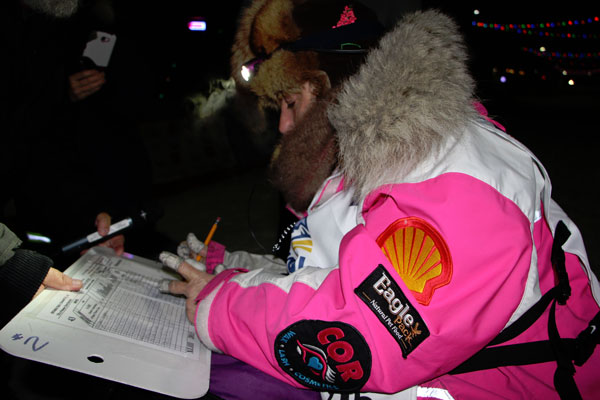 DeeDee signs the finishing register
(note her fingers!)
Speaking of persevering and finishing, I highly recommend Beyond Ophir, a book by longtime Iditarod musher Jim Lanier, which I've been reading as a delightful companion to the 2015 Iditarod. It chronicles his first Iditarod, way back in 1979, and is a wonderful collection of stories of a life well led in the wilds of Alaska. Jim is a retired pathologist (!), and this year at age 74 was the oldest musher in the race. I was sorry to see he scratched yesterday in Unalakleet, due to "musher illness".
And so ends the 2015 Iditarod (for me at least, there are over 30 mushers still "out there", and the Red Lantern Cindy Abbott has only just checked into Unk). Each year at the end of the race I have this sad feeling of leaving a strange and cool little world and returning to "the real world", until next year. Onward!
Oh, and some final pictures...: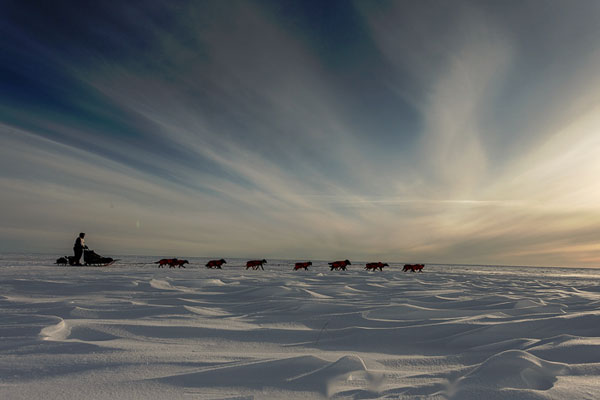 Ken Anderson in the Nome stretch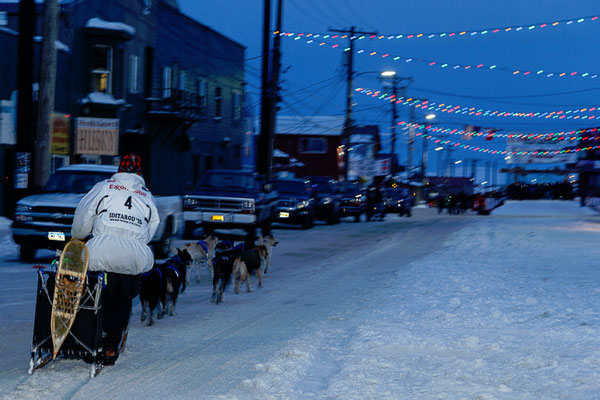 Martin Buser mushes down Front Street toward the burled arch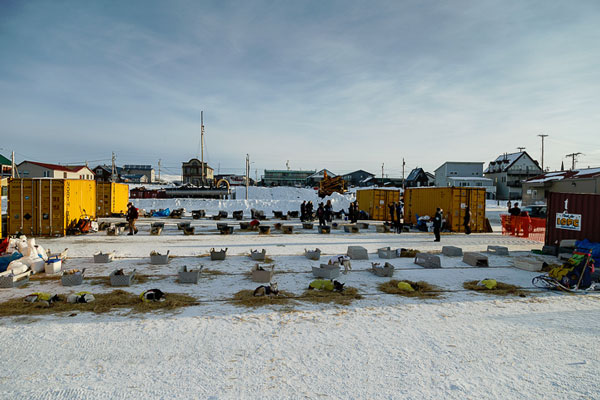 dog tired after 1,000+ miles ... the Nome dogyard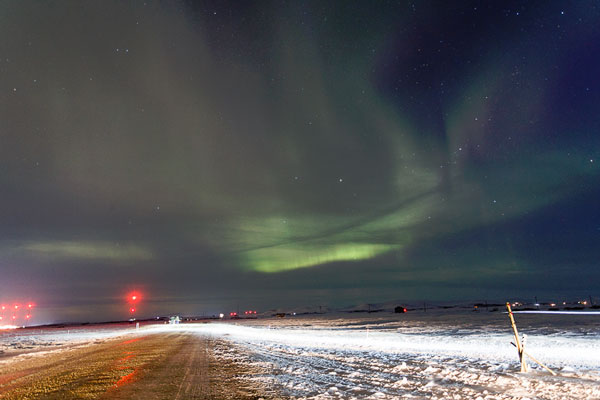 Northern Lights over Nome --- WOW
Onward ... until nextyear!
Return to the archive.
Home
Archive
this date in:
flight
About Me
W=UH
Email
RSS OPML

Greatest Hits
Correlation vs. Causality
The Tyranny of Email
Unnatural Selection
Lying
On Blame
Try, or Try Not
Books and Wine
Emergent Properties
God and Beauty
Moving Mount Fuji
The Nest
Rock 'n Roll
IQ and Populations
Are You a Bright?
Adding Value
Confidence
The Joy of Craftsmanship
The Emperor's New Code
Toy Story
The Return of the King
Religion vs IQ
In the Wet
solving bongard problems
visiting Titan
unintelligent design
the nuclear option
estimating in meatspace
second gear
On the Persistence of Bad Design...
Texas chili cookoff
almost famous design and stochastic debugging
may I take your order?
universal healthcare
entertainment
triple double
New Yorker covers
Death Rider! (da da dum)
how did I get here (Mt.Whitney)?
the Law of Significance
Holiday Inn
Daniel Jacoby's photographs
the first bird
Gödel Escher Bach: Birthday Cantatatata
Father's Day (in pictures)
your cat for my car
Jobsnotes of note
world population map
no joy in Baker
vote smart
exact nonsense
introducing eyesFinder
resolved
to space
notebooks
where are the desktop apps?
still the first bird
patience
electoral fail
progress ratches
2020 explained