Archive: March 27, 2009
| | |
| --- | --- |
| The Joy of Craftsmanship, II | |
If you've been reading for a while - well, a long while :) - you might remember The Joy of Craftsmanship, a post about my local bike shop and my favorite mechanic. Well today he did it again, and so today I am posting about him again :)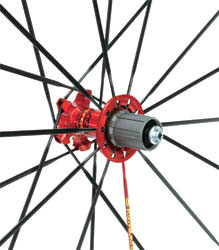 Ever since my bike has been "back" - ever since my weird disaster recovery - it's made a funny sound, kind of a tinkling sound, like there was a playing card clothespinned to twang against my spokes. (Remember that? Nah, I don't either. But I've read about it.) So I checked and there were no playing cards, and no loose spokes, and nothing loose at all. It was a mystery. I knew it wasn't the frame itself; frames creak sometimes, but they don't twang.
So today I took my bike in to have it checked out. Turns out it was simple, my mechanic knew immediately. Squirt a little oil on the spokes, right where they connect to the back axle, and poof, the noise was gone... Delightful.
He checked out all my cables and tweaked the derailleur just a little, and so now I am ready for my double tomorrow. Yay!
Yeah, I watched 'em all (and amazingly called quite a few of 'em right, except for UCLA's trail which of course I called completely and utterly wrong.):
Connecticut(1) outlasted Purdue(5) - 72-60. An ugly first half, both teams looked rocky, but Connecticut pulled it together and cruised in the second... We'll say FS=10:00*, realistically...
Pitt(1) clawed back and beat Xavier(4) - 60-55. A neck and neck battle; Xavier looked good in the first half, but Pitt's caught back up and their quality told down the stretch and right at the end. An entertaining game, if not well played; the Xavier upset potential kept my interest. FS=00:04!
Missouri(3) rather easily handled Memphis(2) - 102-91. The battle of the Tigers :) Wild scoring on both ends, a pro score in college time, with no overtime. Pretty entertaining game. FS=03:00 because Memphis made a late comeback.
Villanova(3) "upsets" Duke(2) - 44-55. I had Villanova in this one, and I'm rooting for them to go all the way (since they made my team UCLA look silly). A defensive struggle and not a great game; Villanova steadily ground out the win. FS=04:30.
Louisville(1) blew out Arizona(12) - 103-64. And so Cinderella goes home, the game wasn't even that close. I'm going to say FS=20:00, but really it was over before halftime. My friends who have chosen Louisville to go all the way have chosen wisely...
Oklahoma(2) over Syracuse(3) - 84-71. A rather routine demolition, Oklahoma looked awfully good. FS=15:00.
Michigan State(2) in a nail biter over (3)Kansas - 67-62. The best game of the round, well played and hard fought, it came down to free throws at the end... FS=00:15.
North Carolina(1) rolled (4)Gonzaga - 98-77. Carolina took the early lead, led at the half, and steamrolled away in the second half... FS=10:00.
* A reminder: FS means "fridge score", the time at which the game is no longer in doubt.
Not the greatest collection of games, somehow. I did enjoy the end of Pitt against Xavier, despite the fact that Xavier lost, and Michigan State over Kansas was a good one. So we have all four #1s left, and they all look pretty good. At this point I'm going to pick Louisville over Oklahoma in the final. But we're only halfway, we have three rounds left... stay tuned!
Return to the archive.
Home
Archive
this date in:
flight
About Me
W=UH
Email
RSS OPML

Greatest Hits
Correlation vs. Causality
The Tyranny of Email
Unnatural Selection
Lying
On Blame
Try, or Try Not
Books and Wine
Emergent Properties
God and Beauty
Moving Mount Fuji
The Nest
Rock 'n Roll
IQ and Populations
Are You a Bright?
Adding Value
Confidence
The Joy of Craftsmanship
The Emperor's New Code
Toy Story
The Return of the King
Religion vs IQ
In the Wet
solving bongard problems
visiting Titan
unintelligent design
the nuclear option
estimating in meatspace
second gear
On the Persistence of Bad Design...
Texas chili cookoff
almost famous design and stochastic debugging
may I take your order?
universal healthcare
entertainment
triple double
New Yorker covers
Death Rider! (da da dum)
how did I get here (Mt.Whitney)?
the Law of Significance
Holiday Inn
Daniel Jacoby's photographs
the first bird
Gödel Escher Bach: Birthday Cantatatata
Father's Day (in pictures)
your cat for my car
Jobsnotes of note
world population map
no joy in Baker
vote smart
exact nonsense
introducing eyesFinder
resolved
to space
notebooks
where are the desktop apps?
still the first bird
patience
electoral fail
progress ratches
2020 explained